---
Readers' Rigs
June 2006
---
The Readers' Rigs page illustrates some of diesel pickup trucks and SUV's members of The Diesel Page own or drive. This month's photos and story come to us from member Mark Bedry.
---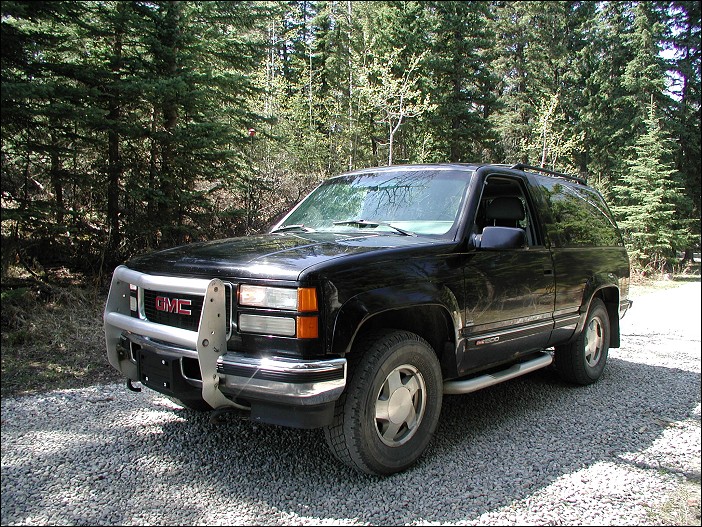 1994 GMC Yukon - 6.5L Turbo Diesel
---
Just thought I would send in a few photos of my truck for your Readers Rigs section. I love the page. I found this truck new for my mother when I was 16. I fell in love with it the first time the glow plug light went out and that beautiful diesel sound filled my ears.
After mom put on 280,000 Km (and a new engine at the tell tale 235,000K), my dad added another 50,000 km to it. Then it came into my possession - sort of, by becoming my wife's main mode of transportation. Buying my wife a shiny pre-owned 4-Runner last year finally made it all MINE!!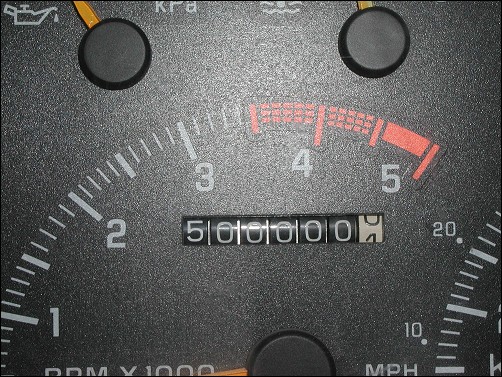 Some of the modification I have made are:

Upgraded 4L80E Transmission with custom torque converter and commercial clutches
Custom EEPROM from Wester's Garage in Tilley, Alberta
Heath Diesel Turbo-Master wastegate controller
Custom 3.5" turbo back exhaust system w/5" tip
K&N air filter
Auto-meter Pyro and Boost gauges
Home installed custom stereo (Because GM has no idea how to put in a decent sounding stereo)
Heated leather seats salvaged from a 95' Yukon GT
This truck has been through 4 different rivers, sunk to the frame in thick Alberta mud on numerous occasions, and performed numerous farm chores through the years. But mostly it has been the best commuter I have ever driven. After this many miles, the truck could use some new paint and chrome, but I guess that happens after 500,000 Km. I plan on driving this truck for as long as it will let me. I love it!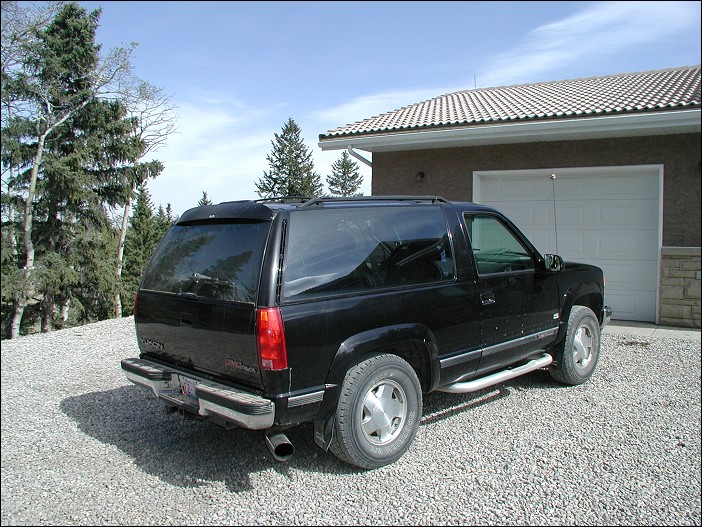 Mark Bedry
Calgary, Alberta Canada
---
If you would like to see your diesel truck or SUV featured here, please contact The Diesel Page for the details. <
---
TheDieselPage.com
What's New: | Feature Articles: | Product Reviews: | Member's Area:
Join Us: | Duramax Diesel Page: | Advertisers: | Classified Ads: | Books:

Send e-mail to: turbo@TheDieselPage.com
Copyright © 2018 by The Diesel Page
www.TheDieselPage.com