---
The Diesel Page
December 14, 1999
Duramax 6600
Power Specifications
---
The 6600 will eventually be built in three different configurations. During the introductory model year, this new diesel engine will be built only as a 300 horsepower version for the Silverado/Sierra trucks. Two lower horsepower rated versions are rumored to be available for the SUV, Van and utility market in later model years.
2001 Model Year Specifications:
Engine Description: 90-degree V-8
Displacement: 6.6L
Bore and Stroke: 103 mm x 99 mm
Compression Ratio: 17.5:1
Dry Weight, less clutch: 835 lb
SAE Net Horsepower: 300 HP @ 3,100 rpm
SAE Net Torque: 520 lb-ft @ 1,800 rpm
Induction system: Turbocharged & Charge air cooled
Boost Pressure: 18 psi @ 1,800 rpm

Cylinder Block Material: Induction hardened Gray Iron Cast
Cylinder Head Material: Aluminum w/ 6 bolts per cylinder
Valve Arrangement: 4-valves per cylinder
Valve timing: Gear driven timing set, single cam
Fuel Injection: Bosch High Pressure Common Rail Direct Unit Injection
Oil Capacity: 9.8L w/filter
Oil Cooler: Internal, Unitized plate construction
Exhaust System: 3.5" mandrel bent, no catalytic converter
Designed-in "Best in Class" Benefits:
Durability
Torque Levels
Power Levels
Fuel Economy
Lowest NVH levels (Noise)
Low Overall Cost of Ownership
Designed for Serviceability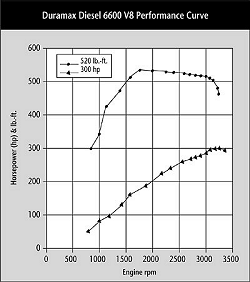 ---
Content protected by Copyright © 1999 by The Diesel Page. Reproducing or re-posting this material without prior consent violates US and International copyright laws.
---
TheDieselPage.com
What's New: | Feature Articles: | Product Reviews: | Member's Area:
Join Us: | Duramax Diesel Page: | Advertisers: | Classified Ads: | Books:

Send e-mail to: turbo@TheDieselPage.com
Copyright © 2018 by The Diesel Page
www.TheDieselPage.com