---
New Products
For Your Diesel Pickup
Advertisements & Product Announcements
Updated September 28, 2017
---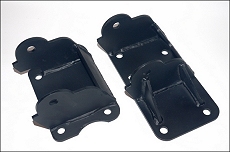 Duramax Conversion Motor Mounts

Aside from having the information you need to complete a Duramax conversion, having a ready-made and quality set of conversion mounts will go a long way to help get your project underway. GM changed the motor mount configuration beginning with the 1999-2007 body style trucks - producing an asymmetrical positioning on the engine, meaning one mount is further ahead of the other side. Not only are the Duramax factory motor mounts positioned asymmetrically on the engine, but they are also very different when compared to earlier GM full-size trucks and SUVs. The professionally produced generation II mounts shown here solve that problem, making it possible to install a new Duramax 6600 diesel engine in an early 1980s to late 1990s GM full-size. Click HERE to learn more about these Gen II Duramax Conversion motor mounts.

Duramax Diesel Conversion Mounts:
$199.95 + $12.95 S&H to U.S. Addresses - Learn More about these mounts and shipping to non-U.S. addresses.
---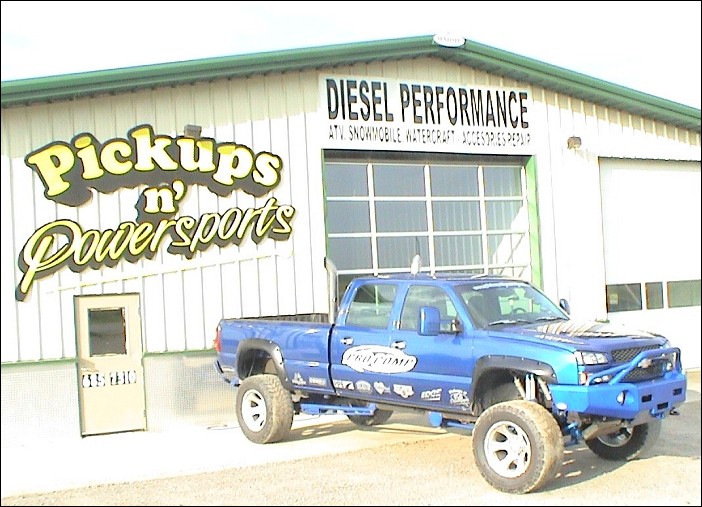 Pickups N' Powersports
We are a small family business since 2004 located in Cold Spring, Minnesota. We specialize in diesel pickup truck performance and making them more efficient using proven technology. We are proud to be selling a high-quality adapter kit that doesn't crack, leak & is super solid compared to others on the market. We work with the local manufacturer of this product. We also have a large inventory of used sensors that we are glad to sell at a reasonable rate.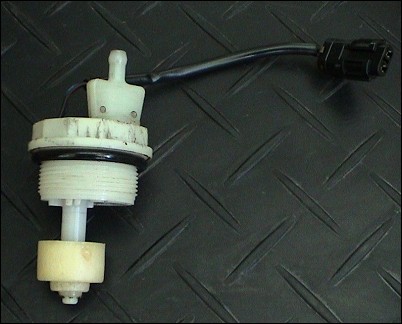 OEM Duramax Diesel Fuel Drain & Sensor
This used Fuel Drain & Sensor is the stock OEM sensor on new Duramax powered vehicles. These sensors fit the stock fuel fuel filter assemblies on all GMC and Chevrolet Duramax 6.6L diesel engine vehicles produced from 2001 through 2012, and are they ready to ship.

Fits all '01-'12 GMC and Chevrolet Duramax 6.6L.
Stock OEM Duramax water-in-fuel sensor.
$15 + $5 shipping anywhere in US
<! WIF sensor>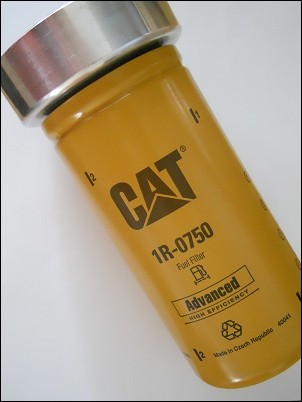 Duramax Diesel Fuel Filter & Adapter Kit:

4X better fuel filtration!!
Fits Chevy/GMC Duramax trucks from 2001-2012.
Machined aluminum adapter.
Includes all O-rings.
Caterpillar 2-micron fuel filter included with kit.
This adapter fits snug with the filter and screws right into the stock filter mount.
Leave the truck's original water sensor unplugged. This is completely safe and does not set any trouble codes.
Cleaner and more efficient fuel filtration for your truck.
$110 (includes shipping anywhere in US)
<! Fuel Filter>

Contact information:

Pickups N' Powersports
Cold Spring, MN
pickupsnpower@yahoo.com
(320)-685-7310
---
NEW FOR 2005-2012 DODGE RAM 2500 & 5500
6-CYL 5.9L & 6.7L 6 SPD TURBO DIESEL
Centerforce strives to provide top of the line products for all performance levels. To do so, Centerforce uses patented processes and constantly tests different materials and designs to find the best combination. The DFX series is the best in high-performance, street friendly, single disc clutches. This series is now available for 2005-2012 DODGE RAM 2500 & 5500 6-cylinder 5.9L & 6.7L 6-speed Turbo Diesel. The DFX part number above is: 01352341 (Pressure Plate, Disc, Flywheel, Alignment Tool, Hydraulic Slave Cylinder, Pilot Bearing, T.O.B., & Hardware)
The Centerforce DFX pressure plates feature patented processes to provide a performance clutch that offers exceptional street characteristics, while offering outstanding holding-capacity and durability. The NEW Centerforce DFX disc is a heavy duty 3 stage sprung hub design and is our first DFX series disc that features a wave spring (Marcel) cushion between the friction facings for improved drivability. It is reformulated with powder metal friction technology that allows for greater holding capacity and longevity while offering exceptionally smooth driving characteristics. DFX scores big, not only with holding capacity and strength, but also provides some of the best drivability available.
Please call a Centerforce dealer or Centerforce directly with questions at (928)771-8422 or visit them online at www.centerforce.com. Part number 0135241 lists for $2,584.95 and includes Pressure Plate, Disc, T.O.B., Hyd. Slave, Align Tool, Flywheel, Bolts and Pilot Bearing.
---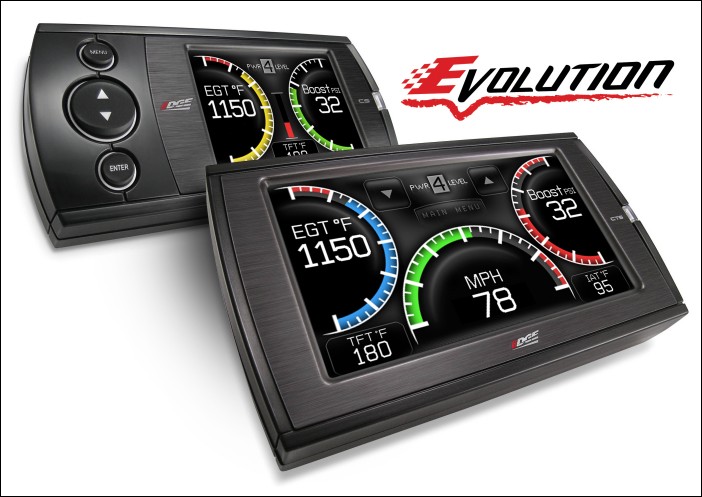 Edge Releases 2003-2012 Dodge Cummins Tuning for the Evolution CS/CTS*
OGDEN, UT: Edge is excited to introduce the most advanced tuning product covering 2003-2012 Dodge/Ram 5.9L and 6.7L Cummins engines. With over a decade of delivering award winning products, Edge is proud to supply relevant power levels and custom features. Towing a trailer through the canyon, driving to and from work, or taking a long haul across the country is made more affordable, and enjoyable, using the Edge Evolution CS/CTS. We are pleased to extend this feature set to 2003-2012 Dodge/Ram 5.9L and 6.7L Cummins owners.
Until now, many loyal Cummins performance enthusiasts have had to stack several different products to achieve desired results. These combinations can be very costly. The engineering team at Edge has provided an optimal solution that provides best in class tuning and features into a single device.
The Evolution CS/CTS comes loaded with options to adjust the rev limiter, speed limiter, injection timing, rail pressure, and torque management on the 2003 – 2012 5.9L and 6.7L Cummins. Users can manage these custom options via the CS or CTS display and watch various parameters in real-time. Enhanced power and monitoring capability enable Edge customers to ensure their driving patterns and adjustments are delivering a safe driving experience that exceeds their expectations.
Current diesel Evolution CS/CTS owners can update their programmer using the Fusion software to load the new Dodge Cummins tuning at no additional cost. *Dyno results have shown the Evolution leads the Cummins performance programming industry.*
Edge Products is a Powerteq brand, an MSDP company, and manufacturers a full line of plug-in modules, programmers, and in-cab controllers for all popular late-model, domestic trucks and SUVs. For more information, contact Edge Products, 1080 S. Depot Dr., Ogden, UT 84404; call 888-360-3343 or 801-476-3343; fax 801-476-3348; or visit www.edgeproducts.com.
---
*Edge Releases 2011-2013 Chevy/GMC Duramax LML 6.6L Coverage*
OGDEN, UT: Edge is excited to announce their latest coverage release in the Evolution CS/CTS platform. 2011-2013 Chevy/GMC Duramax LML 6.6L owners now have access to industry leading power, control, and style. Adding up to 81HP and 170 lb/ft of torque, drivers will experience the benefits of economy, towing, and performance tunes. Standard Evolution CS/CTS features, including speed limiter adjustment and tire size calibration, are built-in with the 2011-2013 Chevy/GMC Duramax LML 6.6L coverage.
*The Evolution CS/CTS coverage will now include: Chevrolet Silverado 2500, 3500, 4500, and 5500: 2011-2013 6.6L Duramax & GMC Sierra 2500, 3500, 4500, and 5500: 2011-2013 6.6L Duramax.
Customers using their 6.6L Duramax as a daily driver, work truck, or family vehicle will notice results from Edge's industry leading tunes instantaneously. The various performance level options allow drivers to not only dial up the added power and torque when needed, but also enable them to monitor user-selected data parameters to be displayed on the Evolution CS/CTS screen. All power and economy gains are delivered with the truck's emissions system intact. This exciting release is another step taken by Edge to deliver an extraordinary driving experience to each and every customer.
Edge Products is a Powerteq brand, an MSDP company, and manufacturers a full line of plug-in modules, programmers, and in-cab controllers for all popular late-model domestic trucks and SUVs. For more information, contact Edge Products, 1080 S. Depot Dr., Ogden, UT 84404; call 888-360-3343 or 801-476-3343; fax 801-476-3348; or visit www.edgeproducts.com.
---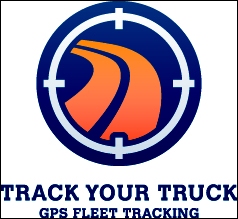 GPS Vehicle Tracking Solutions
Track Your Truck vehicle GPS tracking solutions and systems allow you to manage your business resources and assets effectively, providing access to vital information that reduce costs and improve your services. Our GPS tracking systems are easy to use, and delivered completely activated and tested so that you can start tracking your vehicles instantly.
Track Your Truck (815) 717-8482
www.trackyourtruck.com
---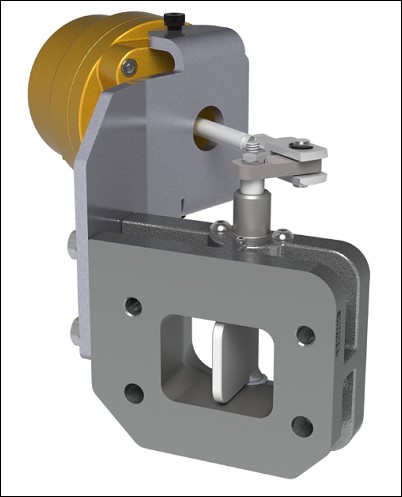 Track Master Turbine
Diverter Valve
When matching the big single turbochargers to extreme power levels, boost pressure is often difficult to develop and sometimes does not happen. Now twin volute turbine housings with a T3 or T4 mounting flange can bolt up the Track Master Turbine Diverter Valve and direct exhaust pressure into one volute letting the rotating assembly spool to launching boost pressures quickly and easily. At lower boost, flow is diverted into one turbine housing volute for quicker launching boost pressures - both turbine volutes are open at higher boost pressures. Valve, flap and shaft assemblies are precision investment-cast stainless steel.
BD Diesel Performance (800) 887 5030
www.dieselperformance.com
---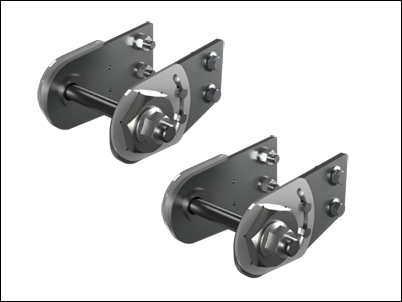 BD Cam Caster Adjustor Kit
Have trouble keeping your Ford truck driving straight? Alterations like installation of a suspension lift or levelling kit can cause the steering pivot axis and tire position to swing rearward negative castor resulting in wandering, wobble, pulling and stiff steering. By installing BD's Cam Caster Adjustor Kit on the radius control arms of the Ford 2005-2010 Super Duty pick-ups (Diesel or gas), correcting the caster to a more positive angle is made easier and help prevent a number of potential steering problems. BD Diesel Performance (800) 887 5030 www.dieselperformance.com
---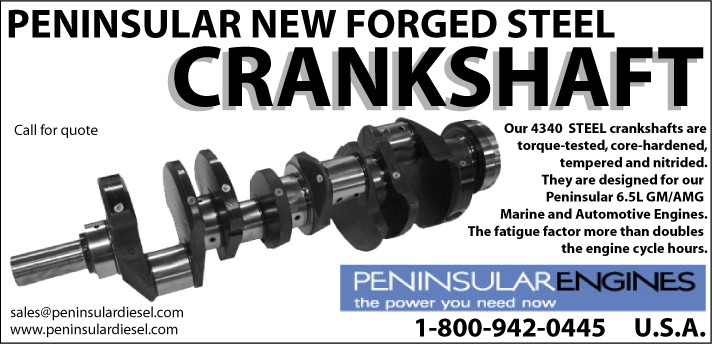 For 6.5L Diesel Forged-Steel Crankshafts, visit www.peninsulardiesel.com
---

"Dan & Guy Fitzgerald "America's Father & Son Instinctive Bowhunting Team" Join Forces with Edge Products!"
OGDEN, UT - 30 Year Running, World Famous Bowhunting Entertainment Video Pioneers and Household Names, Dan & Guy Fitzgerald have Teamed up with the fine folks at Edge Products to help Bring into the Outdoors, the Power, Performance & Fuel Economy Benefits that Truck & SUV Owners in the Motorsports Industry have been enjoying for years.
Guy Fitzgerald, half of Team Fitzgerald, was adamant in his description of Edge's amazing products, "Dad and I are just as into our Powerstroke F-350 Diesels, as we are hunting and fishing. Big, Bad, and Powerful is the name of the game with us, as it is with the "Truck Loads" of Fitzgerald Followers, too! I've tried just about all performance modules, and the Amazement I experienced after a quick hookup of my Edge Evolution, was out of this world! What an honest difference Edge made, over other brands! I still can't believe how much instant throttle response, shift point firmness, and overall efficiency Edge has provided, for both Pulling Heavy Loads and Racing! Plus, the guys at Edge are Bowhuntin' fools, too! That always helps! I Endorse and Recommend Edge Products to Every Single Team Fitzgerald Fan, Pro Staff Member, & Field Staff Member, who cares about Power & Performance, with their vehicles!"
Edge Products is a leading manufacturer of electronic performance products for most late-model diesel and gas-powered Trucks, Jeeps and SUVs. Edge sells a wide range of products engineered for anything from improved fuel economy, to towing to all-out racing! Dave Martinez, President of Edge Products and avid bowhunter, is "ecstatic about the partnership with Team Fitzgerald!" Dave says, "We know there are millions of truck owners that love hunting, fishing and spending time in the outdoors as much as we do. Their trucks are a big part of their outdoor lifestyle and here at Edge we know we can make that truck run the way they want it to run! I have watched Team Fitzgerald for years. We are thrilled to be working with them and are anxious to get our message out to the millions of people who have loved to follow Dan and Guy's hunting and outdoor adventures for the past thirty years, and into the future!"
For More Information, on Edge's Full Line of Performance Products for your Application, visit www.edgeproducts.com
To Get Team Fitzgerald Video& Product Retail Location Information, Television Channels & Airtimes, more about Dan & Guy Fitzgerald, their Pro Staff & Field Staff, check out the Outdoor Community Powerhouse that is www.teamfitzgerald.com
---

Edge Releases the Race Evolution CS & CTS Programmer for the GM Diesel 2006-2009
OGDEN, UT - From the company that was first to introduce the in-cab digital gauge tuning device, Edge Products is proud to announce two incredible "next generation" products built specifically to give truck enthusiasts the power, style and control they've been waiting for. The all-new full-Color Screen (CS) and Color Touch Screen (CTS) Evolution offers the most advanced technology in engine tuning available today.
The Edge Racing Evolution CS and CTS models feature seven power levels that provide jaw-dropping horsepower and torque gains of up to 180+ additional HP and 385+ ft. lbs. of torque. The Race tuner provides custom-built tunes designed for race or competition vehicles that have modified free-flowing exhaust systems. The Edge Racing Evolution is not legal for use on public highways and streets and may not be used for purposes other than off-road, legal competition/race uses. The Edge Racing Evolution is not operable until registered at www.edgeproductsracing.com which will require the user to sign a disclaimer before use.
The Edge Racing CS and CTS programmers offer the same great features and benefits users have come to expect from Edge Products along with a whole host of additional features. The CS and CTS come packed in new-style ruggedized cases with a universal system for window mounting (included) or custom pod or pillar mounting (accessories available from Edge) for that "from-the-factory" look.
The CS and CTS programmers not only re-program the vehicle to improve power and performance but also double as gauge-display devices providing vital information about the performance of the newly tuned vehicle and can also act as scan tools for reading and clearing trouble codes.
The CS and CTS products connect directly into the vehicle's computer via the OBDII/diagnostic port and can read and display up to 8 engine parameters at a time from a list of dozens of available engine parameters! The CS and CTS displays can be easily changed and configured to allow each user to view the data most important to them. Safety features with user-defined audible alerts as well as performance test features such as 0-60 and quarter-mile times are included. Both systems include light sensitivity meters that automatically adjust screen brightness for improved viewing for day or night driving.
The CS model features a full-color, high-resolution 2.4-inch, button-controlled screen. The CTS model is a full-color, high-resolution 4.3-inch touch screen that comes equipped with a video-in port allowing users to connect to Edge's state-of-the-art backup camera (sold separately including night vision and locking license plate mount!) or any compatible off-the-shelf backup camera or DVD player.
Both models are designed to work in conjunction with the all-new Edge Accessory System (EAS) which allows users to connect multiple future accessories to the product such as additional exhaust gas temperature (EGT) sensors with many more accessories to come in the future!
The value of the Evolution programmer (P/N 85600 GM Diesel Race CS, P/N 85700 GM Diesel Race CTS) versus other programmers on the market and the fact that it is an all-in-one tool - scan tool, programmer, and gauges - make it the ultimate threesome. At a starting street price of $699.00, it's priced as the best value for a premium product on the market today.
Edge Products manufacturers a full line of plug-in modules, programmers, and in-cab controllers for all popular late-model domestic trucks and Jeeps. For more information, contact Edge Products, 1080 S. Depot Dr., Ogden, UT 84404; call 888-360-3343 or 801-476-3343; fax 801-476-3348; or visit www.edgeproducts.com.
---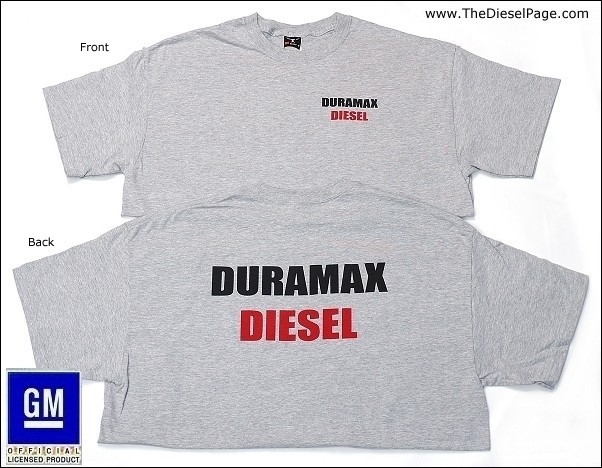 Licensed Duramax Diesel T-Shirts
In addition to white, The Diesel Page is also offering GM licensed Duramax Diesel t-shirts in gray. The gray shirts are the heavier weight cotton "Hanes Beefy-T". Visit this link to place your order or learn more about any of our available Duramax Diesel ball caps and t-shirts.
Thank you!
---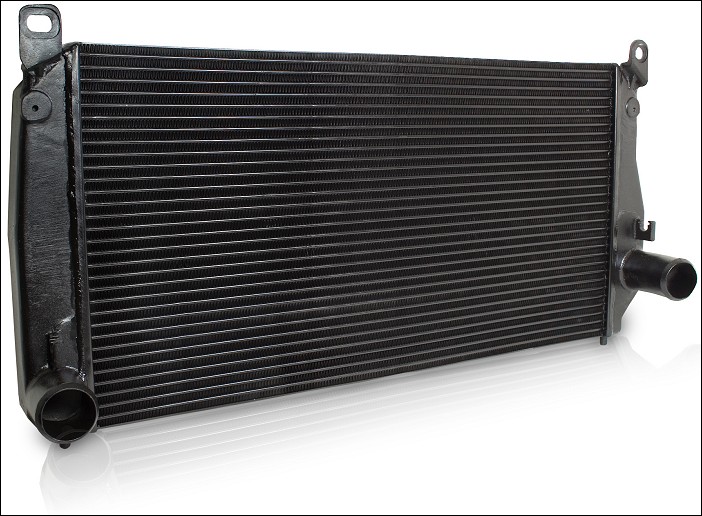 BD's new Chevy LB7/LLY Duramax Intercooler
Compressed air is heated air-and when you combine an aggressive fuel curve with elevated boost levels, high inlet temperature can result. That's why BD developed the Cool-It intercooler. With up to 57% more cooling surface area and an up to 33% thicker core, the Cool-It increases cooling effectiveness to approximately 90%, compared to only 70% for the stock intercooler. That can mean a temperature reduction of up to 200° Fahrenheit over the stock intercooler! At the same time, the up to 36% larger inlet and discharge tubes can handle up to 100 psi of boost and over 1500 cfm, while holding pressure drop to less than 1 psi.
And with BD's new Chevy LB7/LLY Duramax unit having over 780 sq in of frontal cooling area and almost 2000 cu in. of cooling volume, that makes it 12% more area and 79% more volume over stock - 4% more area and 37% more volume over some competitors.
A direct, bolt-in replacement for the stock unit, the Cool-It is the best-looking, best performing intercooler on the market. Hoses and spring loaded T-bar clamps included in some kits. New manufacturing design makes all end tanks with exclusive cast-in one-piece internal support columns that increase tank stiffness and strength.
BD Intercooler w/ high efficiency w/low pressure drop extruded tube= 2.56 x 38 x 20.54
Frontal surface Area = 780.52 sq in
Cooling Volume = 1998.1 cu in.
Efficiency: >90%
Pressure Drop < 1 psi
Banks Tube and fin = 1.94 x 20 x 37.5
Frontal Area = 750 sq in.
Cooling Volume = 1455 cu in
Stock = 37.6 x 18.6 x 1.6
Frontal Area = 699.4 sq in
Cooling Volume = 1119 cu in
BD Frontal Area 12% More than stock
BD Cooling Volume 79% More than stock
BD Frontal Area 4% More than Banks
BD Cooling Volume 37% More than stock
More than 90% efficient; 10% more efficient than the next leading Duramax aftermarket intercooler
BD Diesel Performance
Toll Free. 1.800.887.5030
Unit A10-33733 King Rd,
Abbotsford, BC, Canada
V2S 7M9
---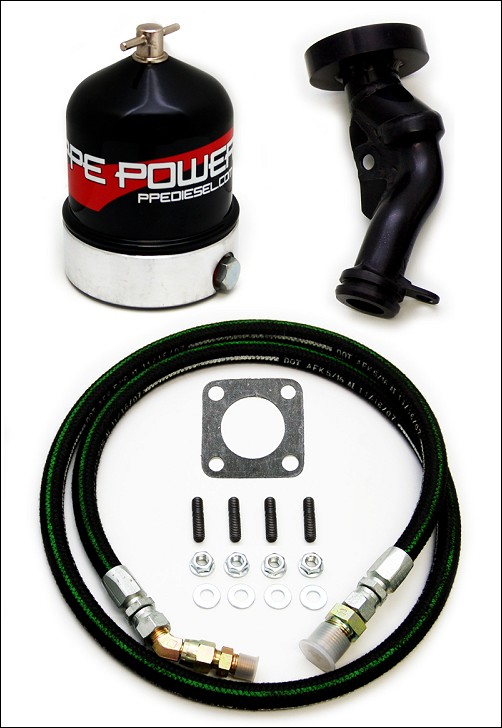 Pacific Performance Engineering
Oil Centrifuge Filtration Kit
---
The Oil Centrifuge Filtration Kit was specifically designed for 2001 through 2008 Duramax diesel engines and cleans oil by generating a centrifugal force 2000 times greater than gravity. Engine oil pressure spins the rotor at a rate over 6000 rpm, separating the solid contaminants from the main oil supply and spinning them to a removable outer bowl which is easily scraped clean.

Features:
Reusable by-pass oil filtration system
Keeps oil cleaner for longer
Reduces filter changes and extends oil life
Contaminant particles as small as 1/10th of one micron (micrometer) are removed, eliminating wear and tear on close tolerance metal parts
Removes soot from EGR intake manifold out of oil
Holds 10 ounces of contaminate
Application: 2001-2008 Duramax diesel engines
"According to a recent study by the California Integrated Waste Management Board, 73 percent of California drivers change their oil more frequently than required. This same scenario no doubt repeats itself across the country. Besides wasting money, this translates into unnecessary consumption of $100-a-barrel oil, much of it imported...

Using 2005 data, the Board estimates that Californians alone generate about 153.5 million gallons of waste oil annually, of which only about 60 percent is recycled. Used motor oil poses the greatest environmental risk of all automotive fluids because it is insoluble, persistent, and contains heavy metal and toxic chemicals. One gallon of used oil can foul the taste of one million gallons of water...

It's been a misconception for years that engine oil should be changed every 3,000 miles, even though most auto manufacturers now recommend oil changes at 5 000, 7 000, or even 10 000 mile intervals under normal driving conditions...

Greatly improved oils, including synthetic oils, coupled with better engines mean loner spans between oil changes without harming an engine. The 3 000 mile interval is a carryover from days when engines used single-grade, non-detergent oils...

Because of the many external conditions and parameters that have to be taken into account, calculating the precise maximum service interval using mathematical models alone is difficult...Oil doesn't wear out, but rather dirt and impurities cause oil to lose its ability to lubricate properly, dictating the need for a change." Article by Bill Siuru, Greencar.com

Pacific Performance Engineering
303 N Placentia Ave
Fullerton, CA 92831
www.pacificp.com
---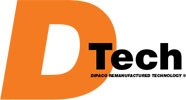 DTech PMD for the Electronic 6.5L Turbo Diesel
General Motors has announced they will begin using the 6.5L DS pump mounted driver (PMD) sold by DTech in their PMD service kit, replacing the original Stanadyne PMD. The DTech PMD is said to offer superior performance, and is designed to withstand the underhood operating temperatures without being remote mounted. The DTech PMD is available from DTech as kit number DT76301, and included with all Dtech remanufactured DS fuel pumps for the 1994 or newer electronic 6.5L diesels.
This is a completely re-designed driver module that replaces the original factory Stanadyne module that most 6.5L diesel owners are all too familiar with.


Click the banner above or call 1-775-329-7511 for more information.
---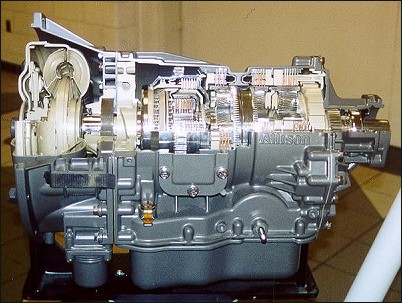 - Performance -
Allison Transmissions
Turbochargers
Transfer cases
Street/Comp, 600-HP Rated, complete with SunCoast Billet Converter, 12mo/12k miles warranty. Installed: $4500.00 Uninstalled: $3995.00
High Tech Turbo Upgrades for the LB7-LLY 2001-2005 -- Installed: $3995.00
Also Stainless Steel Race Versions available up to $4695.00 installed.
Merchant Automotive Transfer Case -Upgrade/repair installed $495.00
Visit us at: www.dieselhotrods.com
---
Edge Releases Evolution Programmer for 2007.5+ GMC Duramax (LMM)

OGDEN, UT - Today Edge Products announced the release of their latest Evolution programmer for the 2007.5 Chevy/GMC Duramax (LMM motor). Similar to Edge's other Evolution programmers, this unit comes with four standard power levels, quickly changes power levels, functions as a full diagnostic tool, and stays mounted in the cab to provide real-time monitoring of the truck's vital engine information. Best of all, it comes with a custom pod designed to integrate with the trucks dash and includes and exhaust gas temperature (EGT) probe at no extra cost.

The Evolution provides gains of up to 85 HP and 200 ft-lbs of torque at its peak. It also includes a special mileage tune designed specifically to improve fuel economy. Advanced tuning features include the ability to recalibrate the speed signal to show true road speed if the truck runs non-stock tires, and adjustment of the factory speed limiter. The Evolution also features performance testing - 0-60 and quarter-mile times with drag-strip Christmas tree lighting and reaction times. The unit is Internet updatable and includes a USB cable and custom software.

Three exceptional new features to this Evolution are the ability to display soot mass and injector balance rates, and the ability to scroll through multiple display parameters with the click of a button. Soot mass is displayed in grams and is related to the amount of soot in diesel particulate filter (DPF), which helps customers gauge when how close they may be to a regeneration cycle. The display of injector balance rates is beneficial because, if out of balance, customers can pinpoint which injector has a problem. The Evolution also displays DPF regeneration status, which helps customers understand where the truck is in its regeneration process.

Edge is excited to announce the option of bonus features which are available via Internet upgrade. With the signature of a waiver and for a nominal fee, customer can obtain a HOT unlock code, which releases three additional power levels and up to 130 HP. With the waiver, customers can also perform a forced regeneration to clear their particulate traps.

Edge Products manufacturers a full line of plug-in modules, programmers, and in-cab controllers for all popular late-model domestic trucks and Jeeps. For more information, contact Edge Products, 1080 S. Depot Dr., Ogden, UT 84404; call 888-360-3343 or 801-476-3343; fax 801-476-3348; or visit www.edgeproducts.com.

# # # #
---
Edge Reintroduces the Standard Juice with Attitude for the 2003-2007 Ford 6.0L Powerstroke
OGDEN, UT - Back by popular demand, Edge Products has reintroduced the standard Juice with Attitude for the 2003-2007 Ford 6.0L Powerstroke to the aftermarket industry. Standard with every Juice with Attitude product that Edge manufactures, this product comes with five on-the-fly adjustable power levels, built-in safety features, boasts solid horsepower and torque gains, and even has a setting designed to increase fuel economy.
The Juice plugs into the truck's factory connections in a matter of minutes and communicates directly with the engine's ECM, from which it receives vital engine data and fuel-system information. This communication enables the Juice to provide smooth and precise power under any driving condition. The Attitude is an in-cab controller that controls the Juice and provides constant real-time updates on the truck's vital information. Using the Attitude, one can choose from five different power levels and shift on the fly.
The Juice with Attitude produces significant gains in horsepower and ft-lbs of torque - anywhere from 25-80 additional horsepower and up to 220 additional ft-lbs of torque to the rear wheels. The Attitude functions as a comprehensive gauge display by monitoring exhaust gas temperatures (EGTs) and turbo boost. The module has built-in safety features to protect the truck, such as user-defined audible alerts and automatic defueling to prevent excessive EGT, boost levels, and transmission slippage.
This Juice with Attitude installs in 30 minutes, features a full set of gauges, produces significant gains in horsepower and torque, and can even be set to improve fuel economy. For its cost, it provides tremendous value by building responsible horsepower.
The 2003-2007 Ford 6.0L Juice with Attitude (Part #10104) has a street price of $599.20.
Edge Products manufacturers a full line of plug-in modules, programmers, and in-cab controllers for all popular late-model domestic trucks and Jeeps. For more information, contact Edge Products, 1080 S. Depot Dr., Ogden, UT 84404; call (888) 360-3343 or (801) 476-3343; fax (801) 476-3348; or visit www.edgeproducts.com.
---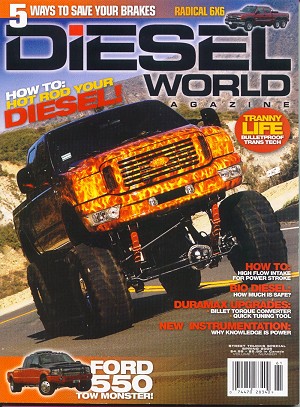 Diesel World Magazine
The new Diesel World magazine debuted with the spring 2006 issue. If the first 12 issues of Diesel World are any indication of what's to come, a subscription could be in your future!
Check it out!
---
Lubrication Specialist, LLC.
Direct Replacement Oil Cooler and Oil Line Set For 1995-2000 GM 6.5TD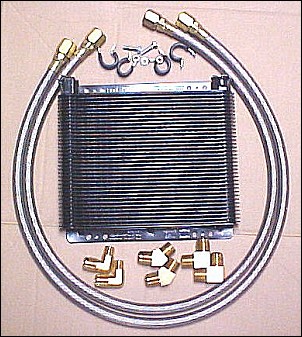 This kit is designed to replace the OEM oil cooler lines which are notorious for leaking. The oil cooler is also replaced so adapters do not have to be used which further decrease the chance of oil leaks. The lines are 5/8" high temp, high pressure Stainless Steel braided Teflon hoses, with crimped brass fitting to prevent corrosion. Hoses are rated at 500 degrees and 1500psi working pressure with a 6000psi burst pressure. Kit also comes with 45 degree brass fittings for the oil cooler as well as both 3/8" and ½" NPT fittings for the block, so there is no more guessing as to which line set you have when you order. Also included are rubber lined clamps and necessary bolts to secure the lines to the OEM bracket on the motor mount and ones for between the motor mount and the cooler. By supporting the lines in this fashion you can be assured the lines will not chafe and break like cable ties will that others use. This kit my fit earlier models but that will have to be determined by calling us before ordering. The oil cooler is the very same as OEM only with NPT fittings instead of obsolete fittings like the OEM. Also NO cutting is needed to make the cooler fitting. Just unbolt the OEM and bolt this back in its place.
Kit Includes:
Pair of Stainless Braided Teflon Hoses
Direct replacement oil cooler
Pair of 45 degree brass fittings for the oil cooler
Pair of 90 degree 3/8" NPT brass fittings for early model blocks
Pair of 90 degree ½" NPT brass fittings for late model block
Four rubber lined support clamps and bolts
Introductory kit price is $225
Lubrication Specialist
5231 Sugar Hills Dr.
Greenfield, Indiana 46140
Call: 1-888-306-4255
www.lubricationspecialist.com
---
Kennedy Diesel New Product Announcement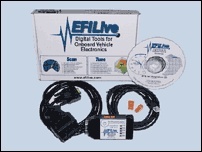 EFILive Duramax Tuning and Scan Tool
EFILive's Tuning Tool is a full-featured, PCM tuning and reprogramming solution designed exclusively for GM's V8 electronic engine management systems. Each component has been carefully designed by experienced engine tuners, and developed by professional electronic engineers and software developers.
Diagnosing, tuning and reprogramming your Duramax powered GM truck is now easier and more reliable than ever. The EFILive kit includes the installation software, FlashScan cable, and the appropriate PCM licenses. The EFILive Tuning Tool package has the following key features:
Product feature comparison matrix
EFILive's FlashScan interface cable
State of the art PCM editing software
High speed data logging
Black box logging - no laptop required
Integrated logging of wide band O2 and other external sensors
Bi-directional controls
PCM tuning license
EFILive V7 Scan Tool Pro license
Native USB support
Status LEDs
Free software updates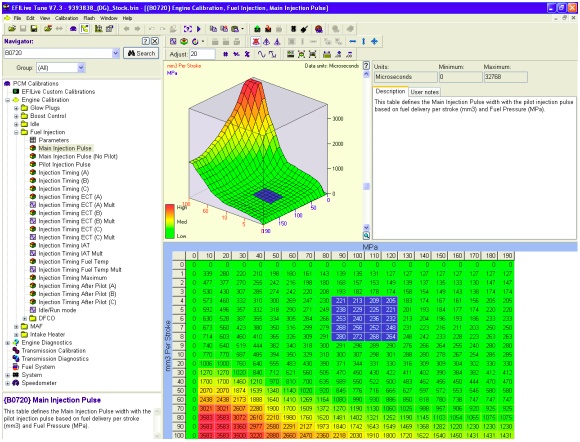 With a full featured scan tool and EFILive's programming ability, the system opens the world to do-it-yourself Duramax performance enthusiasts. EFILive allows complete control with over 100 parameters and tables to alter directly in the ECM from injection timing to injection amount (both pilot and main) for increased performance. Additionally, the system can handle VATS bypass, tire/speedometer recalibration and has the ability to change diagnostic fault code parameters. The comprehensive scantool includes the ability to log up to 25 minutes of data without a laptop and a built-in EGT input that can be logged simultaneously with captured engine data. Prices start from just $699, which will allow you to program any two vehicles. For more information please visit www.kennedydiesel.com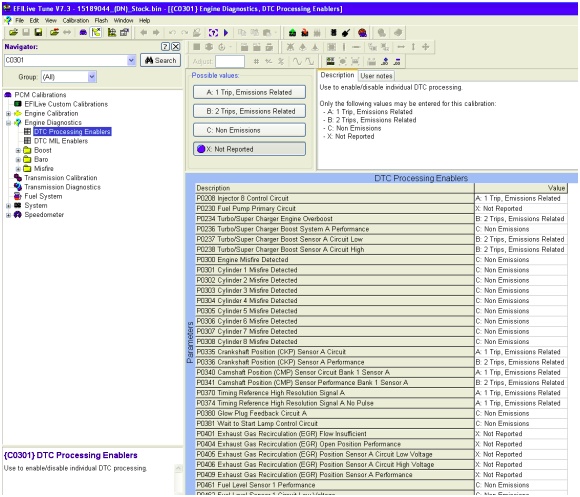 Kennedy Diesel
W3351 26 Rd.
Loyal, WI 54446
Ph. 715-255-9433 Fax 715-255-9499
---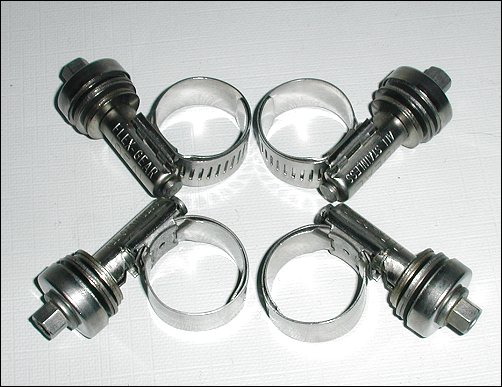 Fuel, ATF & Heater Hose Clamps
These clamps offer a constant tension device that maintains clamping force regardless of load or temperature variations. This helps to eliminate leaks, whether your application is for fuel hoses, ATF cooling lines, or heater hose connections.
Kennedy Diesel
W3351 26 Rd.
Loyal, WI 54446
Ph. 715-255-9433 Fax 715-255-9499

John@kennedydiesel.com
---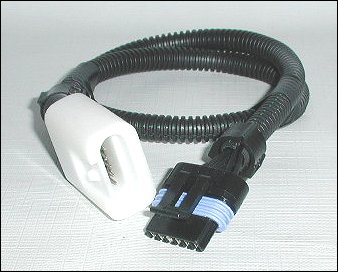 6.5L Turbodiesel FSD / PMD Extension Harness
The FSD / PMD Extension Harness was designed to help ease the wiring harness length problem some 6.5TD owners experience when installing a remote mounted FSD / PMD Cooler. Till now, locating a suitable weatherproof connector was a big stumbling block. Kennedy Diesel solves this problem by producing a custom-made connector shell that maintains the all-weather protection offered by the factory GM (Delphi) harness connectors.
Installation is quickly accomplished by unplugging the vehicle harness from the original Fuel Solenoid Driver module on the side of the DS4 electronic fuel injection pump, and inserting the FSD / PMD Extension Harness. Whether installing a remote mounted FSD on the intake manifold or moving it even farther away from the engine, this extension harness now makes that possible. Available in several pre-set and custom lengths, order yours today for the best in quality, weather-proofing and value.
Kennedy Diesel
W3351 26 Rd.
Loyal, WI 54446
Ph. 715-255-9433 Fax 715-255-9499

John@kennedydiesel.com
---
Stay tuned, there's more to come!
---
TheDieselPage.com
What's New: | Feature Articles: | Product Reviews: | Member's Area:
Join Us: | Duramax Diesel Page: | Advertisers: | Classified Ads: | Books:

Send e-mail to: turbo@TheDieselPage.com
Copyright © 1996-2018 by The Diesel Page
www.TheDieselPage.com