---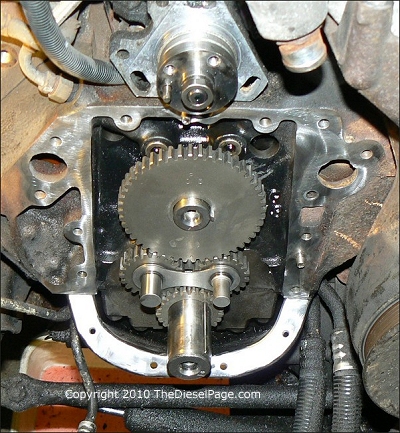 1997 6.5TD Upgrades
Gear Drive Timing Set & Fluidampr
---
By William Buchak & TDP
---
Long-time member William Buchak recently upgraded his 1997 6.5TD Chevy Tahoe with a gear drive timing set and a Fluidampr. Aside from showing William's upgrades, this also presents another opportunity to talk again about benefits of these 6.5L diesel performance and fuel economy upgrades.
The 6.2/6.5 gear drive timing set originally offered through Diesel Services Group (www.dieselservices.com) and later sold through a few of the larger catalog/online auto parts stores is no longer available. Some say the gear drive we're familiar with was manufactured by Pete Jackson Gear Drives in California. If you spend any time on the Internet reading about gear drive timing sets you'll likely see a variety of opinions - both for and against - with most gear drive installations occurring on gas engines. Some of the opinions are based on hearsay, some on rumors and some on personal experience. The best opinions, in my humble opinion, are those that are based on personal first-hand experience.
When installed correctly, the gear drive timing set is a worthwhile upgrade when compared to the original timing chain set. More precise cam and injection timing are the most immediate improvements users experience. The engine runs more crisply and smoothly, and timing won't change throughout the life of the engine. A timing chain, on the other hand, gradually stretches over time due to wear, which slowly retards timing. When new, a timing chain will produce about 2° of slack, which is the same as a gear drive. However, after the engine has accumulated 100,000-200,000 miles, the chain stretch could account for 4-6° of slack, while a gear drive will still be at 2. More chain slack and subsequent retarding of the injection and cam timing will reduce power, fuel economy and start-ability, as well as produce an engine that runs less smoothly. Our 6.5TD Power Project engine was equipped with a DSG Gear Drive timing set like that shown here, and it performed very well for 250,000 miles and 6+ years of hard use before the truck was driven to its new home. The original fuel injection system and injection timing, turbocharger, water pump, head gaskets, valve covers and oil pan were never touched.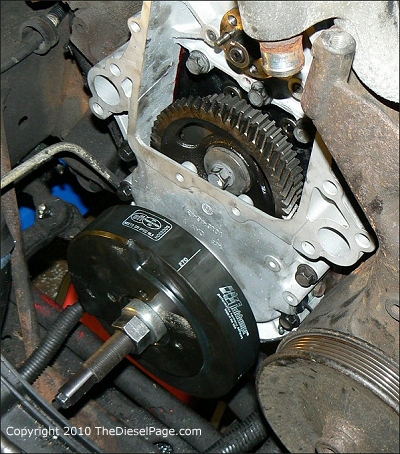 As this photo shows, there is no "Timing Index Plate" mounted to the electronic 6.5's aluminum front cover that you could otherwise use to align the damper to the 0° mark (#1 cyl at TDC). Aligning the crank/cam timing marks for either a chain or gear timing set requires that the crankshaft be aligned so cylinder #1 is at 0°. The photo below shows the gears that drive the fuel injection pump.
The recently available Fluidampr for the 6.5 is another lifetime upgrade for the 6.5. The Fluidampr never wears out or deteriorates over time. And, it better dampens the harmonic vibrations inherent in all crankshafts. Most 6.5 crankshaft failures we hear about are likely caused by defective factory dampers, rubber-isolated crank serpentine pulleys or flexplates/flywheels/transmissions.
I have heard from a few 6.5 owners who indicated the Fluidampr was somewhat hard to install. Apparently the Fluidampr bore and crankshaft diameter are a pretty tight fit. Heating the damper in a pan of boiling water will help, as does a genuine damper installer, which is highly recommended. Never attempt a reticent Fluidampr installation by using a bigger hammer.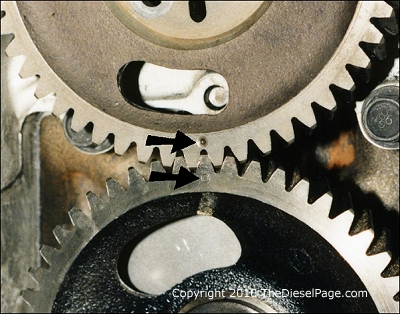 Before pulling off the aluminum front cover, rotate the engine so these timing marks are exactly aligned with one another. This will help when you install the new timing set.
Being cheap, I like proven upgrades that if done right will last for as long as I need them to. The two upgrades shown here can last much longer than the life of a single engine.
The Diesel Page
---
TheDieselPage.com
What's New: | Feature Articles: | Product Reviews: | Member's Area:
Join Us: | Duramax Diesel Page: | Advertisers: | Classified Ads: | Books:

Send e-mail to: turbo@TheDieselPage.com
Copyright © 2010-2018 by The Diesel Page
www.TheDieselPage.com