---
The Results Are In!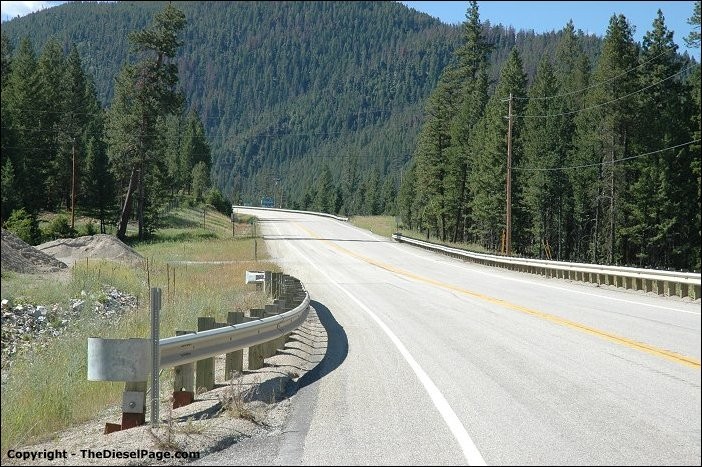 The Diesel Page
Pull-Off VII - July 2006
The Duramax Raises the Bar - Again!
---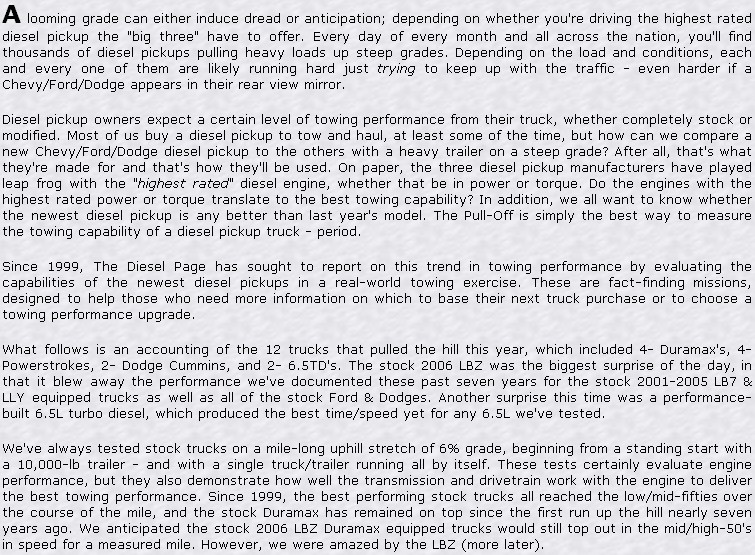 Chevrolet attended our first Pull-Off back in 1999 with a pair of prototype Duramax/Allison equipped trucks. We talked about trailer weight at the time, and they requested that we use a trailer weighing at least 10,000-lbs. They said that a heavier trailer would give the Duramax the advantage. So, we used a trailer weighing just shy of 10,000-lb for the first Pull-Off. Every year since then we've tried to load our trailer to as close to 10K as possible, which allows us to track performance over time. The above trailer was loaded with approximately 800 gallons of water. When combined with the weight of the containers and unloaded trailer, we arrived at close to 10,000-lbs. The above 12K GVW trailer incorporates brakes on both of its 6,000-lb 8-lug axles.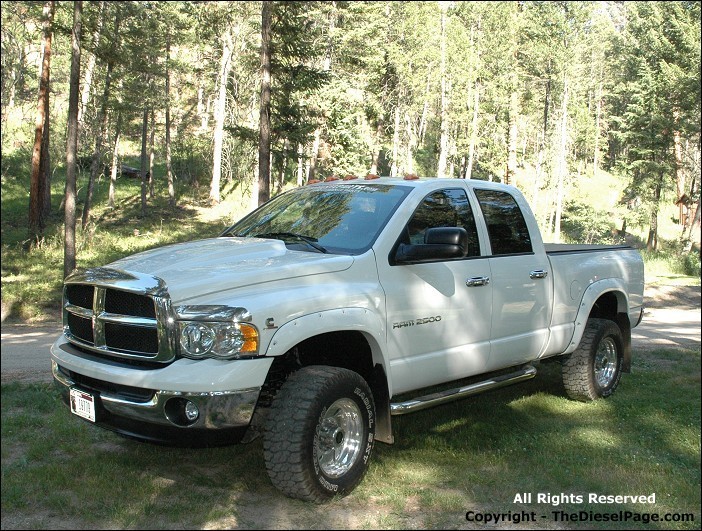 Representing U.S. Diesel Parts was this 2004.5 Dodge Cummins. This was the third Pull-Off for this truck, running completely stock its first year, and with more power added each of the following two. New this year was the addition of BD's twin turbo system, a huge 5-6" single exhaust system, a new combination of programming and power modules, plus water/alcohol injection to help keep EGT's in check. This is an impressive looking Dodge.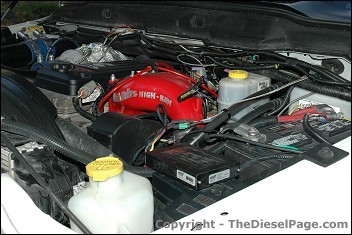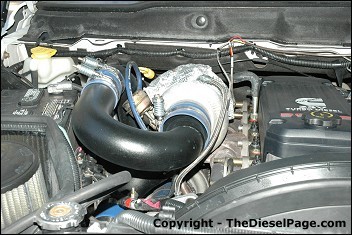 The first run was made in 2WD, which helped to demonstrate the huge power gain made since last year. Even though wheelspin prevented the truck from performing up to potential, it still produced the third best time to 60 in just 23.52 seconds. The twin turbochargers provided great entertainment value, in that the Cummins sounded more like a GE turbo fan (jet engine) during spoolup. This Dodge Cummins was making a lot of power.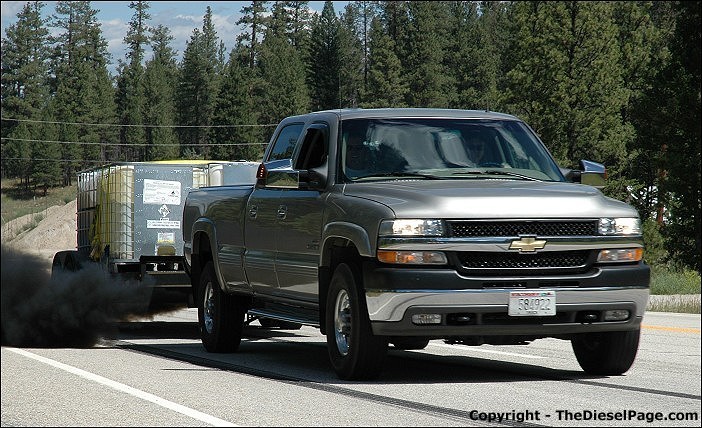 John Kennedy's veteran 2002 Chevy 2500HD LB7 Duramax powered into the top modified performance position. We're not sure how much power was used on the hill, but I've seen this truck lay down more than 700 on the dyno. JK developed his own ECM programming this year, and reportedly has more power on tap than ever before. Due to the runs being just a 0 to 60-mph, JK chose to use a small amount of nitrous oxide this year, which couldn't be used in prior years because EGT would climb too high during a mile-long run. JK made two attempts, with the first producing a 0-60 run of 20.83 seconds, and the 2nd (and best) run leaping to 60-mph in just 14.27 seconds.
I had hoped to use a G-Tech Pro to measure performance for all modified truck runs, but soon discovered that the G-Tech wouldn't reliably trigger. It requires a tremendous launch to get the G-Tech's clock started. Only John Kennedy's second attempt would do it. For information purposes only, I've listed the G-Tech data for JK's 2nd run up the hill. You'll notice that the G-Tech 0-60 time is slightly different from what I clocked using the GPS & stopwatch. This could be partly due to the 6% incline affecting G-Tech accuracy. For the sake of consistency, the GPS/Stopwatch data is the official time.
60ft - 3.184 seconds
330ft - 8.412 seconds
1/8th mile - 12.814 seconds
0-60 mph - 14.593 seconds
1000ft - 16.667 seconds
1/4 mile - 19.938 seconds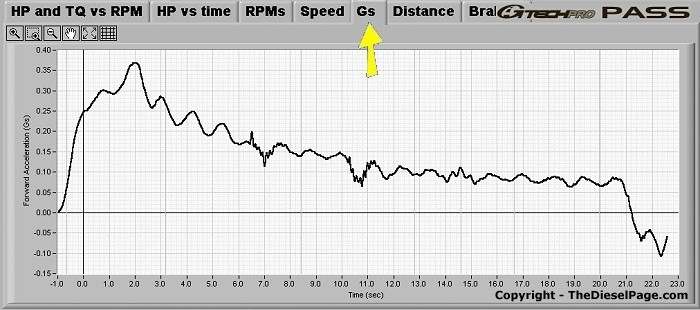 The above G-Tech graph shows the acceleration G-force over the time/length of the run. The water tanks sloshing on the trailer can be easily seen.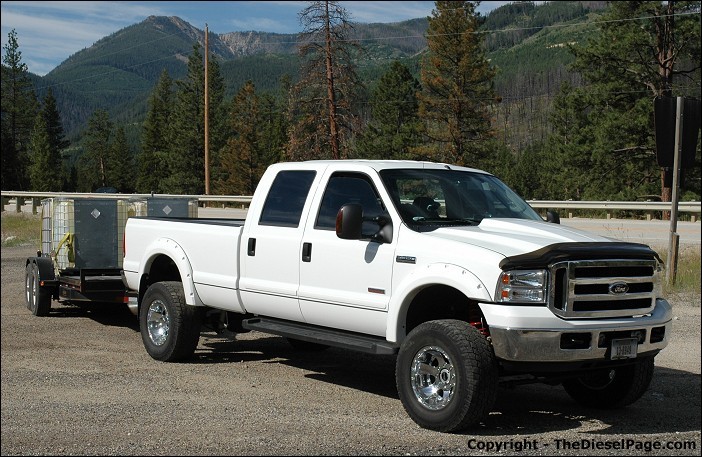 Russ Moody's 2006 Ford 6.0L Superduty ran twice, once while using stock power and again when using an SCT programmer. In stock trim, the big Superduty covered the mile in 1:07.12 seconds and reached 54.9-mph. The second run incorporated an SCT tune advertised to produce 330 rear wheel horsepower. Boosting power produced a run to 60-mph in 38.5 seconds.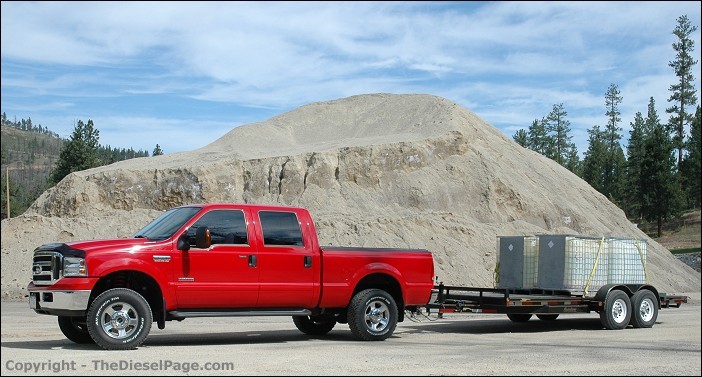 Justin Dall's 2005 F250 Ford 6.0L Superduty ran with an SCT tune, performance exhaust system, air intake system, and a Suncoast torque converter. This combination produced a run to 60-mph in 30.6 seconds. Exhaust temperature reached a peak of 1400°F, which dropped to 1300 at its last upshift.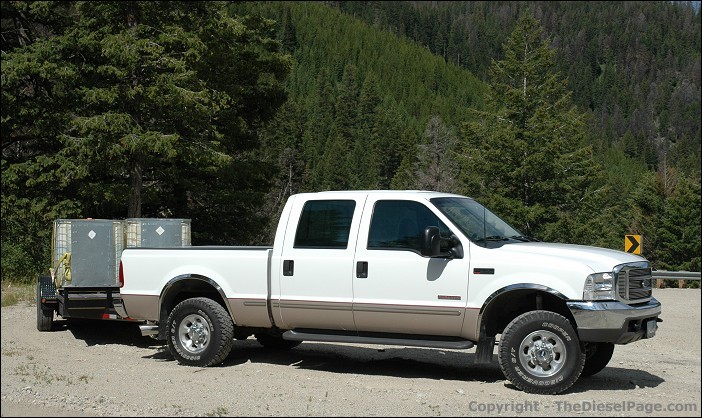 Chris Bigley's 1999 F250 Ford 7.3L Superduty ran with a DP tuner set to 80 horsepower. Chris ran this truck the full mile, producing a run of 58-mph in 1:06.59 seconds. Exhaust temperature reached 1300° at the mile.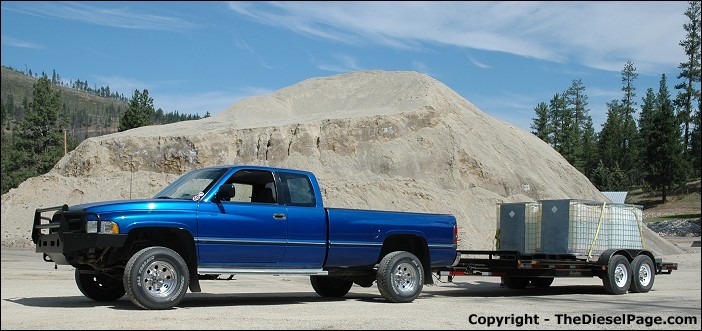 Casey Veltkamp's 5-speed manual equipped 1996 Dodge 12-valve Cummins ran with a fuel plate in the P7100 fuel injection pump and a performance exhaust system, which reportedly produced 280 rear wheel horsepower. Casey's Dodge ran the full mile, and reached 56.8-mph in 1:13.71 seconds. The Cummins exhaust temperature topped out at just 1200°.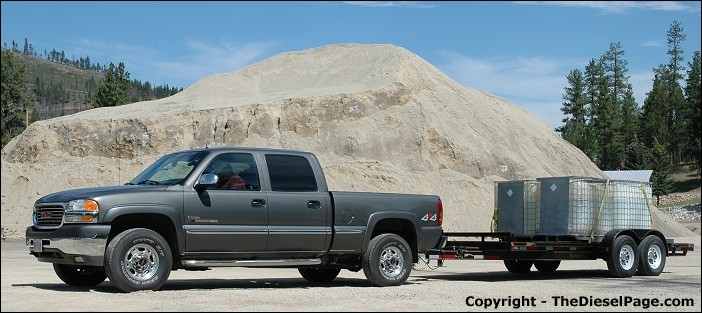 Ken Florey's 2002 GMC 2500HD LB7 Duramax ran with a twin turbo setup, a TTS Extreme ECM program, Edge Juice (without timing), a mechanical fuel lift pump, an ATS Extreme 5-Star equipped Allison and 12-bolt billet flexplate. Ken made three attempts at the hill, with two resulting in very similar times. His best run to 60-mph came at 16.16 seconds, with another at 16.5 seconds.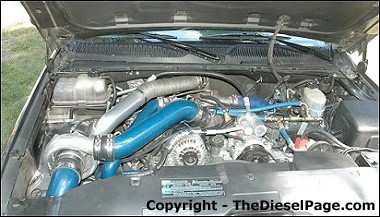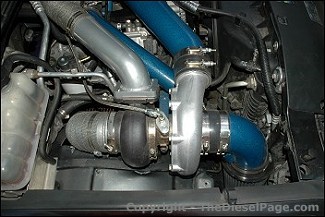 Even with lots of fuel, the 50-60 psi of boost pressure produced by the 2-stage turbo system did a great job of cleaning up the smoke.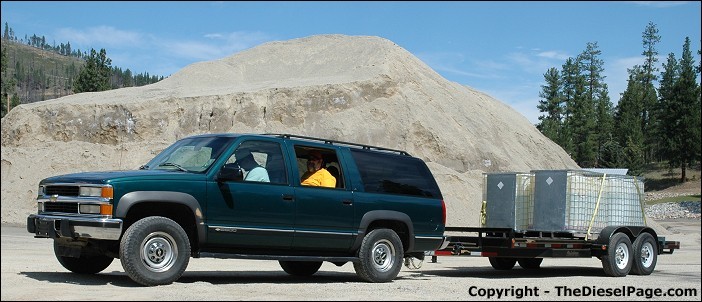 Ron Schoolcraft's 1995 Chevy K2500 Suburban 6.5TD has evolved into a test bed that now incorporates a variety of 6.5L enhancements. Beginning with a performance-built longblock, Ron has steadily added or modified various power related components to help the engine achieve a level of performance we've not seen to date. Over the course of the mile, Ron's Suburban ran to 52-mph in 1:15.46 seconds.
This is an all-time best for the 6.5 in all the Pull-Off runs we've seen to date. Performance PCM programming, a custom Holset turbocharger and a long list of modifications combined to make more power. Being able to run in 2nd gear at the governor with ~20 psi of boost pressure, while keeping EGT and engine coolant temperatures within tolerable limits are key contributing factors to this 6.5's Pull-Off performance. When you consider that the first Ford 7.3L Superduty to run the hill during our 1999 Pull-Off achieved just 50-mph, this makes Ron's 6.5L performance all the more significant.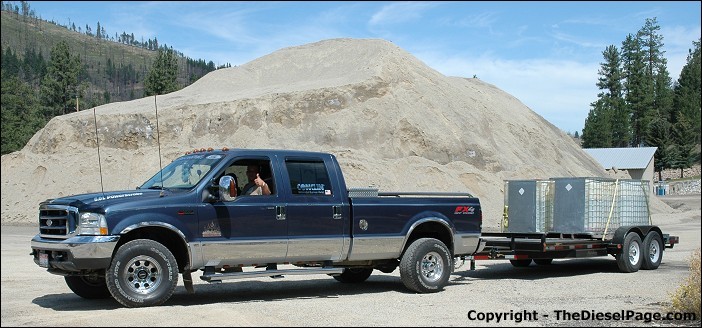 Glen Miller's 2004 F250 Ford 6.0L Superduty ran with an SCT tune, an AFE intake system, performance exhaust system, and transmission modifications. This combination produced a run to 60-mph in 30.02 seconds. Exhaust temperature approached 1500°F at the end of the run. Glen's Ford was equipped with 315/70R16 tires and a 4.10 rear differential ratio.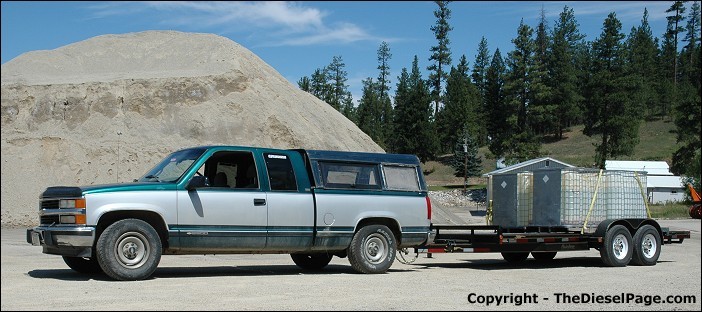 Marty Lau's 1995 Chevy C2500 6.5TD ran with a Heath exhaust system and Kennedy Diesel fan-clutch. The significance of this run was the improvement in engine temperature when compared to last year. Marty ran his truck at the 2005 Pull-Off as well, but experienced excessive engine coolant temperatures due to an ineffective stock fan-clutch. This time, Marty's truck produced a run similar to last year, reaching 41.3-mph at the mile, but without overheating the engine. While not considered a "performance product", the ubiquitous fan-clutch is an integral cooling system component that helps your engine reach its potential.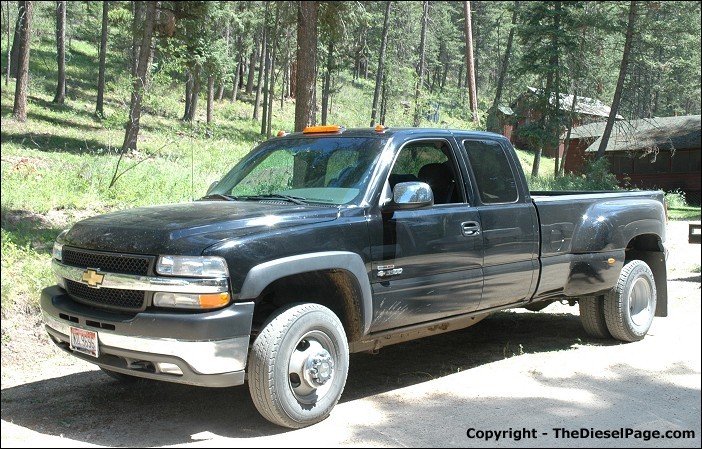 Jay Mahaffey's 2002 Chevy 3500 LB7 Duramax ran the hill in stock trim, and achieved 53-mph over the course of the mile. This is very similar performance to all of the other stock LB7's we've run through the years. This was unbeatable performance just a few short years ago, and it remains competitive with the newest Ford & Dodge.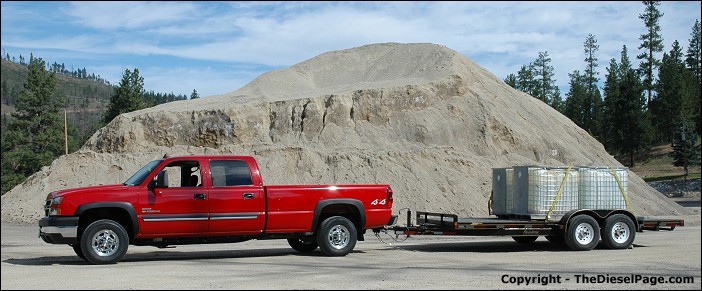 TDP
---
Special thanks to the following for helping make this year's Pull-Off a success!
Karl Tyler Chevrolet
3219 N Reserve St.
Missoula, MT 59801
Call: 1-866-541-2438 or 1-406-721-2438 -- Fax: 1-406-541-2419
www.MontanaChevy.com
Kennedy Diesel
W3351 26 Rd.
Loyal, WI 54446
Call: 715-255-9433 Fax 715-255-9499
www.KennedyDiesel.com
US Diesel Parts
2400 Palmer
Missoula, Montana 59808
Call: 1-800-823-4444 -- Fax: 1-406-721-5097
www.USDieselParts.com
---
TheDieselPage.com
What's New: | Feature Articles: | Product Reviews: | Member's Area:
Join Us: | Duramax Diesel Page: | Advertisers: | Classified Ads: | Books:

Send e-mail to: turbo@TheDieselPage.com
Copyright © 2006-2020 by The Diesel Page
www.TheDieselPage.com