---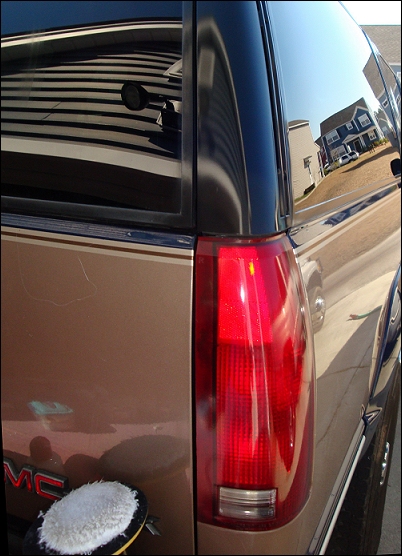 Headlight & Taillight Polishing
Renewing Plastic Lenses
---
By Roger Story
---
It seems today that vehicles are utilizing more plastic than ever before. Care of plastics presents unique challenges that many of us are not immediately accustomed to. After finishing eight years of continuous sea duty in the U.S. Navy, I decided that I would take better care of my vehicles now that I have the time. In researching ways to improve the appearance of my Suburban's taillight assemblies, I turned to Griots Garage to assist in that goal.
After some consultation with the folks at Griots Garage, I purchased their plastic care kit, item number 11545. It arrived at my door, packaged well and complete, and I was anxious to go to work on my Suburban.
The taillight assemblies shown here are the original factory units produced in 1996. As one can imagine, they were hazy and dull due to the effects of time and sunlight (bottom photo). I began by first cleaning the plastic with the cleaner included in the Griots' kit. I then applied the polish to the buffing pads and buffed on the taillights. After several applications, they emerged as shiny as they were when new (top photo). The black plastic bezels above the taillights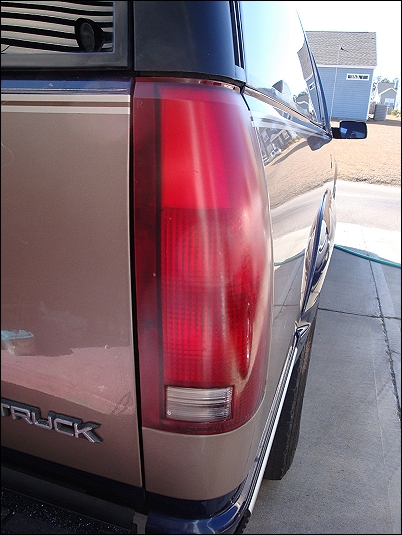 were also showing their age. Having nothing to loose, I attempted to polish them too. The results were amazing! All of the plastic looked like new, requiring only about 30 minutes of my time.
At first I was somewhat apprehensive due to the price of the kit, but I understand that you get what you pay for. There is enough product included to complete all of the plastic polishing one person might need, and the product works as well as advertised. Griots Garage Plastic Care Kit gets two enthusiastic thumbs up! TDP
Item number: 11545
Name: Plastic Care Kit
Price: $34.99
www.griotsgarage.com
---
TheDieselPage.com
What's New: | Feature Articles: | Product Reviews: | Member's Area:
Join Us: | Duramax Diesel Page: | Advertisers: | Classified Ads: | Books:

Send e-mail to: turbo@TheDieselPage.com
Copyright © 2011 by The Diesel Page
www.TheDieselPage.com