---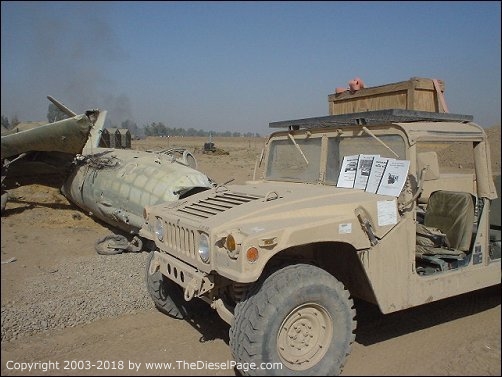 War in the Desert
& the 6.2L/6.5L Diesel HMMWV
---
Written by Jim Bigley
Photography by John McNeil
---
2018 Introduction:
Following 9/11 and not long after the U.S. had boots on the ground in both Afghanistan and Iraq, TDP received numerous requests from Marine and Army mechanics who needed help in solving problems they were having with their HMMWVs. Many simply needed a way to boost the performance of their HMMWVs due to the deep sand and the growing weight problem with the added armor. I was happy to help. John McNeil contacted me during this time frame. He was a civilian contractor, working in Iraq, who was assigned to improve HMMWV service, performance and reliability. I sent him all of our then current books (see photo above), and we communicated frequently in an effort to help make our soldiers and Marines both safer and more effective. At the time, I also had a nephew in Iraq who was serving as a combat medic (Navy Corpsman) assigned to a Marine unit, and 9/11 was still fresh in my mind. This story first appeared online in 2003 here in TDP, and I'm re-introducing it now along with a few additional photos and first-hand accounts.
---
For the first time in the history of warfare, troops can communicate via the Internet with the home folks, and can access important online resources. This article was made possible by members serving with the 101st Airborne, currently positioned near Mosul, Iraq. We thought our readers might be interested to learn more about the 6.2/6.5 powered HMMWV and the diesel maintenance challenges encountered in the desert. The lead-in photo shows a selection of books published by The Diesel Page leaning on the windshield of a combat veteran HMMWV.
AM General's design and development for a light-tactical military concept vehicle began in the early 70's, finally culminating with the 1983 introduction of their High Mobility, Multi-purpose Wheeled Vehicle (HMMWV). Nick-named the Humvee or Hummer, this highly capable vehicle is in widespread use by all branches of the military, and its toughness and versatility are attributes appreciated by both combat forces and civilians alike.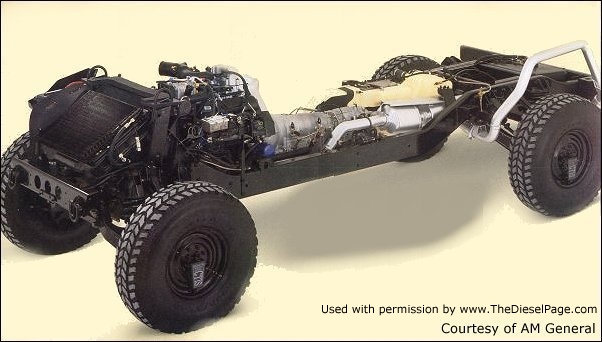 Heat-treated, bonded and riveted T-6 aluminum alloy body panels, steel roof and doors, and composite hood are the most visible HMMWV/Hummer features. The frame is a solid box-welded, E-coated, 50,000 psi steel structure with five cross members. The above photo is of a civilian Hummer H1 rolling chassis. There are differences between the military and civilian models regarding equipment (i.e. armor, fuel system, etc.) and powertrain specifications.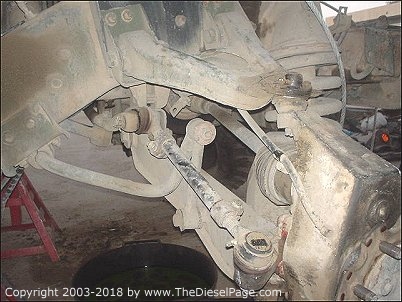 The 4-wheel independent double A-arm suspension, in addition to a geared hub design, provide unmatched wheel travel and ground clearance, yet produce a smooth and controlled ride over rough terrain.
Soon after winning the contract in 1983, AM General began production of the 6.2L diesel HMMWV, and produced as many as 70,000 over the next five years. In 1989, AM General was awarded a second five-year contract to supply another 33,000. By early 1996, military HMMWV and civilian Hummer H1 production had soared to a combined total of more than 100,000 vehicles.
HMMWV historical data and series production totals: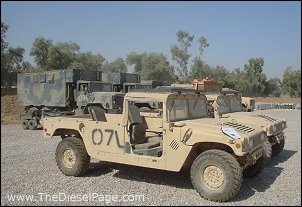 A0 series 1984-1993 6.2L diesel w/3-speed automatic transmission, 86,237 produced.
A1 series 1991-1995 6.2L diesel, 8,899 produced.
A2 series 1994-present 6.5L diesel w/4-speed electronic automatic transmission, 6,458 produced.
A2 series Expanded Capacity & Up-Armored 1993-present 6.5L diesel, 5,205 produced.
The civilian Hummer made its debut in 1991, and continues to see limited production. Aside from a small number of 5.7L Vortec powered civilian Hummers produced in the mid 1990's, all other military and civilian models were powered by the 6.2L and 6.5L diesel engines. The AMG Hummer makes a statement like no other vehicle on the road.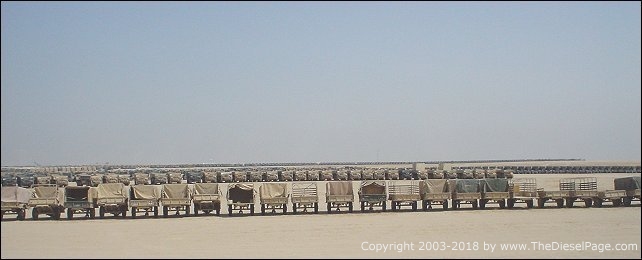 The level of support necessary to maintain 140,000 pairs of boots on the ground is simply mind-boggling. In addition to the front-line combat and tactical vehicles, dozens of different types of trucks, all manner of specially equipped HMMWVs, combat support vehicles, and a host of utility trailers are a vital necessity to conduct military operations. Taken somewhere in Iraq, the above photo shows just a portion of the "sea of vehicles" necessary to support US efforts.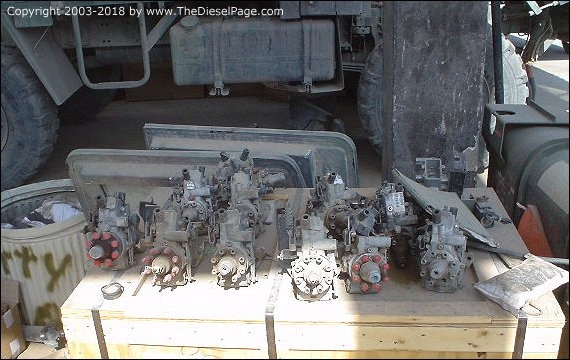 US forces met a formidable opponent in the form of a Mid-East sandstorm during the early days of operation Iraqi Freedom. During one news broadcast, I watched as an embedded reporter with a night vision camera filmed three mechanics while they were removing the turbodiesel engine from a Bradley Fighting Vehicle - at night - during the worst of the sandstorm, and while only a few miles from the enemy. Vehicle maintenance conditions in Iraq were then and remain some of the worst imaginable, and the difficulty experienced by the mechanics during times like these have to be lived to be fully appreciated. My hat is off to the men and women who keep the wheels turning.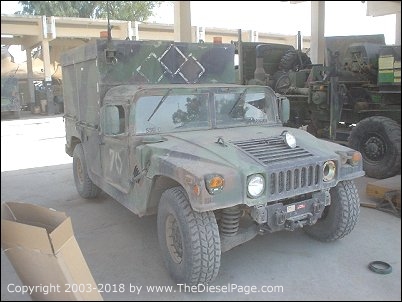 Have tools - Will travel...
Each unit has at least one specially equipped HMMWV called a "Contact Maintenance Truck". This is the truck they send into the field when it's more practical to repair a disabled vehicle on location rather than have it towed to the motor pool. The van body equipped HMMWV contains everything necessary for a field recovery, including a full SAE & metric tool set, welder, air compressor, and a complement of replacement parts. The contact trucks are the newer 6.5L A2 models with a 4-speed automatic.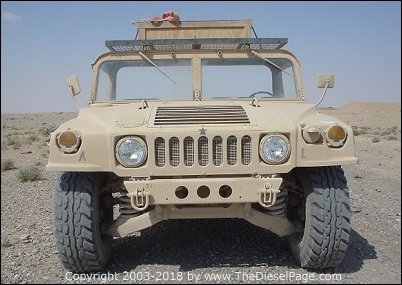 The HMMWV, while not immune to the rigors of the desert, does quite well. The air filters are designed to deal with large quantities of dust and sand before restricting airflow enough to affect performance, and the traction management system (front/rear axle differentials, transfer case differential, and automatic torque distribution devices) means these trucks rarely get stuck. Accidents due to poor visibility (sand & dust) remain a challenge.
However, fuel injection system maintenance is one area that requires attention in an ongoing effort. I've answered or forwarded emails from military mechanics who were in need of replacement fuel-injection system components - namely injection pumps and injectors, or needed information to address performance issues.
Member John McNeil, is a civilian contractor liaison currently assigned to the 101st Airborne. John's primary field of expertise is that of a heavy weapon systems engineer, but he is now serving as a HMMWV and 6.2/6.5 specialist. As John said, "More power means more weight can be added to the vehicle. More armor adds weight, and more armor improves survivability." John went on to say that, "It's not likely that TACOM (Tactical Command) will implement any major fixes for the HMMWV's issues while we're over here, but I look at this as an opportunity for some field experimentation. Documentation and experimentation are always a great help to engineers, and the more knowledge we have, the better we can make these trucks run."
John added: "Some HMMWVs don't have the right fuel-injection pump installed or the fuel-rate calibration is incorrect. This results in either overfueling or underfueling (lacks the nuts to climb hills). Proper fuel calibration is usually determined in part by the amount of equipment loaded onto the truck, which might vary by as much as a ton, depending on the version."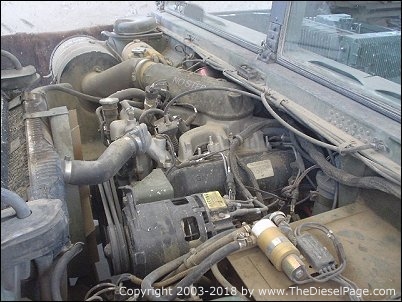 In late 2003, as many as 80% of the HMMWVs deployed to Iraq were powered by the naturally aspirated (non-turbo) 6.2L diesel engine, like the one shown above. As it turns out, only the 1993 - 2003 "up-armored" A2 HMMWVs in the 101st's inventory were running a 6.5L. At that time, there were no turbocharged 6.5L diesels currently in use.
Improving HMMWV performance is not something that makes the nightly news, but we can certainly appreciate how important vehicle capability would be to those whose lives and mission depend on them.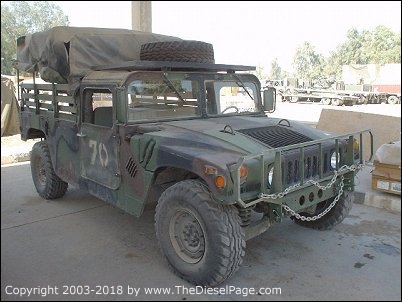 We had several TDP members who served with the US armed forces in Iraq and Afghanistan. Some of these members utilized The Diesel Page to maintain a connection to their personal use of the 6.2/6.5 or Duramax while away from home, but most were mechanics who did their best to maintain and/or improve the performance of their unit's HMMWVs. The Internet made this possible, and I'm glad The Diesel Page was able to contribute to that effort. God bless our troops.
TDP
---
Photos from TDP member Brady W: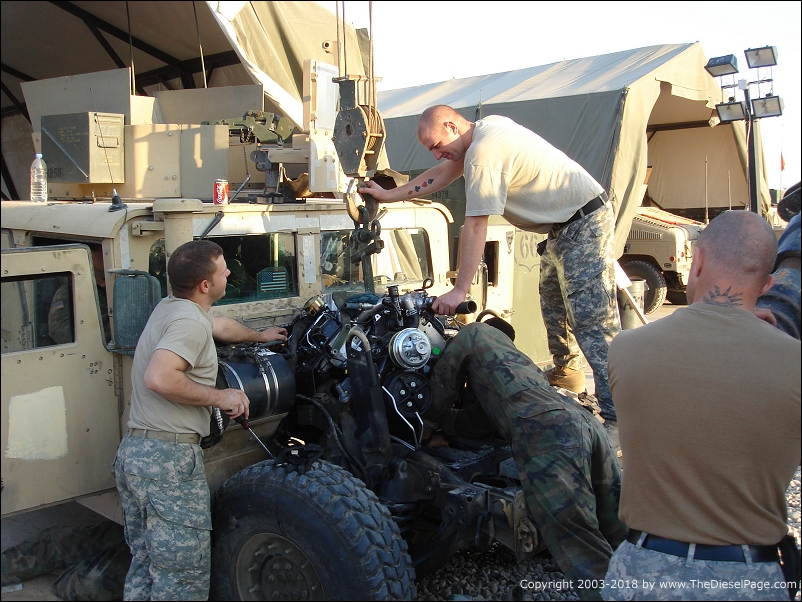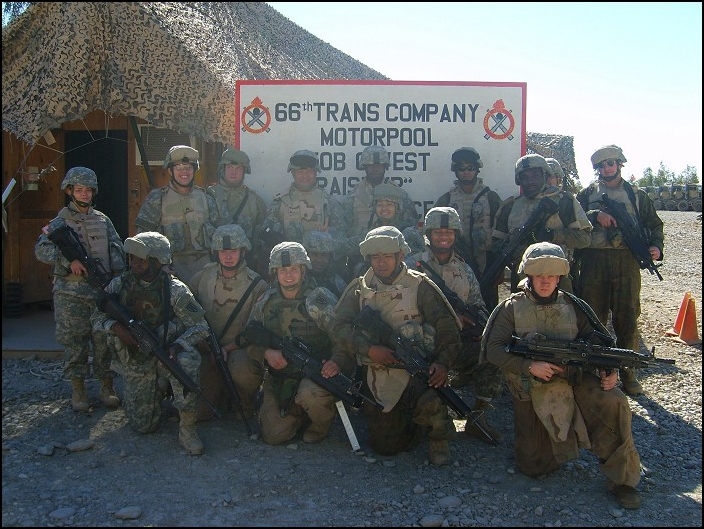 From: Brady W
Subject: The Diesel Page
Jim,
Thank you. I included a couple of pictures of our maintenance team. I'm the one on top of the truck, and in the right side of the back row of the group picture. We change about one engine every two weeks or so, as they usually don't get broken in properly and get driven like race cars. I have a 1972 GMC shortbox waiting at home that I am considering dropping a 6.2 or 6.5 into. I once shunned these engines for being unreliable and slow, but over the past year or so I developed a love/hate relationship with them that I'm sure you're familiar with. Thanks once again.
Brady
---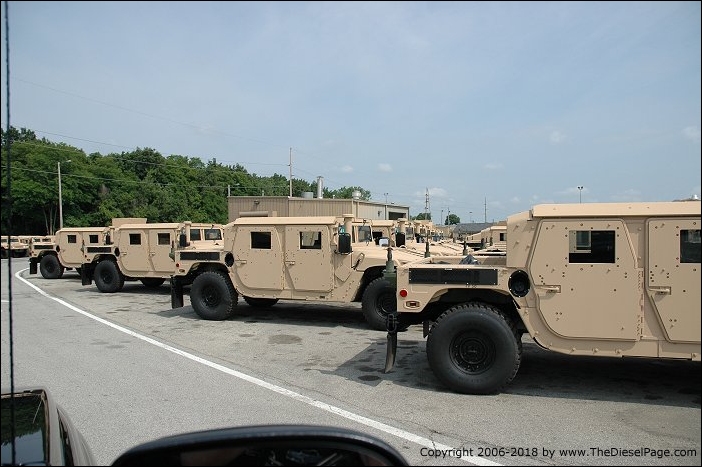 Photo of brand new "Up Armored" and dual air-conditioned 6.5L Turbodiesel powered HMMWVs sitting in the AM General staging lot in Mishawaka, IN. This illustrates how far the HMMWV evolved in just 3 years because of the desert and the asymmetrical warfare. This photo was taken during the summer of 2006 by Jim Bigley while personally touring AM General's HMMWV assembly plant.
---
Please visit the following link to learn more about the HMMWV & Hummer H1:
High Mobility Wheeled Vehicle (HMMWV) (M998 Truck)
A special thanks to member John McNeil of the 101st Airborne and Brady W. of the 66th for providing the photos and information about HMMWV maintenance. The contents of this article had been reviewed before being released to the public.
---
TheDieselPage.com
What's New: | Feature Articles: | Product Reviews: | Member's Area:
Subscribe: | Duramax Diesel Page: | Advertisers: | Classified Ads: | The GM 6.2L/6.5L Diesels

Send e-mail to: turbo@TheDieselPage.com
Copyright © 2018 by The Diesel Page
www.TheDieselPage.com