---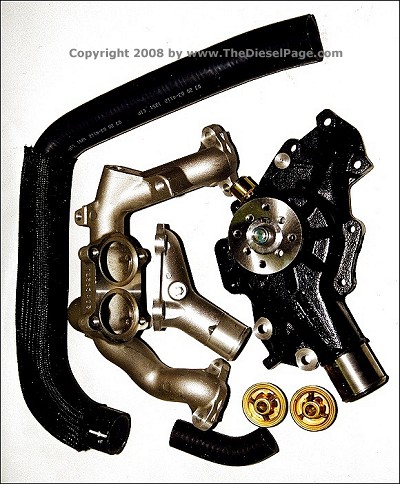 Dual Thermostats
Improving Cooling System Performance for the
6.5L Turbo Diesel
---

---
Member Craig Wuennecke recently retired from GM. He had a job that most gearheads can only dream about - a GM "Special Projects" manager. While Craig became a TDP member in 1997, myself and dozens of other TDP members met him personally here in Montana during our first TDP Rendezvous in 1999. Craig, an enthusiastic 6.5L diesel owner, took an interest in what we were doing here in TDP, and shared many new 6.5 developments during the mid-late 1990s that he was free to discuss. As part of his employment at GM, Craig had an opportunity to experiment with all of the new 6.5 products the GM engineers developed, and he had access to the black-ops engineers at GM's Romulus Engineering Center. Some of you may remember our discussing the proposed V6 & V8 Duramax Suburbans in 2001. Craig was involved in assembling and testing the very first prototypes. Through Craig, we had a pipeline to all of the latest and greatest 6.5 cooling and performance modifications that were destined to become production upgrades. He remains a friend and contact.
In 1997, Craig put me in touch with the lead GM engineer responsible for the 6.5L diesel engine. In a 1997 email Q&A, I learned that the new 130-GPM water pump increased coolant flow through the block and heads by 74%, and through the radiator by 9%. The motivation for increasing the coolant flow-rate was to help eliminate hot spots within the engine and to reduce cylinder head cracking. I was also told that dual thermostats were required to both increase the flow rate capacity and to prevent pressure surges within the cooling system. I was told that these surges could result in water pump cavitation, cause gasket leaks and in some cases loosen soft plugs when running a single thermostat. In a recent email exchange with Craig in late 2007, he added:

"The engineer you are speaking of was the lead in the 6.5 diesel engine program and did a lot of PR work at truck and auto shows. The 6.5 was having some cooling issues with heavy duty use (ambulances and motor homes mostly). The single thermostat would only flow about 90 or so GPM, so when the larger water pump was added, the decision to go to 2 smaller thermostats was less expensive than designing a new larger thermostat and associated housings. They also added a surfactant to the coolant that was available from the medium duty truck program. That product has since been dropped from the GM service parts list, but it is available through NAPA auto parts stores."
The 1992 to late 1996 model-year 6.5 was equipped with an 87-GPM water pump and a single by-pass blocking thermostat. The photo at the top of the page shows what components are necessary to upgrade a 6.5 to use the new 130-GPM water pump.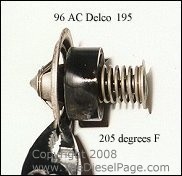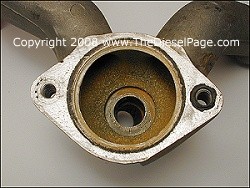 Why should you not use a single thermostat when installing a 130-GPM waterpump? The photo on the left shows an early 1996 6.5TD single thermostat, which is a "by-pass blocking" design. This means that once the thermostat is fully open and the by-pass port is blocked, all coolant flow must pass through the open thermostat. The by-pass port blocked by a fully open thermostat is shown on the right.
Assuming Craig is correct, you've got a single thermostat capable of flowing 90-GPM, but you also have a water pump pushing 130-GPM with the engine spinning at 3000-RPM. In this situation, the water pump will either cavitate and/or create excessive cooling system pressure beyond the normal 15-PSI. This pressure will build between the output of the water pump and the thermostat. Will this excess pressure cause coolant leaks, loosen soft plugs, or cause water pump cavitation? GM said it will. To prevent this, you can either install a non by-pass blocking thermostat or install the twin thermostat components. However, you'll need all of the hi-capacity components (including dual thermostats) to fully benefit from the increased flow rate.
In 1998, Dan Fuller, who was a Northeast GM regional training instructor, became a member of TDP, and helped provide additional information about the 1997+ 6.5L diesel. Dan was responsible for training dealer techs on the 6.5 systems throughout the mid to late 90's in his region. During a phone call to Dan in late 2007, I learned that he was still involved in GM product training, though he had moved on from the 6.5. Here's one message Dan sent to me in mid-1998 regarding the new hi-capacity 6.5 cooling system.
Date: Wed, 19 Aug 1998
Hi Jim,
If you use the GMT800 water pump on your 1994, just make sure that you use the entire cooling system, crossover included. If not, the higher flow pump will create excess pressure in the system due to the restriction of the crossover. This also creates some tricky fabrication as the AC compressor and alternator were swapped to allow rear entry of the upper radiator hose. Let me know how you make out.
The purpose of the dual thermostat housing - more flow... Please caution readers about not removing the thermostat completely - I've had people try this already. The coolant flows through the engine with no restriction whatsoever and travels too quickly too absorb enough heat. Hence, the coolant is not all that hot but the engine metal overheats!
Dan Fuller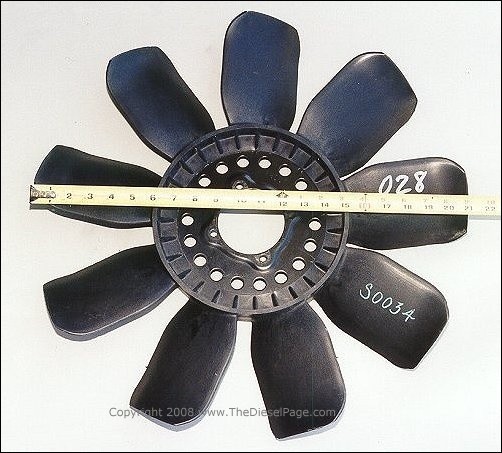 The complete cooling system package GM designed for the proposed 1999+ GMT-800 6.5 also included a larger 21" diameter 9-blade composite fan. This cooling system package was part of an overall engine upgrade that would allow for a new factory rating of 215 horsepower.
Peninsular Diesel sent me a "care package" in late 1998, which included this fan along with a couple of GM's newest hi-capacity 6.5 water pumps. As it turned out, this 9-blade 21" fan was a GM prototype that was developed for the (at the time) upcoming 1999 Silverado body style trucks. As time revealed, GM dropped the 6.5 from the new truck engine option list, so the fan I received never went into production, and the 215 hp rating was shelved. I used this prototype fan and one of the new 130-GPM water pumps with a screw-on style fan-clutch in our 6.5TD Power Project.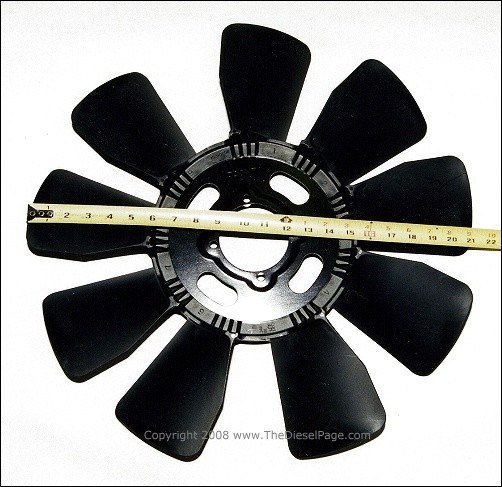 I was disappointed that the fan I received from Peninsular wouldn't become an over-the-counter item. I knew other 6.5 owners could benefit from a larger and more efficient fan, but it didn't look like a cost-effective alternative would ever become available. However, soon after acquiring a Duramax equipped 2001 GMC in December 2000, I carefully examined the fan used on the Duramax, and thought it looked very similar to the 6.5 prototype fan I received earlier. I began to think, "what if". So, I ordered a new Duramax fan from the local GM dealer and a new 6.5 fan-clutch from Kennedy Diesel to experiment with, and the rest is history... A full-feature story appeared here in The Diesel Page in June 2001 that showed the world that indeed, the new Duramax fan would fit the 1997-2000 6.5 fan-clutch.
The concept, application and testing of the Duramax fan on the 6.5 began right here in TDP. Today, several vendors, who specialize in 6.5 products, offer the Duramax 9-blade 21" diameter composite fan as part of their "heavy-duty" 6.5L cooling system upgrade. With a wholesale price of about $40 (GM pn-15010202), this is a cheap and effective cooling solution - though you will need a 1997 or newer 6.5 fan-clutch. The fan bolt pattern used on all earlier 6.5 fan-clutches won't fit the new fan.
The dual thermostat components, 130-GPM water pump and 21" fan comprise a great package that was designed to improve both 6.5 reliability and cooling. Some argue that a single thermostat is perfectly OK or is actually preferred, when using a 130-GPM water pump. The complete package, as designed by GM, makes the most sense for those who want the best possible cooling system performance. TDP
---
TheDieselPage.com
What's New: | Feature Articles: | Product Reviews: | Member's Area:
Join Us: | Duramax Diesel Page: | Advertisers: | Classified Ads: | Books:

Send e-mail to: turbo@TheDieselPage.com
Copyright © 2008-2018 by The Diesel Page
www.TheDieselPage.com