---

Diesel Technology Forum
2005 Annual Meeting
---
By Jim Bigley
---
Now more than 5 years old, the Washington, DC based Diesel Technology Forum was created to highlight the economic importance of, and push for, continued development of clean diesel technology. Reducing oil imports and creating more energy independence will require a multifaceted strategy to succeed. The diesel engine is part of the solution, and DTF is helping to lead the way for an increasing use of clean diesel technology.
DTF works closely with governmental agencies responsible for energy policy, in addition to bringing both industry and the media groups together for the purpose of promoting the use of clean diesel technology. Rising fuel costs and its affect on the nation's economy produce a need to provide alternatives for automotive and light-industrial energy requirements. When compared to gasoline powered engines, diesel can reduce fuel usage by 25-40%, while producing lower carbon dioxide emissions (greenhouse gases) than gasoline. In addition, diesel technology has matured to a point of offering particulate and oxides of nitrogen emissions on par with the cleanest gasoline engines. This sizeable fuel economy advantage offered by clean diesel technology creates an imperative to convince both automobile manufacturers and consumers to make the switch.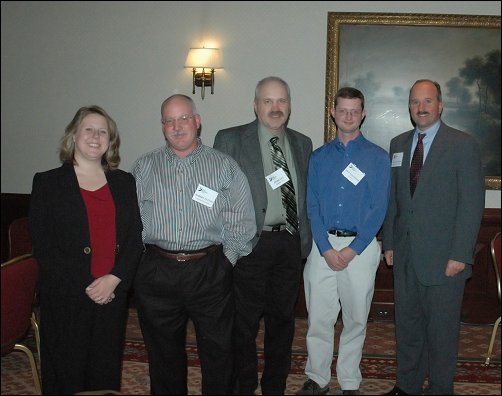 Leading representatives from a variety of diesel enthusiast groups were invited to speak at DTF's October 2005 annual meeting. This provided an opportunity for the industry and governmental representatives in attendance to hear a somewhat different perspective concerning the use of and promotion of diesel technology.
Left to right in this photo are: Kristen Gifford, DTF Public Affairs Program Manager, Robert Patton, Editor - Turbo Diesel Register, Jim Bigley, Editor - The Diesel Page, Fred Voglmaier, Administrator - TDIClub, and Allen Schaeffer, DTF Executive Director.
The enthusiast groups were represented by Robert Patton, who operates the Turbo Diesel Register magazine and Dodge Cummins owners group, Jim Bigley, editor for The Diesel Page web magazine and member group devoted to the Chevy/GMC 6.2/6.5 and Duramax diesels, and Fred Voglmaier, who is the force behind the TDIClub - an online user group for the Volkswagen TDI.
"Build it and they will come" was a consistent message from all three enthusiast group representatives. The fuel price jump post-Katrina produced a willing auto buying community for diesel engines. Unfortunately, there were none available.
Volkswagen has been quietly importing TDI diesel autos into North America for several years. Due to the current diesel emissions regulations, California and a small number of NorthEast states are excluded from selling the 40-50 mpg Volkswagen diesel. Canada, on the other hand, has allowed significant numbers of diesel powered Beetle, Passat, Jetta and Touareg autos into their market. At last report, approximately 90% of all diesel powered Volkswagen imports went north to Canada. As long as gasoline remained below $2.00 a gallon here in the U.S., there didn't appear to be a big push to introduce more diesels into the US market, but all that changed with Katrina and $3.00+ a gallon gasoline. A quick Internet search during the fuel cost peak revealed that a diesel Volkswagen either new or used were simply not available - anywhere at any price. Consumer acceptance of the diesel engine was no longer a question, but a given.
Over the past decade or longer, the most lucrative market for domestic auto manufacturers has evolved to include the pickup and full-size SUV segment. The high-end consumers love their Suburbans, H2s, and Navigators, but sales of new gas powered pickups and SUV's cratered once gasoline reached $3.00 a gallon. Not having a diesel engine option for this class of vehicles demonstrated the fragility of the profitable large SUV market.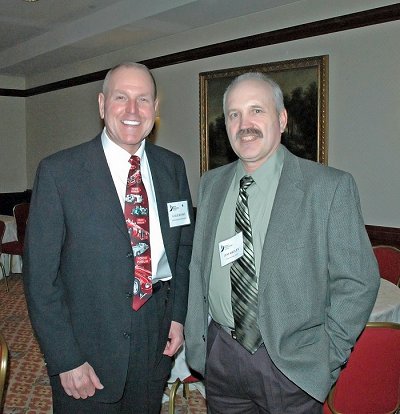 Also in attendance was Gale Banks (on the left), a recognized leader in diesel aftermarket performance. I had an opportunity to spend some time talking with Gale about the future of diesel performance.
The automotive and diesel engine industry is laying the foundation for a much wider use of diesel engines here in North America. Aside from the notable obstacle (expressed by some) facing the industry regarding emissions regulations, one of their primary concerns is that of consumer acceptance. Noisy, slow, smoky, and smelly are long-lived perceptions of diesel engines that harken back to the 70's. The Diesel Technology Forum, the auto industry and leaders in the diesel performance aftermarket want to change those perceptions in hopes of attracting a much wider consumer base.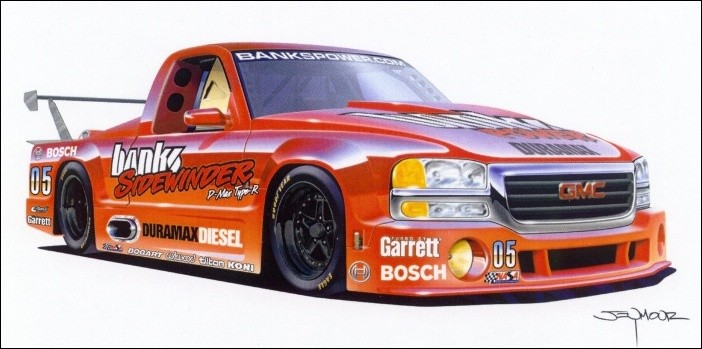 The twin-turbo Duramax 6600 powered Banks Sidewinder GMC was designed to help change perceptions. The goal of this road-race truck is to provide competitive levels of performance without the smoke and smell some associate with diesel engines. Proving that diesels can be fast and highly competitive without a real or perceived harm to the environment will change minds. Once people learn the true performance potential of diesel engines, fuel efficiency will provide the hook for a broad range of consumers that might not have previously considered diesel power.
Contacts I've had with GM & Isuzu have indicated that expanding diesel penetration into the consumer market faces two primary obstacles - that of cost disparity between gas & diesel fuel and the ever tightening emissions regulations. However, my discussions with diesel engine and fuel system representatives while at DTF's annual meeting would seem to dispel current and future emissions regs as a problem. In fact, just the opposite was expressed. All those I spoke with want to see the emissions regulations in-place, while simultaneously having access to clean diesel fuel as soon as possible. The sooner consumer diesel engines can meet the EPA regs; the sooner they can offer them to the public. The emissions technology is already here; they just need the high-quality low sulfur diesel fuel to go with it. Build it and they will come... TDP
---
Diesel Technology Forum
5291 Corporate Drive, Suite 102
Frederick, MD 21703
www.dieselforum.org
---
TheDieselPage.com
What's New: | Feature Articles: | Product Reviews: | Member's Area:
Join Us: | Duramax Diesel Page: | Advertisers: | Classified Ads: | Books:

Send e-mail to: turbo@TheDieselPage.com
Copyright © 2006 by The Diesel Page
www.TheDieselPage.com