---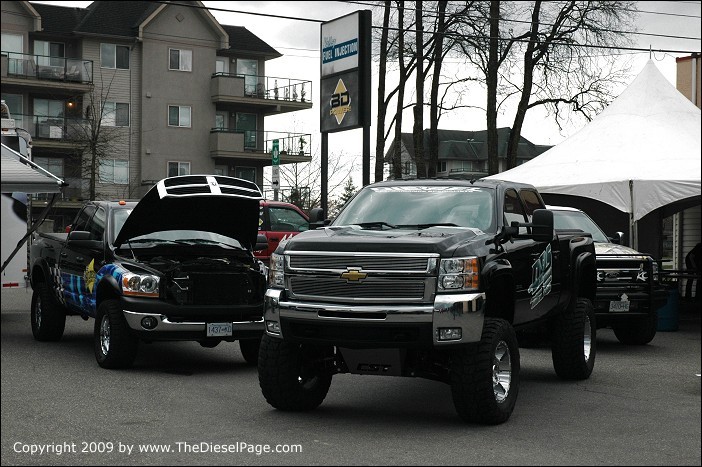 BD - Diesel Performance
Spring 2008 Dyno Day
---
By Jim Bigley
---
After a long winter here in the Northwest U.S., we were ready for a trip to the Southwest - Southwest Canada to be precise, the home of BD Diesel Performance and their semi-annual Dyno Day. Despite the gray skies, hundreds of diesel enthusiasts made their way to Abbotsford, British Columbia last spring on April 5th, and a total of sixty trucks spun the rollers from early morning through late afternoon. If you like power, this was a great way to spend a day, to both learn more about diesel performance and have an opportunity to see trucks push the Mustang dyno to nearly 1000-hp.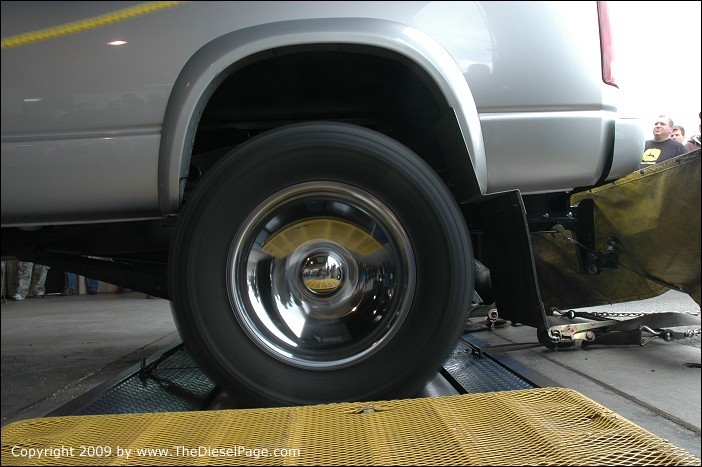 BD first began hosting a free semi-annual spring & fall dyno day in 1993, and the size and scope of the event has grown each year since. This was the fifth BD Dyno Day event I've attended since 1997, and have seen first-hand the huge strides that have been made in the diesel performance industry. There was a time when 300 horsepower was king - but times sure have changed.
The Dodge Cummins dominated the event this time, both in the number of trucks and in power. Nine Ford Superduty trucks spun the rollers, but even a couple of those were equipped with the Cummins, as was one of the participating GM trucks. Of the remaining GM trucks, two were 6.5L diesel powered and seven were equipped with the Duramax.
Three "power" trophies and a Show & Shine award were handed out late in the afternoon. The "XXXtreme HP" trophy for the highest horsepower - using any combination of mods, including nitrous oxide, was awarded to Aaron of CT Performance. The 968.8 horsepower produced by Aaron's orange twin-stacked 2003 Dodge race truck had everyone's attention while on the rollers. Rob Gervais' 2005 Dodge won the trophy for "High HP Diesel" (on diesel fuel only) by posting a tremendous 863.8-hp, and Dave Quinn's 2001 Ford Powerstroke won the "High HP below 375" trophy by generating 372.0-hp. In addition, the people's choice for the "Show & Shine" award went to Brian Fews and his shiny 2003 Dodge. The event was structured to allow most diesel trucks to be competitive in their class, whether heavily modified or when running a stock truck with just a simple power module.
In addition to watching the non-stop dyno action, BD also set up many product displays to illustrate the scale and diversity of the diesel performance market. BD is not only a vendor for most of the popular diesel-related products produced by the industry as a whole, but they are also heavily involved in the research, development and manufacture of their own branded products. This means that BD is a major player, and a dyno event like this gives the enthusiast access to the experts in the diesel performance industry.
Be sure to check the BD web site for the exact dates of their spring and fall dyno days (see source listing), which normally occur every April and October. A large enthusiastic crowd and the friendly folks at BD provide for an exciting event. TDP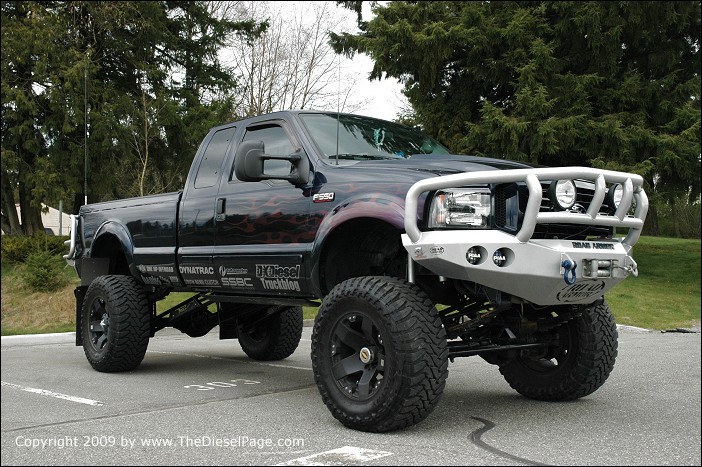 Nicknamed the "RockStar" by its owner Denny Hao, this 2002 Ford F550 definitely stands out in a crowd. With a grin, Denny indicated that like a Rockstar, his truck has a high maintenance personality and requires lots of money and attention. The 7.3L Powerstroke was replaced by a 2003 5.9L Cummins, which pushes the torque through a ZF 6-speed manual transmission. The big Ford rides high on 40x15.5 Toyo R20s and a lift provided by 8" Deaver Springs and 3.5" Fabtech spring hangers. Even at 8000-lbs, fuel economy is reported to be holding steady at 14-15-mpg. Taking its turn on the dyno, the big Ford/Cummins produced 486.3 horsepower. You can read more about this truck on Denny's blog at: www.truckblog.com/gallery/drspeed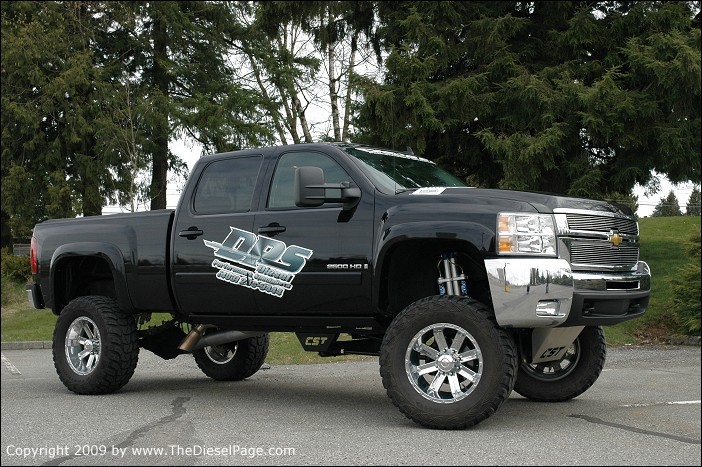 Kevin Douglas of Diesel Performance Specialists in Calgary, Alberta arrived with his 2007 Chevy 2500HD LMM Duramax equipped crew cab. The 9/11" CST lift and 38x20 Kuhmo Road Venture tires provide the height, and while it didn't run on the dyno, I saw a variety of performance enhancements that should allow it to do everything that needs to be done.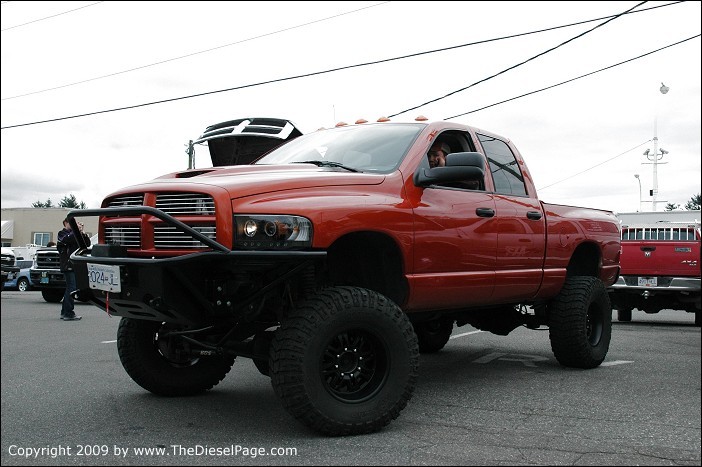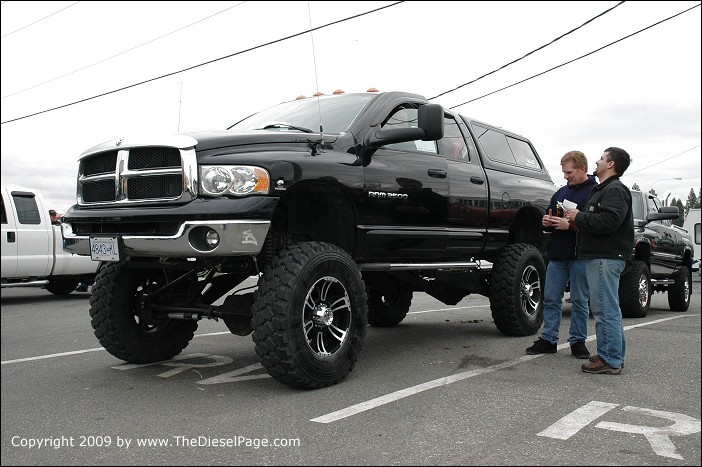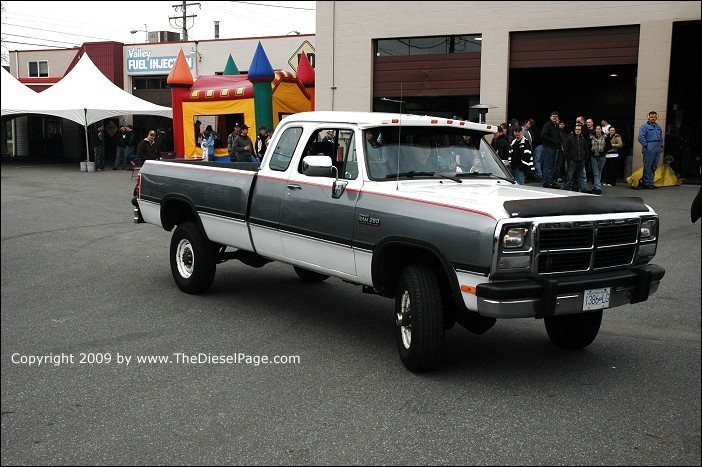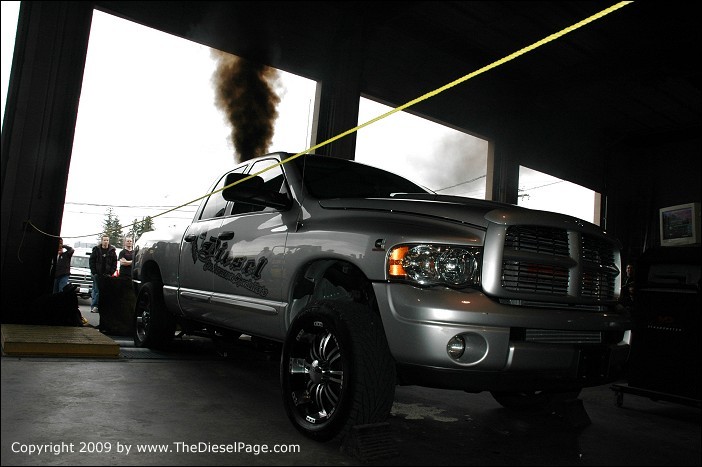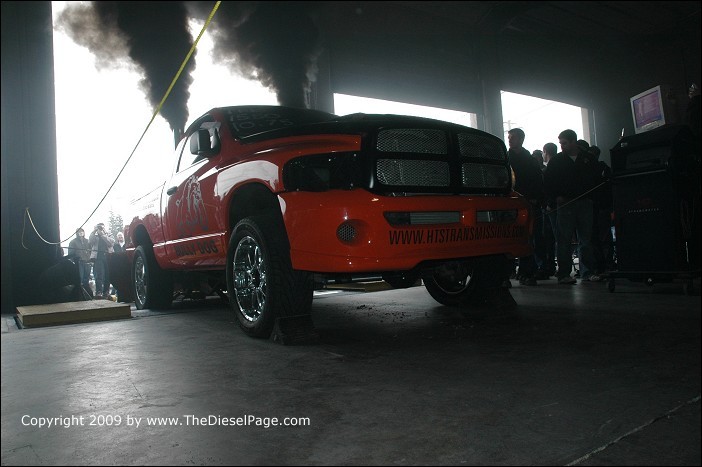 CT Performance's 2003 Dodge race truck took a turn on the rollers. This shot was taken just before Aaron hit the nitrous, which spun the power meter to an astounding 968.8 horsepower.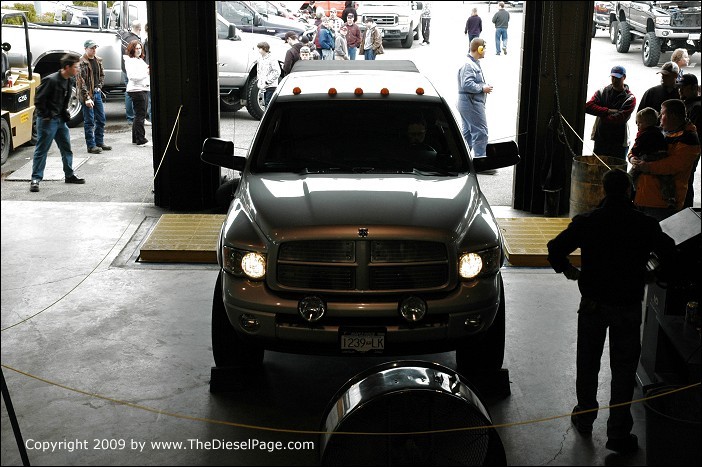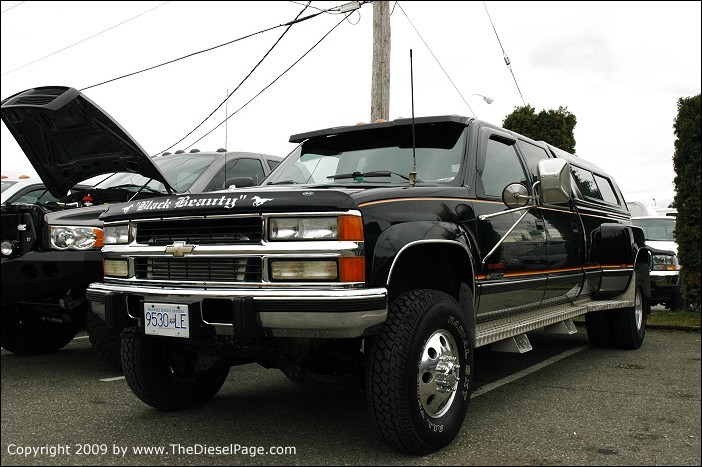 Another Cummins conversion was this 1994 Chevy dually. Owner Roy Berg's 1-ton is running a 2001 Cummins and matching 47RE automatic. The well-done mechanical and electronic conversion was completed by Harbour City Diesel in BC.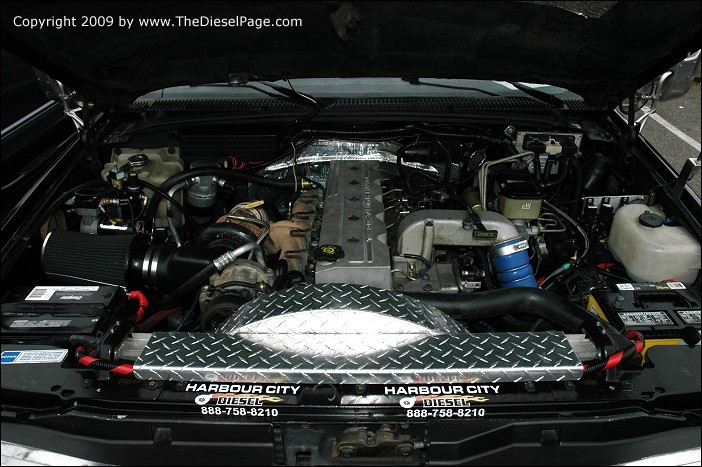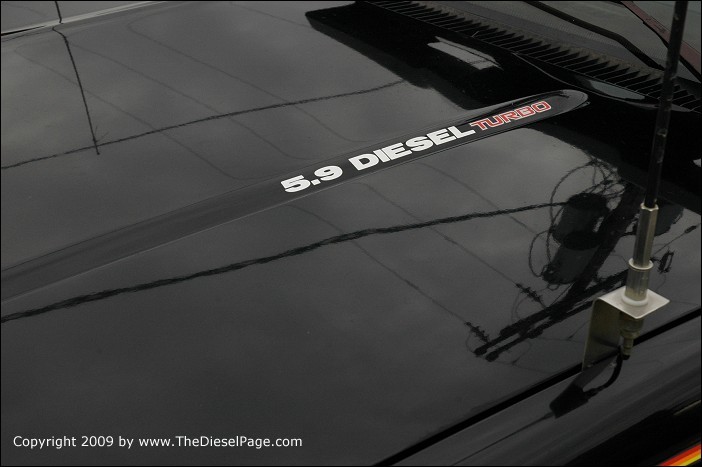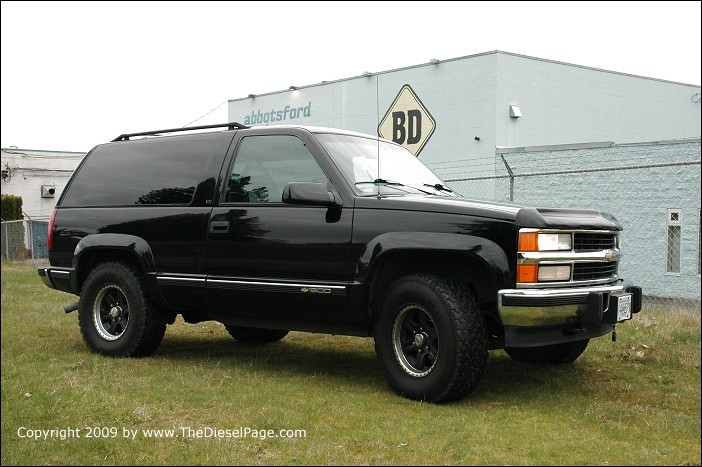 There were a couple of 6.5L diesels in attendance. Daniella Pereira's cool looking 1995 Chevy Tahoe, equipped with a stock 6.5L diesel, produced 142.8 horsepower and 333.3 lb-ft of torque, which is right in line for a stock 6.5L turbo diesel. The light-duty emissions 6.5 (EGR equipped) was factory rated for 180-hp at the flywheel.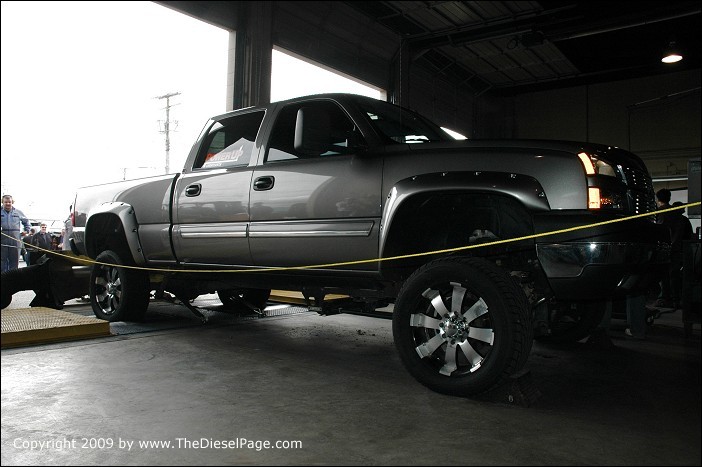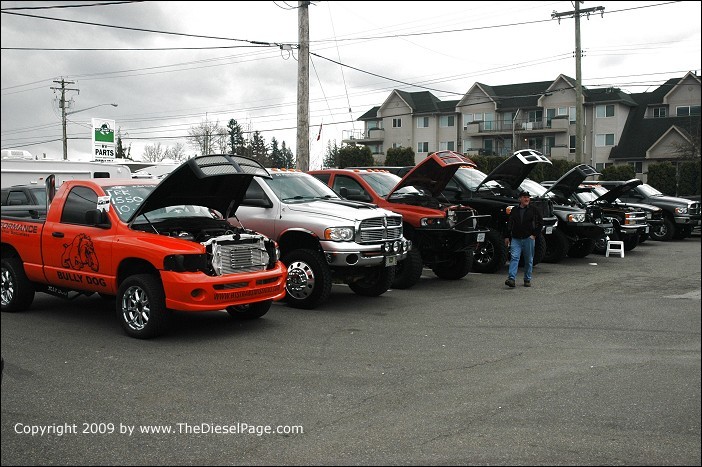 Show & Shine lineup. Aside from a great look, trucks need to shine - even under the hood. Polished aluminum and billet accessories help get the votes.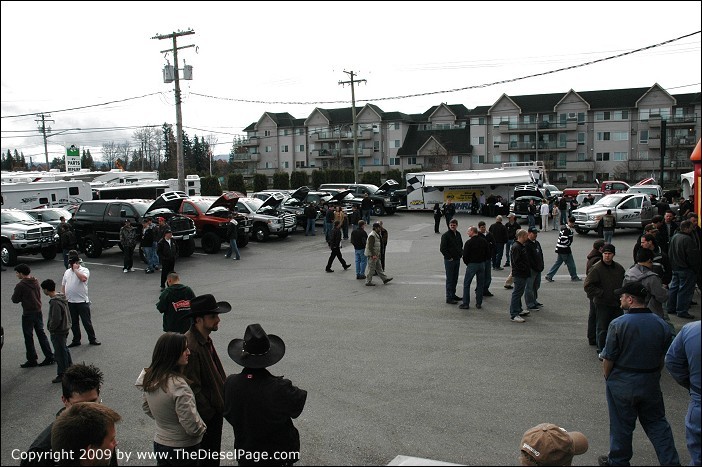 No official count was available for the total number of diesel enthusiasts attending, but there were hundreds.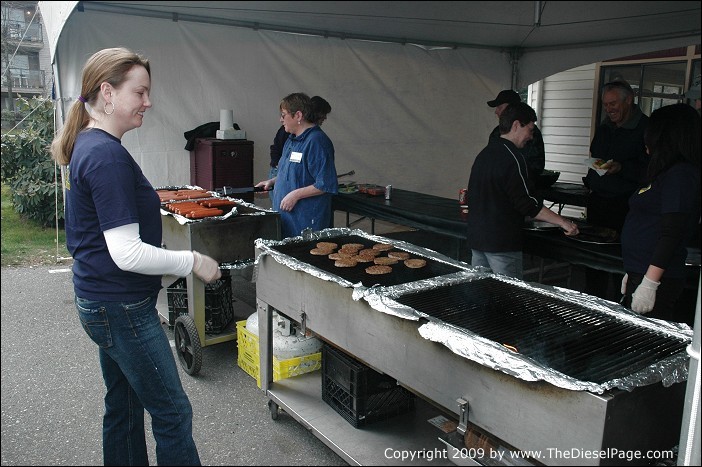 Perhaps the best clue as to how many attended was provided by the total number of burgers and dogs served. Some 400 burgers and a nearly equal number of dogs crossed the grills, which were served by a cheerful BD crew. Lunch was provided at no charge to those attending. Great burgers & dogs, by the way!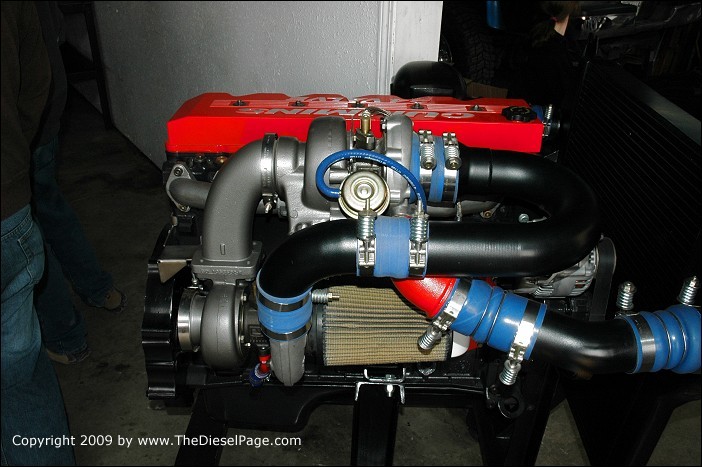 Static displays included this Super B twin-turbo system designed for 1994-07 5.9L Cummins. BD reports this compound turbo system provides enough flow for up to 575 rear wheel horsepower, on diesel fuel only.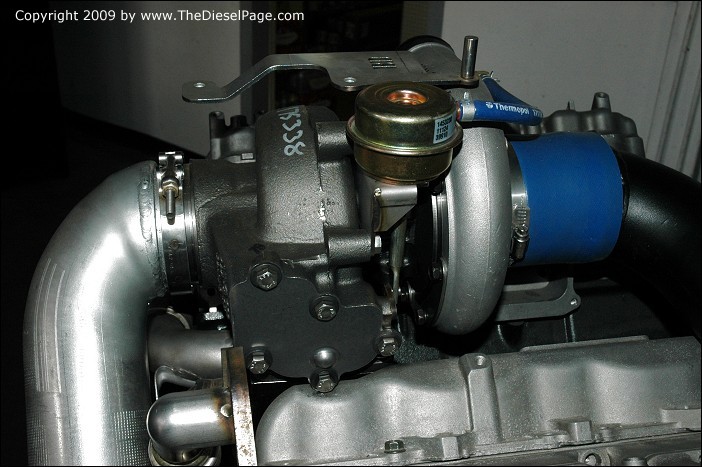 BD's SuperMax turbo system for the GM LB7 Duramax 6600 incorporates a BD/AirWerks S300 turbo, and is reported to provide enough airflow for up to 550 rear wheel horsepower (on diesel fuel only) with just 40-lbs. of boost pressure.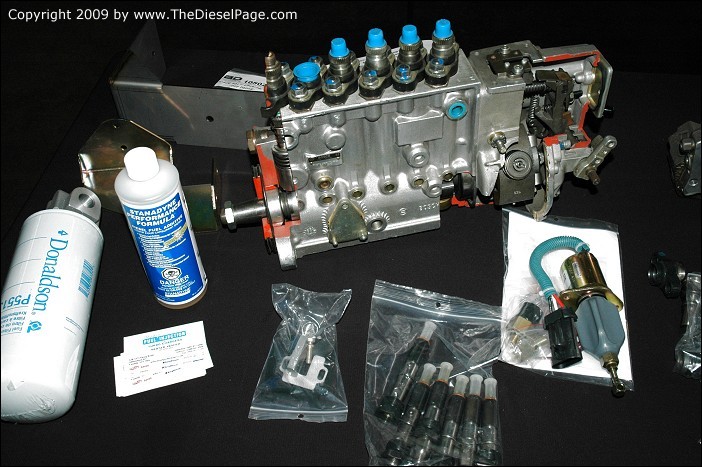 For the P-pump Dodge Cummins guys, BD offers a wide range of custom fuel injection pumps and fuel injectors, ranging from stock applications as well as those best suited for full-on competition.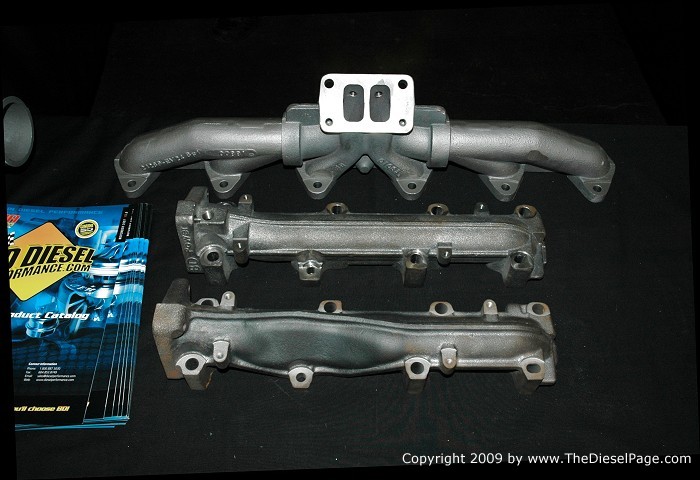 BD designed and manufactures their own custom Dodge Cummins and Duramax exhaust manifolds. Their left side "Full Bore" exhaust manifold for the Duramax (center in photo) is made without the squashed center section seen in the factory GM piece (bottom). This allows the left-side manifold to flow as well as the factory right-side manifold, providing a balanced exhaust flow and a lower EGT. For high temperature durability, the "Full Bore" manifold is made using high-silicon ductile iron, and is even pre-drilled and tapped to accept an EGT thermocouple.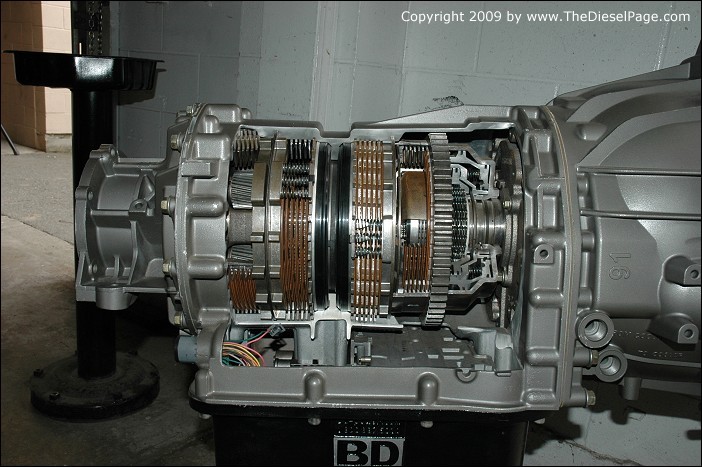 BD offers a wide range of transmission upgrade options required by modified Dodge/Ford/GM diesels. The Allison clutch packs, for example, get a 20% increase in friction surface area over stock, and the clutch-apply hydraulic fluid pressures are also increased. Combined with valve-body mods, a modified BD Allison is said to reliably handle up to 500 flywheel horsepower for either competition or heavy towing. BD also offers a selection of deep pans, which add capacity and help reduce fluid temperatures. All transmissions are fully dyno tested before leaving their facility.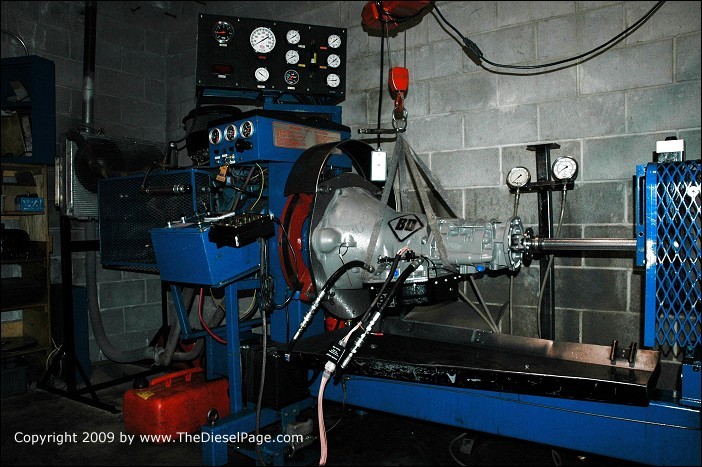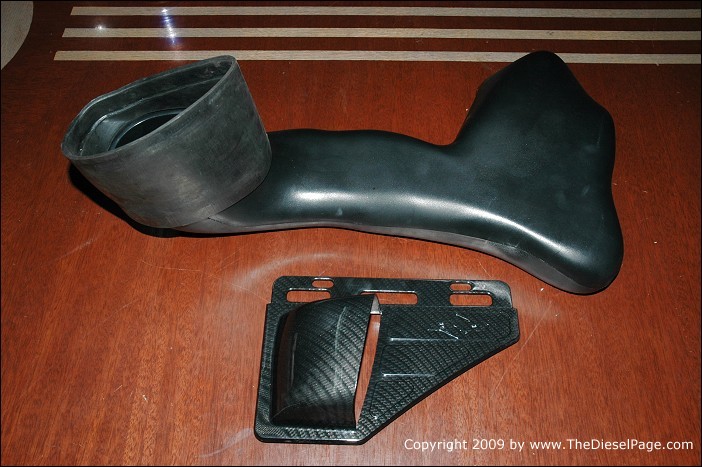 This is a cold-air ducting kit offered for the 2007+ Ford Superduty trucks. The carbon-fiber vent replacement makes the factory fender vent a functional piece, which ducts cooler outside air into the air box.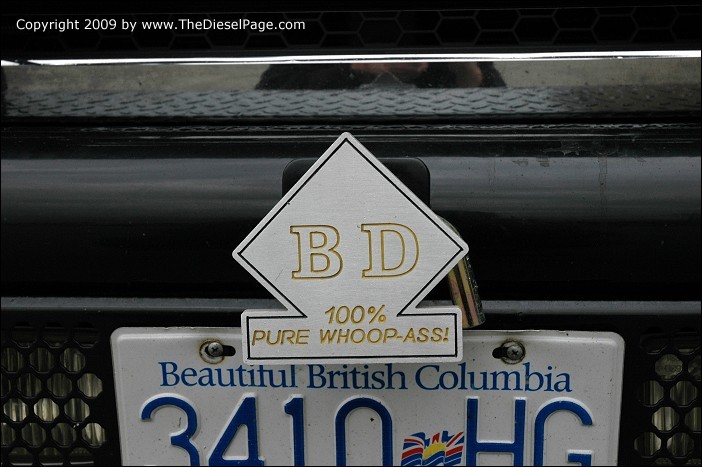 What can I say?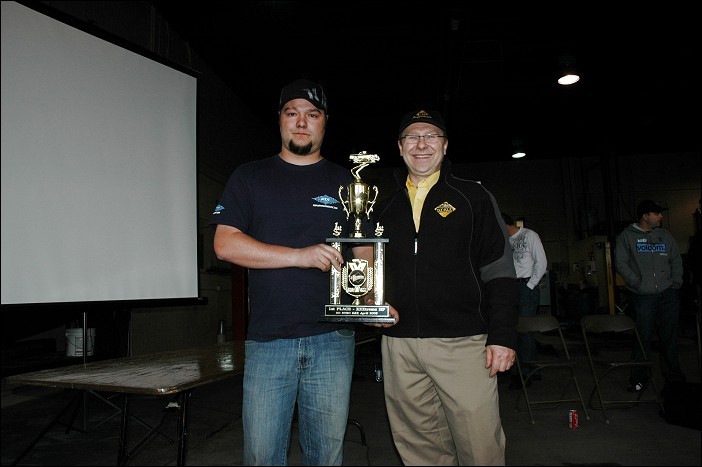 BD's owner Brian Roth (on the right in this photo) awards Aaron of CT Performance the "XXXtreme HP" trophy for the highest horsepower of the day.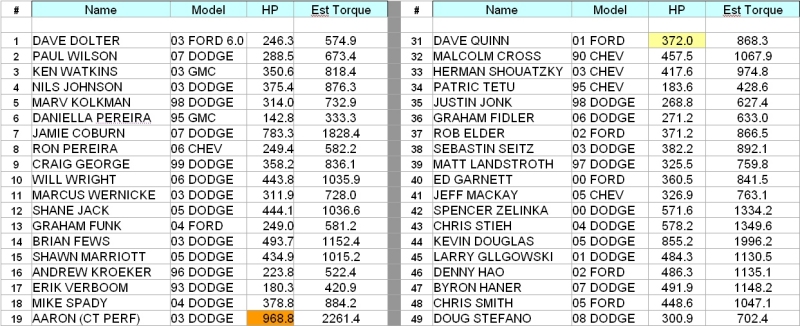 BD Diesel Performance
Toll Free. 1.800.887.5030
Unit A10-33733 King Rd,
Abbotsford, BC, Canada
V2S 7M9
---
TheDieselPage.com
What's New: | Feature Articles: | Product Reviews: | Member's Area:
Join Us: | Duramax Diesel Page: | Advertisers: | Classified Ads: | Books:
Search The Diesel Page:
Send e-mail to: turbo@TheDieselPage.com
Copyright © 2009 by The Diesel Page
www.TheDieselPage.com