---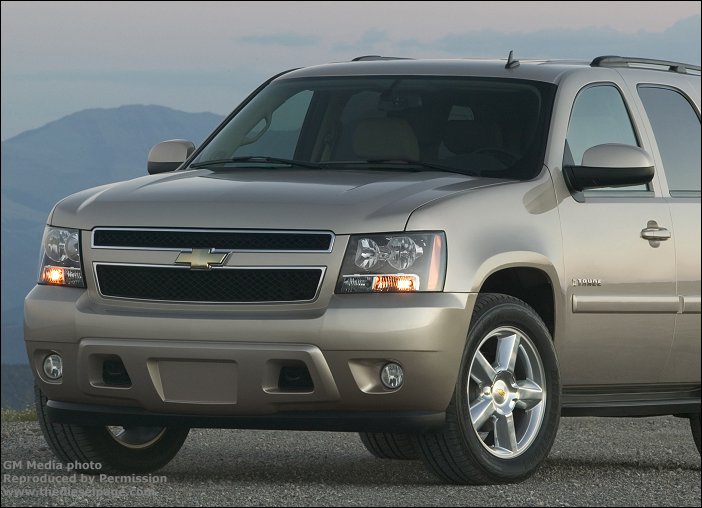 Two Thousand Seven
2007 Chevrolet Tahoe & GMC Yukon
GMT-900
Updated January 24, 2006
---
By Jim Bigley
---
The new 2007 model-year Chevrolet Tahoe made its first public appearance this past October 2005 to a wide-eyed automotive press anxious to see what the future holds for the GM full-size platform. The announced release date for the 116 inch wheelbase Chevy Tahoe and Yukon shown here is scheduled for February 15, 2006. GM will share this styling with all full-size 130 inch wheelbase models, which include the Suburban, Avalanche, Silverado, GMC Yukon, Denali, Sierra and the Cadillac Escalade - phasing them in throughout the 2006 calendar year. The longer wheelbase GMT-900 SUV's are scheduled for an April 2006 release. In addition, this should represent the future 2007 model-year 2500HD/3500 pickup truck styling, which could be available as early as fall 2006. The totally redesigned styling in combination with the new 360 horsepower LBZ Duramax Diesel engine will produce a remarkable combination.
Considerable development effort was devoted to the chassis on these new shorter wheelbase full-size SUV's. The 1500 series frame is now fully boxed, which stiffens the structure, and allows for a new coil-over front suspension - replacing the long-used torsion bar arrangement. Rack and pinion steering is now standard, while the rear suspension retains an updated 5-link solid axle. Surprisingly, the yet to be released 2500 series 2007 Suburban will ride on an updated GMT-800 chassis, which we assume will retain the torsion bar front suspension and leaf springs at the rear.
Aerodynamics played a major role in the exterior design. The windshield angle was increased, and the front-end was reshaped to reduce drag. In addition, a lowered air dam further reduces aerodynamic drag. The cumulative effect of all of these changes reduce drag by nearly 12% - compared to the GMT-800 styling. Combine a lower overall weight and lower aerodynamic drag with the new Displacement-on-Demand Gen IV 5.3L V-8, and GM expects a combined fuel economy rating above 20-mpg.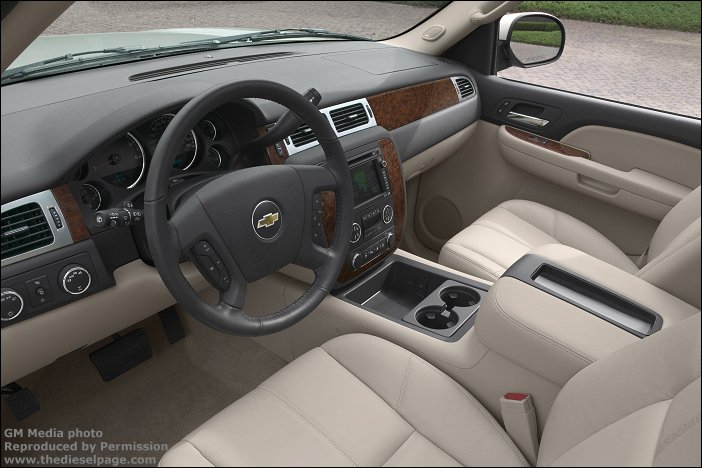 While thought to be a little bland, those of us here at TDP appreciated the interior comfort and styling of the previous GMT-800 platform (1999-2006 model-year). However, having been in production since fall 1999, the time has come for a freshening. The new interior shown here incorporates a wealth of both design and functional improvements. Other than the Chevy emblems, there's not a lot of similarity to the 2006 model-year interior.
The new dash is moved down and away from the occupants, providing nearly 6 inches more room and increased visibility. Those riding shotgun are protected by a new dual-stage airbag system, available side-curtain airbags, new seat belt tensioners and structural design changes that increase rollover protection.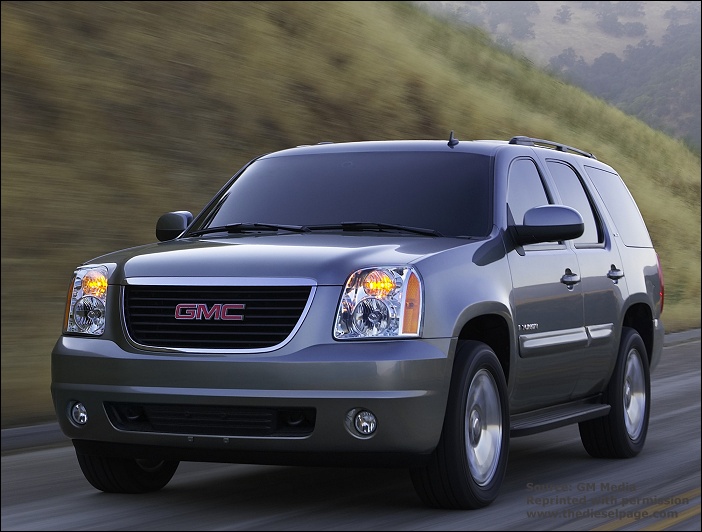 The GMC Yukon line is not without a fresh look as well. We're hoping the GMC trucks offer a more aggressive look, but we'll all have to wait a while to learn how these new designs translate into the 2500HD/3500 pickup truck lineup. Stay tuned for more news and information about the new 2007 models in the months ahead. TDP
---
Updated, August 2006: Now available to subscribers, click Here for the latest word and images about GM's 2007 Silverado/Sierra 1500-Series Pickup Trucks. Please support our effort here, and visit this link to see how easy and inexpensive it is to become a subscribing member of TheDieselPage.com.
---
TheDieselPage.com
What's New: | Feature Articles: | Product Reviews: | Member's Area:
Join Us: | Duramax Diesel Page: | Advertisers: | Classified Ads: | Books:

Send e-mail to: turbo@TheDieselPage.com
Copyright © 2006 by The Diesel Page
www.TheDieselPage.com