---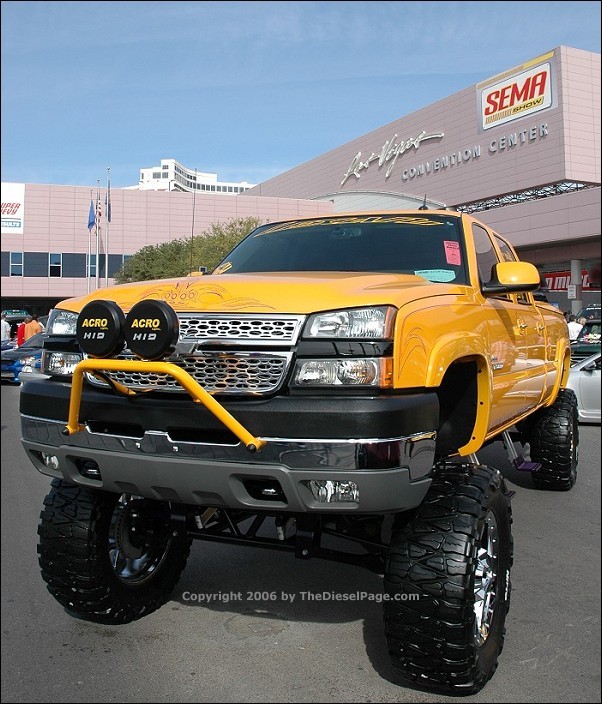 SEMA Trucks
Go Big or Go Home!
---
Text & Photos by Jim Bigley
---
Trucks at SEMA were there to attract attention - and boy did they! Each of the 2100+ Vendors and manufacturers who attend the annual Specialty Equipment Market Association event needed something special to lure some of the 100,000+ passers-by (and the media) into their booth. Having an eye catching truck helps them do just that, and this year was no exception. Here is a collection of GM, Ford & Dodge (and Toyota) trucks I thought stood out in some way from the others. Have a look!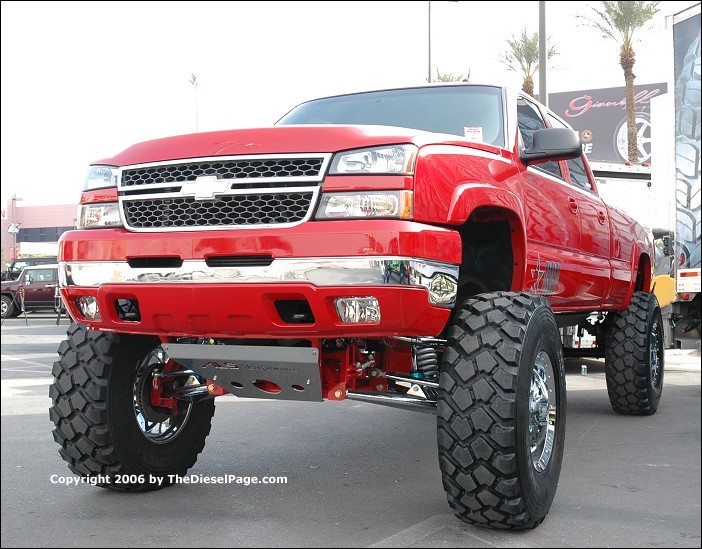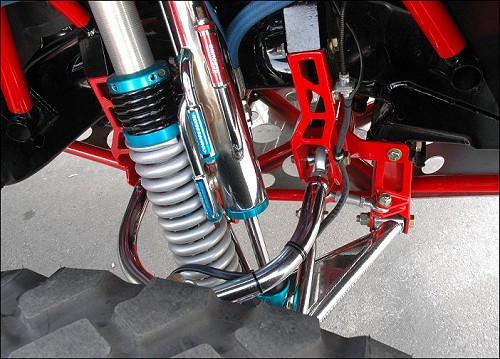 Rolling Big Power (rollingbigpower.com) parked this big red Chevy outside the convention center. RBP is big into diesel performance, and produces exhaust systems, intake kits and performance modules.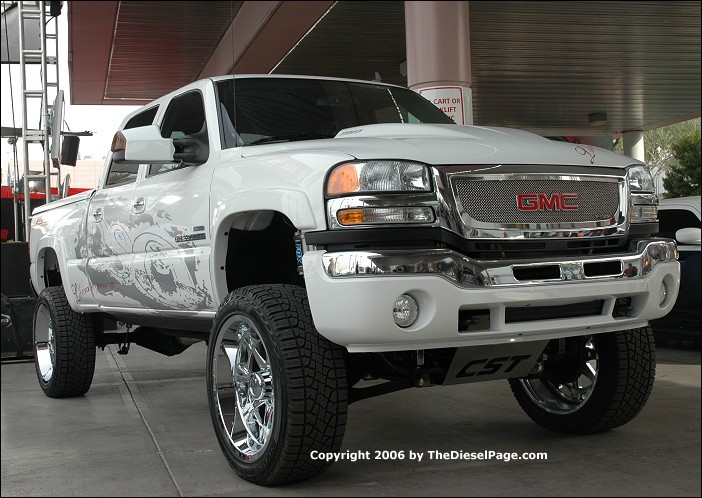 This lifted GMC was a rolling billboard for DSO Eyewear - though not a product you'd normally associate with trucks. Nonetheless, a clean truck build, without going over the top.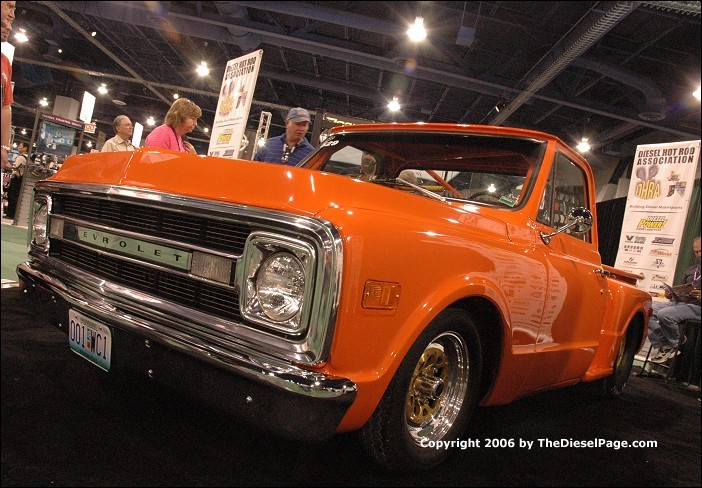 Chris Calkins' orange 1970 Chevy C10 literally glowed in the Diesel Hot Rod Association booth (dhraonline.com). A 1970 Chevy in the DHRA's booth? Must have a diesel engine, right? But not just any diesel engine - this truck is running a beefed LB7 Duramax 6600 and Allison automatic. A combination of lowered stance, 4-link rear suspension and wide-wide wrinkle-walls propel this 4200-lb truck through the 1/4-mile in the 10's.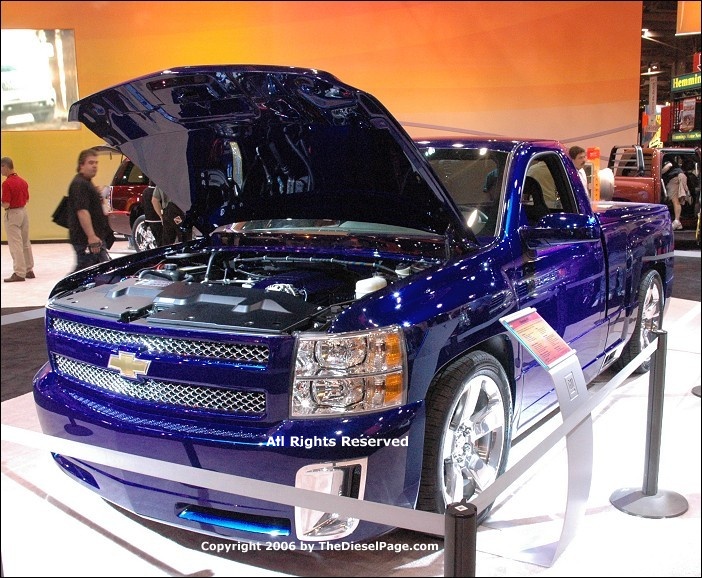 Chevrolet is getting back into the hot-rod truck market by combining the new Silverado with the powertrain of the Z06 Corvette. Back in the late 80's and early 90's, enthusiasts had the Chevy SS C1500 trucks. These were big block powered standard cab short box trucks designed to impress the street crowd. They still have a dedicated following. GM's reintroduction of the SS pickup a few years ago didn't quite click. Power was a mediocre OK, and they were only available as an extended cab (read family oriented). The "Laser Blue Metallic" truck shown above is named "Silverado 427", and is a standard cab short box - a more faithful representation of the performance trucks Chevy offered more than a decade ago.
The 427 is a new LS7 7.0L Gen IV gas V-8 that produces an astonishing 505 horsepower and 470 lb-ft of torque, and is mated to a T56 6-speed manual transmission and 3.73 auto-locking rear differential. Could this be a serious competitor to Dodge's Viper V-10 powered sport truck?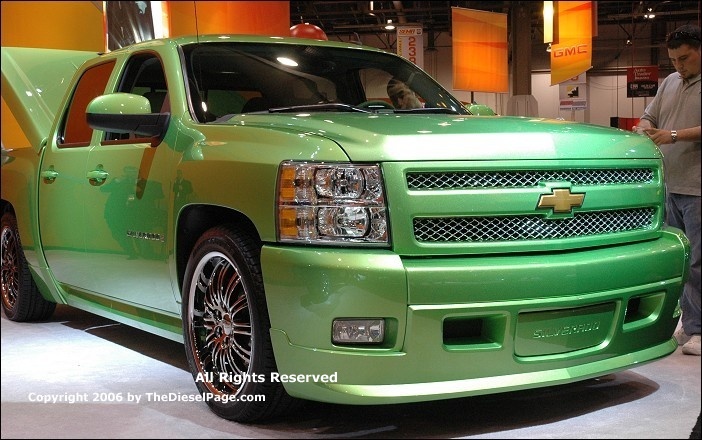 I included this photo both to show the new metallic green color offered by Chevy and to illustrate what ground-effects and air-dam components might be adaptable to GM's new HD trucks due out in early 2007. Totally missing from the GM display was the 2007 HD pickup lineup (at least I didn't see them). GM did have a half dozen engines on display, which included the LBZ, but no diesel trucks. Me thinks that was a big mistake!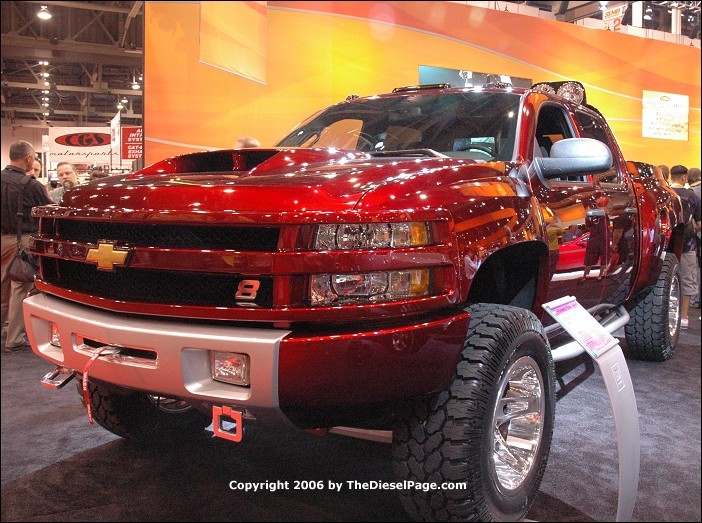 While no diesels were present, this custom 2007 Chevy was in the GM display area, which was built for NASCAR's Dale Earnhardt Jr. Looking like it's ready for a run at Baja, I couldn't help but think about a new Duramax powered Chevy 2500HD with similar mods.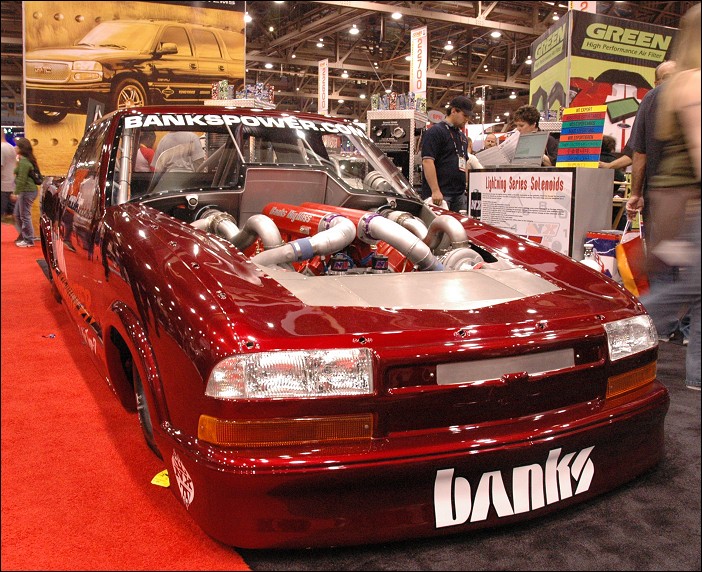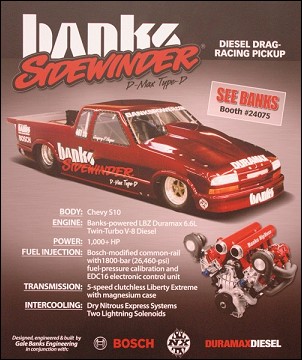 This is Banks' (bankspower.com) upcoming Duramax powered 1/4-mile truck. The data card shown on the left outlines the important features.
The Banks press release says: "Prepped to be the quickest diesel pickup truck in the world, the Banks Sidewinder D-Max Type-D will be unveiled Tuesday, October 31st at the Nitrous Express Booth (#23067) during the SEMA show in Las Vegas. A full-tube-chassis drag race pickup truck, the Sidewinder D-Max Type-D is fitted with a Banks diesel racing engine. The powerplant is a Duramax 6.6L LBZ V-8 with a Twin-Turbo arrangement and a highly modified Bosch common-rail fuel injection system. Horsepower yields are 1000+, with quarter-mile times expected in the 7-seconds range."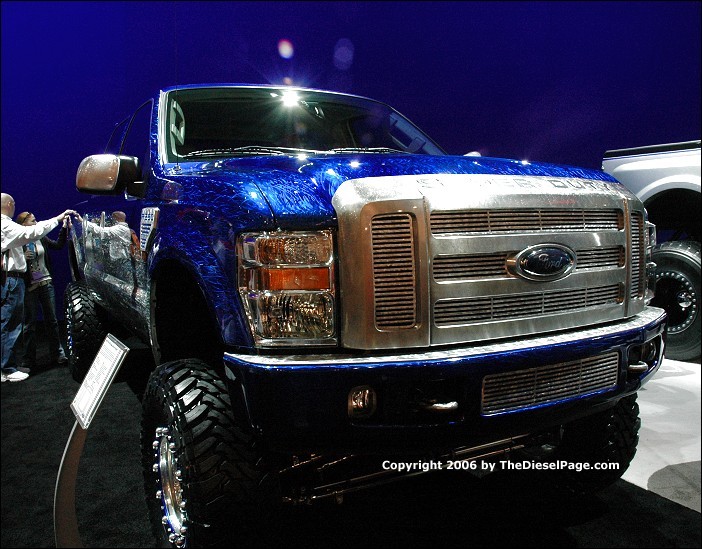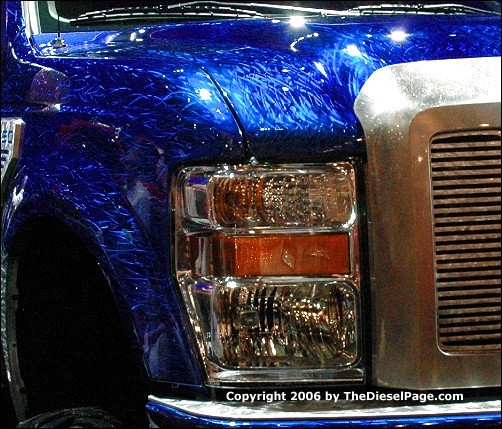 Ford began a pre-launch program a couple of years ago where they gave a new vehicle to a number of top builders around the country - to produce a custom vehicle capable of drawing both the public's and media's attention. This truck, customized by Fabtech, is one of those vehicles. A lift, aftermarket wheels/tires, custom accessories and wicked paint made this truck a huge standout. The paint fascinated everyone who saw it, as shown by the admirers at the rear of the truck in the above photo.
The darker paint is actually a translucent blue candy, with many hours of hand grinding produced in the steel body panels showing through. The large silver colored side panels were left natural steel colored, but also received the swirls via hand grinding. Then the whole truck was clear-coated to provide the shine.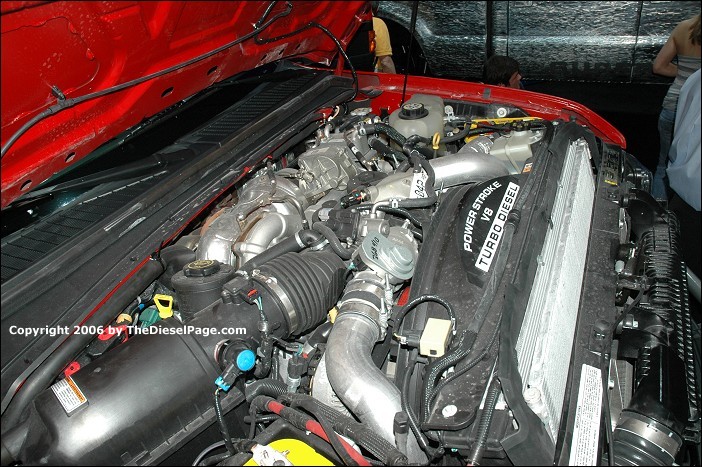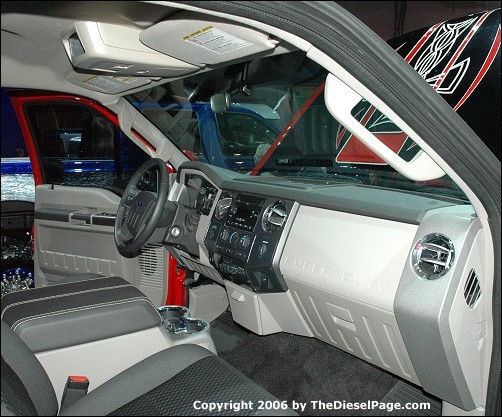 Ford hopes the brand new twin-turbo 6.4L PowerStroke Diesel (sorta shown above) will correct the problems experienced by the outgoing 6.0L. More power (350 hp), more torque (650 lb-ft), lower emissions and improved drivability should encourage loyal Ford devotees, though gone are the days of opening the hood to impress your buddies. Any serious engine work is rumored to require removing the cab.
Ford's interior has always ranked well in creature comfort, usability and overall design.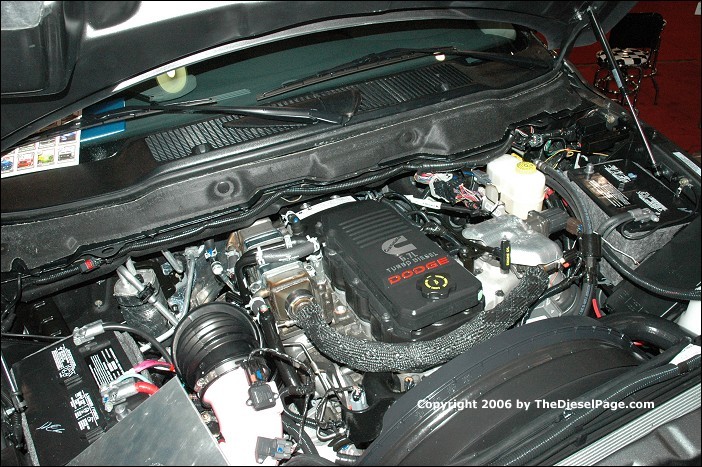 Bully Dog's SEMA booth made room for a new Dodge 6.7L Cummins equipped truck. Other than some unidentified plumbing snaking around the engine bay, it appears very similar to the outgoing 5.9L Cummins. Dodge now has the "biggest" diesel engine (both in displacement and weight). The new Dodge truck appeared to be more or less unchanged from the current 2006 Dodge 2500.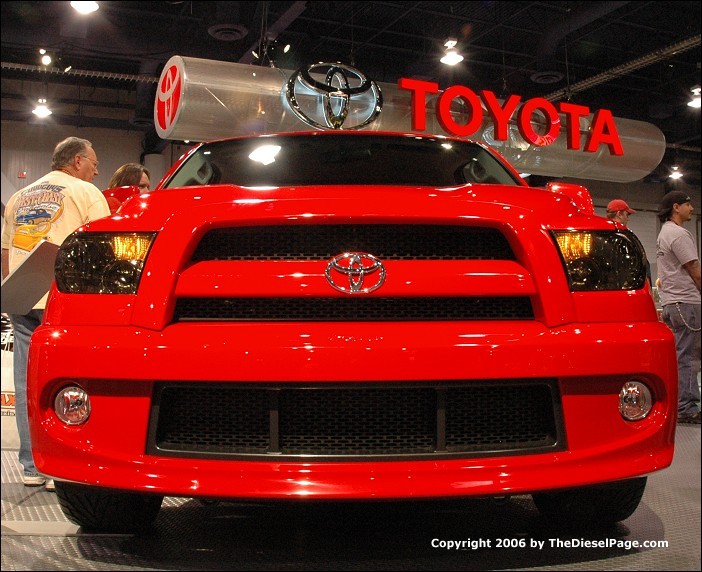 This is Toyota's new full-size Tundra, which might show up in a year or two with a diesel engine to compete in the HD diesel pickup truck market. Do you like the look? TDP
---
TheDieselPage.com
What's New: | Feature Articles: | Product Reviews: | Member's Area:
Join Us: | Duramax Diesel Page: | Advertisers: | Classified Ads: | Books:

Send e-mail to: turbo@TheDieselPage.com
Copyright © 2006 by The Diesel Page
www.TheDieselPage.com