---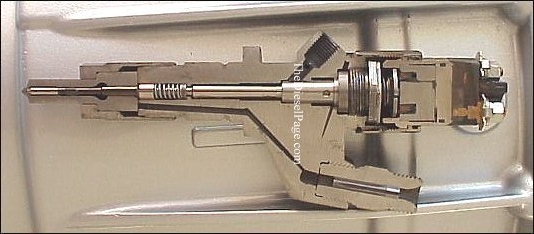 2001/02/03/04 Chevy/GMC
LB7 Duramax 6600
Fuel Injector Warranty Extension
Updated 12/2018
---
General Motors has extended the Duramax 6600 fuel injector warranty coverage for owners of all 2001, 2002 & 2003 model-year Chevrolet and GMC Duramax 6600 equipped pickup trucks and 2003 medium-duty trucks. Issued 10/10/2006, GM Document ID#1866141 & recently #04039B indicates that additional injector warranty coverage is now available for a period of 7 years from the date the vehicle was placed into service or 200,000 miles - whichever occurs first. Note: This warranty extension for the Duramax LB7 fuel injectors has expired, but this page remains to provide historical context.
The lower photo was taken at the DMAX engine production facility located in Moraine, Ohio in March of 2001 during our first tour of the plant (TDP photo). These are boxes of new LB7 Duramax fuel injectors, ready to be installed in new engines. The above photo shows a cut-away of an LB7 fuel injector (Ron Wong photo).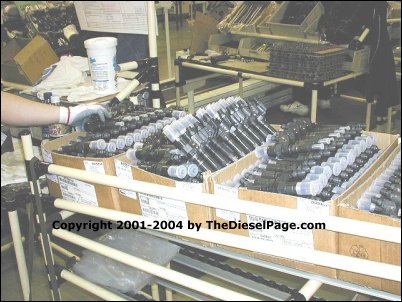 This was a no-cost warranty extension, and owners may have been eligible for service cost reimbursement if their vehicle required fuel injector(s) replacement that was not covered by the original 5-year or 100,000-mile engine coverage. Reimbursement for a prior injector replacement was limited to the cost equal to that when performed by an authorized General Motors service center. Your local servicing dealer helped with claim forms and assistance in determining coverage.
Two distinct types of failures were mentioned in the special policy as being included in this new extended warranty - high fuel return rates due to cracked injector bodies and/or ball seat erosion. Other types of failures are not mentioned, and coverage and/or reimbursement for any other type of failure under this special policy will be determined by your servicing dealer.
GM recommends following Corporate Bulletin Number 04-06-04-007A for injectors diagnosed with high fuel return rates. GM specifically directs its dealerships not to replace all 8 injectors for any complaint other than high fuel return rates. Other types of injector failures are "fix as failed", meaning the individual faulty injector will be replaced - not all eight.
Cracked injector bodies and/or ball seat erosion can result in the illumination of the SES (Service Engine Soon) lamp, low power, hard starting, or fuel dilution of the crankcase oil. It is my understanding that GM identified these problems early, and worked with Bosch (fuel injector manufacturer) to correct the problem.
Please contact your local dealer or call GM's customer assistance center at 1-866-996-9463 if you have any remaining questions.
TDP
---
TheDieselPage.com
What's New: | Feature Articles: | Product Reviews: | Member's Area:
Join Us: | Duramax Diesel Page: | Advertisers: | Classified Ads: | Books:

Send e-mail to: turbo@TheDieselPage.com
Copyright © 2004-2018 by The Diesel Page
www.TheDieselPage.com