---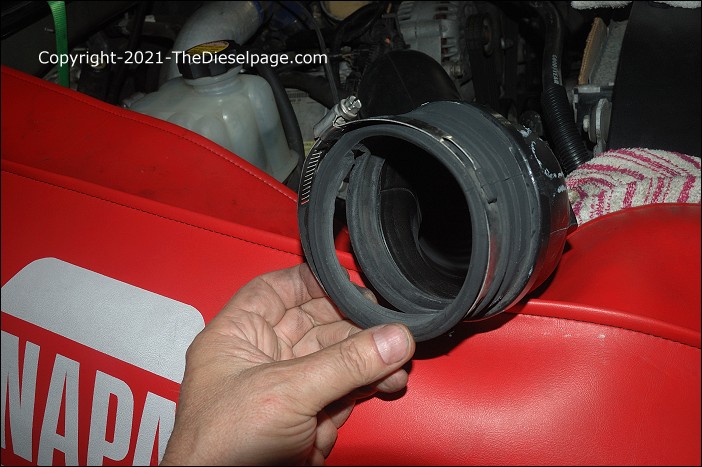 Duramax Intake Hoses
Permanent Fix
---
Words & Photos by Jim Bigley
---
I've had my 2001 GMC serviced at a couple of shops these past few years - injectors, water pump, etc., and more recently the truck was taken to our local GM dealership for yet more service. Luckily, the local dealer mechanic brought to my attention a problem with the intake duct assembly, a problem that could have significantly affected the life of the engine. The rubber portion shown in the above image had been torn during some earlier service visit. The mechanic either didn't know it or hoped it wouldn't cause a problem... I chose to fix it - a permanent fix. Unexpectedly, the rubber had deteriorated over time, becoming more fragile.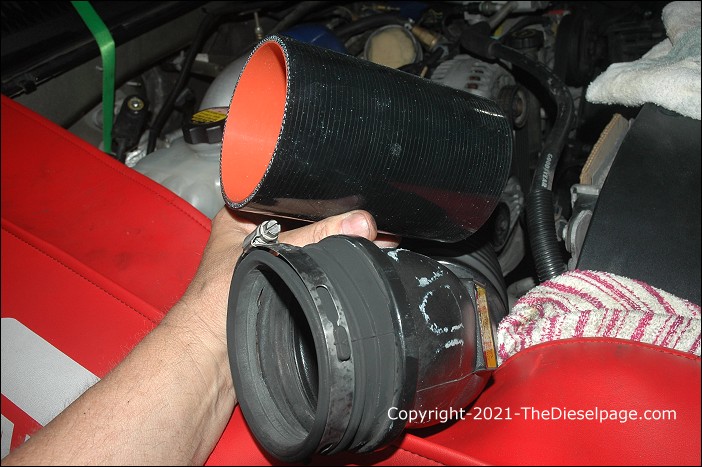 I had prior experience with the products and service offered by IntakeHoses.com, and I knew they would have a reinforced silicon hose that would work for me. So, I ordered a gloss black hose that was the best compromise in length and inside diameter (Item number: C40B-375X6), which is a 6" length of hose with an inside diameter of 3.75 inches. In addition, I bought a couple of nice 4" hose clamps from our local NAPA to go with the new hose.
I shortened the 6" length to exactly 4" using a sharp box cutter and masking tape as a guide. The original rubber joiner hose on the intake duct was secured with a permanently attached plastic clamp. I used my Dremel tool to cut and remove that clamp.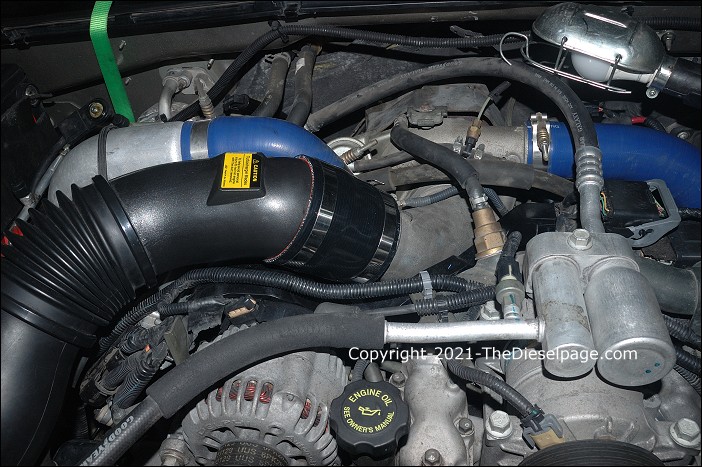 The new silicone hose is a tight fit over the intake duct pipe. I used a little soapy water and a screwdriver to get it on - sorta like putting a tire on a rim. The length could be cut a bit shorter if you want to exactly duplicate the length of the original rubber coupler. But, I like it a little longer - to allow more room for the wiring harness beneath it. There remains plenty of hood clearance. Total cost of this silicone hose delivered to my door was $25.61.
TDP
Source: Intake-Hoses
---
TheDieselPage.com
What's New: | Feature Articles: | Product Reviews: | Member's Area:
Subscribe: | Duramax Diesel Page: | Advertisers: | Classified Ads: | The GM 6.2L/6.5L Diesels

Send e-mail to: turbo@TheDieselPage.com
Copyright © 2021 by The Diesel Page
www.TheDieselPage.com