---

2006 Duramax LLY/LBZ Service Recall
Addressing a possible glow plug failure.
---
By Jim Bigley
---
In an effort to reduce cold-start induced white smoke, GM has upgraded the glow plugs, the glow plug controller and the ECM programming on a continuing basis since first introducing the first Duramax 6600 in the fall of 2000. The 2006 Duramax, identified as either RPO code LLY (early '06 models) or LBZ (late '06 models), saw another glow system upgrade. Faster-acting glow plugs and shorter cycle times combine to further reduce white smoke after a cold start, while helping to make diesel engine operation more transparent to those more familiar with starting a gas engine. However, there have been a few bumps in the road regarding the 2006 glow system.
Service Document ID #1797239 was released in March of 2006 addressing a possible concern about the glow plug system and a need to reprogram the Glow Plug Control Module #06522. It was discovered that some number of 2006 vehicles equipped with either the RPO code LLY (VIN code 2) or LBZ (VIN code D) (eighth digit in the VIN) Duramax 6600 may need to be returned to their dealer to have the glow plug control module re-programmed. While we here at The Diesel Page haven't heard of any glow system problems resulting in engine damage, some of these 2006 LLY/LBZ equipped vehicles have experienced failure of the glow plug(s), which could (in the worst cases) result in more serious engine damage due to glow plug tip ingestion.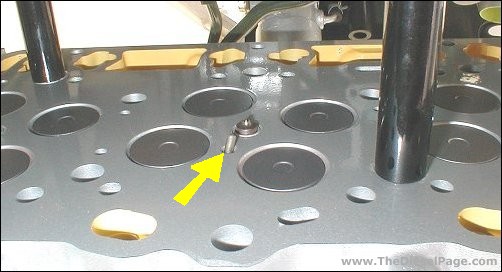 The tip of each glow plug extends into the combustion chamber of each cylinder. During a cold start, a pulse of electrical power raises glow plug tip temperature to something approaching 1400°F in just seconds. A glow controller problem or programming error that results in longer than designed "on" time can cause the heating element inside the glow plug tip to fail. Some of these failures cause the tips to distort or even disintegrate. These free-agent pieces of metal can then wreak havoc with the pistons, heads, valves, cylinder walls and turbocharger.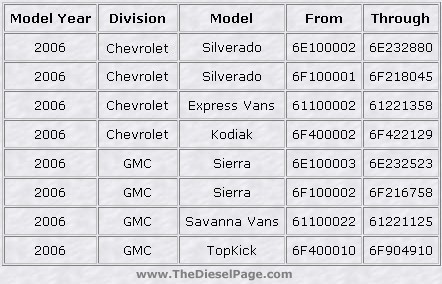 This chart represents the Vehicle Identification Number breakout points for each of listed vehicle types. If your vehicle's VIN number falls within one of the listed ranges (and you haven't already been contacted), you should contact your dealer for further instruction. Your servicing dealer can reprogram your GPCM (Glow Plug Control Module) with the appropriate glow plug calibration update using a Techline Tech II scan tool and Techline Information System (TIS) 2000 terminal.
Vehicles within California, Massachusetts, Maine and Vermont should have a Recall Identification Label installed in a visible location somewhere on the radiator core support once this calibration update procedure has been completed. In addition, all California dealers should issue a "Proof of Correction Certificate" to all vehicle owners whose truck was serviced according to this recall. You may be required to present this certificate to the DMV when registering your vehicle. Any dealer vehicles remaining in inventory, and falling within the above listed VIN breakouts, should have this recall performed before it is sold.
Should you need any additional assistance, please contact Chevrolet at 1-800-630-2438 or GMC at 1-866-966-9463. TDP
---
TheDieselPage.com
What's New: | Feature Articles: | Product Reviews: | Member's Area:
Join Us: | Duramax Diesel Page: | Advertisers: | Classified Ads: | Books:

Send e-mail to: turbo@TheDieselPage.com
Copyright © 2018 by The Diesel Page
www.TheDieselPage.com