---
TheDieselPage.com
Member Duramax Trucks
The First Ones!
Updated September 25, 2001
---
Chuck Hull's Chevrolet Silverado 2500HD Duramax/Allison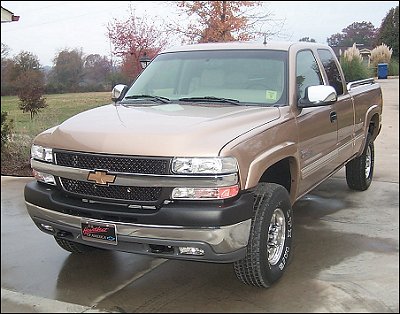 Details:
a.. Base: 2500HD Ext Cab SB 4x4
b.. Trim Level: LT w/Onstar (1SC)
c.. Color: Sunset Gold Metallic / Tan Interior
d.. Power Train: Duramax/Allison Auto
e.. Options: Z82 Trailering , NZZ Off-Road Skid Plates, G80 Locking Differential, UY2 Camper/5th Wheel Wiring
f.. I have added a set of Michelin M/S 265/75R16-E tires. Yes, the service manager did verify that he can reset the tire size in the truck's computer.
Order Details: Ordered in early October (dealer submitted request for Sold Order), Dealer received allocation (for 1 truck) one week later, received TPW one week after allocation was received (Order confirmed). TPW: 10/23/00, Released to Factory: 10/21/00, Built 10/25/00, Ready to Ship 10/27/00, Shipped 10/27/00. Received at Dealership on 11/04/00 (Direct Ship from Pontiac Michigan, the transportation end-date was set for 11/8/00, so it did arrive early!). Dealer Location: Abernethy Chevrolet, Lincolnton North Carolina. I had been waiting to place this order since hearing rumors of the Duramax in early 1999.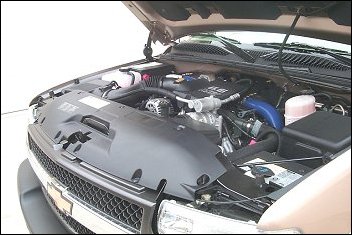 First Impressions: Man - what a truck! It seems to have great power, and the Allison has a firm crisp shift. Cannot wait to get through the break-in period. The sound level at idle is really quiet, but don't worry guys, it still sounds like a diesel. One thing I should mention is that the owners manual has very little information on either the Duramax diesel engine or Allison automatic transmission, but refers owners to a "Diesel Supplement", which I do not have yet.
Chuck Hull
Member #5533
---
Steve Overcash's 2001 Chevrolet LT 2500HD Duramax/Allison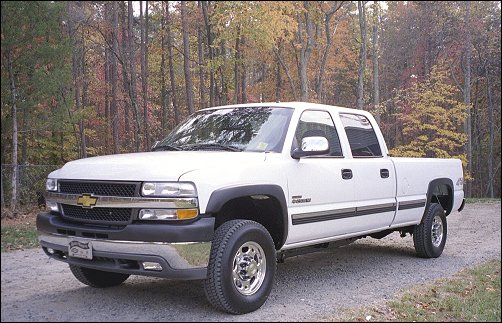 Let me introduce the newest member of my family. The order was placed with GM on July 20th, and I took delivery November 6th.
The Truck...
2001 Chevrolet 2500HD, Crew Cab, Long Bed, LT, Duramax 6600, Allison Automatic. The bucket seats are very comfortable, and adjustments are pretty easily accomplished. I've been waiting for a Crew Cab for a long time, just to have the extra room. The A/C and Heat both work great; whisper quiet is more like it.... While I haven't added any accessories yet, I have a few things in mind that will be added real soon.
Now, on to the good stuff. Power!! I will say without a doubt, this is the fastest Duramax (including all stock pickup diesels) I have ever driven... It just keeps on pulling from idle to redline! The Duramax is tops in my book - quiet, powerful, and refined. This is the future for light-truck diesel engines.
The Allison 5-speed automatic transmission..... What hasn't been said about this transmission? It's great!! I like knowing the Allison is built to handle all the torque that the Duramax can deliver...
I haven't experienced any problems during the short time I've had it, but the truck will be thoroughly tested while driving it to the 2001 Diesel Page Rendezvous next September...
Steve Overcash
Member #330
---
Richard McMenamy's 2001 2500HD Chevrolet LS Duramax/Allison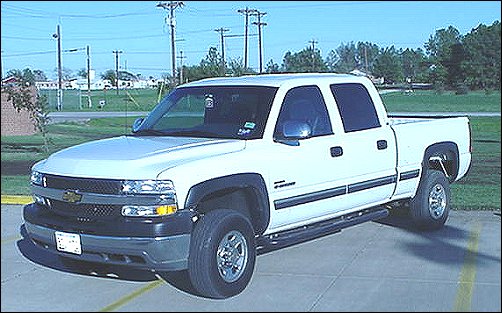 The first time I got to see one of the GM HD trucks in person was at the Dallas autoshow. I placed my order for this truck in June, the order was picked up by GM September 15th. By September 29th I received a TPW of October 9th. My truck was built October 16th, and was shipped from Flint Michigan October 25th. The truck arrived in Oklahoma City, Oklahoma on Oct 29th at 11:50am. I picked it up in Denton, Texas November 1st. Needless to say, I'm a little excited after almost two years of shopping for for a new truck.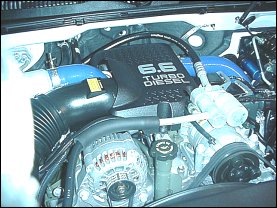 My Chevrolet LS crewcab shortbox is equipped with a Duramax 6600 diesel engine and Allison 5-speed automatic transmission, white paint with dark grey interior, camper towing provisions, and has black Tech Tubes nerf bars. The truck assembly crew at Flint Michigan did a GREAT job building this truck, and I have no complaints about the build quality. Let me tell you the Duramax has more than enough power to do anything you would ever want to do. At idle you can barely hear the engine running, when you mash the accelerator you instantly get pushed back in the seat and the engine produces a mild rumble. The engine gets very quiet again when you get to cruising speed.
The Allison 5-speed transmission shifts very smoothly at normal acceleration, and the shifts are more firm under hard acceleration, but not harsh. I can't wait to tow my camper to see how it work in the Haul/Tow mode. To say the least I'm very impressed with these trucks.
Richard McMenamy
Member #5465
---
Robert Ridgway's 2001 3500 Chevrolet Silverado LT Duramax/Allison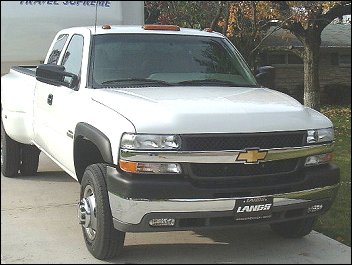 Details:
a.. Base: 3500 Ext Cab Long Bed
b.. Trim Level: LT w/Onstar
c.. Color: Summit White/ Tan Interior
d.. Power Train: Duramax/Allison Auto
e.. Options: Everything available
Order details: Started talking with dealer in early April, and placed an order the first of June. Our dealer notified me by e-mail that they had received an allocation notice the first of October, but with no build date. I received another email on November 3rd saying truck had just arrived, then picked the truck up November 9th.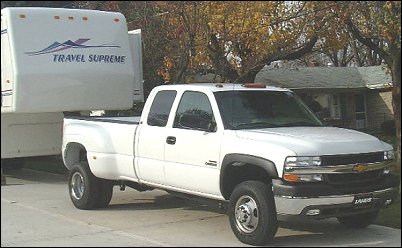 I use this truck to pull a 34' Travel Supreme, with three slide outs, weighing about 16,000 pounds loaded.  I just returned from a 6,500 mile trip to the Canadian Rockies, Wyoming, etc., and averaged 10 miles per gallon on the trip, with a target towing speed of 65-mph.  The fuel economy varies somewhat, depending on the terrain, but will stay in the 8-1/2 or 9 for the low end to 11 or 11-1/2 mpg for the high end.  Due to the Allison programming, the truck will not stay in overdrive while running with cruise-control.  The slightest grade causes it to downshift.  Consequently, I don't pull in cruise.  I have found that I can maintain speed on most hills if I don't let the engine drop below 1,800 rpm.
As of September, 2001, I have accumulated 16,000 miles on the truck.  I have also been to Florida and back with it and to the Upper Peninsula of Michigan.   Other than the touchy cruise-control, there have been no problems,  and I love the truck.
Robert Ridgway
Member #5583
---
Raymond Gregoris' 2001 Chevrolet Silverado LT 2500HD 2WD EXT Cab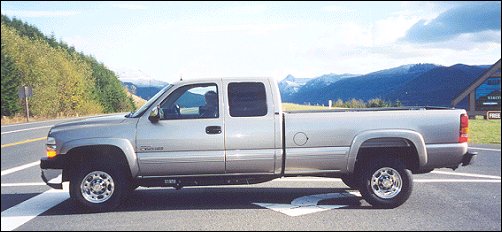 Options: Duramax Diesel 6600 V8 engine. Allison 5 spd Automatic Trans, Locking Differential, Trailering equipment, recovery hooks, Camper wiring, Lt Pewter Metallic/Tan custom leather trim.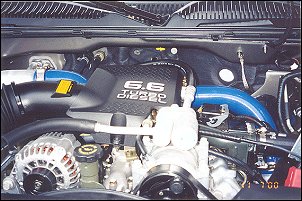 Driving Impressions:
After a 3 month wait for my first new GM vehicle since 1963, I took delivery of my new truck on November the 7th. I was not disappointed. The ride is excellent, and the truck has a solid feel. The noise level is quiet inside and out while driving. The Allison transmission shift quality produces crisp and precise gearing changes. Seems to always be in the right gear at the right time. The grade-braking feature (tow/haul mode) works very well while driving the truck empty. (I haven't had tried it with the 5th wheel attached yet). The Duramax 6600 sounds great and has lots of power. Did I mention that I think I might like this truck? Did I mention that I can't stop grinning.
Raymond Gregoris
Member #5593
---
Brian Carrington's 2001 Chevrolet Silverado LT Duramax/Allison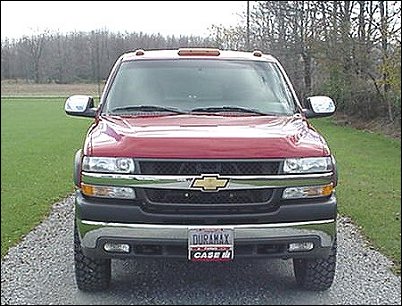 I have had diesels in the past (GM only), but have had experience with the other brands as well. The first thing I like is how the transmission shifts. It is very smooth for an Allison, and the grade-braking is years ahead of anyone else. Together with the power of the Duramax and the precise gearing of the Allison, they have made this guy the world's best driving, towing, hauling, riding truck in the industry. This truck is a dream come true. As for looks.... you be the judge.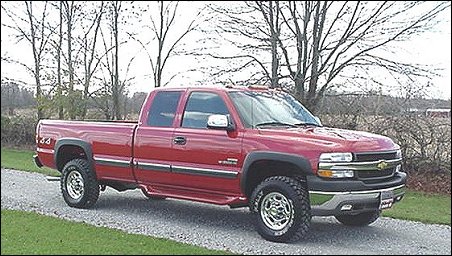 LIKE A ROCK!!
Brian Carrington
Member #2617
---
Mike VanKeirsbilck's 2001 Chevrolet Silverado LT Duramax/Allison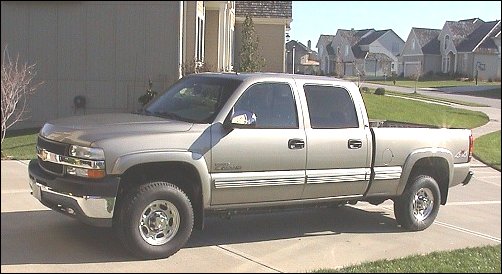 I ordered my 2500 Crew Cab way back in April ( I say ordered, meaning that is when my dealer input all my options into the computer and knew he had his first Duramax Diesel sold). I took delivery of my 2500 HD Crew Cab on 11/8/00. It is all that I expected and more. I know many Ford Powerstoke drivers, and three of them made me drive through the sleet and ice to show it to them on the first night. I even had a life long Ford owner drive to our hunting camp over the weekend just to see and hear it!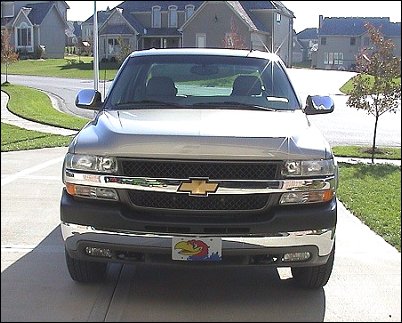 Before ordering this Duramax diesel truck I was concerned about noise and the acceleration. Both of these concerns were soon laid to rest since both quietness and acceleration are better than I expected. I owe thanks to The Diesel Page and the membership for all the information and posts on the message board. This kept me going this summer when my dealer knew less than all of you. It is an awesome truck. I hope all of you get yours in a timely manner.
Equipment on my 2001 2500HD Crew Cab LT
Short bed w/ Onstar
Allison Transmission
Duramax
Electronic Climate control
Off road skid pkg.
HD trailering equip.
Locking rear diff.
Color: Pewter w/ light silver leather interior
Mike VanKeirsbilck
Member #4816
---
John Suveg's 2001 GMC Sierra SLE 2500HD 4WD Crew Cab
Duramax/Allison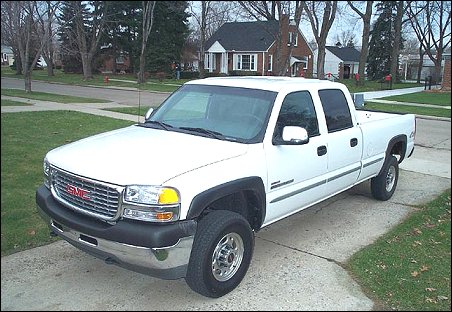 Exterior.. 50 Summit White - Solid
Interior.. Graphite Interior Trim
Options... Polished Aluminum Wheels
LT245/75R16/E bw Tires (firestone)
SLE Trim
Off Road - Skid plate
Heavy Duty Trailering Equip
Locking Rear Differential
Convenience Plus Group
Deep Tinted Glass
AM/FM Stereo W/Cassette & CD
High Back Reclining Buckets
I couldn't believe how smooth the GMC accelerated during the test drive. The Duramax / Allison is a terrific combo. I like everything about this truck. The ride and handling is excellent for a 3/4 ton heavy-duty truck, and interior is plush and very comfortable.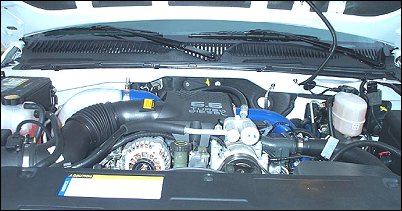 I talked to the local Chevy dealer back in July who told me I would not be able to get a Duramax diesel until spring 2001, so I began considering a new Ford. The Ford dealer said he could deliver a F350 CC diesel in 90 days, but after a 150 days and still no truck, I was told it could be another 2 or 3 more months. So, I did a search on the GMC website and found the truck I was looking for. Once again this truck is great, and I'm so glad everything worked out the way it did.
John Suveg
Member #5654
---
Steve Drewniany's 2001 Chevrolet Silverado 2500HD Crew Cab 4x4
Duramax/Allison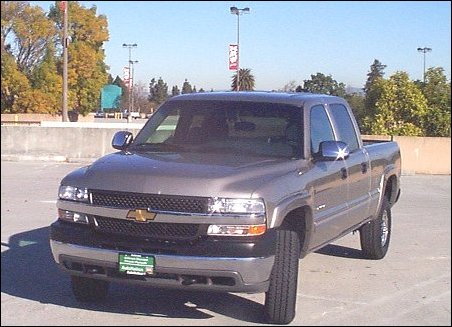 2500HD 4X4 Duramax Allison Crew Cab SB Pewter Graphite
Ordered: August 7, 2000
TPW: 11/20/00
Built: 12/04/2000
Delivered: 12/13/00
Dealership: Anderson Chevrolet Cupertino California
$500 over invoice.
LS trim
Split Bench
Polished Aluminum Wheels
LT245/75R16/E bw Tires (firestone)
Off Road - Skid plate
Heavy Duty Trailering Equip
G80 Locking Rear Differential
HD trailering equip
5th Wheel/Camper Wiring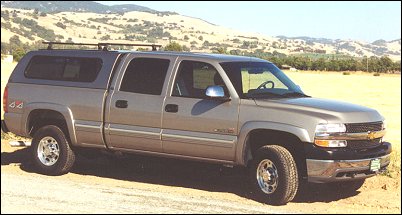 1st tank gave me 15.8 mpg. This truck offers plenty of power and a very smooth ride. I was surprised by how quiet the engine is, since I was able to hold a conversation while standing in front of the truck with the engine running. Engine noise is barely noticable at highway speeds or while driving in town with the windows down. However, you can still tell it is a diesel. Great acceleration, but I am looking forward to getting a few more miles on it before I really put my foot into it.
Took the kids on a Christmas lights tour on the first night we had the truck. They all preferred the extra room of the crew cab over that of our 1996 Silverado extended cab. I have found the ride and interior passenger room to be super. Need some work on the cup holders, and I would like to see a locking rear tailgate. However, the locking spare is a nice touch.
Steve Drewniany
Member #5783
---
Warren Craft's GMC SLE Ext Cab SB 4x4
Duramax/ZF 6-Speed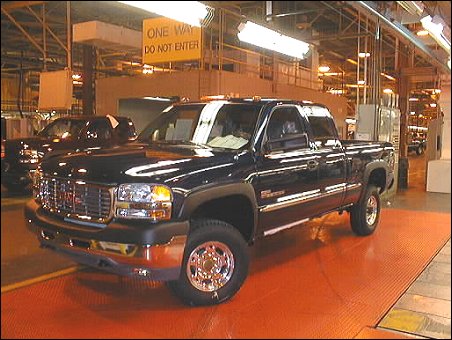 This picture was taken by Pontiac (TheDieselPage.com forum contributor) just as my truck came off the line.
Z82 - Trailering Special Equip.
UY2 - Camper & Trailer Wiring Prov.
NZZ - Off-road Skid plates
LB7 - Duramax Diesel
ML6 - 6-speed Manual with Overdrive
G80 - Locking Diff.
PYO - Aluminum Wheels
QIW - On/Off road Blackwall Tires
T96 - Fog Lamps
UO1 - Roof Marker Lamps
DF2 - Extendable Mirrors
AJ1 - Deep Tinted Glass
A95 - Bucket seats - high-back cloth with
power(Graphite)
39U - Indigo Blue Metallic
This is my first new truck in 15 years, and I waited patiently for almost 4 months for this one to arrive. I placed the order on August 26th and on November 3rd I received a build week of November 20th. The truck was finished on November 28th, and sent to the shipping yard. The dealer received the truck December 8th. It arrived missing one option, the locking differential, so the necessary parts were ordered so that it could be installed at the dealership. All work was completed and I took delivery on December 21st.
After one week and almost 700 km's, I absolutely love everything about this vehicle. I have a little bit of adjusting to do getting used to a new clutch and transmission, but that is all.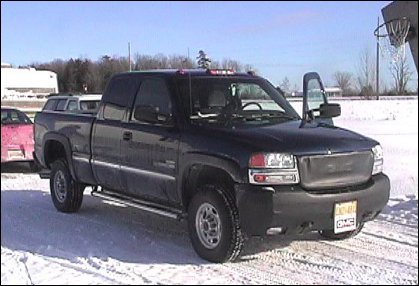 The power and acceleration of this engine is like nothing I have driven before. All comments so far are that this engine is very quiet. I had a 30 mile drive home from the dealer, and I was able to pass another truck going up a hill that made it look like he was standing still. That was in 6th gear and accelerating from 55 MPH.
The 6-speed combo works very well. There is a lot of power in all gears. 1st is geared very low, and isn't necessary at all under most conditions. I haven't had to use it at all. It is quite easy to start up in second or even third gear if you wish. There is no need to rev the engine upon startup either. (the only time I stalled it was when I attempted to start up in 4th by mistake. oops)
The fit and finish of the truck are very good. I have already added DEEZEE FX Extruded Running Boards, a set of Husky Liners, a Hood Deflector (not on when pictures taken) and will be putting on rear Mud Flaps and a box cover as soon as the funds are available. Out of the four trucks I've owned, this is by far the best. I hope to have this one around for 15 years, just as I did my last one.
Warren Craft
---
Chris Rosenberger's 2001 Chevrolet Silverado 2500HD LS 4X4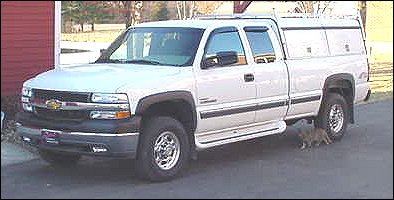 Options: Duramax 6.6, Allison transmission, Summit White, Tan Interior, Aluminum Wheels, Trailer Equipment, Locking Differential, Trailer Mirrors.
Optional Accessories: ARE Commercial Cap, Owens Fiberglass Running Boards, Mud Flaps, Window Visors, Floor Mats, Door Edge Guards, Sill Guards.
I had ordered a truck from my local dealer around the 1st of September. After waiting about 2 months with no news of when or if I would get a truck I started searching the GM Buypower web sight. On December 20th I found the truck pictured at Burger Chevrolet in Logansport, Indiana. The only problem was it was 148 miles away. I went the next afternoon to look at the truck and bought it. I could not bring it home because my trade in was still loaded with tools. I had to wait until Saturday December 23rd to go back to get it. It was a nice Christmas present. The differences between the truck I ordered and this truck were that I had ordered a regular cab & power mirrors. I would now not give up the extended cab or the trailer mirrors. The rest of the options match what I had ordered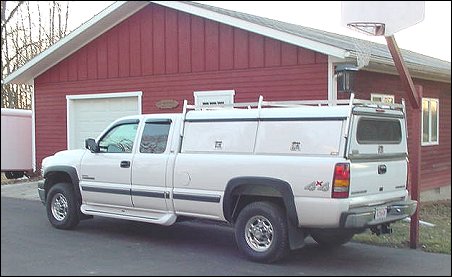 I still cannot believe the power that this truck has. This is even after loading it with about 1600 lbs of cap & tools. The Duramax is averaging about 15 mpg. This will get better as most of my trips have been in town. The ride is also amazing. I think it rides better than my wife's mini van. I have had many people stop me to look at the truck. GM has done a great job on this truck. I just wish that everyone that wants one could get one.
Chris Rosenberger
Member #4876
---
Would you like to see your new Duramax Diesel truck pictured here? Just take two good photos of your truck and write 2-3 paragraphs describing your first impressions and ownership experience. Then send it all to TheDieselPage.com.
---
TheDieselPage.com
What's New: | Feature Articles: | Product Reviews: | Member's Area:
Join Us: | Duramax Diesel Page: | Advertisers: | Classified Ads: | Books:

Send e-mail to: turbo@TheDieselPage.com
Copyright © by The Diesel Page
www.TheDieselPage.com