---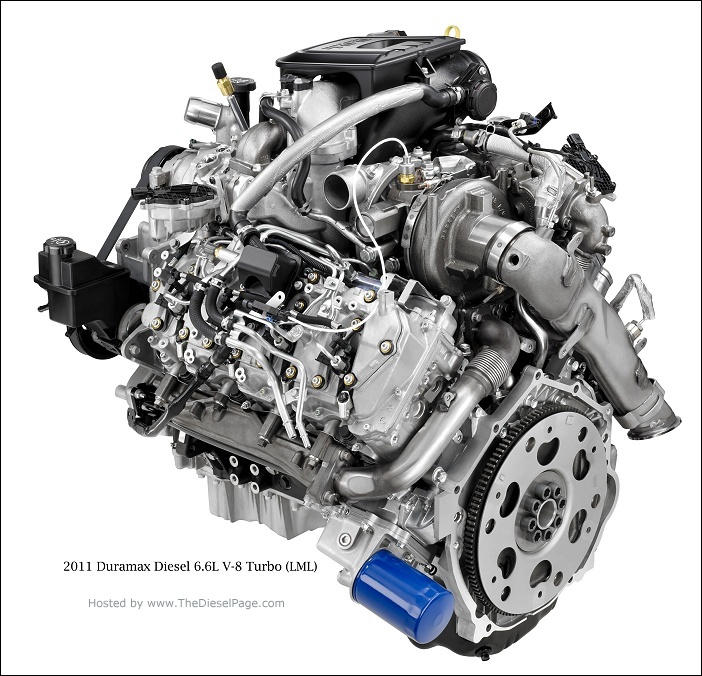 DMAX Marks 10-Year Manufacturing Milestone
---
More than 1.2 million engines produced
Company nears environmental landfill free goal
DAYTON, Ohio - DMAX Ltd., a 60-40 joint venture between General Motors Co. and Isuzu Motors Ltd., today celebrated 10 years of making award-winning diesel engines.
In ceremonies attended by community and government leaders, company officials marked cumulative production of 1.2 million engines since July 2000. DMAX is the exclusive manufacturer of the award-winning Duramax diesel engine that powers Chevrolet Silverado and GMC Sierra heavy-duty pickups and Chevrolet Express and GMC Savana full size vans.
"Over our company's 10-year history, the Duramax diesel engine has become a success story and the pride of loyal Duramax owners around the world," said Maho Mitsuya, DMAX chief executive officer. "We're proud of the role we've played in producing the leading reputation for quality, reliability and durability in the heavy-duty truck market."
DMAX today also announced a major environmental commitment for the facility - establishing it as a landfill-free operation by Oct. 1. The operation will join 69 GM facilities globally whose manufacturing wastes are recycled, reused or converted to energy. No waste from normal plant operations is sent to a landfill.
"Many manufacturing plants generate waste along with their products, but at the DMAX plant, diesel engines with fewer emissions are our only output," Mitsuya said. "All manufacturing wastes generated at our facility will be recycled or reused in some way."
GM announced in 2008 that it intended to convert half of its major manufacturing facilities worldwide into landfill-free operations by the end of 2010. GM is currently 95 percent toward delivering on that commitment.
GM was among the first organizations - and to date is the only auto manufacturer - inducted into the U.S. Environmental Protection Agency's WasteWise Hall of Fame, recognizing ongoing outstanding waste reduction and recycling efforts.
The all-new Duramax engine design contributes to the environmental accomplishments while featuring significantly more torque and higher horsepower, 11 percent better highway fuel economy and substantially reduced emissions.
"The 2011 Duramax engine produces 63 percent fewer emissions than the previous model and also can run on B20 biodiesel fuel," said Rick Spina, GM vehicle line executive for full-size trucks. "Reduced vehicle emissions, combined with the DMAX plant's certification as a landfill-free facility, provide evidence as to GM's ongoing commitment to reducing our impact on the environment."
The Duramax engine is a benchmark for reliability and durability as well as competitive horsepower, torque and quietness within the heavy-duty diesel pickup industry.
"The bottom line is that the DMAX engine plant built more than 1.2 million engines in 10 years with a track record of quality that sets them apart from other manufacturers," Spina said. "Many of our loyal Duramax owners have hundreds of thousands of miles on their engines today."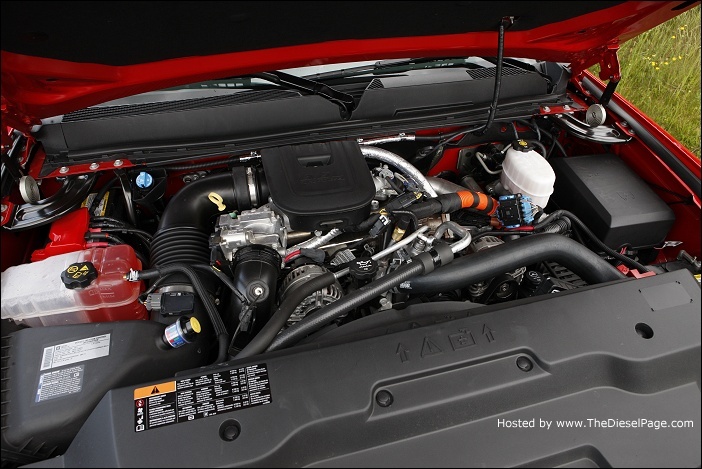 About DMAX, Ltd. - General Motors established the DMAX joint venture with Isuzu Motors Limited in 1998. The first diesel engine, jointly designed by the companies, was produced at the plant in July 2000. The 584,000-square foot DMAX plant currently employs 532 hourly and salary employees.
About General Motors: General Motors, one of the world's largest automakers, traces its roots back to 1908. With its global headquarters in Detroit, GM employs 208,000 people in every major region of the world and does business in some 157 countries. GM and its strategic partners produce cars and trucks in 31 countries, and sell and service these vehicles through the following brands: Buick, Cadillac, Chevrolet, GMC, Daewoo, Holden, Jiefang, Opel, Vauxhall and Wuling. GM's largest national market is China, followed by the United States, Brazil, Germany, the United Kingdom, Canada, and Italy. GM's OnStar subsidiary is the industry leader in vehicle safety, security and information services. General Motors acquired operations from General Motors Corp. on July 10, 2009, and references to prior periods in this and other press materials refer to operations of the old General Motors Corp. More information on the new General Motors can be found at www.gm.com.
About Isuzu Motors Limited - Isuzu Motors Limited (Isuzu) is one of the world's largest manufacturers of medium- and heavy -duty trucks and the number one selling low cab forward truck in North America since 1986. Since building its first truck in 1918, Isuzu has sold over 26 million trucks worldwide. Among its innovations are the first air-cooled diesel engine in 1936, the first two-ton low-cab-forward truck in 1959, and the first direct-injection diesel engine. Engines are the heart of Isuzu Motors Limited, an industry leader of over 20 million diesel engines worldwide. Isuzu products, noted for reliability and durability, have stood the test of time. Today, home base for the Powertrain Division of Isuzu Motors America, LLC is Plymouth, Michigan. Isuzu offers more than 30 different engine models with power ranges beyond 500 hp, for use in both on- and off-road applications. And, with a growing network of master distributor locations and over 300 authorized service dealers in North America, it is easy for any customer to obtain the most advanced, reliable diesel engines in the world. More information can be found at www.isuzu.com ###
---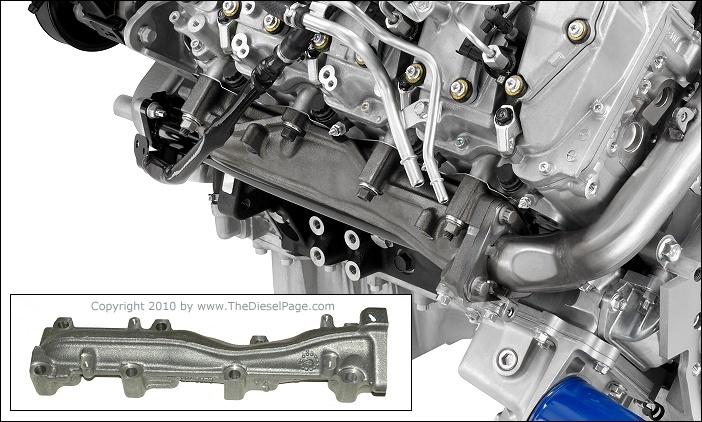 The original Duramax 6600, released for the 2001 model year and every year thereafter - till 2011, included a driver's side exhaust manifold that was deformed in the area where it was close to truck's steering shaft (see inset photo). We've discussed this deformation before, and mentioned that the manifold deformation may have been necessary to clear the steering shaft used in the 1990s GMT-400 body style trucks, but this deformation was not needed in the GMT-800 (1999-2007) body style trucks. I assumed it was a carryover from the original engine "design and packaging" team that used the earlier body style trucks as a design platform. Well, it appears DMAX has corrected this problem in the 2011 Duramax LML. We'll know soon whether it'll bolt on, but perhaps the 2011 LML exhaust manifold might be a good upgrade for all earlier engines.
The Diesel Page
---
TheDieselPage.com
What's New: | Feature Articles: | Product Reviews: | Member's Area:
Join Us: | Duramax Diesel Page: | Advertisers: | Classified Ads: | Books:

Send e-mail to: turbo@TheDieselPage.com
Copyright © 2018 by The Diesel Page
www.TheDieselPage.com