---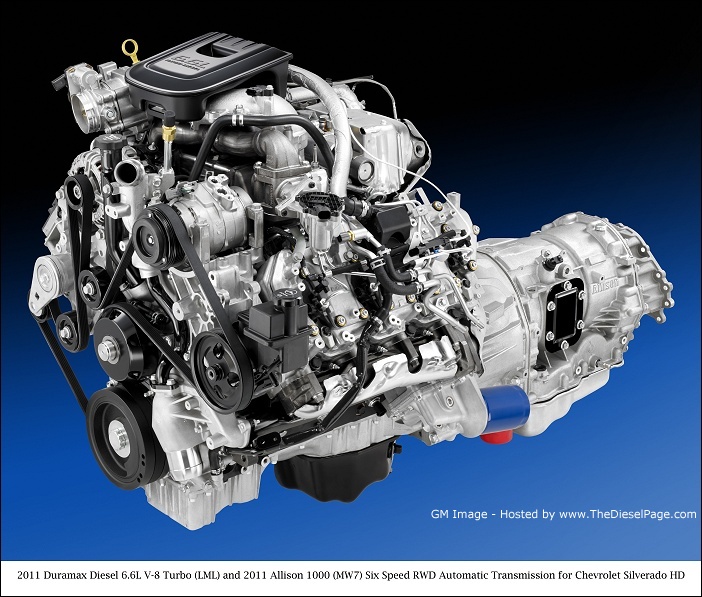 2011 LML Duramax 6600
Engine & Emissions Tech
---
By Jim Bigley
Copyright 2010 by www.TheDieselPage.com
---
The day of reckoning is at hand. I spoke with an Isuzu brand manager a few years who was involved with the, at the time, future 2010 emissions challenges. He lamented that the engines will be hardly recognizable because of all the new hardware necessary to meet EPA's stringent 2010 diesel emissions regulations. As with all earlier emissions regulations, GM has met the new requirements and they did it while adding performance and a near transparent-to-the-driver operation. While there is a lot more stuff under the hood, it's not as bad as originally thought - it usually isn't.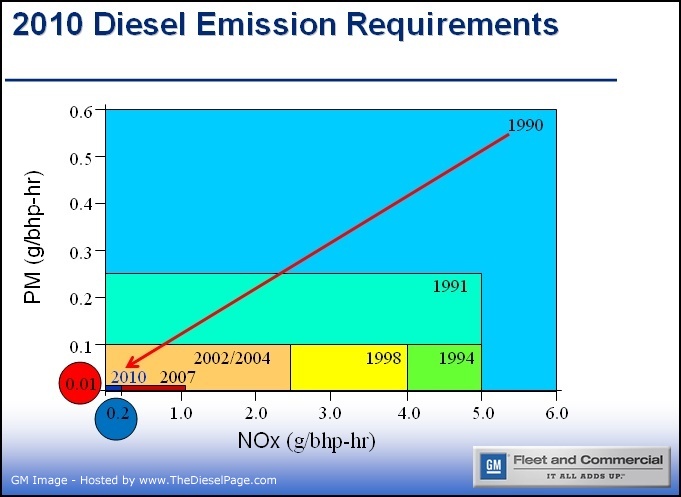 Since 1990, the reductions in diesel particulate matter (PM) and NOx (Nitrogen Oxides) have been significant. In 1990, PM (Particulate Matter) in the form of soot, has been cut from ~0.55 grams per brake horsepower per hour to a regulated 2010 level of just 0.01 grams. During this same period, NOx has been cut from ~5.5 g/bhp-hr to just 0.2. These are huge reductions, and meeting these levels has not been easy or cheap.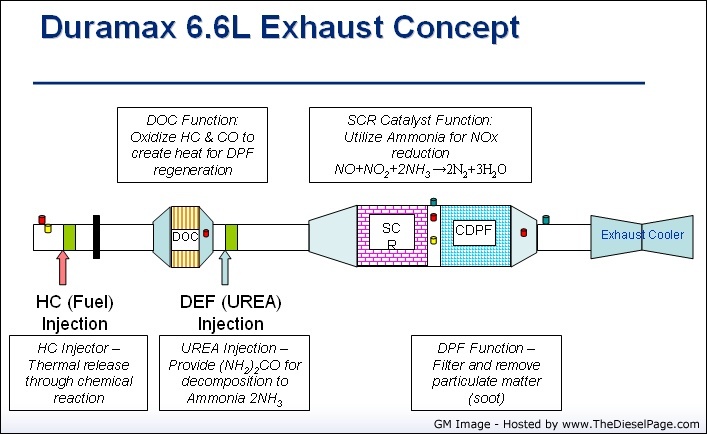 In addition to a new or upgraded DOC (Diesel Oxidation Catalyst), SCR (Selective Catalytic Reduction) and DPF (Diesel Particulate Filter), the new LML Duramax also incorporates the use of a new fluid that is injected into the exhaust system, which is a mixture of 32.5% automotive grade urea and the balance purified water. Now known as DEF (Diesel Exhaust Fluid), urea is injected into the exhaust system ahead of the SCR where the ammonia in the urea reacts with the rare-earth elements found in the SCR to reduce the levels of NOx exiting the vehicle's tailpipe. Diesel exhaust soot is thought to be a carcinogen and NOx is an atmospheric compound that promotes smog. The new LML diesel exhaust system components help it produce a whopping 96-98% reduction in these two exhaust emissions, compared to 1990 levels.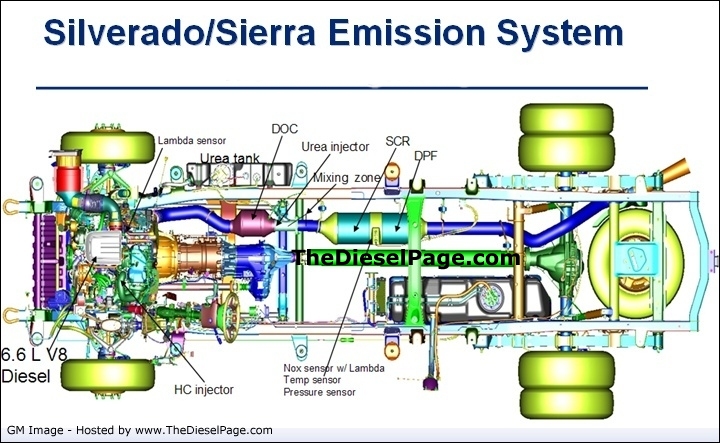 The outgoing LMM Duramax used a strategy whereby diesel fuel was injected into the engine during the exhaust stroke to initiate a DOC/DPF (Diesel Oxidation Converter / Diesel Particulate Filter) regeneration cycle. Burning raw fuel in the exhaust system raised DOC/DPF temperatures to a level that oxidized the soot. The LML strategy was modified somewhat, in that diesel fuel is instead injected directly into the exhaust system - not the engine. The LML now has 9 fuel injectors - eight for the engine and one for the exhaust system. This was done to prevent washing the cylinders clean of lubricating oil and to allow the new LML to now be approved for up to B20 (20% bio-diesel). Apparently, bio-diesel is more apt to wash the cylinders during an active DPF regeneration, and is why GM has been reluctant to approve the use of B20 in their Duramax. The LML is now approved for B20.
The good news... The use of DEF will be (or is expected to be) nearly transparent to the vehicle owner. The 6-gallon DEF fluid tank is sized to allow for enough fluid to last through a typical oil change service interval. DEF is used at a rate of approximately 1 - 1.25% DEF to diesel fuel, meaning for every gallon of diesel burned, the LML will consume one and a quarter percent of that amount in DEF (0.0125 gallon). Or, to make it simpler yet, a tank of DEF will last for up to about 9,000 miles in light-duty use and proportionally fewer miles while towing (based on fuel use). DEF will be available at your local dealer, at truck stops and other independent automotive retailers for about $2.70 to $4.00 per gallon. The DOC/DPF/DEF system will also allow for better fuel economy because fewer active exhaust regeneration cycles will be required than last year's trucks. GM is expecting an 11% increase in overall fuel economy when compared to the outgoing 2010 LMM Duramax.
The not so good news... DEF freezes at approximately +12°F, though it thaws without degradation. The DEF system is automatically heated and was actually designed for cold weather operation. The DEF supply line is purged at shutdown, so it'll operate as expected at the next cold start cycle. DEF degrades over time at temperatures above 86°F. Average shelf life should exceed one year, so only those trucks that don't consume a tank of DEF fluid over a 12-month period (6000-9000 miles) in a warm climate would need to be concerned. The DEF tank is monitored for both level and quality. If the quality of the fluid degrades, a warning will appear on the DIC (Driver Information Center) display indicating that the fluid needs to be replaced. In addition, the driver will get plenty of warning as the DEF fluid level drops. The first warning will appear when about 1000 miles of use are remaining, and the vehicle will be limited to 55-mph. As the DEF fluid drops further, the warnings become a bit more demanding. If you've not spoken to your OnStar operator, you will if you continue to drive without refilling the DEF tank. And lastly, the truck will be limited to just 5-mph (that's right! five miles per hour) once the DEF tank becomes nearly empty. Sounds dramatic, but it should be easy to avoid the 5-mph limit, especially since a full DEF tank lasts for up to 9,000 miles. Shoot, I need to refill my windshield washer fluid bottle more often than that.
A newly revised Garrett variable-vane turbocharger now doubles as a smart exhaust brake, which allow for safer towing and makes life easier for the truck & trailer braking system. This driver-selectable feature uses the turbine control of the variable geometry turbocharger and the compression of the engine to generate backpressure, slowing the vehicle without applying the brakes. It is a smart system integrated with the cruise control feature and varies the braking to account for the grade and vehicle load. It should be noted that the exhaust brakes of old (butterfly valve in the exhaust system) cannot be used in conjunction with a variable-vane turbocharger and EGR equipped diesel engine. The newest Garrett variable-vane turbocharger solves this problem and provides the additional grade-braking required by those who tow heavy trailers.
While the basic architecture of the engine remains the same, we're told that fully 60% of the individual LML engine components are all new for 2011. The Duramax 6.6L's new and improved features include:

Horsepower and torque expected to top previous model
NOx emissions reduced at least 63 percent over 2010 models
Quieter operation
High-pressure (30,000 psi/2,000 bar) Piezo-actuated fuel system for greater fuel efficiency, improved performance and reduced emissions
Exhaust brake system that enables controlled vehicle slowdown on downhill grades without actuating the brakes
Selective catalytic reduction after-treatment system using diesel exhaust fluid (DEF) injection to provide the best overall diesel characteristics and performance - with a range of about 5,000 miles (8,000 km) between DEF refills
Combustion and after-treatment have been optimized to provide about 700 miles (1,125 km) between diesel particulate filter regenerations - a 75-percent improvement over the previous system and significant contributor to improved fuel efficiency, as the regeneration process requires additional fuel
B20 biodiesel capability for an alternative fueling option
Internal revisions that improve durability
With nearly 1.3 million Duramax 6.6L engines produced since 2000, they have proven exceptionally durable and dependable. The internal elements that helped build its reputation are enhanced for 2011, including:
Main bearing profiles changed to enhance oil film thickness
Oil pump flow increased for increased pressure at low speeds
The turbocharger's oil circuit is changed to provide increased pressure at the turbo and faster oil delivery
The connecting rod pin ends were modified to provide increased piston support
New, higher-strength piston design that eliminates bushings to provide lower reciprocating weight
An EGR cooler bypass reduces high-mileage soot deposits in the cooler and EGR circuit
The enhanced Allison 1000 for 2011 is strengthened to handle the higher torque capability of the new 6.6L Duramax engine, while also helping improve fuel economy and provide seamless assistance with a new exhaust brake system. Greater efficiency is delivered through reduced "spin loss" - meaning, the transmission channels more of the engine's power to the axles, allowing it to do more with less fuel.
The Allison 1000 also features driver shift control with tap up/tap down shifting and a patented elevated idle mode cab warm-up feature. Also, the tow/haul mode reduces shift cycling for better control and improved cooling while towing or hauling heavy loads. The six-speed configuration retains its two overdrive gears for optimal efficiency. Performance with the Duramax/Allison combination is also improved over previous models, with preliminary testing showing 0-60 mph times of less than 9 seconds and quarter-mile times of less than 16 seconds in 2500HD models. That's about 0.3-second and 0.5-second quicker, respectively, than previous models.
The new LML Duramax/Allison 1000 six-speed automatic transmission, exhaust brake system, new front and rear suspensions, an improved brake system, hill start assist, trailer sway control system and more all move the game forward with a much better and more capable truck. GM is expecting the LML will be the segment leader in available engine torque, with hp/tq levels comparable to or better than the 2007-2010 LMM equipped models. We'll update this report once GM finalizes their engine power/torque numbers sometime in March 2010. No matter how it all shakes out, GM's HD diesel pickups will be at the front of the pack in both performance and fuel economy. Combine that with the looks, great ride, a quiet engine, and superb creature comforts, and who wouldn't love the 2011 GM pickups?
© The Diesel Page
---
TheDieselPage.com
What's New: | Feature Articles: | Product Reviews: | Member's Area:
Join Us: | Duramax Diesel Page: | Advertisers: | Classified Ads: | Books:

Send e-mail to: turbo@TheDieselPage.com
Copyright © 2018 by The Diesel Page
www.TheDieselPage.com