---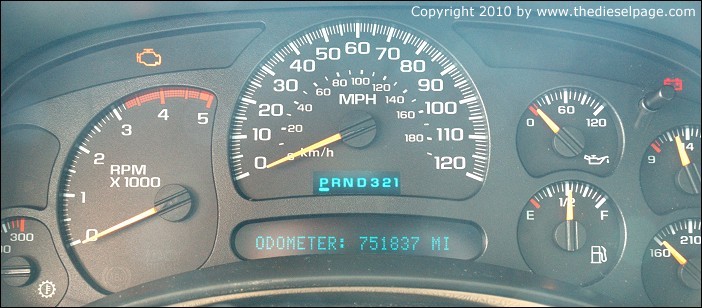 751,837 Mile Duramax
A 2005 GMC Goes The Distance!
---
By Jim Bigley
---
Imagine driving your truck 400 miles today, 400 miles tomorrow, and 400 miles every single day for the next 5 years (that's 1825 days). If you did, your Duramax would have what this truck has - more than 750,000 miles on the odometer. This particular 2005 GMC 2500HD was driven off the lot at McCaddon GMC in Boulder, Colorado on March 14, 2005. From that day forward, it averaged a little more than 400 miles every day for the next 5 years. The RV HotShot owner recently traded this 751K-mile GMC for a brand new Duramax-equipped Chevy, and hopes to continue his mile-making marathon. An RV HotShot is someone who uses his truck to tow new and used travel trailers and 5th-wheel RVs all across North America - to wherever the RV dealers need them to be. A few Duramax owners have made a living with their truck doing this. This is one of those trucks.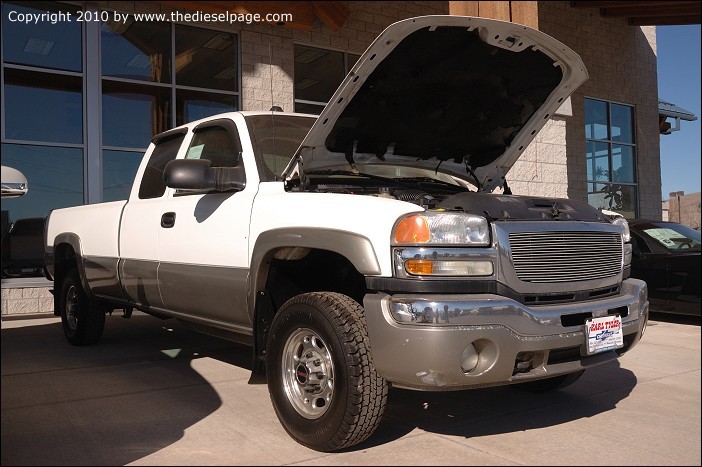 This truck would be considered to be in great shape if someone said it had covered just 100,000 miles, but for having traveled the equivalent of 31 times around the Earth, this truck's condition is truly remarkable. Aside from some rock chips across the front and a few on the side rocker panels, there were no other dings, dents or damage.

Anytime you're considering buying a used vehicle from a GM dealer, you should ask for the "GM Vehicle Inquiry System" summary printout. Any member of the dealer sales staff can do this for you by entering the vehicle's Vehicle Identification Number into the GM system. Depending on how many times the vehicle has visited a (or any) GM dealership for service, the printout may be one or more pages in length. The printout for this 2005 GMC totaled about 1-1/2 pages, and the sum total of the documented service work is shown here. No one is suggesting that this truck didn't get more service than what is indicated here, but we believe that this truck is still running the original engine and transmission - and mostly everything else.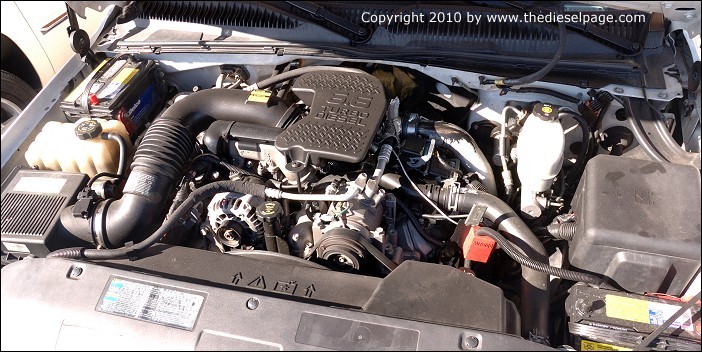 Aside from a leaking turbo/intercooler hose connection, the engine bay remains fairly clean and neat - and shows little evidence of parts replacement. I suppose we can excuse having to replace the water pump at the 711,050 mile point. I didn't test drive this truck, but it started quickly with little to no smoke after an overnight low into the 20's, and the engine idled very well, though perhaps not quite as smoothly as an engine with fewer miles might.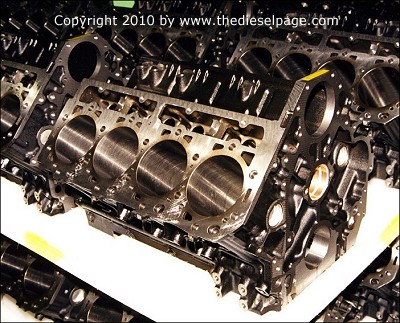 Here is a photo I shot during a tour of the DMAX engine facility in 2001. The upper portion of the cylinder walls are induction hardened at the DMAX factory. Heat treating the cast-iron cylinders increases wear resistance and prolongs the life of the engine. To make the point of the effectiveness of heat-treating the cylinder walls, the AERA-Engine Builders Association issued a technical service bulletin some time ago that warns engine shops about the potential for chattering as the carbide teeth of the boring tool pass over the hardened portion of the Duramax cylinder walls. GM has given the engine a 95% rating at 200,000 miles, meaning 95% of all engines should reach 200,000 miles of service, based on durability and wear. With careful and routine service - and a mindful driver, I'd expect many more miles than is indicated by GM's conservative rating. Perhaps at least 751K-miles?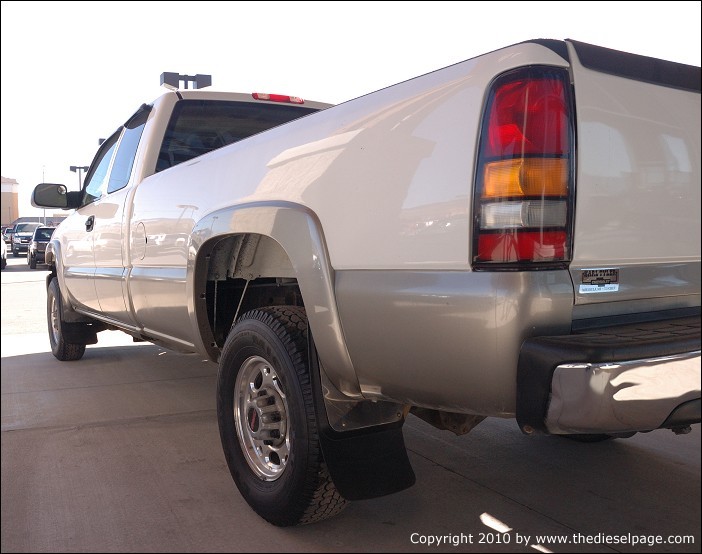 The plastic mudflap extensions show they spent a lot of time being bowed by the wind in hot weather. The lack of rock damage indicates the miles were all accumulated while on the highway.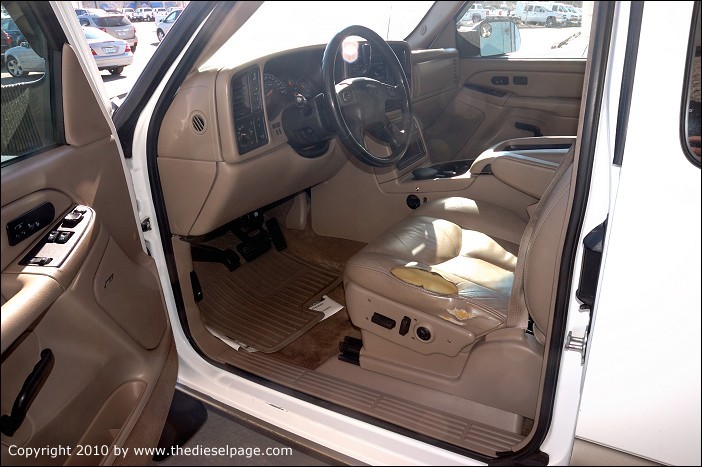 After having traveled this many miles, a slightly tatty driver's seat is actually a badge of honor. The owner did a pretty good job taking care of his truck. The seats and carpeting are in excellent shape otherwise, with no staining or undue wear. The doors still open and close normally, and show no evidence of sagging. And, the driver's side door hinges look to be original.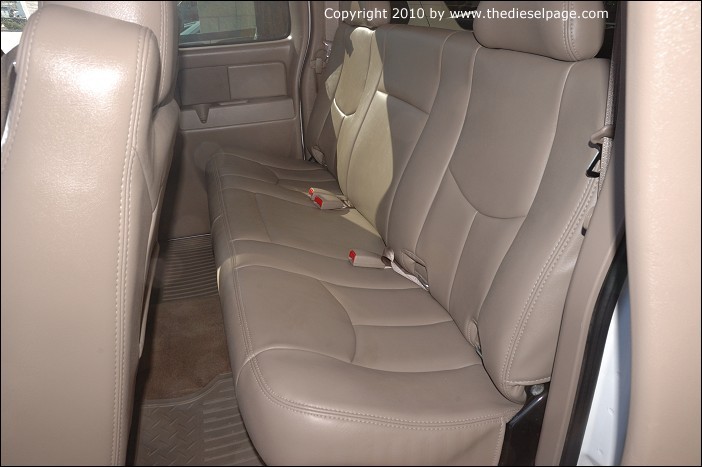 The rear seat shows little evidence of wear - and for good reason. This seat had been removed early in the truck's life to convert the rear of the cabin into a sleeper. The seat was reinstalled just before trade-in.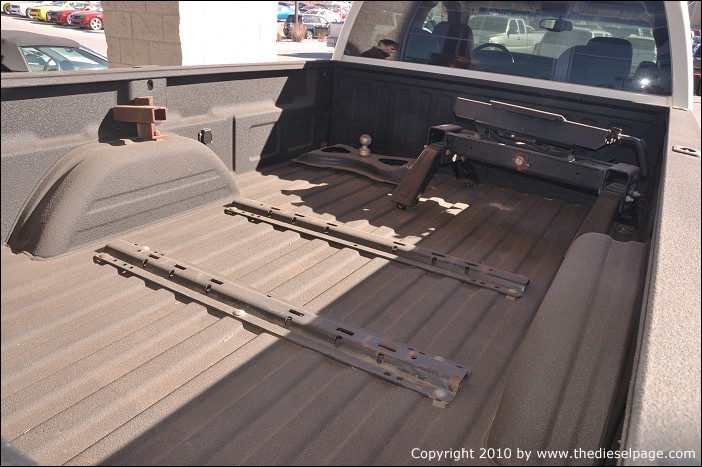 Tools of the trade - a capable 5th-wheel and gooseneck hitch allowed the truck to complete its mission.
This Duramax has more verified miles on it than any I've heard of to date. New prospective owners ask our opinion occasionally about a truck they're considering which has accumulated 200,000 or more miles. They want to know how long the engine will last. I tend to stress overall cosmetic condition and powertrain drivability as a way to evaluate a used truck - does it look nice, drive nice and run well? 751,837 miles are a lot, and is perhaps well above the norm, but this should help to answer the question about whether a high mileage truck is worth taking a chance on. The Diesel Page
Thanks to the folks at Karl Tyler Chevrolet for letting us know about this 2005 GMC.
Have a comment? Join our discussion about this article in our bulletin board.
---
TheDieselPage.com
What's New: | Feature Articles: | Product Reviews: | Member's Area:
Join Us: | Duramax Diesel Page: | Advertisers: | Classified Ads: | Books:

Send e-mail to: turbo@TheDieselPage.com
Copyright © 2010-19 by The Diesel Page
www.TheDieselPage.com