---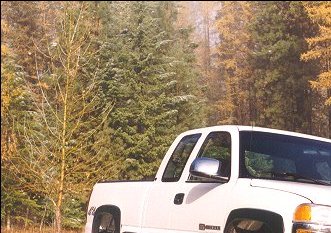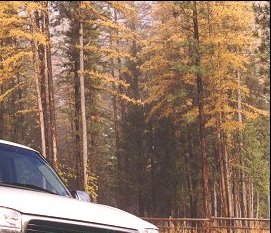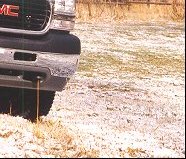 Duramax 6600
The New GM Diesel Trucks
October 1999
---
By Jim Bigley
---
T

he world of diesel light-trucks has gotten a whole lot more interesting. Along with GM's introduction of the Chevy/GMC Duramax 6600 light-truck diesel comes a new and impressive level of power.

Ford and Dodge have controlled the diesel market in recent years, with Ford selling more diesel pickups than anyone. GM needed a product that was more than competitive to regain market share. To help them do that, they needed a truck and diesel powertrain that took handling and performance to an entirely new level. After our "ride & drive" experience with two of their new diesel trucks during the fall of 1999, it looks like GM has done exactly that.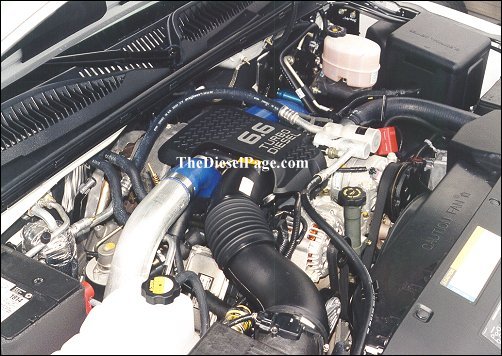 The first Duramax 6600 barked to life in January of 1998. From then till the introduction of the 2001 model year Duramax trucks during the fall of 2000, the engine will have been in continuous testing for over 2½ years. I doubt many production engines ever see this level of performance and durability testing.
The Powertrain engineers we spoke with are satisfied the bulk of the engine and drivetrain work is complete, but they are looking forward to having until the fall of 2000 to fine-tune the powertrain, and make certain every single detail was considered before the Duramax trucks actually start rolling off the assembly line next August. GM has been participating in truck demonstration events all across the country to get more vehicle exposure to different climates, elevations, and to as wide a variety of drivers as possible. During our recent exposure to the trucks, the GM Powertrain engineers even rode along on a few of the performance runs and collected data with their Tech II scan tools.
All this attention to detail will help ensure a completely finished product once these trucks reach the dealers. Any concern over the aluminum cylinder heads and other new technologies should be laid to rest. We ran these trucks harder than just about any owner might, and we failed to find any weak link in the engine or the new Allison 5-speed automatic transmission.
The new Duramax is factory rated at 300 horsepower and 520 lb-ft of torque. While this level of power certainly rates the Duramax above the competition, it's doubtful anyone knows what the power specs will ultimately be in future production models. Experience with drivetrain durability, changing vehicle performance goals, and a careful watch on the competition could produce a wide variation in the actual production power ratings. GM tells me the Duramax performance will be #1 in its class. After our experience with these trucks, it appears GM has accomplished that goal and then some.
GM knew early in the engine development that every component and engine system had to be engineered well beyond just "good enough". Realizing durability and reliability were as important as performance, every engine and drivetrain component had strength, durability and performance designed-in that was well beyond the capability of a light-truck (if you can call a 2500HD/3500 a light-truck). As one GM Powertrain engineer said recently, "this is a medium-duty class powertrain in a light-duty application." Over-designing accomplishes two important goals; improved durability, and a built-in competitive power growth potential. This will allow GM to be the leader in diesel light-truck performance well into the future.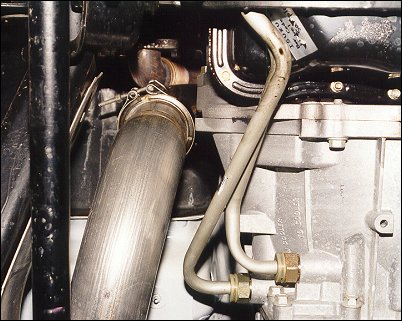 The 3" downpipe coming off the turbo quickly joins the main 3½" exhaust system. There's no catalytic converter, and the large free-flowing muffler provides an industry leading performance diesel exhaust system.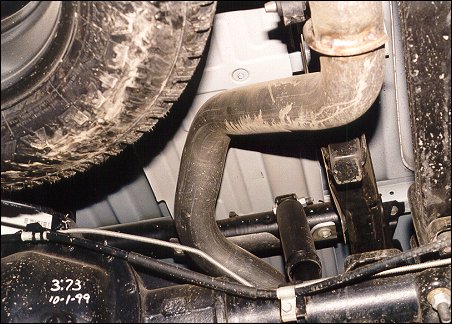 Big power needs a strong rear differential. GM is using a corporation built differential with a 11.5" diameter ring gear and synthetic gear oil in the new Duramax trucks. Earlier 3500 series trucks used a 10.5" differential, and most 2500 series trucks used a 9.5". All Duramax diesel equipped trucks will have just one available axle ratio, 3.73. With an engine torque curve "flat enough to set a glass of water on", the 3.73 axle ratio combines the best attributes of torque multiplication required for heavy-duty towing and higher gearing for "best in class" fuel economy.
You'll also notice in the above photo, the rear section of the big 3½" mandrel bent exhaust tubing. Big power needs a big pipe. GM listened to all the talk of performance exhaust systems and the benefit of mandrel bending.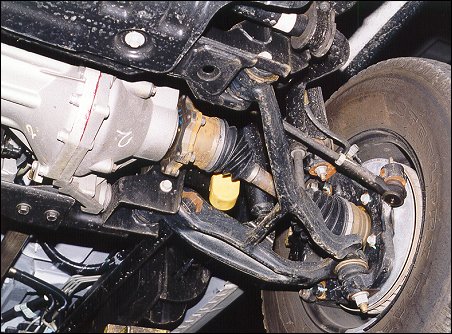 Some have questioned the relative strength of the GM IFS (Independent Front Suspension). While I've never experienced anything but positive results from the earlier IFS systems, GM listened to the HD and off-road market, and made significant upgrades to the chassis of the new trucks, including the IFS. Combined with the new and stronger hydro-formed frame components, the new cast steel lower A-arms should significantly enhance durability. While serious off-roaders still might prefer a live axle under the front-end, no one can argue the GM IFS superiority in ride and handling quality.
GM's heavy-duty 4x4 trucks make use of the magnesium cased New Venture NVG263 transfer case. Actuation comes from the "Insta-Trac" system for the manually shift controlled trucks, or the "Autotrac Active" system (LT & SLE), which is electronically actuated via pushbutton. The NVG263 makes shifting on-the-fly possible between 2-Hi and 4-Hi, but shifting into or out of low-range requires you to stop, shift the Allison or ZF manual transmission into neutral, then select high or low range.
The dual-range transfer case has a 2.72:1 low-range and a new 1/16"-pitch drive chain instead of the earlier ½"-pitch chain. The new chain pitch is said to reduce noise associated with the transfer case. Other features include dual-cone synchronizers, which were added to improve low temperature shift quality. We experienced no problems with the 4WD system during our tests here in Montana with temperatures near freezing.
Everyone who drove either the Chevy or GMC commented on how quiet they were, and how well mannered the whole truck was on the road. The new Allison transmission shifted like those in a sedan, and the Duramax was quieter than the Ford Powerstroke & Dodge Cummins by orders of magnitude. In fact, at idle, GM's new Duramax produces no diesel clatter. Only when you accelerate can you tell you're driving a diesel, and there's only a hint of diesel clatter at cruising speed.
With the Chevy/GMC computer matched independent front suspension, 4-wheel anti-lock disk brakes, quiet diesel engine, mega power, and smooth shifting transmission, this is as close as you'll get to towing a heavy trailer and forgetting it's back there.
The GM diesel light-trucks have come a long way in the last 20 years. With the diesel market now at a new and expanding level, GM has entered the fray with a sure winner. Modern technology, a complete understanding of the market, and perhaps most importantly, a level of commitment not seen for a long time should move GM into a leadership role in the diesel market.
Indeed, the world of light-truck diesels has gotten a lot more interesting.
Jim Bigley
---
Additional Duramax/Allison and 2001HD truck articles are available to members in the Member's Area Duramax Page. Please Join Us for all the best in diesel light-truck news and information.
---
TheDieselPage.com
What's New: | Feature Articles: | Product Reviews: | Member's Area:
Join Us: | Duramax Diesel Page: | Advertisers: | Classified Ads: | Books:

Send e-mail to: turbo@TheDieselPage.com
Copyright © 1996-2018 by The Diesel Page
TheDieselPage.com's Privacy Statement
www.TheDieselPage.com