---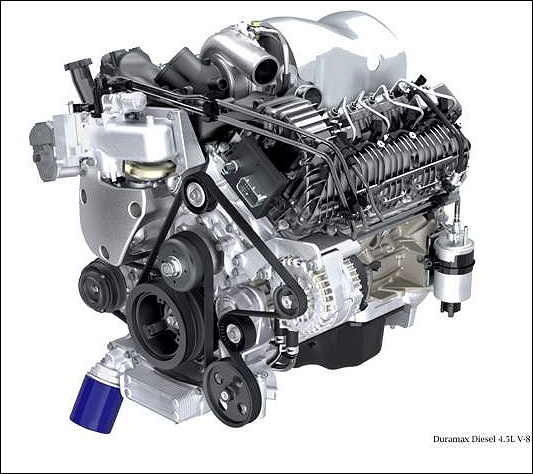 GM TO INVEST $100 MILLION IN NEW YORK PLANT
FOR DIESEL ENGINE PRODUCTION
---
GM Media News Release
---
Announcing:
All-new, 4.5-liter V-8 turbo-diesel added to production lineup
Approximately 150 hourly jobs retained
TONAWANDA, N.Y. - General Motors Corp. will invest $100 million in its Tonawanda engine plant to produce an all-new, 4.5-liter V-8 Duramax high-output diesel engine for the Chevrolet Silverado and GMC Sierra light-duty pickup trucks and the HUMMER H2. The engine fuel efficiency improves by 25 percent when compared with gasoline engines. Environmental benefits of the new engine include a 13-percent reduction in CO2 versus gasoline engines, and at least a 90-percent reduction in particulates and NOx when compared to diesel vehicles today.
The investment includes a 200,000-square-foot facility renovation, new machinery, equipment and special tooling to bring diesel engine technology to New York. In addition to the $100 million facility investment, GM will invest an additional $41 million for vendor tooling, containers and investments at other locations necessary to support the Tonawanda operations. Construction is slated to begin later this year and production of the 4.5-liter V-8 diesel engine is scheduled to begin in the fourth quarter of 2009. The project will retain about 150 hourly jobs.
"GM is transforming its product portfolio to reduce fuel consumption and emissions, and the 4.5-liter V-8 diesel is an integral part of that transformation, as well as a component of GM's strategy to diversify vehicle energy sources," said John Buttermore, GM Powertrain vice president of global manufacturing. "This will be one of the most efficient and technically- advanced diesel engines, providing a 25 percent improvement in fuel efficiency and 13 percent reduction in CO2 emissions over gasoline engines in this segment - and it does all that while still providing the performance attributes required by customers in the areas of towing and hauling loads."
The investment announced today is in addition to a $300 million investment GM announced in January for production of an all-new, DOHC V-8 engine to power GM's luxury cars and SUVs. Production of that engine also begins in 2009.
"GM's investment in the Tonawanda plant, totaling $1.6 billion in the last 10 years, is a significant vote of confidence in our employees and UAW Local 774, who have demonstrated their commitment and dedication to benchmark performance that is contributing to the company's turnaround," Buttermore said.
The GM Powertrain Tonawanda plant management and UAW Local 774 leadership successfully negotiated a competitive operating agreement that improves operational effectiveness. The agreement also addresses processes and methods that improve production quality, efficiency and safety of the operations.
Buttermore also thanked New York's leaders on the federal, state, county and local levels, including New York Governor Eliot Spitzer, Erie County Executive Joel Giambra and Tonawanda Supervisor Ron Moline, for providing the business case to support GM's investments in New York.
"General Motors has been part of the fabric of the Western New York economy for almost 70 years," said Governor Spitzer. "The company's expanded investment in its Tonawanda plant is a testament to the area's highly skilled, highly motivated workforce and the role that manufacturing will continue to play in the revival of Upstate New York."
The 4.5-liter V-8 Duramax high-output diesel engine will be GM's first engine to use a selective catalytic reduction NOx after-treatment system with a diesel particulate filter to help achieve the Tier 2 Bin 5 and LEV 2 emissions standards. It will be compliant in all 50 states, making it one of the cleanest diesels ever produced. It is expected to deliver class-leading power and torque, and fulfill multiple vehicle applications with ratings in excess of 310 horsepower and 520 lb.-ft. of torque.
GM Powertrain's Tonawanda engine plant opened in 1938 and has produced nearly 68 million engines. The plant covers 3.1 million square feet and employs 1,565 hourly and 260 salaried employees, with an annual payroll of $200 million. Currently, the Tonawanda engine plant builds the 2.2-liter Ecotec engine that powers the Chevrolet Cobalt and HHR; the Inline 4- and 5-cylinder engines that power the Chevrolet Colorado and GMC Canyon mid-size pickups and the HUMMER H3 SUV; the 3.5- and 3.9-liter high value V-6 engines for the Pontiac G6 and the Chevrolet Malibu and Impala; and the 8.1-liter big block V-8 engine that powers Chevrolet Kodiak and GMC TopKick medium-duty trucks - as well as marine and industrial applications.
General Motors Corp. (NYSE: GM), the world's largest automaker, has been the annual global industry sales leader for 76 years. Founded in 1908, GM today employs about 280,000 people around the world. With global headquarters in Detroit, GM manufactures its cars and trucks in 33 countries. In 2006, nearly 9.1 million GM cars and trucks were sold globally under the following brands: Buick, Cadillac, Chevrolet, GMC, GM Daewoo, Holden, HUMMER, Opel, Pontiac, Saab, Saturn and Vauxhall. GM's OnStar subsidiary is the industry leader in vehicle safety, security and information services. More information on GM can be found at www.gm.com.
---
TheDieselPage.com
What's New: | Feature Articles: | Product Reviews: | Member's Area:
Join Us: | Duramax Diesel Page: | Advertisers: | Classified Ads: | Books:

Send e-mail to: turbo@TheDieselPage.com
Copyright © 2018 by The Diesel Page
www.TheDieselPage.com