---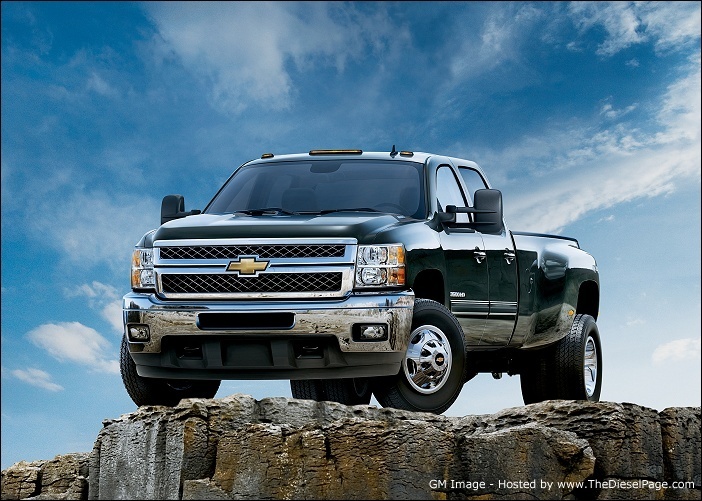 2011 Chevrolet 2500HD/3500 Trucks
---
By Jim Bigley
Copyright 2010 by www.TheDieselPage.com
---
The past few months have been interesting, with regard to learning more about what direction the GM HD pickups are going. The national economic climate and GM's restructuring have certainly raised a few questions. Since we're focused on the GM diesel, I learned some months ago that DMAX, the company that produces the Duramax 6600, suspended manufacturing this past December and that production won't begin again till April 2010. This lapse in production was certainly curious, and produced a litany of rumors. The log jam of information finally broke this past February 4th, and we learned all about GM's plans for the 2011 model year GM 2500HD/3500 series pickups. Though we're expecting a price increase of $3,000-$5,000, due to the addition of the "Diesel Exhaust Fluid" (urea) system, GM is back with a range of improvements and upgrades that promise to make GM the HD diesel truck leader.
While the sheet metal incorporated into the 2011 model-year trucks is largely the same as that introduced in 2007, nearly everything else, from the chassis, drivetrain to the interiors are all new or significantly upgraded for 2011. I participated in a live GM-produced webcast this past February 4th, which provided an early look at the new trucks and all of the new features and capabilities. What I learned is that it's actually a great time to be a Duramax enthusiast!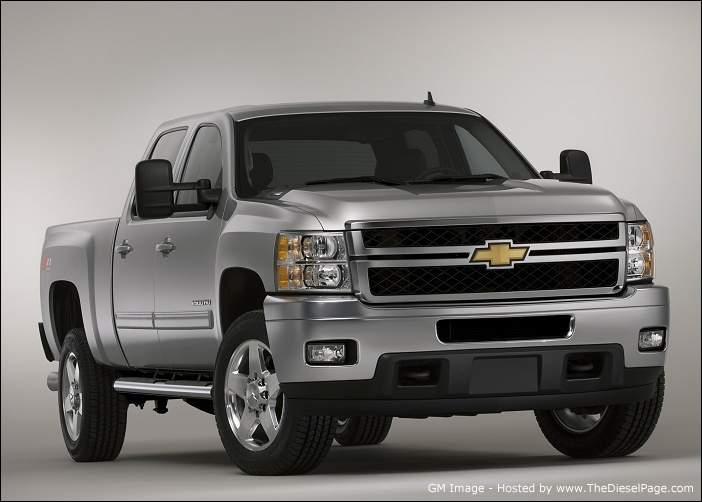 The front bumper has been tweaked to better help it blend into the front clip and to reduce the large expanse of chrome seen on previous models, and the hood has been tweaked to provide a more aggressive look. In addition, a new set of optional 20" wheels are now available for the 2500-series trucks. Enthusiasts have known GM needed larger wheels for quite a while - witness the popularity of aftermarket wheels. The optional wheels help provide a degree of confidence in knowing that they will have the designed payload and offset that meet both the safety and drivability requirements new truck owners expect.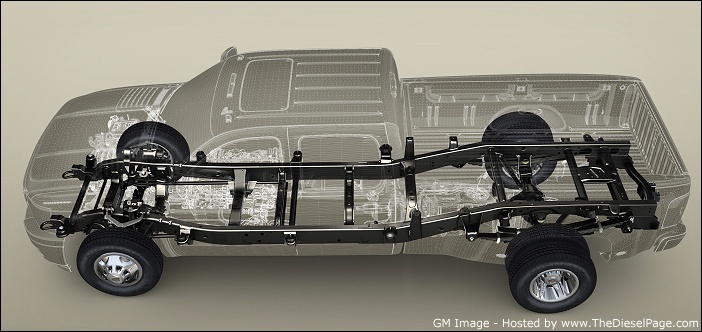 During the live webcast, Jim Mikulec, GM's HD lead development engineer, held up a pair of front swaybar links to show how many chassis components were carried over from the 2010 models. From the sheet metal down, nearly everything is all new - including a completely new chassis. The fully boxed steel frame provides a stiffer platform, offering a 5-fold increase in torsional strength and a 20% increase in beaming strength. The new independent front suspension utilizes larger and stronger components, which allow for a 25% increase in the front axle weight rating - making all of the 4WD models snow plow capable. We all know that GM has provided an industry-leading ride quality and that torsion bar trim can be adjusted when adding accessories to the front of the truck (like a snow plow). Can't do that with a spring-over-coil or leaf spring front suspension.
The new chassis allows for somewhat longer wheelbases - ranging from 133.6 inches (3,395 mm) to 167.7 inches (4,259 mm) - and wider front/rear tracks work to improve the ride and handling. The stiffer frames, longer wheelbases and wider tracks are joined by new jounce bumpers, shock mounts and hydraulic body mounts to help isolate the road from vehicle occupants. The factory shock absorbers are usually the first items replaced by new truck buyers, but GM has installed specially valved shocks that were designed to work with the new uprated chassis and suspension, yet maintain the truck's segment-leading ride characteristics.
In the rear, GM is maintaining the AAM1150 rear axle/differential, but the U-joints used in the rear driveline are now larger, to absorb the increase in engine power and torque. The new 3" wide rear elliptical leaf springs have been redesigned to provide for an improved unloaded ride quality yet handle an increase in payload and tow ratings, which are now as high as 20,000-lb trailer towing and 6,335-lb payload - said to be segment-leading (higher than that offered by Ford & Dodge).
Higher payloads and trailer towing capability are made possible by a new braking system. New and larger brake rotors and calipers improve braking power and efficiency, with a 13% & 17% improvement in braking swept area. In addition, the hydraulic brake booster has been re-valved to provide more power to the brake master cylinder. More power assist and less brake pedal travel are said to improve brake feel and driver confidence.
Added fuel tank capacity is a welcome improvement. The new and larger 36-gallon fuel tank, combined with the fuel economy increase, extend range to as high as a bladder stretching 680-miles. Doing the math, GM's fuel economy calculations work out to something on the order of 18.8-mpg. Given the fuel price spike we all endured in 2008, and the specter of another, we're glad GM is considering fuel economy as an important ingredient in swaying future buyers. Be sure to check out a companion article that discusses the new LML Duramax 6600 and Allison in more detail.
New for 2011 is the use of the "StabiliTrak" electronic stability control system on all SRW (Single Rear Wheel) 2500HD/3500 series pickups. As discussed by the GM Powertrain engineers, the combination of StabiliTrak and the integrated electronic trailer brake controller greatly improve towing safety on rough or slippery road surfaces, and will automatically detect and prevent trailer sway. StabiliTrak controls both the truck/trailer brakes and engine management to help keep the truck and trailer under control without input from the driver. Having recently towed a heavy trailer through the mountains of Montana and Idaho in February, I can appreciate having more control.
In addition to StabiliTrak, a "hill start assist system" is now available which will automatically activate when vehicle sensors detect a grade of about 5 percent or greater. The hill start assist system will maintain braking power for about 1.5 seconds after releasing the brake pedal or until the accelerator pedal is depressed, thus preventing a rollback - even while towing.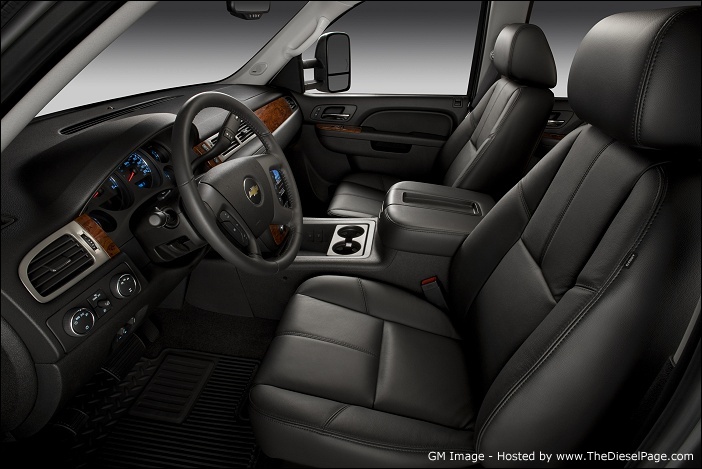 The interiors are similar to those used in the 2007-2010 models, but subtle changes add luxury and feature enhancements. The 2011 trucks are also much safer. Aside from the newly designed chassis that builds-in safety in the event of a crash, seat pelvic/thorax and head curtain side air bags are now available on the 2500HD models. A rear backup camera and the exclusive OnStar 9.0 are optional features that can help to prevent an accident or save lives in the event of an accident.
We were told that GM may offer new sheet metal in the coming years, but for now, the GM HD pickups are the best ever, the safest ever and the most capable. Now may be the best time to order that new truck!
The Diesel Page
---
SPECIFICATIONS

2011 SILVERADO 2500HD
Overview
| | |
| --- | --- |
| Models: | 2500HD reg. cab, long box, 2WD & 4WD |
| | 2500HD ext. cab, std. box, 2WD & 4WD |
| | 2500HD ext. cab, long box, 2WD & 4WD |
| | 2500HD crew cab, std. box, 2WD & 4WD |
| | 2500HD crew cab, long box, 2WD & 4WD |
| Body style / driveline: | 2-3 passenger regular cab or 5-6 passenger extended cab, |
| | 5-6-passenger crew cab |
| | 3/4-ton; 2- and 4-wheel-drive heavy-duty pickup |
| Construction: | body on frame |
| EPA vehicle class: | full-size truck |
| Manufacturing location: | Flint, Mich., Ft. Wayne, Ind. |
| Key competitors: | Ford Super Duty Series pickup, Dodge Ram heavy-duty pickup |
Engines
| | | |
| --- | --- | --- |
| | Vortec 6.0L V-8 (L96) | Duramax 6.6L Turbo Diesel V-8 (LML) |
| Type: | 6.0L V-8 | 6.6L V-8 |
| Displacement (cu in / cc): | 364 / 5967 | 403 / 6599 |
| Bore & stroke (in / mm): | 4.00 x 3.62 / 101.6 x 92 | 4.06 x 3.9 / 103 x 99 |
| Block material: | cast iron | cast iron |
| Cylinder head material: | cast aluminum | cast aluminum |
| Valvetrain: | overhead valve, two valves per cylinder, variable valve timing | overhead valve, four valves per cylinder |
| Ignition system: | coil-near-plug, platinum- tipped spark plugs, low-resistance spark plug wires | compression, glow plug start aid |
| Fuel delivery: | sequential fuel injection | direct injection diesel with high pressure common rail |
| Compression ratio: | 9.6:1 | 16.0:1 |
| Horsepower (hp / kW @ rpm): | TBD | TBD |
| Torque (lb-ft / Nm @ rpm) : | TBD | TBD |
| Recommended fuel: | regular unleaded | diesel or B20 |
| Maximum engine speed (rpm): | 6000 | 3000 |
| Emissions controls: | three-way catalytic converter, positive crankcase ventilation, evaporative collection system | cooled exhaust gas recirculation (EGR), EGR cooling-bypass system, diesel particulate filter system (DPF), selective catalyst reduction (SCR) |
Transmissions
| | | |
| --- | --- | --- |
| | Hydra-Matic 6L90 | Allison 1000 |
| Type: | six-speed automatic (with Vortec 6.0L) | six-speed automatic (with Duramax 6.6L) |
| Gear ratios (:1): | | |
| First: | 4.03 | 3.10 |
| Second: | 2.36 | 1.81 |
| Third: | 1.53 | 1.41 |
| Fourth: | 1.15 | 1.00 |
| Fifth: | 0.85 | 0.71 |
| Sixth: | 0.67 | 0.61 |
| Reverse: | 3.06 | 4.49 |
| Final drive ratio: | 3.73 or 4.10 | 3.73 |
Chassis / Suspension
| | |
| --- | --- |
| Front: | all models: std long- and short-arm independent front torsion bar suspension |
| Rear: | semi-elliptic two-stage multi-leaf spring |
| Steering type: | integral power-assisted recirculating ball |
| Steering ratio: | 16.1 |
| Steering wheel turns, lock-to-lock: | 3.57 |
Turning Circle
Regular Cab

Extended Cab

Crew Cab

Turning circle, curb-to-curb (ft / m):

std. box: 44.9 / 13.7

long box: N/A

std. box: 47.9 / 14.6

long box: 51.8 / 15.8

std. box: 50.5 / 15.4

long box: 54.8 / 16.7
Brakes
Type:

power-assisted, Hydroboost brake-apply system, four-wheel disc, four-wheel ABS

Rotor diameter x thickness (in / mm):

front: 13.97 x 1.57 / 355 x 40

rear: 14.17 x 1.34 / 360 x 34

Total swept area

(sq in / sq cm):

front: 277.7 / 1791

rear: 277.5 / 1790
Wheels / Tires
Wheel size and type:

17 x 7.5-in steel

17 x 7.5-in aluminum

18 x 8.0-in aluminum

20 x 8.5-in aluminum

Tire size:

LT245/75R17 all-season

LT265/70R17 all-terrain

LT265/70R18 all-season

LT265/60R20 all-terrain
Dimensions

Exterior
Regular Cab

Long Box

Extended Cab Standard Box

Extended Cab

Long Box

Crew Cab Standard Box

Crew Cab Long Box

Wheelbase (in / mm):

133.6 / 3395.4

144.1 / 3662.4

158.1 / 4017.4

153.7 / 3904.4

167.7 / 4259.4

Overall length (in / mm):

225 / 5716

230.6 / 5858

249.5 / 6338

240.1 / 6100

259 / 6580

Overall width (in / mm):

80 / 2032

80 / 2032

80 / 2032

80 / 1989.5

80 / 2032

Overall height: (in / mm):

77.5 / 1970.5

77.8 / 1977.6

77.6 / 1971

78.3 / 1958

78 / 1983

Track – front

(in / mm):

68.8 / 1748

68.8 / 1748

68.8 / 1748

68.8 / 1748

68.8 / 1748

Track – rear

(in / mm):

67.3 / 1709

67.3 / 1709

67.3 / 1709

67.3 / 1709

67.3 / 1709

Min. ground clearance – 2WD

(in / mm):

front: 9.8 / 249

rear: 9.1 / 232

front: 9.8 / 249

rear: 8.5 / 217

front: 9.7 / 248

rear: 8.4 / 215

front: 9.7 / 248

rear: 8.3 / 213

front: 9.7 / 248

rear: 8.2 / 210

Min. ground clearance – 4WD

(in / mm):

front: 9.7 / 248

rear: 9.1 / 231

front: 9.7 / 248

rear: 8.5 / 216

front: 9.7 / 247

rear: 8.4 / 214

front: 9.7 / 247

rear: 8.2 / 209

front: 9.7 / 247

rear: 8.2 / 208

Step-in height (in / mm):

26.3 / 668

26.2 / 665

26 / 662

26 / 661

25.9 / 658
Weight ratings
GVWR (lb / kg)

Curb Weight (lb / kg)

Payload (lb / kg)

Reg cab, long box (2WD):

6.0L: 9300 / 4218

6.6L: 9900 / 4490

6.0L: 5596 / 2538

6.6L: 6475 / 2937

6.0L: 3704 / 1680

6.6L: 3425 / 1553

Reg cab, long box (4WD):

6.0L: 9500 / 4309

6.6L: 9900 / 4490

6.0L: 5920 / 2685

6.6L: 6775 / 3073

6.0L: 3580 / 1624

6.6L: 3126 / 1418

Ext cab, std. box (2WD):

6.0L: 9500 / 4309

6.6L: 10000 / 4536

6.0L: 5995 / 2719

6.6L: 6795 / 3082

6.0L: 3506 / 1590

6.6L: 3205 / 1453

Ext cab, std. box (4WD):

6.0L: 9500 / 4309

6.6L: 10000 / 4536

6.0L: 6278 / 2847

6.6L: 7105 / 3222

6.0L: 3222 / 1461

6.6L: 2895 / 1313

Ext cab, long box (2WD):

6.0L: 9500 / 4309

6.6L: 10000 / 4536

6.0L: 6096 / 2765

6.6L: 6927 / 3142

6.0L: 3404 / 1544

6.6L: 3073 / 1394

Ext cab, long box (4WD):

6.0L: 9500 / 4309

6.6L: 10000 / 4536

6.0L: 6371 / 2890

6.6L: 7235 / 3281

6.0L: 3130 / 1419

6.6L: 2765 / 1254

Crew cab, std. box (2WD):

6.0L: 9500 / 4309

6.6L: 10000 / 4536

6.0L: 6115 / 2773

6.6L: 6907 / 3133

6.0L: 3385 / 1535

6.6L: 3094 / 1403

Crew cab, std. box (4WD):

6.0L: 9500 / 4173

6.6L: 10000 / 4173

6.0L: 6377 / 2892

6.6L: 7208 / 3269

6.0L: 3123 / 1416

6.6L: 2792 / 1266

Crew cab, long box (2WD):

6.0L: 9500 / 4173

6.6L: 10000 / 4536

6.0L: 6208 / 2816

6.6L: 7058 / 3201

6.0L: 3292 / 1493

6.6L: 2942 / 1334

Crew cab, long box (4WD):

6.0L: 9900/ 4490

6.6L: 10000 / 4173

6.0L: 6525 / 2959

6.6L: 7387 / 3350

6.0L: 3375 / 1531

6.6L: 2613 / 1185
Cargo box
Standard Box

Long Box

Cargo volume (cu ft / L):

60.7 / 1718

75.5 / 2138

Length at floor (in / mm):

78.8 / 2003

97.7 / 2483

Width at floor (in / mm):

62.4 / 1586

62.4 / 1586

Tailgate width (in / mm):

61.5 / 1564

61.5 / 1564

Width between wheel housings

(in / mm):

50.6 / 1286

50.6 / 1286

Inside height (in / mm):

21 / 533

21 / 533
Interior
| | | | |
| --- | --- | --- | --- |
| | Regular Cab | Extended Cab | Crew Cab |
| Headroom (in / mm): | 41.2 / 1048 | front: 41.1 / 1044 | front: 41.2 / 1048 |
| | | rear: 39.4 / 1002 | rear: 40.5 / 1030 |
| Legroom (in / mm): | 41.3 / 1049 | front: 41.3 / 1049 | front: 41.3 / 1049 |
| | | rear: 34.3 / 872 | rear: 39 / 991 |
| Shoulder room (in / mm): | 65.2 / 1657 | front: 65.2 / 1657 | front: 65.2 / 1657 |
| | | rear: 65.3 / 1658 | rear: 65.1 / 1655 |
| Hip room (in / mm): | 60.3 / 1532 | front: 60.3 / 1532 | front: 60.3 / 1532 |
| | | rear: 61.8 / 1571 | rear: 65.4 / 1663 |
Capacities
Regular Cab

Extended Cab

Crew Cab

Seating:

2 / 3

5 / 6

5 / 6

Fuel tank – 2WD and 4WD

(gal / L):

36 / 136

36 / 136

36 / 136

Engine oil (qt / L):

6.0L: 6.0 / 5.7

6.6L: 10 / 9.5

6.0L: 6.0 / 5.7

6.6L: 10 / 9.5

6.0L: 6.0 / 5.7

6.6L: 10 / 9.5

Cooling system (qt / L):

6.0L: 16.4 / 15.5

6.6L: 25.4 / 24

6.0L: 16.4 / 15.5

6.6L: 25.4 / 24

6.0L: 16.4 / 15.5

6.6L: 25.4 / 24
Trailering
Trailer towing maximum with ball hitch (lb / kg)

Trailer towing maximum with fifth-wheel hitch (lb / kg)

Reg. cab, long box:

2WD w/ 6.0L (4.10 axle): 13000 / 5897

2WD w/ 6.6L (3.73 axle): 13000 / 5897

4WD w/ 6.0L (4.10 axle): 13000 / 5897

4WD w/ 6.6L (3.73 axle): 13000 / 5897

2WD w/ 6.0L (4.10 axle): 14700 / 6668

2WD w/ 6.6L (3.73 axle): 17800 / 8074

4WD w/ 6.0L (4.10 axle): 14400 / 6531

4WD w/ 6.6L (3.73 axle): 17500 / 7938

Ext. cab, std. box:

2WD w/ 6.0L (4.10 axle): 13000 / 5897

2WD w/ 6.6L (3.73 axle): 13000 / 5897

4WD w/ 6.0L (4.10 axle): 13000 / 5897

4WD w/ 6.6L (3.73 axle): 13000 / 5897

2WD w/ 6.0L (4.10 axle): 14300 / 6486

2WD w/ 6.6L (3.73 axle): 17500 / 7938

4WD w/ 6.0L (4.10 axle): 14000 / 6350

4WD w/ 6.6L (3.73 axle): 17200 / 7801

Ext. cab, long box:

2WD w/ 6.0L (4.10 axle): 13000 / 5897

2WD w/ 6.6L (3.73 axle): 13000 / 5897

4WD w/ 6.0L (4.10 axle): 13000 / 5897

4WD w/ 6.6L (3.73 axle): 13000 / 5897

2WD w/ 6.0L (4.10 axle): 14200 / 6441

2WD w/ 6.6L (3.73 axle): 17400 / 7892

4WD w/ 6.0L (4.10 axle): 13900 / 6304

4WD w/ 6.6L (3.73 axle): 16500 / 7484

Crew cab, std. box:

2WD w/ 6.0L (4.10 axle): 13000 / 5897

2WD w/ 6.6L (3.73 axle): 13000 / 5897

4WD w/ 6.0L (4.10 axle): 13000 / 5897

4WD w/ 6.6L (3.73 axle): 13000 / 5897

2WD w/ 6.0L (4.10 axle): 14200 / 6441

2WD w/ 6.6L (3.73 axle): 17400 / 7892

4WD w/ 6.0L (4.10 axle): 13900 / 6304

4WD w/ 6.6L (3.73 axle): 16700 / 7575

Crew cab, long box:

2WD w/ 6.0L (4.10 axle): 13000 / 5897

2WD w/ 6.6L (3.73 axle): 13000 / 5897

4WD w/ 6.0L (4.10 axle): 13000 / 5897

4WD w/ 6.6L (3.73 axle): 13000 / 5897

2WD w/ 6.0L (4.10 axle): 14100 / 6395

2WD w/ 6.6L (3.73 axle): 17200 / 7801

4WD w/ 6.0L (4.10 axle): 13800 / 6259

4WD w/ 6.6L (3.73 axle): 15600 / 7076
SPECIFICATIONS
2011 SILVERADO 3500HD
Overview
| | |
| --- | --- |
| Models: | 3500HD reg. cab, long box, 2WD & 4WD |
| | 3500HD ext. cab, long box, 2WD & 4WD |
| | 3500HD crew cab, long box, 2WD & 4WD |
| | 3500HD crew cab, std. box, 2WD & 4WD |
| Body style / driveline: | 2-3 passenger regular cab or 5-6 passenger extended cab, |
| | 5-6-passenger crew cab |
| | 1-ton; 2- and 4-wheel-drive heavy-duty pickup |
| Construction: | body on frame |
| EPA vehicle class: | full-size truck |
| Manufacturing location: | Flint, Mich., Ft. Wayne, Ind. |
| Key competitors: | Ford Super Duty Series pickup, Dodge Ram heavy-duty pickup |
Engines
Vortec 6.0L V-8 (L96)

Duramax 6.6L Turbo Diesel V-8 (LML)

Type:

6.0L V-8

6.6L V-8

Displacement (cu in / cc):

364 / 5967

403 / 6599

Bore & stroke (in / mm):

4.00 x 3.62 / 101.6 x 92

4.06 x 3.9 / 103 x 99

Block material:

cast iron

cast iron

Cylinder head material:

cast aluminum

cast aluminum

Valvetrain:

overhead valve,

two valves per cylinder,

variable valve timing

overhead valve, four valves per cylinder

Ignition system:

coil-near-plug,

platinum- tipped spark plugs,

low-resistance spark plug wires

compression, glow plug start aid

Fuel delivery:

sequential fuel injection

direct injection diesel with high pressure common rail

Compression ratio:

9.6:1

16.0:1

Horsepower (hp / kW @ rpm):

TBD

TBD

Torque (lb-ft / Nm @ rpm) :

TBD

TBD

Recommended fuel:

regular unleaded

diesel or B20

Maximum engine speed (rpm):

6000

3000

Emissions controls:

three-way catalytic converter,

positive crankcase ventilation,

evaporative collection system

cooled exhaust gas recirculation (EGR),

EGR cooling-bypass system,

diesel particulate filter system (DPF),

selective catalyst reduction (SCR)
Transmissions
Hydra-Matic 6L90

Allison 1000

Type:

6-speed automatic

(with Vortec 6.0L)

6-speed automatic

(with Duramax 6.6L)

Gear ratios (:1):

First:

4.03

3.10

Second:

2.36

1.81

Third:

1.53

1.41

Fourth:

1.15

1.00

Fifth:

0.85

0.71

Sixth:

0.67

0.61

Reverse:

3.06

4.49

Final drive ratio:

3.73 or 4.10

3.73
Chassis / Suspension
| | |
| --- | --- |
| Front: | all models: std long- and short-arm independent front torsion bar suspension |
| Rear: | semi-elliptic three-stage multi-leaf spring |
| Steering type: | integral power-assisted recirculating ball |
| Steering ratio: | 16:1 |
| Steering wheel turns, lock-to-lock: | 3.57 |
Turning Circle
Regular Cab

Long Box

Extended Cab Long Box

Crew Cab

Long Box

Crew Cab Std. Box

Turning circle, curb-to-curb

(ft / m):

SRW: 44.9 / 13.7

DRW: 45.6 / 13.9

SRW: 51.8 / 15.8

DRW: 52.8 / 16.1

SRW: 54.8 / 16.7

DRW: 55.4 / 16.9

SRW: 50.5 / 15.4

DRW: N/A
Brakes
Type:

power-assisted, Hydroboost brake-apply system, four-wheel disc, four-wheel ABS

Rotor diameter x thickness

(in / mm):

front: 13.97 x 1.57 / 355 x 40

rear: 13.97 x 1.57 / 355 x 40

Total swept area

(sq in / sq cm):

front: 278 / 1793

rear: 278 / 1793
Wheels / Tires
Wheel size and type

Single rear wheels:

18 x 8.0-in steel

18 x 8.0-in aluminum

Dual rear wheels:

17 x 6.5-in steel

Tire size

Single rear wheels:

LT265/70R18 all season or all terrain

Dual rear wheels:

LT235/80R17 all season or all terrain
Dimensions

Exterior
Regular Cab

Long Box

Extended Cab

Long Box

Crew Cab

Std. Box

Crew Cab

Long Box

Wheelbase

(in / mm):

133.6 / 3395.4

158.1 / 4017.4

153.7 / 3904.4

167.7 / 4259.4

Overall length (in / mm):

225 / 5716

249.5 / 6338

240.1 / 6100

259 / 6580

Overall width (in / mm):

95.9 / 2436

95.9 / 2436

80 / 2032

95.9 / 2436

Overall height (in / mm):

2WD: 77.3 / 1965

4WD: 77.2 / 1962

2WD: 77.4 / 1966

4WD: 77.3 / 1963

2WD: 77.4 / 1966

4WD: 77.4 / 1966

2WD: 77.8 / 1977

4WD: 77.8 / 1977

Track – front w/single rear wheels (in / mm):

68.8 / 1748

68.8 / 1748

68.8 / 1748

68.8 / 1748

Track – rear w/single rear wheels (in / mm):

67.3 / 1709

67.3 / 1709

67.3 / 1709

67.3 / 1709

Track – rear w/dual rear wheels (in / mm):

75 / 1906

75 / 1906

75 / 1906

75 / 1906

Minimum ground clearance – 2WD (in / mm):

front: 9.9 / 252.2

rear: 8.8 / 224

front: 9.6 / 246

rear: 8.6 / 219.5

front: 10 / 255.4

rear: 8.4 / 213.3

front: 9.6 / 245

rear: 8.5 / 215

Minimum ground clearance – 4WD (in / mm):

front: 9.9 / 252

rear: 8.6 / 218

front: 9.6 / 244.5

rear: 8.4 / 214.5

front: 9.9 / 253.5

rear: 8.4 / 214.4

front: 9.6 / 244

rear: 8.5 / 215

Step-in height

(in / mm):

26 / 660

25.8 / 655

25.2 / 642

25.4 / 647
Weight ratings
GVWR (lb / kg)

Curb Weight (lb / kg)

Payload (lb / kg)

Reg cab, long box (2WD) with single rear wheels:

6.0L: 10400 / 4717

6.6L: N/A

6.0L: 5808 / 2634

6.6L: N/A

6.0L: 4592 / 2083

6.6L: N/A

Reg cab, long box (2WD) with dual rear wheels:

6.0L: 12500 / 5670

6.6L: N/A

6.0L: 6165 / 2796

6.6L: N/A

6.0L: 6335 / 2873

6.6L: N/A

Reg cab, long box (4WD) with single rear wheels:

6.0L: 10700 / 4853

6.6L: 11400 / 5171

6.0L: 6134 / 2782

6.6L: 6919 / 3138

6.0L: 4566 / 2071

6.6L: 4481 / 2032

Reg cab, long box (4WD) with dual rear wheels:

6.0L: 12800 / 5806

6.6L: 13000 / 5897

6.0L: 6492 / 2944

6.6L: 7277 / 3301

6.0L: 6308 / 2861

6.6L: 5724 / 2596

Ext cab, long box (2WD) with single rear wheels:

6.0L: 10700 / 4853

6.6L: 11200 / 5080

6.0L: 6303 / 2859

6.6L: 6991 / 3171

6.0L: 4397 / 1994

6.6L: 4209 / 1909

Ext cab, long box (2WD) with dual rear wheels:

6.0L: 13000 / 5897

6.6L: 13000 / 5897

6.0L: 6668 / 3024

6.6L: 7460 / 3384

6.0L: 6332 / 2872

6.6L: 5540 / 2513

Ext cab, long box (4WD) with single rear wheels:

6.0L: 11000 / 4989

6.6L: 11600 / 5261

6.0L: 6580 / 2984

6.6L: 7377 / 3346

6.0L: 4420 / 2005

6.6L: 4223 / 1915

Ext cab, long box (4WD) with dual rear wheels:

6.0L: 13000 / 5897

6.6L: 13000 / 5897

6.0L: 6945 / 3150

6.6L: 7742 / 3511

6.0L: 6055 / 2746

6.6L: 5258 / 2385

Crew cab, long box (2WD) with single rear wheels:

6.0L: 10700 / 4853

6.6L: 11400 / 5171

6.0L: 6414 / 2909

6.6L: 6984 / 3168

6.0L: 4286 / 1944

6.6L: 4416 / 2003

Crew cab, long box (2WD) with dual rear wheels:

6.0L: 13000 / 5897

6.6L: 13000 / 5897

6.0L: 6777 / 3074

6.6L: 7544 / 3422

6.0L: 6223 / 2822

6.6L: 5456 / 2475

Crew cab, long box (4WD) with single rear wheels:

6.0L: 11000 / 4989

6.6L: 11600 / 5261

6.0L: 6732 / 3053

6.6L: 7516 / 3409

6.0L: 4268 / 1936

6.6L: 4085 / 1853

Crew cab, long box (4WD) with dual rear wheels:

6.0L: 13000 / 5897

6.6L: 13000 / 5897

6.0L: 7095 / 3218

6.6L: 7878 / 3573

6.0L: 5905 / 2678

6.6L: 5122 / 2323

Crew cab, std. box (2WD) with single rear wheels:

6.0L: 10500 / 4762

6.6L: 11100 / 5034

6.0L: 6300 / 2857

6.6L: 7063 / 3203

6.0L: 4200 / 1905

6.6L: 4038 / 1831

Crew cab, std. box (4WD) with single rear wheels:

6.0L: 10800 / 4899

6.6L: 11500 / 5216

6.0L: 6573 / 2981

6.6L: 7335 / 3327

6.0L: 4227 / 1917

6.6L: 4165 / 1889
Cargo box
Standard Box

Long Box

Cargo volume (cu ft / L):

60.7 / 1718

75.5 / 2138

Length at floor (in / mm):

78.8 / 2003

97.7 / 2483

Width at floor (in / mm):

62.4 / 1586

62.4 / 1586

Tailgate width (in / mm):

61.5 / 1564

61.5 / 1564

Width between wheel housings

(in / mm):

50.6 / 1286

50.6 / 1286

Inside height (in / mm):

21 / 533

21 / 533
Interior
| | | | |
| --- | --- | --- | --- |
| | Regular Cab | Extended Cab | Crew Cab |
| Headroom (in / mm): | 41.2 / 1048 | front: 41.1 / 1044 | front: 41.2 / 1048 |
| | | rear: 39.4 / 1002 | rear: 40.5 / 1030 |
| Legroom (in / mm): | 41.3 / 1049 | front: 41.3 / 1049 | front: 41.3 / 1049 |
| | | rear: 34.3 / 872 | rear: 39 / 991 |
| Shoulder room (in / mm): | 65.2 / 1657 | front: 65.2 / 1657 | front: 65.2 / 1657 |
| | | rear: 65.3 / 1658 | rear: 65.1 / 1655 |
| Hip room (in / mm): | 60.3 / 1532 | front: 60.3 / 1532 | front: 60.3 / 1532 |
| | | rear: 61.8 / 1571 | rear: 65.4 / 1663 |
Capacities
Regular Cab

Extended Cab

Crew Cab

Seating:

2 / 3

5 / 6

5 / 6

Fuel tank (gal / L):

36 / 136

36 / 136

36 / 136

Engine oil (qt / L):

6.0L: 6.0 / 5.7

6.6L: 10 / 9.5

6.0L: 6.0 / 5.7

6.6L: 10 / 9.5

6.0L: 6.0 / 5.7

6.6L: 10 / 9.5

Cooling system (qt / L):

6.0L: 16.4 / 15.5

6.6L: 25.4 / 24

6.0L: 16.4 / 15.5

6.6L: 25.4 / 24

6.0L: 16.4 / 15.5

6.6L: 25.4 / 24
Trailering
Trailer towing maximum with ball hitch (lb / kg)

Trailer towing maximum with fifth-wheel hitch (lb / kg)

Reg. cab, long box with single rear wheels:

2WD w/ 6.0L (4.10 axle): 13000 / 5897

4WD w/ 6.0L (4.10 axle): 13000 / 5897

4WD w/ 6.6L (3.73 axle): 13000 / 5897

2WD w/ 6.0L (4.10 axle): 14500 / 6577

4WD w/ 6.0L (4.10 axle): 14200 / 6441

4WD w/ 6.6L (3.73 axle): 17400 / 7892

Reg. cab, long box with dual rear wheels:

2WD w/ 6.0L (4.10 axle): 14100 / 6395

4WD w/ 6.0L (4.10 axle): 13800 / 6259

4WD w/ 6.6L (3.73 axle): 16000 / 7257

2WD w/ 6.0L (4.10 axle): 14100 / 6395

4WD w/ 6.0L (4.10 axle): 13800 / 6259

4WD w/ 6.6L (3.73 axle): 20000 / 9072

Ext. cab, long box with single rear wheels:

2WD w/ 6.0L (4.10 axle): 13000 / 5897

2WD w/ 6.6L (3.73 axle): 13000 / 5897

4WD w/ 6.0L (4.10 axle): 13000 / 5897

4WD w/ 6.6L (3.73 axle): 13000 / 5897

2WD w/ 6.0L (4.10 axle): 14000 / 6350

2WD w/ 6.6L (3.73 axle): 17300 / 7847

4WD w/ 6.0L (4.10 axle): 13700 / 6214

4WD w/ 6.6L (3.73 axle): 16900 / 7665

Ext. cab, long box with dual rear wheels:

2WD w/ 6.0L (4.10 axle): 13600 / 6169

2WD w/ 6.6L (3.73 axle): 16000 / 7257

4WD w/ 6.0L (3.73 axle): 13400 / 6078

4WD w/ 6.6L (3.73 axle): 16000 / 7257

2WD w/ 6.0L (4.10 axle): 13600 / 6169

2WD w/ 6.6L (3.73 axle): 19800 / 8981

4WD w/ 6.0L (3.73 axle): 13400 / 6078

4WD w/ 6.6L (3.73 axle): 19600 / 8909

Crew cab, long box with single rear wheels:

2WD w/ 6.0L (4.10 axle): 13000 / 5897

2WD w/ 6.6L (3.73 axle): 13000 / 5897

4WD w/ 6.0L (4.10 axle): 13000 / 5897

4WD w/ 6.6L (3.73 axle): 13000 / 5897

2WD w/ 6.0L (4.10 axle): 13900 / 6318

2WD w/ 6.6L (3.73 axle): 17300 / 7863

4WD w/ 6.0L (4.10 axle): 13600 / 6181

4WD w/ 6.6L (3.73 axle): 16800 / 7636

Crew cab, long box with dual rear wheels:

2WD w/ 6.0L (4.10 axle): 13500 / 6123

2WD w/ 6.6L (3.73 axle): 16000 / 7257

4WD w/ 6.0L (4.10 axle): 13200 / 5987

4WD w/ 6.6L (3.73 axle): 16000 / 7257

2WD w/ 6.0L (4.10 axle): 13500 / 6136

2WD w/ 6.6L (3.73 axle): 19800 / 9000

4WD w/ 6.0L (4.10 axle): 13200 / 6000

4WD w/ 6.6L (3.73 axle): 19400 / 8818

Crew cab, std. cab with single rear wheels

2WD w/ 6.0L (4.10 axle): 13000 / 5897

2WD w/ 6.6L (3.73 axle): 13000 / 5897

4WD w/ 6.0L (4.10 axle): 13000 / 5897

4WD w/ 6.6L (3.73 axle): 13000 / 5897

2WD w/ 6.0L (4.10 axle): 14000 / 6363

2WD w/ 6.6L (3.73 axle): 17200 / 7818

4WD w/ 6.0L (4.10 axle): 13700 / 6214

4WD w/ 6.6L (3.73 axle): 17000 / 7727
---
TheDieselPage.com
What's New: | Feature Articles: | Product Reviews: | Member's Area:
Join Us: | Duramax Diesel Page: | Advertisers: | Classified Ads: | Books:

Send e-mail to: turbo@TheDieselPage.com
Copyright © 2018 by The Diesel Page
www.TheDieselPage.com