---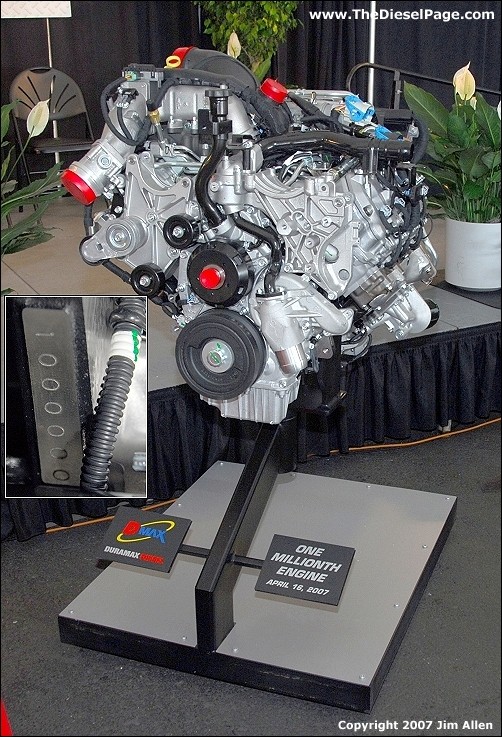 1 Million Duramax 6600
Diesel Engines
---
By Jim Bigley
---
After six years and nine months of continuous production, DMAX Ltd., the maker of the Duramax 6600, celebrated producing its 1,000,000th engine on April 16, 2007. According to DMAX, they can sell all of the engines they produce and more.
Established in 1998, DMAX is a joint venture between GM and Isuzu Motors Limited (Isuzu 40 percent, GM 60 percent). Located in Moraine, Ohio, the 584,000-square foot DMAX plant currently employs 1,225 hourly and salaried employees, and its two assembly lines can produce nearly 17,000 engines per month.
The Duramax 6600 V-8 diesel engine was first offered in the 2001 model-year GM 2500HD/3500 pickups during the fall of 2000, and established a new benchmark in power, performance, quietness and capability. This engine has helped GM claim a nearly 30% heavy-duty diesel pickup market share. Ford & Dodge have had to scramble to keep up.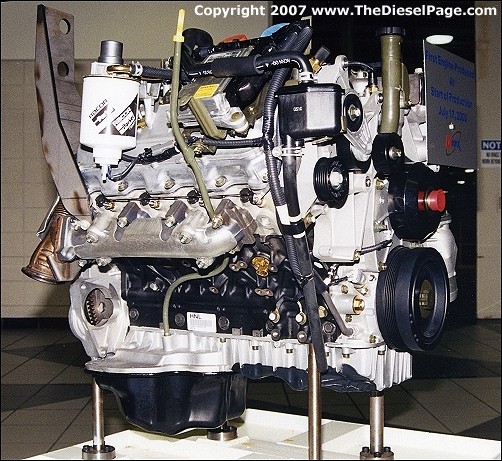 This is the engine that began the roll. This photo shows the very first production engine produced on July 17, 2000. The cast and forged engine components are produced in either Germany or Japan, but all final machining, metal treatments and assembly are completed in Ohio.
While the first production engine appeared in 2000, the very first prototype Duramax 6600 ran in early 1998. More than 2 years of durability and design testing helped to ensure the first production engines satisfied loyal GM diesel light-truck fans.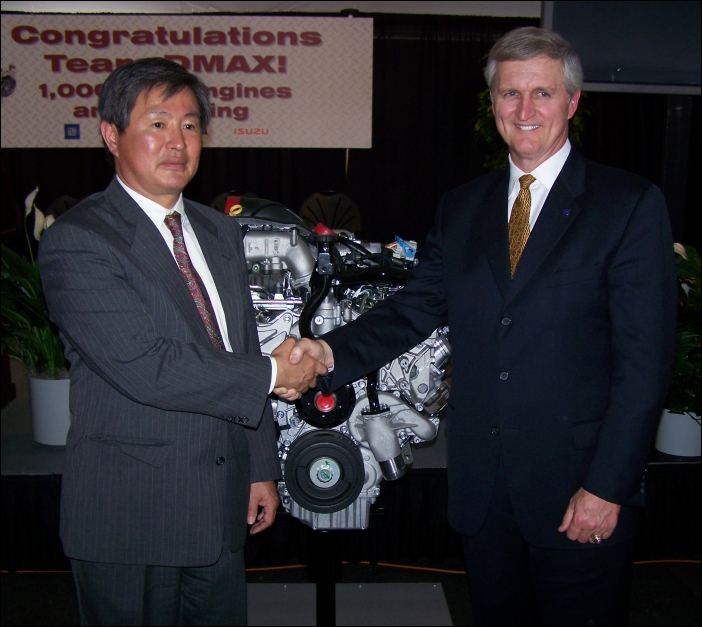 Current DMAX CEO Maho Mitsuya (L) and GM Powertrain Vice President Global Manufacturing John Buttermore
(General Motors Photo/Erik Schelkun)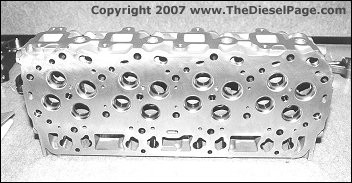 The Duramax 6.6L V-8 is a turbocharged 4-valve per cylinder diesel engine, utilizing high-pressure common rail direct injection. The aluminum cylinder heads conduct heat much better than cast iron, which helps to maintain a lower valve seat temperature. This improves durability and reduces the possibility of cracking. The heat conduction advantage of aluminum also aids in controlling nitrogen oxides, which form during peak combustion temperatures. The 2007i Duramax 6600 is equipped with both a Diesel Oxidation Catalyst and Diesel Particulate Filter, which helps it meet the much tougher 2007 emissions requirements.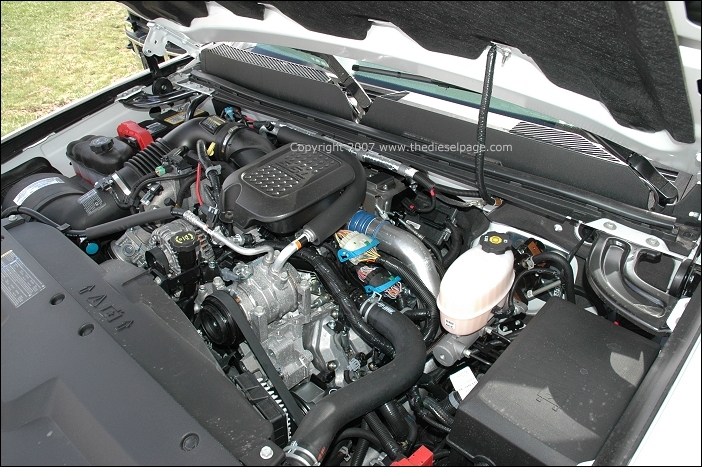 The current LMM code Duramax 6600 is available in the Chevrolet & GMC 2500HD & 3500 pickups, and is currently rated at 365 horsepower (272 kW) and 660 lb.-ft. of torque (895 Nm). Chevy Kodiak and GMC TopKick medium duty applications are also available with the optional Duramax 6600. The medium-duty Duramax comes with a rating of either 300 horsepower and 520 lb-ft of torque, or 330-horsepower and 620 lb-ft of torque. The Duramax is also available in the Chevrolet Express and GMC Savana full-size vans. The above image shows the LMM Duramax engine installation in a new 2007i GMC 3500HD chassis cab.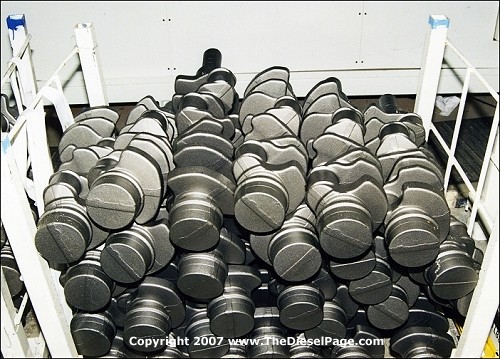 The success of the Duramax 6600 is largely due to the design and engineering that went into the engine. This photo shows the forged-steel crankshafts before machining.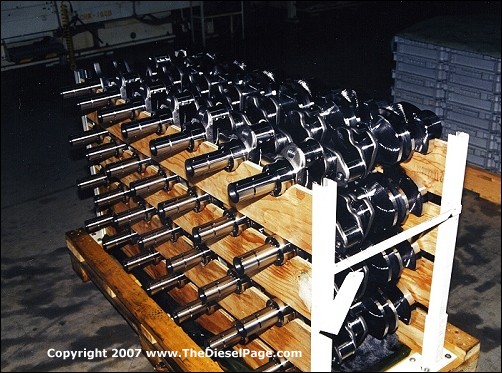 In between the rough and final machining process, the crankshafts receive a nitride surface treatment to improve wear resistance and durability.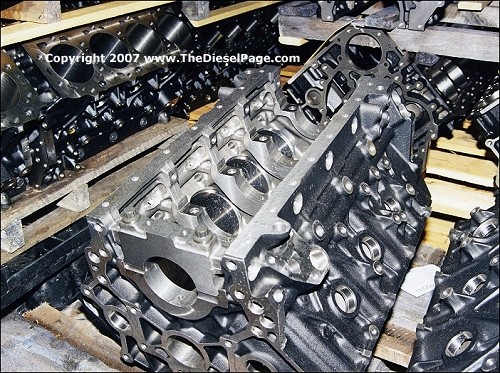 The deep skirted cast-iron cylinder block was designed using Finite Elemental Analysis, both to improve strength and reduce weight.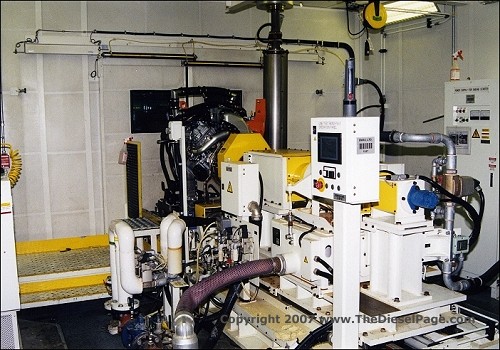 From the very first production engine to the millionth, every Duramax 6600 is "hot tested" before leaving the DMAX plant. Hot testing involves running every engine and producing a dyno test sheet, which verifies the engine will perform as expected and ultimately ensures a high level of quality of the finished product.
Whether you gauge success by performance or market share, the Duramax 6600 has become an industry leader. Both DMAX and General Motors should be congratulated for the success of their diesel engine and for producing a million of them. TDP
---
TheDieselPage.com
What's New: | Feature Articles: | Product Reviews: | Member's Area:
Join Us: | Duramax Diesel Page: | Advertisers: | Classified Ads: | Books:

Send e-mail to: turbo@TheDieselPage.com
Copyright © 2018 by The Diesel Page
www.TheDieselPage.com