---
BD-Power
Engineering Diesel Performance
---
By Jim Bigley
---
There are two schools of thought regarding performance product development for the diesel market. One is the shotgun approach, where you make an intuitive guess about what method or design would improve performance - first trying one approach then another, hoping to achieve a performance improvement. The second approach is where a design is taken from the theoretical to production, which achieves the performance goals set by the client. This is the realm of engineers - light truck diesel engineers in particular. I spent some time recently with the folks at BD - Diesel Performance in BC Canada, and learned more of what it takes to correctly design a range of products that really do improve performance - the right way.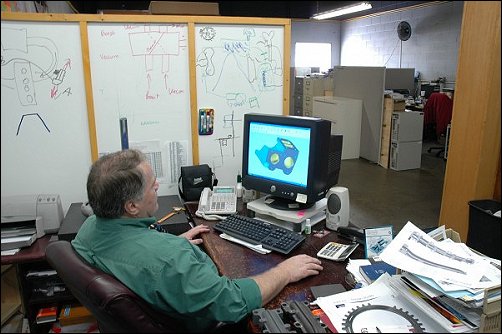 This is BD's "Area 51", where high-tech designs are conceived and developed, before making their way into the prototype stage. Engineering consultant John Todd ran through a series of computer modeling projects for me, showing how the theoretical becomes reality. On his computer screen is a new LB7 cast-iron turbo component that was a part of their development.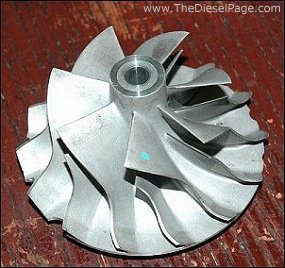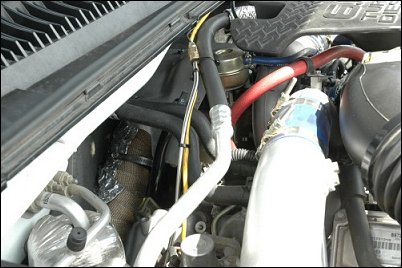 The turbochargers used by GM, Ford & Dodge were all designed for a stock application. Quick spool-up, good driveability and low emissions are among the many considerations engineered into stock turbos. However, the factory turbos struggle to operate efficiently in this new paradigm of diesel performance, which creates a need for a completely new turbocharger that was engineered expressly for modified diesel applications. Instead of "making do" with existing alternative turbochargers or simply experimenting with individual off-the-shelf turbo components, BD has designed a new wastegated turbocharger for the LB7 Duramax 6600 that operates efficiently at modified power levels.
BD's new turbo was engineered to produce efficient boost pressures that remain within the limits of a non o-ringed cylinder head, while maintaining reasonable exhaust back-pressures. The "extended tip" compressor wheel is a custom piece (above left), designed to reduce both mass and inertia (and burst potential) yet operate similar to a larger wheel. As a consequence of lower mass and inertia, extended tip compressor wheels allow for a faster "time-to-pressure", plus move the SURGE line on the compressor wheel map to the left, (as shown in this image) giving improved surge protection. The wheel TRIM can then be adjusted by increasing the inducer size until the desired flow is achieved. All this can be done with more ideal wheel mass and inertia values made possible by extended tip compressor wheels. The blue lines indicated on the compressor wheel map represent the extended tip values.
In addition to the extended tip compressor wheels, BD also engineered new compressor and wastegated turbine housings to produce a balanced turbocharger that is matched to the flow dynamics and power requirements of a modified Duramax 6600 diesel engine.
The net effect produced by BD's new LB7 turbo is excellent driveability, higher boost pressures, lower exhaust back-pressures & temperatures and more power. The above photo on the right shows a prototype turbocharger installed on BD's test truck. Boost pressures reached the 37-38 psi region during a recent full-on test ride, but this new turbo is capable of producing 40+ psi on the dyno, which helped push power beyond the 500 mark during a recent BD sponsored Dyno Day. As a consequence of higher boost pressures, BD learned that the thickness of the 1/4-moon washers used to secure the compressor housing to the turbo center-section need to be somewhat thicker than those originally installed on their prototype. We'll have more information about these new LB7 turbochargers once R&D has been completed and production samples become available.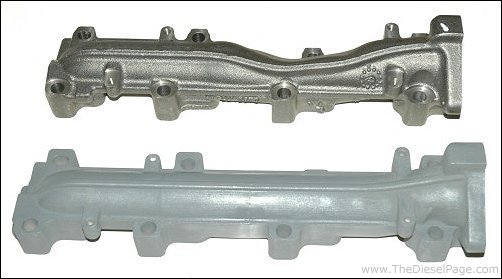 One look at the driver's side exhaust manifold will have you scratching your head wondering why it would be this deformed. There are no clearance issues in the 2001 and newer HD pickups. The view inside the manifold mirrors what you see here - in that there is a significant reduction in cross-sectional area. BD has engineered an entirely new manifold that eliminates the bottleneck, and allows for a more free-flowing design. These parts should hit the market later this year.
For a bit of trivia, I believe the shape of the factory manifold was designed to account for the 1988-98 C/K steering shaft. The Duramax 6600 was designed in 1996, when the only trucks available for packaging design was the 1988-98 C/K. A look into the engine compartment of our Lil Red Duramax conversion provides more clues as to why the factory exhaust manifold may have been designed the way it was.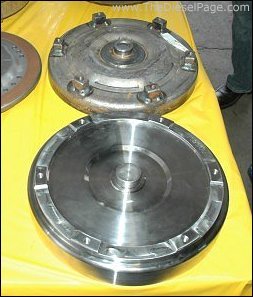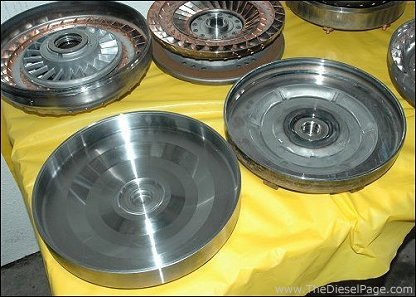 Billet torque converters.... "Billet" traditionally means machined from a block of metal, whether steel or aluminum. In this instance, the front case half of BD's Allison torque converter was machined from a solid cylinder of steel, and is significantly heavier than the stamped sheet-metal stock equivalent. Billet TC cases plus machined-in mounting lugs virtually eliminate distortion and help to maintain the full surface area and holding power for the TCC disk.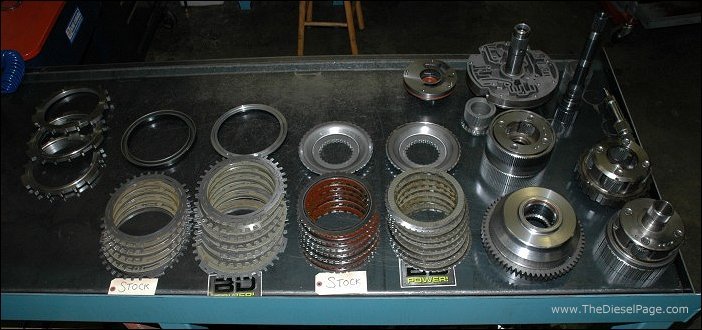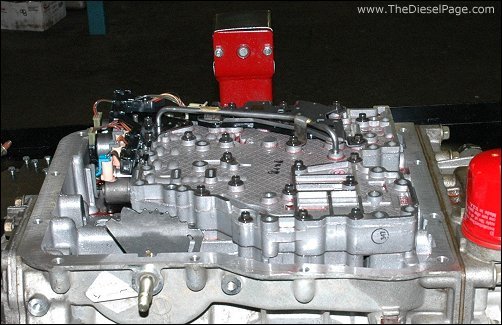 Aside from a valve-body makeover to increase trim pressures and upgrade the springs, BD's performance Allison gets one additional clutch disk added to the C2 clutch pack, 2 disks to C3, 1 disk to C4 and 1 to C5. BD's Allison tech Sean Downey walked me through an Allison upgrade, and demonstrated the valve-body test chamber and auto transmission dyno.
Engineering and R&D have produced impressive gains in diesel pickup performance, and have helped to keep BD competitive. Stay tuned for more news and information. TDP
---
BD Diesel Performance:
BD-Power
Unit A10-33733 King Road
Abbotsford, BC, Canada V2S 7M9
Call toll free: 1-800-887-5030
www.bd-power.com
---
TheDieselPage.com
What's New: | Feature Articles: | Product Reviews: | Member's Area:
Join Us: | Duramax Diesel Page: | Advertisers: | Classified Ads: | Books:

Send e-mail to: turbo@TheDieselPage.com
Copyright © 2018 by The Diesel Page
www.TheDieselPage.com