---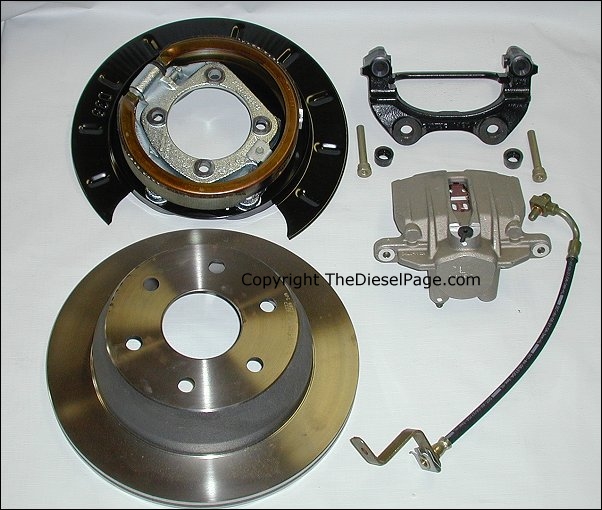 Duramax Power Project
-
Disc Brake Upgrade - Part I
---
The new GM 9-½" semi-float rear axle has been installed, and to improve braking ability, we've decided to upgrade to disc brakes. Rear discs help with two important areas - the reduce unsprung weight and they increase stopping ability. Demands on the braking system increase as vehicle speeds increase. Stopping can be more important than going fast.
All of the brake components used in this conversion are factory GM 1999-2003 model-year K1500 parts bought from a local GMC dealer. The only special items not available from GM are the adapters needed to adapt the original axle flanges to the new disc brake backing plates.
The above photo shows a complete set of parts for one side - rotors, assembled backing plate, caliper, caliper mounting bracket, flex hose and related hardware. Not shown is the backing plate adapter and related bolts. We hope to have the newly fabricated flange adapters ready for part II of this article.
The factory cast-iron vented rotors shown here are about $60 each and are designated for a "Pickup JC5/JH5 - Vacuum" braking system, having a nominal diameter of 325-mm x 20-mm thick (12.8 x .787"). Inside each rotor is a parking brake mini-drum.
Note: You may need to reduce the outside diameter of the axle wheel flange to allow it to fit flush with the inside face of the rotor.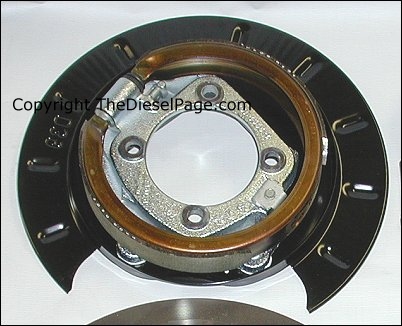 The disc brake backing plate assembly (pn-15206075) came as a fully assembled piece, with the parking brake components already installed. The parking brake shoe is a one-piece affair, with cable actuated and adjustable shoe engagement, to compensate for fit and wear over time.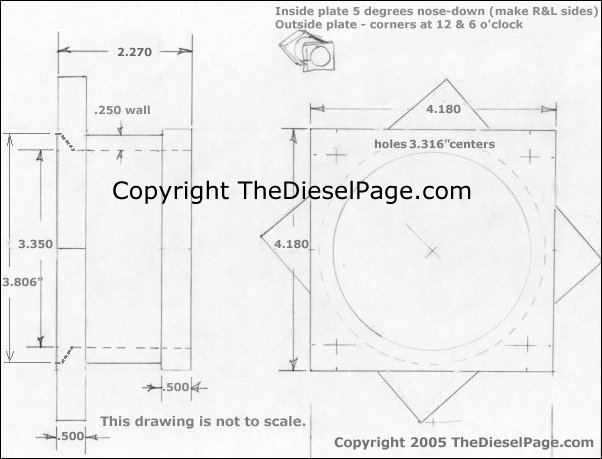 The above shows the rough working drawing used to fabricate the axle flange adapters. The square plates for each adapter are the same size, but are clocked differently to correctly locate the brake calipers at the front - when viewing both left and right sides. The points of the square end-plate that bolts to each disc brake backing plate are positioned at 12 & 6 o'clock. The square end that bolts to the existing axle flange (welded to the axle housing) should be positioned 5° nose down for both the right and left side of the truck. This means that the adapters for both the right and left sides of the axle are different from one another.
See Part II of the disc brake installation to see the final result.
TDP
---
TheDieselPage.com
What's New: | Feature Articles: | Product Reviews: | Member's Area:
Join Us: | Duramax Diesel Page: | Advertisers: | Classified Ads: | Books:

Send e-mail to: turbo@TheDieselPage.com
Copyright © by The Diesel Page
www.TheDieselPage.com