---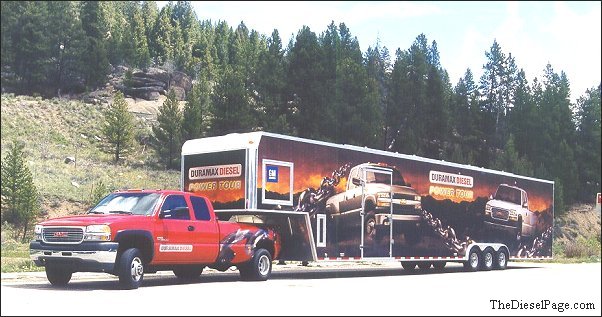 Duramax Diesel
Power Tour
June 2000
---
By Jim Bigley
---
H

ow do you increase public awareness of a newly designed truck and drivetrain, and demonstrate the power and durability of an entirely new diesel engine?....... Putting the show on the road is one way.

GM Powertrain launched the Duramax Diesel Power Tour in March of this year during Bike Week in Daytona Beach, Florida. Continuing through to the end of this year, the tour will be either producing a show or traveling to the next one somewhere in the US or Canada. An ambitious project, but one designed to let everyone know that GM has raised the bar with a competitive combination of power, durability and performance.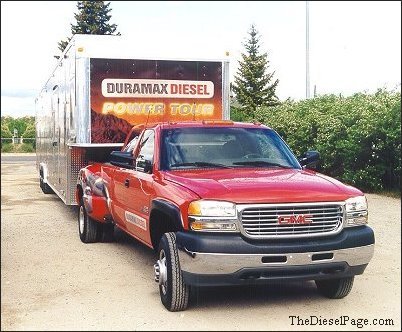 2001 GMC Sierra SLT C3500
Duramax 6600
Allison 5-speed automatic
The tour provides event participants with an in-depth introduction to the new 2001 Silverado/Sierra heavy-duty 2500/3500 trucks, including the new technology used in the powertrain, updated chassis features, enhanced cab design, class-leading towing performance, and essential dealership product training. Interactive drivetrain displays include a cut-a-way Duramax 6600 diesel engine, Allison 1000 Series 5-speed automatic transmission, and many other individual engine and injection system components. (The Duramax Diesel Power Tour t-shirts are a "must have".)
The demanding tour schedule combined with many tens of thousands of miles traversing nearly every state in the US and most southern Canadian Provinces will help demonstrate the capabilities of the new Duramax/Allison equipped 2001 GMC Sierra SLT C3500. The huge 50 foot enclosed trailer (rolling billboard) pushes the combined weight to 22,000 lbs, which is the new maximum GVWR for the 2001 model year 3500 series trucks. To say GM is confident in their new diesel drivetrain is an understatement.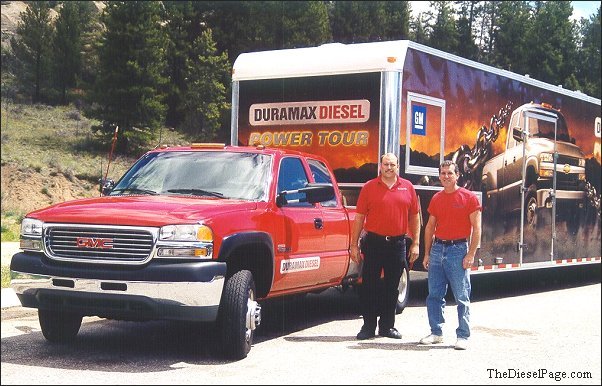 I caught up with the Power Tour recently while they were making a run from Ogden, Utah to Calgary, Alberta Canada. Tour hosts C.J. Boggs (standing next to the truck) and Ged Dougherty graciously made time for an interview and a demo ride up and down a long 6% grade just a few miles east of Butte, Montana on interstate I-90.
At the time of our meeting (mid June), the Power Tour GMC had accumulated a total of 13,000 miles and more than 400 hours of running time. (Seems the truck spends a lot of time idling at the various shows.) GM Powertrain continually monitors the truck's progress, as well as engine and drivetrain data through a sophisticated on-board GPS and computer. Other than event scheduling, the Power Tour has very little direct contact with GMPT. There have been no failures or drivetrain problems reported during all of these 13,000 miles.
I asked C.J. and Ged if GMPT had given them specific operating instructions concerning powertrain management, or if they were asked to go easy on the truck. The answer was a quick and emphatic "no". Due to the nature of event scheduling and long distances that need to be traveled between shows, the mileage accumulated could be considered a long-term durability test. (This is why fuel economy figures won't be discussed.) Level highways are driven at the legal speed limit (75 mph here in Montana), and hills or headwinds are greeted with all the throttle necessary to either maintain speed or climb the grade in the least amount of time. A fierce headwind on one leg required full-throttle to maintain 72 mph, and all hills of any consequence are also run at full-throttle. One such hill in Arizona more than tested the cooling ability of the engine and transmission, since the ambient temperature at the time was over 100 degrees.
The engine and transmission temperatures normally run at about 190 while towing on level ground, and have never exceeded 200 degrees during the most demanding portions of their journey. Oil is changed at 3,000 mile intervals, and the engine doesn't appear to use any. C.J. mentioned that the oil level is always at the full mark when checked. During the hill-climb I participated in, the oil pressure gauge indicated approximately 60 psi.
C.J. told me that even at 22,000 lbs, no hill they had yet crossed brought the speed below 50 mph and third gear (including hills at 6, 7 & 8%.). When I asked how they managed the powertrain during a hill-climb, he told me they always leave the Allison in the OD position (and Tow/Haul mode), and leave the cruise control set. During the hill-climb demo on a 6% grade here in Montana, the transmission eventually dropped to 3rd gear. Once in 3rd, the engine speed increased to 3,000 rpm, which produced a truck speed of about 52 mph. This was very impressive performance, considering this monstrous 22,000 lb weight.
The Allison grade-braking was also demonstrated on the return trip down the hill. Once cresting the hill and beginning our descent, speed began to build fairly quickly (22,000 lbs will do that!). Ged lightly pressed on the brake pedal, and the Allison began its grade-braking. Even at this weight, the speed quickly stabilized at just over 50 mph and 3,000 rpm, and never increased on this 6% grade. Ged didn't need to use the truck's 4-wheel disc brakes to help control the speed. Steeper grades have required periodic use of the truck's brakes, but never a prolonged application.
We'll continue to monitor the Power Tour's progress throughout this year, and will have a final report here in The Diesel Page at year's end. Now if I could just find a dealer who hasn't already pre-sold their entire expected diesel allotment......
This is one serious Turbo Diesel truck. Power, durability, and drivetrain performance are all there..... Big Time.....
More Power!!!
---
Additional Duramax/Allison and 2001HD truck articles are available to members in the
Member's Area Duramax Page.
Please Join Us for all the best in diesel light-truck news and information.
---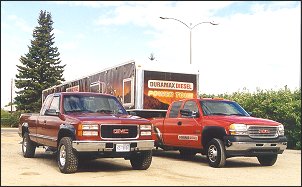 TheDieselPage.com
What's New: | Feature Articles: | Product Reviews: | Member's Duramax Page:
Join Us: | Advertisers: | Classified Ads: | TheDieselPage.com BB Forum:

Send e-mail to: turbo@TheDieselPage.com
Copyright © 1996-2018 by The Diesel Page
www.TheDieselPage.com