---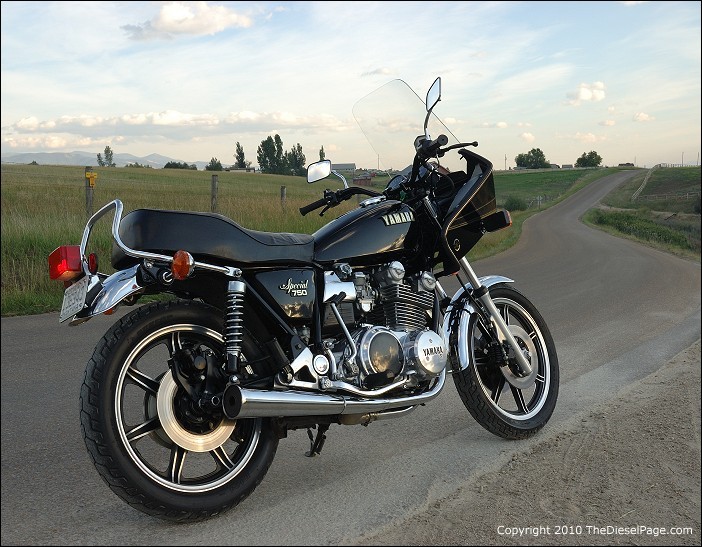 Déjà Vu
1979 Yamaha XS750 Special
---
Combining a Yamaha XS750SF Triple with a Vetter Quicksilver fairing created a synergistic combination back in 1980. Recreating that same combination nearly 30 years later evokes a little vintage Déjà Vu.


---
Coinciding with the peak of the music industry's disco craze, the Yamaha XS750D standard first arrived in late 1976. The motor press at the time commended Yamaha's new 750 Triple as being a competent and attractive motorcycle, but found it not too exciting - a little like taking your sister to the movies. Certainly OK, but better options usually come to mind. All that changed for 1978 with an increased emphasis on performance and perhaps more importantly, the introduction of the "Special".
The engineers at Yamaha had been following bike trends here in the U.S. for quite some time, eventually borrowing a few of the design elements from the Harley crowd. Borrowing design from other manufacturers wasn't new then and it certainly isn't new now, but the XS750 Specials began the bad boy biker trend at Yamaha that continues to this day. Cruiser handlebars, a teardrop fuel tank, stepped seat, bobbed rear fender, short mufflers and a leading-axle front fork completed the largely cosmetic transformation. Just the thing for looking cool while cruising the boulevard, we were told.
My street bike experience began in 1964 with a string of small to medium-sized Suzuki 2-stroke street bikes, a Honda 4-stroke twin and even a couple of Harleys, but I found myself without a bike in late 1979. All of the previous machines taught me way more than I wanted to know about points ignition and chain maintenance. I knew that my next bike must include electronic ignition and shaft drive, look great and be fun to ride - with enough power and handling to do anything I needed it to do. My search ended in early 1980 at a local Yamaha dealer's showroom with a pulse-quickening carmine red 1979 Yamaha XS750 Special.
My first XS was put to work as a commuter in the spring of 1980 - about 55-miles roundtrip 5 days a week and as an occasional weekend warrior. The somewhat short riding season here in Montana can be stretched to about 5 full months, with the early and late season requiring some cold and dark morning commutes. The cold, the rain and the bugs soon became wearing. I rode with a full-face helmet, good gloves, boots and a selection of jackets, but they weren't enough. I needed more protection from the elements.
Back in the day, Craig Vetter was known worldwide for his great looking and highly functional aftermarket fairings that, with a bike-specific mount, would fit nearly all of the then currently produced motorcycles - including my 1979 Yamaha XS750 Special. While the larger Windjammer model became the most popular Vetter fairing, I wanted a smaller and lighter fairing that didn't detract from the sporting nature of the motorcycle, but still provided enough wind, rain and bug protection to help make commuting a more pleasant experience. Luckily, Vetter also produced the smaller and more versatile Quicksilver shown here, which added just 12 pounds to the bike. In addition, the combination looked great and made the bike a lot more livable on a day to day basis.
Nearly every biker I've met through the years has expressed at least some regret for selling a motorcycle they once owned. I'm no exception. I regrettably sold that red XS750 after 8 years and more than 27,000 miles of ownership. While I owned a series of off-road bikes from the late 70's to present, I had been without a street bike from late 1988 through late 2008 - some 20 years. I had a lot of good times on that first XS750, and in late 2008 I began wondering whether any XS750 Specials were still on the road. So, an Internet search began. Like the prodigal son, I was coming home.
Meet Déjà. The black 1979 XS750 Special appearing here was purchased in January 2009 from a Yamaha dealer in South Dakota, which was then shipped to my home in Montana. This bike was chosen because it was an unmodified original and appeared to be in decent condition.
Being a realist, I knew that any unrestored 30-year old bike would need some TLC, though I expected the bike to be fully functional and without any significant mechanical problems. Buying a motorcycle via long-distance can be somewhat risky, but working with an established power-sports dealer helped, as did the selection of hi-res digital photos and a video clip provided by the dealer.
Soon after acquiring Déjà and returning it to stock, I began looking for another Vetter Quicksilver. I then learned that Vetter had gotten out of the business in the mid-1980s, which meant buying a new fairing wasn't likely. However, eBay came to the rescue! A Wisconsin motorcycle dealer was advertising an NOS (New Old Stock) Vetter Quicksilver on eBay for about the same price I paid in 1980. As it turned out, Milwaukee Cycle had about a dozen NOS Quicksilvers on hand as well as the exact Yamaha XS750 Special fairing frame mount I needed.
In addition to adding a Quicksilver fairing to both my first and second XS, I also installed new sport-oriented handlebars. Instead of the bolt-upright sitting position the factory rubber-mounted cruiser bars forced the rider into, the new shorter/flatter sport bars (still rubber-mounted) allow the rider to sit in a more relaxed, slightly leaned-forward position, which provide for all-day riding comfort. Period magazine reviews suggested that the Specials weren't ideally suited for carving canyons. I know that replacing the ungainly factory cruiser handlebars with a set that is more sport-oriented will transform riding comfort, handling and rider confidence.
It's been said that you can never go back. While I don't have to commute now, I very much enjoy riding my new-to-me XS every chance I get. At the time this was written, Déjà has delivered another 6,000 trouble-free miles, and the XS Special has proven to be just as reliable and just as much fun as I remember. The 1979 Yamaha XS750 Special is a great looking and performing vintage motorcycle. The addition of the Vetter Quicksilver and sport handlebars complete the package, and now more than 22 years after selling my first XS, I can't help feeling that sense of déjà vu whenever we're on the road together.
---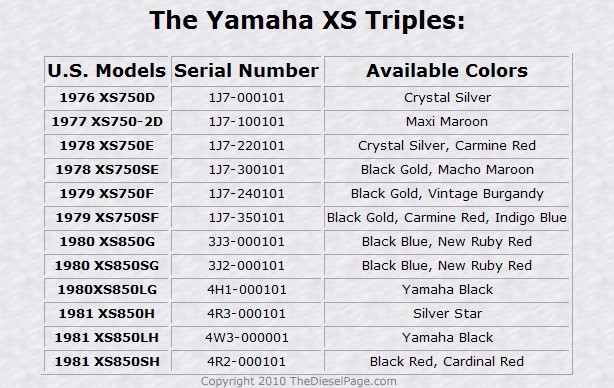 Inspired by the Brits, Yamaha's foray into the 4-stroke street fighter realm began with the 1970 XS-1, a 650cc vertical twin, which was the largest motorcycle engine Yamaha had built to date. It was a good looking and reliable engine, and it enabled Yamaha to remain competitive in a very competitive market. Testifying to its goodness, the 650 twin remained available here in the U.S. for a remarkable 13 model years. While Honda and Kawasaki had gone to 4-cylinder engines for their 4-stroke 750s in the late 1960's/early to mid 70s, Yamaha's first 4-stroke 750 became available in 1973/74 as the ill-fated TX750 twin. To recover from the TX, Yamaha needed a clean slate engine, and that's what they delivered in 1976 as the first XS750D - a 3-cylinder 4-stroke 750. At the time, Cycle World magazine optimistically referred to it as a "bargain BMW'' and declared it "one of the world's 10 best motorcycles".
Triples were not new to motorcycling in the mid-1970s. Both Kawasaki and Suzuki were successful throughout this period with their 3-cylinder 2-strokes. I owned and rode a Suzuki GT380 Triple for more than 40,000 miles through the mid-1970s, and like most Suzuki fans, longed for their big GT750, a powerful water-cooled 2-stoke triple. As good as 2-strokes were, street bike manufacturers were moving toward the 4-stroke. Like Japan, the British also found value in the Triple. Both BSA and the closely-related Triumph brands produced 750cc 4-stroke Triples. The last Rocket IIIs rolled out of the BSA factory in 1972, while the Triumph Trident T150 was replaced by the short-lived T160 in 1974 (with electric start, forward sloping engine, front and rear discs). By late 1976, the Yamaha XS Triple was alone in the 3-cylinder 4-stroke 750cc market. Yamaha added amenities to the bike that further set it apart from its 4-cylinder 750cc competition, like powerful triple-disc brakes, shaft drive and a stirring exhaust note that only a 120-degree Triple could produce.
Hampered by points ignition, a low 8.5:1 compression and mild cams, the original XS750 performed well-enough, but once the newness had worn off, the mild performance became passé. All that changed for the 1978 model year, when the engine received a number of significant improvements, which included an increase in compression to 9.5:1, higher lift cams with altered timing, electronic ignition, lower overall gearing and the redline raised from 7500-rpm to 9000. These upgrades transformed the original Yamaha XS750 Triple from a mild-mannered Clark Kent into a genuine superbike (by 1978 standards). Due to minor changes made to the engine in later years to address EPA emissions rule changes, the 1978 XS750 became the best performing Triple.
The 1978 model-year also saw the introduction of the "Special", which retained the best features of the standard model, but added stylistic mods loosely borrowed from the Harley Sportster. Cruiser handlebars, a teardrop fuel tank, stepped seat, bobbed rear fender, short mufflers and a leading-axle front fork were mostly cosmetic. While the cruiser handlebars negatively affected handling, on balance, the remaining modifications didn't. The XS750 models were produced from 1976 through the 1979 model year, with an estimated 150,000 total production.
For 1980, the XS got a bump in displacement to 850cc, an oil cooler was included, and minor stylistic mods were added to the standard models to give them a fresh look. The Specials received even more cosmetic "upgrades", getting a swoopier seat and fatter rear tire. One available color scheme became the "Midnight Special". At least to my eyes, the MS was perhaps the most attractive of the 850s, having a shiny black monochrome appearance with gold accents. The engine, exhaust system, front forks and fenders were all black. Gold was used on the wheels, seat grab bar and smaller detail components that had been chromed on other models.
A 6 model-year run, ending in 1981, marked the end of the Yamaha Triples. Yamaha moved on to 4-cylinder engines with the shaft-drive XJ series, and the XS750/850 Triple faded from the press. Today, the Yamaha Triples remain in the hearts and minds of many vintage Yamaha enthusiasts simply because they work so well. They are "Special".
---
Things to watch:
1- These bikes came from the factory with a pair of vacuum-operated fuel petcocks. While I've yet to experience a problem with them on either my first or second Special, they have been known to develop a leak that allows fuel to either flow to the carburetors while the engine is off, which can cause a flooded engine and/or contaminate the engine oil if the float needle in one or more of the carburetors becomes worn, or fuel can back-flow through the vacuum hoses and run directly into the intake tracts of engine. This sort of failure also contaminates the engine oil with gasoline. Running the engine with contaminated engine oil usually wipes out the crankshaft bearings. If your vacuum operated petcocks appear to be functioning normally, a quick check of the engine oil level, through the convenient sight glass in the right-side engine case, before every ride will reveal any problem with the oil level. Some XS owners have replaced the vacuum operated petcocks with a manual variety. While this could end the possibility of a petcock failure that results in engine oil contamination, it does burden the rider with yet another easy-to-forget task, and constant turning of the petcocks will wear the various petcock seals, requiring occasional routine maintenance. Vacuum petcock rebuilt kits are currently available.
2- The transmission layshaft is held in position with a bolt and thick heavy washer on the right end of the shaft. The layshaft bolt has been known to fail, which then allows some lateral movement of the layshaft and associated gears. While this problem usually doesn't result in more serious damage, you may find that 2nd gear won't engage or won't stay in gear. Some blame wear in the gear train or the shift drum for this problem, and recommend changing the location of various shims to compensate. I believe the large and heavy layshaft washer acts as a flywheel, which fatigues the bolt over time, eventually resulting in bolt failure. Aggressive powershifting, abuse or otherwise rough handling of the transmission over a long period of time may be the root cause of this problem. Profiling the heavy washer to reduce its mass may help - thick at the center and thinner toward the outer edge. Neither of my Specials has experienced this problem. I'm an easy shifter.
3- The Yamaha XS750 Specials were originally equipped with vented wet-cell 12-volt batteries. Too many of these bikes have been ruined through the years because of the destructive effects of acid corrosion - starting with the battery box, the electrical center and on down to the frame and swingarm. New AGM (Absorbed Glass Mat) batteries are now standard in most new bikes, and they are also available for most vintage and classic motorcycles. AGM batteries are vastly superior to the old batteries in that they hold a charge several times longer than wet acid batteries during periods of inactivity and as a result last longer, and they are non-vented so they cannot leak in any position. Because of acid corrosion, Déjà's battery box needed to be media-blasted and repainted soon after I got the bike. Luckily, there was no additional damage. Déjà now has an AGM battery.
4- Over a long period of time, these engines can develop a slow oozing oil leak somewhere around the perimeter of the cylinder base gasket and/or head gasket. Many of these leaks can be dealt with by simply loosening and re-torquing the cylinder head bolts/nuts. Air-cooled engines experience countless thermal cycles over time, which tend to relax the clamping force applied by the head fasteners. A simple re-torque according to either the Haynes or Clymer shop manuals is easy and won't cost you anything but your time.
5- It's become popular to replace the factory airbox with a set of three slip-on K&N type air filters. Some owners do this because their original airbox had become mishapen or damaged over time, and some airboxes are replaced because the owners believe aftermarket air filters will improve performance. Don't do it. These engines are akin to an elaborate air pump. Maintaining intake air velocity is one way to improve performance, and individual air filters make no provision for maintaining the velocity of the intake air. The chambers found inside the factory airbox, on the other hand, were designed and tuned to maintain intake air velocity. The airbox was also designed to reduce the intake air noise that can be annoying when running individual air filters. Installing a set of individual air filters requires a re-jet of the carburetors to compensate for the difference in airflow. Perfect air/fuel ratios are almost impossible to obtain when running individual air filters because air pressure immediately behind the cylinders varies with road speed. The factory airbox pulls air from an area of the bike that is much less affected. Your bike will run better, will be quieter, and will produce better fuel economy and more power when running the factory airbox. If your factory airbox isn't repairable, a replacement can be found on eBay. I used a heat gun and gloved hands to reshape the ill-fitting removable cover on my airbox - to return it to its original form.
---
Press Reports:
"All that work with compression, valve timing, exhaust systems, carburetion and gearing has transformed the XS750 from the modestly-performing machine we tested in August 1976 (which recorded a best standing-start quarter-mile run of 13.94 seconds at 93.9 mph) into a genuine, fire-breathing superbike (which laid down a best run of 12.88 seconds at 102.4). The Yamaha is quicker than any current 750 and even quicker than most 1000cc machines." Cycle Guide, October 1977
"A unique engine configuration isn't worth much if the powerplant doesn't perform, but the Yamaha is at the very top of its class in useful engine performance." Cycle Guide, August 1978
"It turns out the Specials have been enormously successful. Nearly half of the 750 Yamahas sold are Specials." Cycle World, May 1979
---
Specifications - 1979 Yamaha XS750SF Special:
Engine type - Air-cooled four-stroke, vertical transverse Triple
Valve arrangement - 2 valves per cyl, chain-driven double-overhead camshafts, shim adjustment
Bore & stroke - 68 mm x 68.6 mm
Displacement - 747.3 cc
Compression ratio - 9.2:1
Claimed horsepower - 68 bhp @ 8000-rpm
Claimed torque - 47 lb-ft @ 6500-rpm
Ignition - Transistor-controlled electronic ignition
Carburetion - Three 34mm Mikuni Constant Velocity
Air filter -Dry foam element
Lubrication - Wet sump, 3.7 qt (3.5 L) capacity, 42-psi pressure-fed plain main & rod bearings
Primary drive - Hy-Vo chain 1.67:1 ratio
Transmission - 5-speed, 5.71:1 overall gear ratio in 5th
Final drive - Bevel gear, shaft
Clutch - Wet, 7 drive plates & 7 driven plates
Starting system - Electric or kick in neutral
Charging system - 12 volt 260 watts max, 14AH battery
Front fork - 36mm diameter, 6.8 in. (172.7mm) travel, 3-way adjustable spring preload
Rear shocks - Kayaba, 4.4 in (111.8mm) rear wheel travel, 5-way adjustable spring preload
Front brake - Dual disc, single-action hydraulic calipers, 10.5 in (267mm) stainless-steel discs
Rear brake - Single disc, single-action hydraulic caliper, 10.5 in (267mm) stainless-steel disc
Front tire - 3.25H19
Rear tire - 4.00H18
Wheels - 7-spoke tubeless cast aluminum
Frame - Tubular and pressed mild steel, double cradle front downtubes
Rake/Trail - 26.5 degrees/4.29 in (105 mm)
Wheelbase - 59.5 in (151.1 cm)
Weight - 521 lb (236.3 kg) dry (546 lb with oil and ½ tank fuel)
Gross vehicle weight rating - 980 lb (444.5 kg), 459 lb (208.6 kg) load capacity
Seat height - 32.3 in (820.4 mm)
Instrumentation - Speedometer, odometer, resettable tripmeter, tachometer
Warning lamps - High beam, Neutral, Oil Pressure Warning, Turn Indicator, Brake lamp fault, Tail lamp fault, Head Lamp fault
Fuel tank - Steel 4.9 gal (18.7 L), including 0.6 gal (2.3 L) reserve
Petcock(s) - Vacuum Operated Pair
Fuel consumption - 40-50 mpg (17-22.5 km/L)
Range - 172-228 miles (277-367 km) plus 24-32 miles (39-51 km) reserve
Performance - 12.99 to 13.33 sec @ 101-102 mph ¼-mile and ~ 120 mph calculated top speed
Stopping distance - 37 ft. (11.3 m) from 30 mph, 138 ft. (42.1 m) from 60 mph
Engine speed @ 60mph - ~4500 rpm
Cost in 1979/now - $2885/$1000-$2500
Yamaha XS750 online parts & accessory resources:
www.babbittsonline.com
www.buschshineproducts.com
www.cmsnl.com
www.mikesxs.net
www.milwaukeecycle.com
www.motad.co.uk
www.partsnmore.com
www.speedandsportinc.com
www.craigvetter.com
---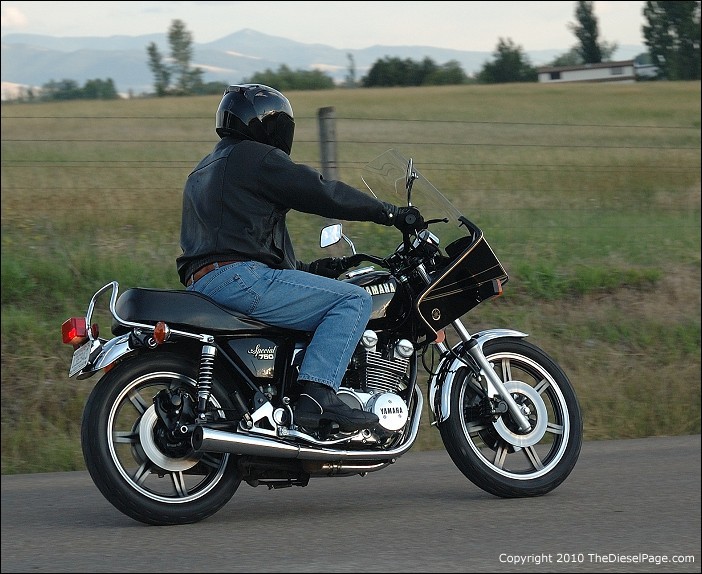 The size of the XS750 Special feels "just right" to my 5' 11" frame. From a sport-touring perspective, the XS Special's wheelbase (59.5") fits in-between the Honda ST1300 (58.7") and the Yamaha FJR1300 (60.8"), and very nearly matches the wheelbase of the Kawasaki Concours 14 (59.8"). But, the XS weighs 90 lbs less than the FJR, 170 lbs less than the ST and 120 lbs less than the Connie. Even though the XS Specials became available after enactment of the federally mandated 55-mph speed limit, the bike can easily run all day on the Interstate here in Montana at the current 75-mph posted speed limit.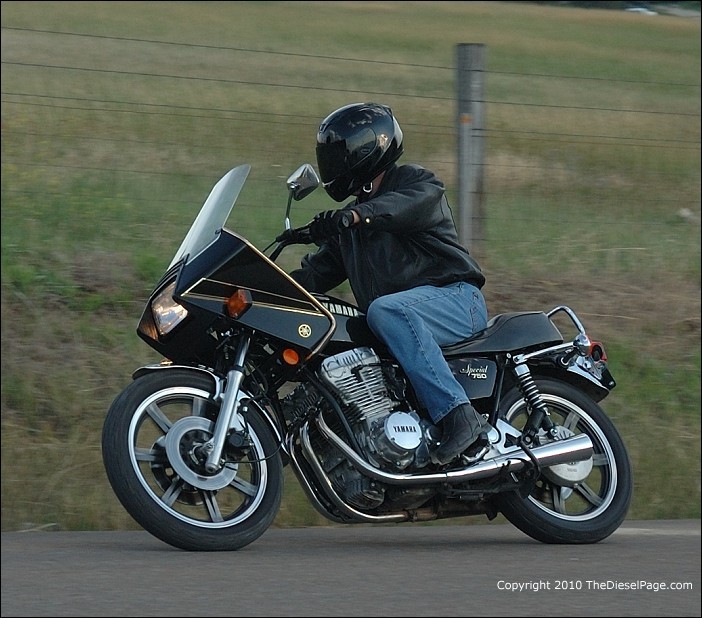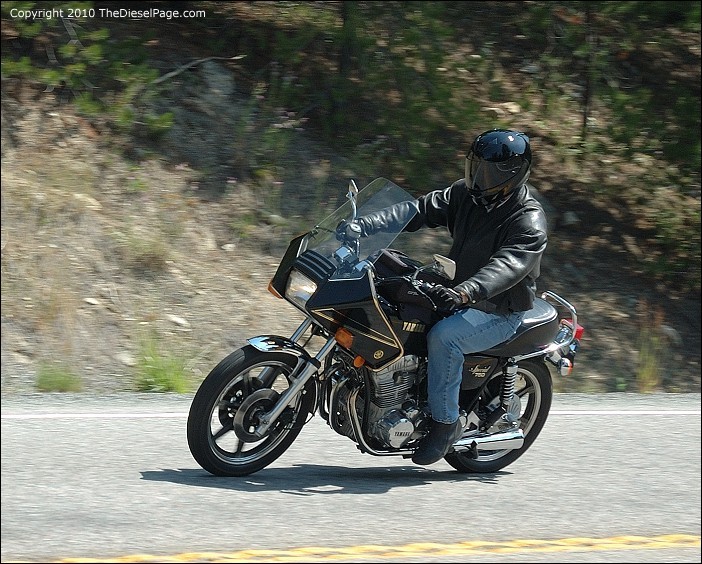 No illusions - while it may not equal the handling of some of the current sport bikes, the XS750 Special likely has more canyon-carving ability than do most XS owners - myself included. Replacing the original cruiser handlebars with a more sport-oriented variety will go a long way to improve handling. The 30" wide sport handlebars shown here transform the handling and make the XS Special a fun bike to ride in the mountains. Steering input is light, linear and predictable, from running straight to maximum lean angle. The bike doesn't tend to fall into or out of a turn, whether coasting, accelerating, decelerating, or while trail-braking through the apex. It's easy to pick and hold a line through either a slow and tight corner or a fast sweeper.
The handlebars shown here are generic, made from 7/8" tubing, and were bought from a seller on eBay. The ad listed the handlebars as having a 4" rise and 4" pullback - and 34" wide, which were subsequently narrowed to 30". I considered narrowing them even further to possibly 28" or even 26", but finally decided against it because the rear view through the mirrors would become more restricted. The 30" bar width is just fine. The handlebars shown here are powder-coated black, but the otherwise identical bars I had on my first XS Special were black chrome. While the black powder-coating looks stunning when clean and polished, I'd probably opt for black chrome if given the choice. The powder-coating did not interfere with the inside diameter of the throttle grip, but to get the starter button to function, I needed to run a separate ground wire from the right-side switch group to a ground connection found in the wiring bundle below the instruments. It appears the original chromed handlebars provided a ground path for the starter button.
The change in handlebars will result in more slack in the clutch and throttle cables as well as the brake line connecting to the front master-cylinder. I spent a few minutes repositioning them after installing the new bars, and found it all works together just fine. Somewhat more recently, I did buy a shorter front brake line and a new clutch cable, both made for the standard model XS, but haven't gotten around to installing them yet. It's really not a big deal.
I've found that the XS has the power, gearing and stability to run at any sane speed on any highway, whether solo or two-up, and it can easily pull any Interstate grade found anywhere in the U.S. in 5th gear, even with 400 lbs of rider, passenger and gear onboard. Period tests indicate that the bike is capable of 5.0 second 0-60 runs, sub 13.0 second ¼-miles and can top out at 120-mph. I'm not sure I need more than that...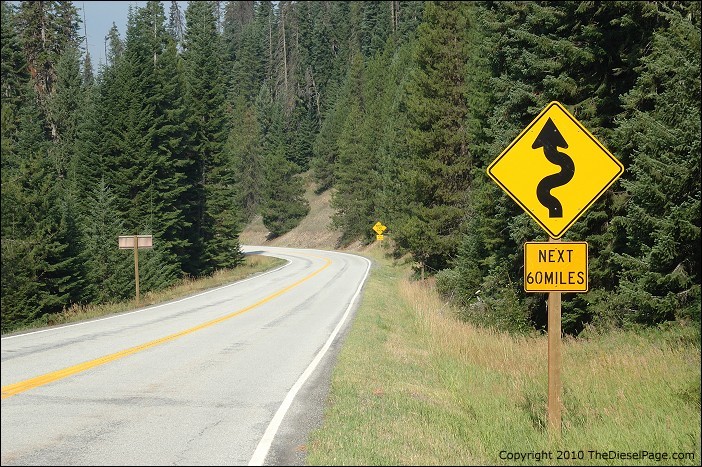 This is US-12, approximately 10 miles west of the Montana/Idaho border. If there's a more fun or scenic stretch of highway in North America I haven't found it yet. The XS750 Special is very much at home on US-12, and can easily exceed the posted speed limit through this 60 mile stretch. I'm told... that Idaho State Troopers do patrol US-12 occasionally, and that they are somewhat unsympathetic toward a vintage biker's need for speed.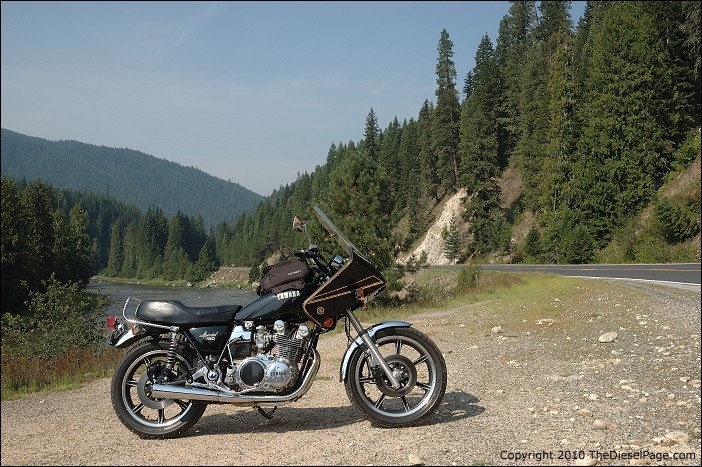 Though I usually schedule fill-ups at ~150 mile intervals, the 4.9 gallon fuel tank provides a range of approximately 200-245 miles when including reserve fuel, and all that steel works well with nearly any size magnetic tank bag. Shown here is the Cortech 14-liter magnetic tank bag I purchased during the summer of '09. I don't know how I ever managed without one. Since the fuel tank is virtually vibration-free, a tank bag works very well to safely carry a camera or other electronics.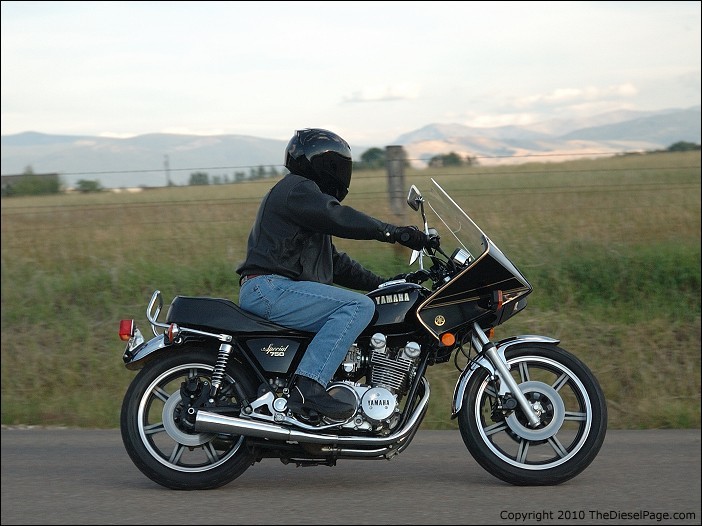 The XS750 Specials deliver an average of 45-mpg. Ride it hard, and fuel economy might drop to about 42. Ride it easy, even with a passenger on-board, and it'll deliver 46. Local riding produces about 45-mpg.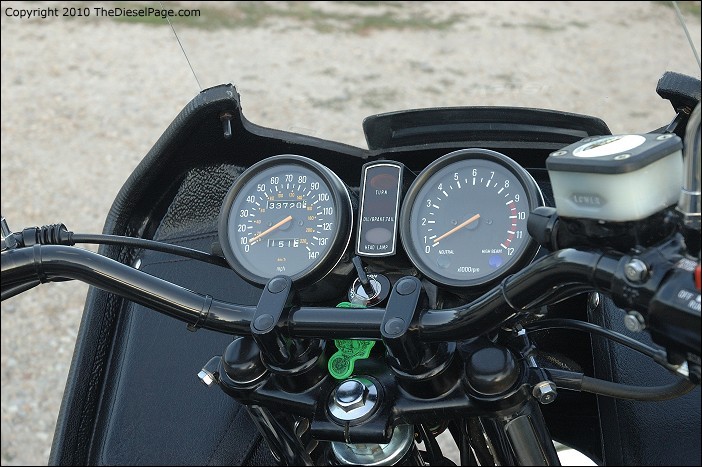 Yamaha's basic instrumentation for 1979 included a 140-mph speedometer, odometer, resettable tripmeter, and a tachometer, which were mechanically driven by gears and cables. Warning lamps include a high beam indicator, neutral lamp, a single turn lamp (flashes for both right and left turns), a headlight fault lamp and a multi-purpose warning lamp that illuminates if the bike loses either its brake lamp or tail lamp, or if the engine loses oil pressure. Don't expect laboratory precision in either the speedometer or tachometer. My bike's speedometer reads 2-mph fast at an indicated 60 (58 actual), and the tachometer is about 400-rpm slow when the bike is traveling at a GPS corrected 60-mph in 5th gear. The ignition switch includes an on, off, park and lock position. As a theft deterrent, the lock position locks the triple-tree in either the extreme right or left. The park position illuminates the bike's tail lamp and allows you to remove the key.
The left-side handlebar switch group includes a headlight Hi/Lo beam switch, self-canceling turn signal switch and the horn button, while the engine on/off switch and starter button reside on the right side handlebar. There was also a degree of intelligent design built into the electrics. A reserve lighting system will automatically switch to the high beam or low beam headlamp filament if one were to burn out. The self-canceling turn signal circuit reads a magnetic sensor in the speedometer housing, and will cancel the turn signal once the bike travels more than about 150 meters. A timing circuit is also employed in the turn signal circuitry, which will terminate flashing if more than 10 seconds have elapsed, like when the bike is stopped. The turn signals actually do a pretty good job of doing what you expect, but you can manually cancel the turn signal at any time by simply depressing the center of the turn signal switch.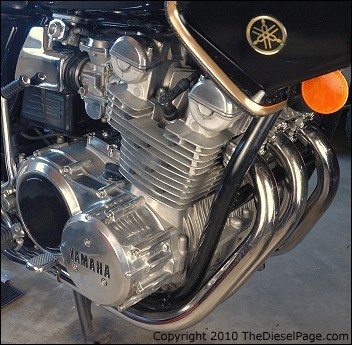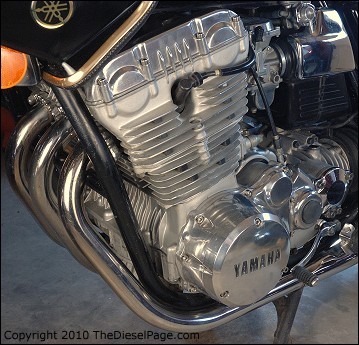 The heart of the bike is the torquey 747.3cc double-overhead cam 3-cylinder engine. Pistons rise and fall 120 degrees apart, which does induce some inherent engine vibration. To help compensate, the engine incorporates a somewhat flexible 3-point mounting system. Still, some vibration does make its way into the rubber mounted handlebars, which comes and goes depending on engine speed. The rubber mounted foot pegs, rubber mounted seat and rubber mounted fuel tank are virtually vibration-free. The cams are chain driven off the left end of the crankshaft, which produces an asymmetrical appearance from left to right.
Due to oxidation and the effects of time, Déjà's aluminum engine cases (formerly polished) were a dull gray when the bike arrived in January 2009. A couple of hours time, a Mother's Powerball, 2000-grit wet/dry paper, and Busch's aluminum polish made a huge improvement. Busch's aluminum polish is amazing stuff. I also used it on the unpainted areas of the cast aluminum wheels.
One of the big reasons why I like the motorcycles from the 1970s is because manufacturers celebrated the engine and didn't hide it behind plastic panels. As mentioned earlier the engine is the heart of the bike, but it's also a focal point for the engineering art that is a vintage motorcycle. At the time, an impressive looking engine was as important as any other single aspect of the motorcycle. I'm unapologetically old-school in that regard. Engines found in most current motorcycles were never meant to be seen, and their unclad appearance underscores that. The Yamaha Triple was meant to be seen.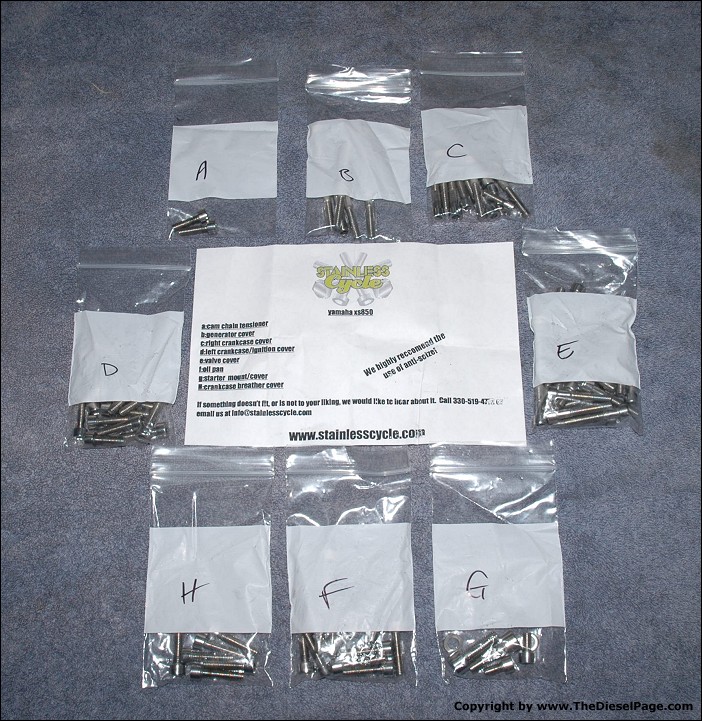 After spending the time to polish the aluminum side cases, I found the original black-oxide-coated steel engine side-case screws lacking in appearance. For about $40, I bought a pre-packaged set of polished stainless-steel engine screws for the Yamaha XS750/850 from a seller on eBay. The seller's web address can be found in the above photo. All of the screws were replaced one at a time, each torqued to 75-in/lbs using a small torque wrench. The screw threads should be treated with a small dab of automotive anti-seize compound before threading them into the engine.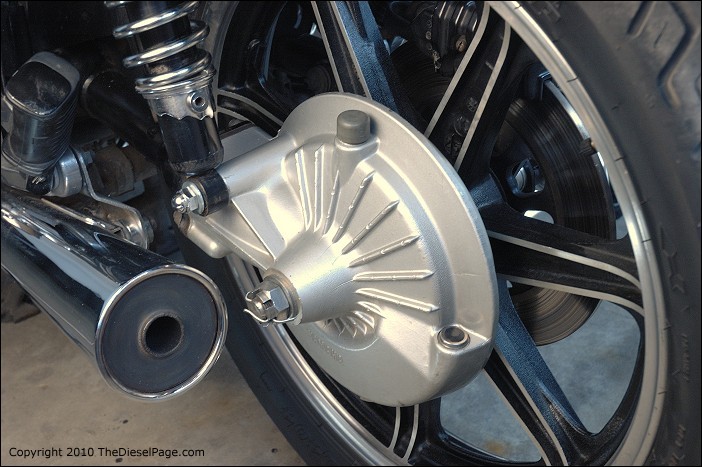 The Special's shaft drive remains one of its best attributes, but it does produce some torque reaction with abrupt changes in throttle application. Without a torque-compensating design (like what current BMW shaft drives employ), the rear of the Special will rise slightly with an abrupt increase in power - or lower slightly with an abrupt decrease in power. Only those who corner at the limits of lean angle will need to be concerned. An abrupt throttle reduction while deep into a maximum lean drift could cost you a little ground clearance. For the rest of us mortals, torque reaction isn't a concern - and there is never any final-drive chain maintenance.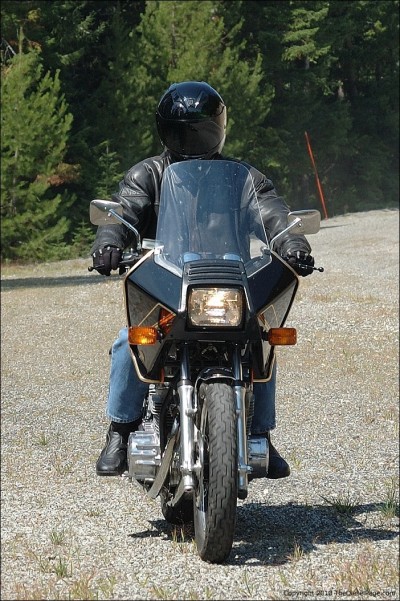 The vintage Vetter Quicksilver measures 25" at its widest point, which is similar in width to the fairings found on current sport-touring bikes. Most of the wind, rain and bugs are kept off the rider, including the rider's knees. The ubiquitous 5" x 8" automotive headlight is widely available in both standard and halogen varieties, and new replacement Quicksilver windscreens are readily available.
The Quicksilver fairing and frame mount weigh a total of 17 pounds, but the package replaces the original headlight and turn signals, which weigh a combined 5 pounds. I considered a handlebar-mounted windshield, but most detract from the appearance of the bike, don't provide as much protection from the elements and they can reduce stability at higher speeds. In fact, some current handlebar-mounted windshields come with speed restrictions because of this. The Quicksilver provides a lower coefficient of drag than when riding without a fairing, and bike stability is actually improved because wind loads are transferred into the bike's frame - not the handlebars. The vintage Quicksilver combined with the Yamaha XS750 Special remain a great combination.
You will experience more buffeting and wind noise at speeds above 65-mph with this fairing and stock-height windscreen. I've thought that a 4" taller or 4" shorter windscreen would help to reduce the effects, but so far I've not done any experimentation. We should all wear earplugs anyway, and when you do, wind noise becomes much less of a problem.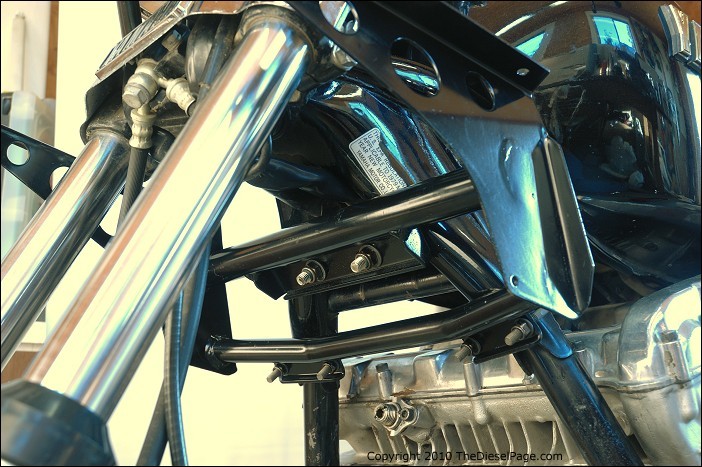 The fairing mount bolts securely to the bike's frame. Wind loads are transferred into the bike's frame, which improves stability at speed and improves steering precision. Wake turbulence following a vehicle is usually tough to ride into, but it's practically a non-issue with a frame-mounted fairing.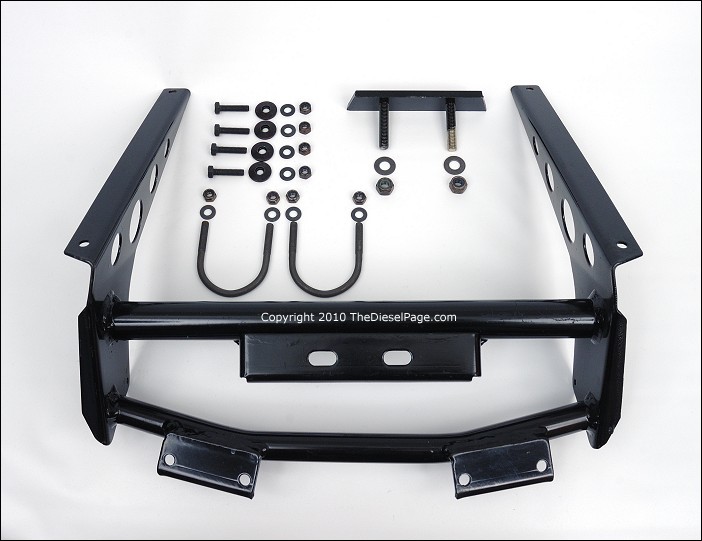 The Vetter fairing mount kit is lightweight and provides a secure fairing mount. All of the nuts are of the nylon insert self-locking variety, and I've not had to readjust or tighten any of the hardware since the initial installation. There appears to be a difference between the Vetter fairing mount made for the XS750 Special and that made for the Standard model. When a Standard model mount is used on a Special, it tilts the fairing back - making the windshield lay flatter, and changes the angles/look. The photos included here should provide perspective for how a properly mounted Quicksilver should look. Do what you have to do to either get the correct mount or modify what you have to make it appear and function correctly.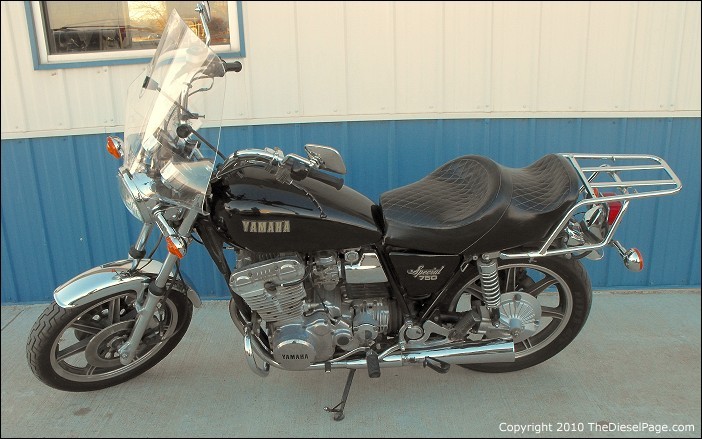 This is what the bike looked like when it was delivered in January 2009. Though it was equipped with a funky aftermarket touring seat, crash bars, luggage rack, and handlebar-mounted windshield, I knew it could easily be returned to factory stock, and then made to duplicate my first XS750 Special. Changes in appearance were in store...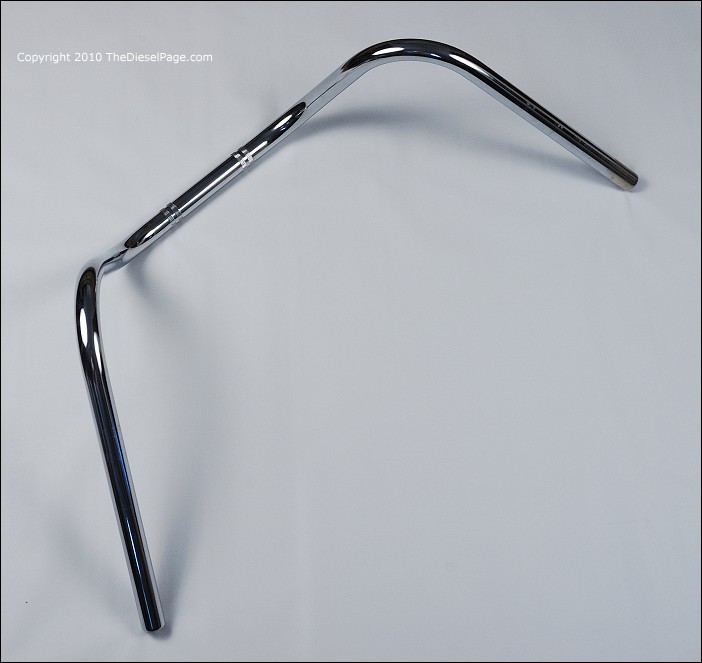 The Special's were originally equipped with cruiser style chromed handlebars (shown above) measuring 28" wide, and with a 7" rise and a sailboat tiller's 11-1/2" pull-back. While they might work for cruising the boulevard, they produce a remote feel while sport riding and especially while max braking.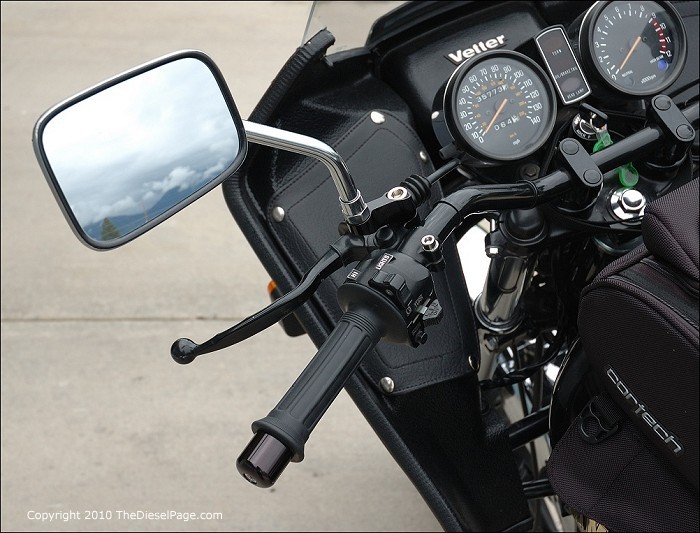 The mirror extensions allow for more view of the road behind. The mirrors are perfectly clear at certain cruising RPMs and show a little fuzz at others - overall less fuzz because of the dampers. The mirror extensions and handlebar dampers were found on eBay - relatively inexpensive too.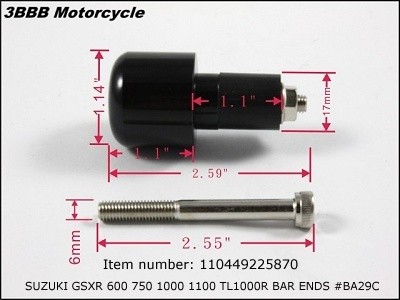 I had been puzzling over the handlebar vibration for more than a year. I didn't remember handlebar vibration being a problem more than 20 years ago when I rode my first XS750S, but I do now. Part of it may be that my hands are also 20+ years older. I've done recent multi-day rides, and can deal with it, without vibration being a distraction or leaving my hands numb - if I didn't grip too tightly. The new handlebar vibration dampers, bought from a seller on eBay, were installed on the bar ends, and have helped to reduce felt vibration by, I'd guess, 20-30%.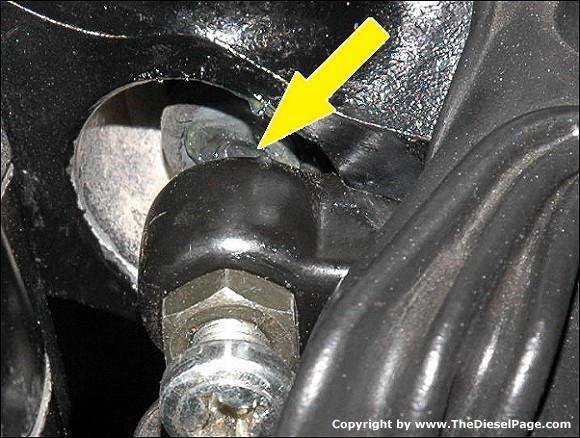 I considered buying a replacement front brake master cylinder or rebuilding the original because the one on the bike didn't operate as well as it should. When pulling the brake lever it would come back fine partway, then hit resistance. Pulling harder would pull the lever through that "tight" spot, and the brake would apply more or less normally. I thought the front brake master cylinder needed some help. I discovered that just a small dab of chassis grease on the adjuster screw end, where it contacts the plunger on the master cylinder, solved the problem (see pic). The adjuster screw on the lever needs to smoothly slide across the plunger a small amount. Once lubed, the front brake works like I remember it should.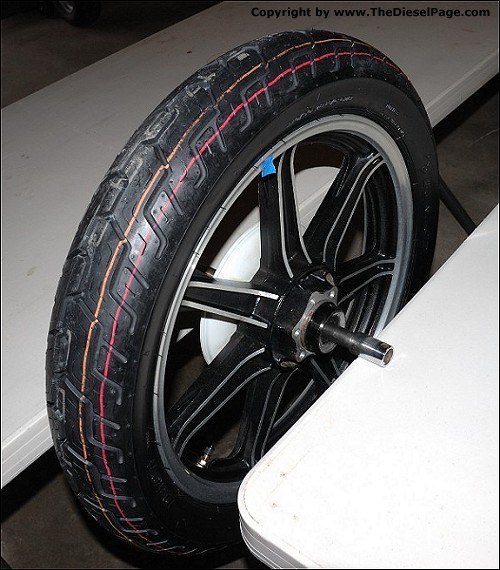 It had been 20+ years since I changed a tire on one of these bikes, but it all came back. The old tire came off harder than the new one went on. I used a little soapy water in a spray bottle to help the beads slip past the rim. With the painted dot on the tire aligned with the tire valve, I found that the balance was still a little off. Though Haynes indicates a rear tire may not need to be balanced, it really isn't that difficult.
I used a pair of folding tables to straddle the tire/wheel and axle. The heavy spot will quickly find its way to the bottom. I marked the light spot with a piece of tape, then went through my spare parts box for a selection of wheel-weights made for an automotive aluminum rim. These clip onto the center rib of the Yamaha wheels like they ought to. With the right weight, the wheel should stop at random whenever the wheel is spun. This tire/wheel combo only needed 1/2 oz. The tire in the photo is a Dunlop D404 110/90-18. A variety of tire irons and new wheel-weights made for these wheels can be purchased from www.mikesxs.net.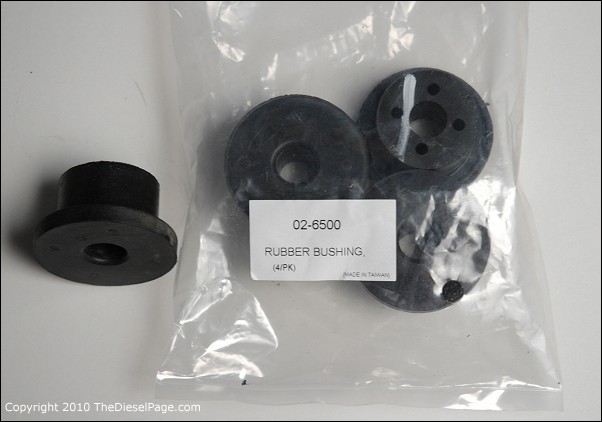 While on the www.mikesxs.net web site looking at wheel weights I found that they also carry new rubber bushings used as handlebar dampers for the XS650 Specials. I thought that they may be the same as those used by the XS750s, so I ordered a set. As it turned out, the bushings do indeed fit the 750s.
Vibration was certainly tolerable after installing the new bar-ends, but when I saw the new rubber bushings offered by Mike's I thought I'd take a chance (they were just $16) that perhaps the 31 year old rubber bushings had hardened over time - like tires do. The first thing I noticed when I removed the new rubber bushings from the bag was that they are quite a bit softer than the 31-year old bushings removed from my bike, like I suspected they would be. The new rubber bushings have helped considerably with felt vibration. Now, the mirrors are nearly perfectly clear up to about 65-mph, then clear up again at 72-mph and above. I'd say felt vibration is at least half what it was before the new handlebar bar-ends and rubber bushings. Problem solved.
This is a great looking and performing motorcycle that gets attention whenever we're on the highway together. Being vintage, it's not losing value sitting in the garage, and it more than satisfies my requirements for a street bike. If you own one of these bikes and found this page helpful, send me an email along with a few photos - I enjoy hearing from other owners. I may add a related page that includes other owners and their Yamaha XS750/850 motorcycles.
See Part II: A road trip through Idaho with this Yamaha XS750SF.
---
Contact Jim at: turbo@TheDieselPage.com
All images and text
Copyright © 2022 by The Diesel Page
www.TheDieselPage.com