---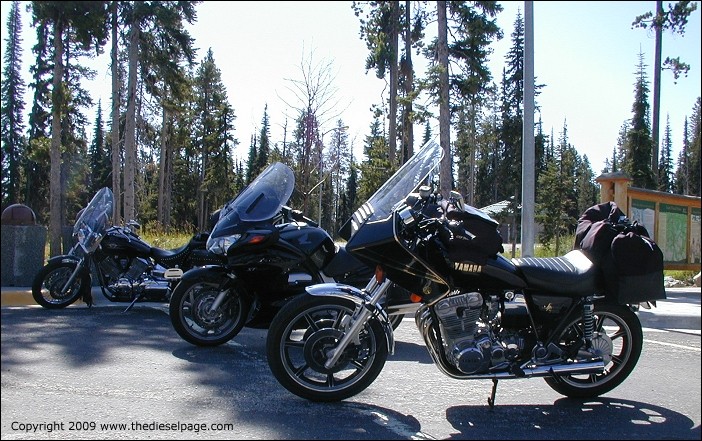 Déjà Vu
---
Touring central Idaho on a 1979 Yamaha XS750 Special


---
Aside from thousands of miles of local riding over 3+ years, my current 1979 Yamaha XS750SF has been ridden on a number of multi-day touring excursions. The photos appearing here were taken during a 3-day tour of central Idaho in early September of 2009.
The above photo was taken at a rest area near the 7500' summit of Lost Trail Pass on US-93, the border between Montana and Idaho. My riding partners for the 3-day tour rode a Honda ST1300 and Yamaha V Star. The Honda can corner with the best of them, but the V Star was limited somewhat by lean angle. Taking turns leading the group changed the pace and brought a variability to the ride that kept it entertaining.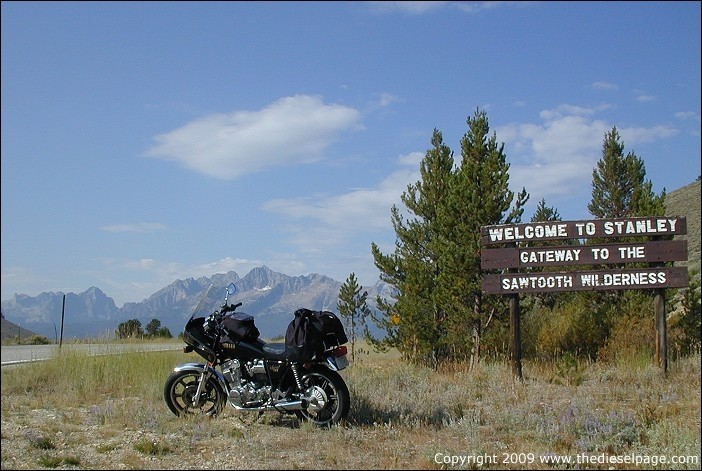 The first leg of the trip began south of Missoula, Montana, before stopping in Salmon, Idaho for lunch. South out of Salmon, US-93 followed the winding Salmon River to Challis, then on to Stanley for the night. This three-day trip comprised a modest 200-250 miles per day, with plenty of stops along the way that allowed taking in the sights. The last time I'd been on this first leg was 1983, so while the first day's route was familiar, it was also new. The highway was in great shape, traffic was low, and the weather was nearly perfect. Following the river meant that the highway included glorious corner after corner.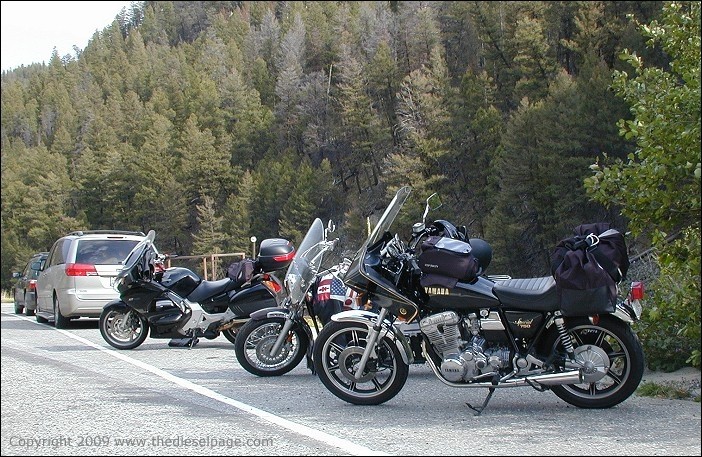 This photo was taken in a parking area for a natural hot springs, located along the Salmon River between Challis and Stanley, that had been developed in the 1930's by the CCC. Pack your swimming trunks. Great spot for a break and free dip in the hot springs.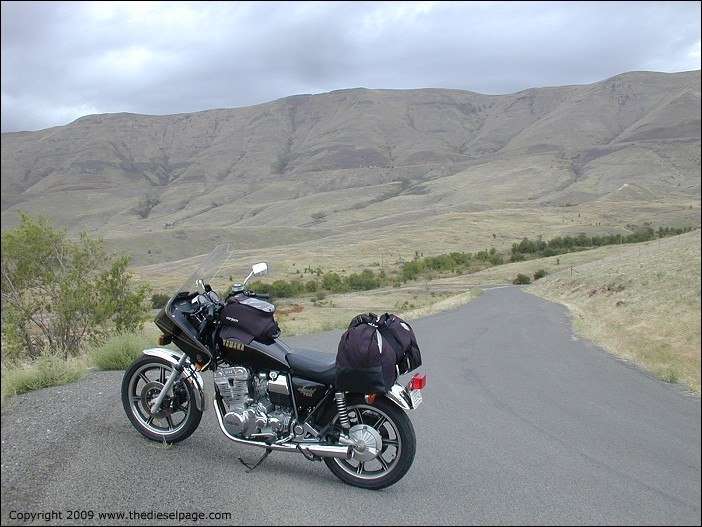 This was taken on a cut-off road near US-95 a few miles north of Riggins, Idaho. You can see the road cut for US-95 in the distance. We took this particular cut-off because of the banked corners and the wild plums growing in the ravine beyond the bike in this photo.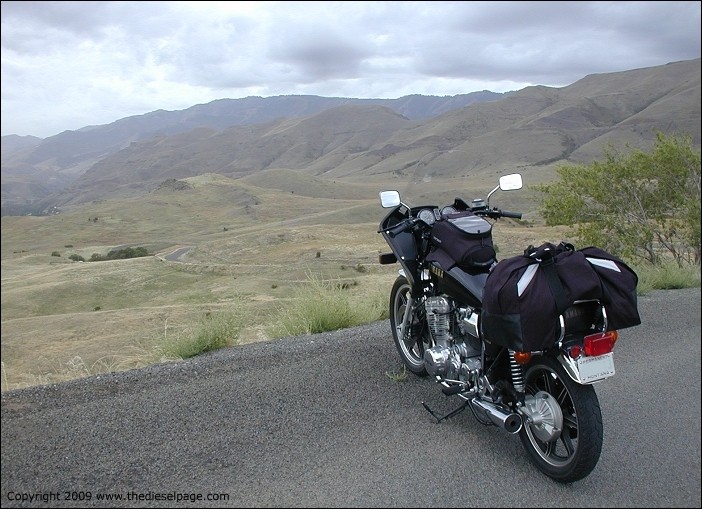 Nice pavement and fast/slow sweeping corners made this a great side loop located near White Bird Summit on US-95.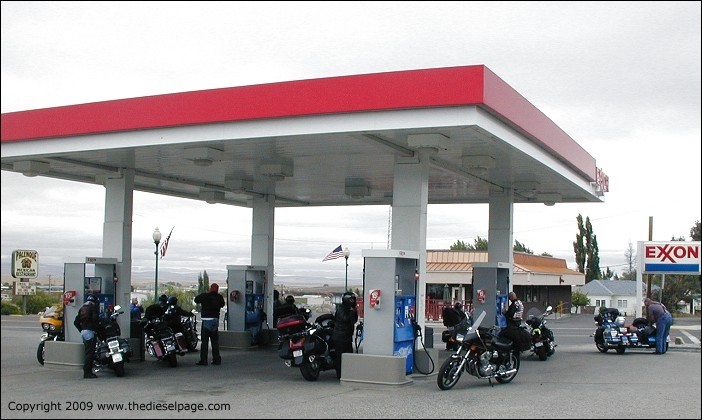 Lots of bikes were out on this Labor Day weekend. Here, we caught up with several other riders at a gas station in Grangeville, Idaho.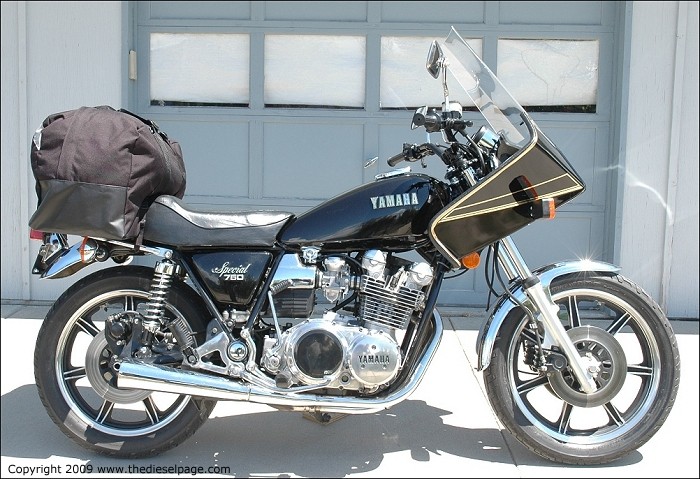 The bag is a 71-liter Rev-Pack Tour Pack (www.revpack.com - made in the USA). At about $100 it provides more than enough room for a multi-day road trip. The included buckles and straps provide security and a shift-free attachment. A rain cover is available and recommended. Combined, it's worth the cost if hard bags aren't in your bike's future. Besides, I prefer to ride the bike without permanently mounted bags.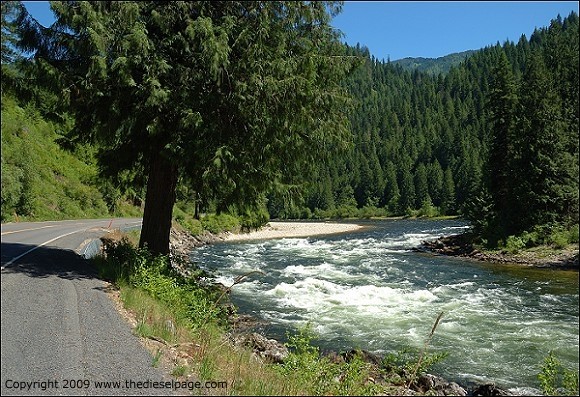 This photo was taken in June 2010 on US-12 about 50 miles west of the Montana/Idaho border. It's 133 miles from Kooskia, Idaho to Lolo, Montana on US-12. Along the way you'll encounter more than 100 glorious miles of corner after corner, each one with a view like this. While the entire 3-day tour was fabulous, this 133 mile segment is my favorite. June is the most scenic month, with higher river flows, wildflowers, lots of green and generally great weather. Blue skies are the norm by mid June onward, but rain gear is essential if you can't choose your trip dates according to the weather.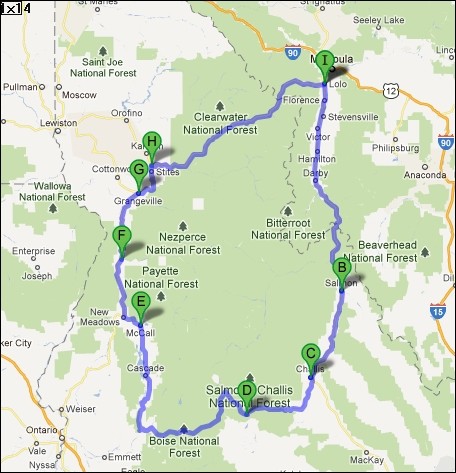 This was created using Google Maps, showing the approximately 700 mile route we took that September in 2009. As mentioned earlier, the first leg began south of Missoula, Montana ("I" pin) and stopped for the night in Stanley, Idaho ("D" pin). We spent the next night in Riggins, Idaho - where the "F" pin is located on the map. I'd never traveled the second leg before, and found the little town of McCall, Idaho ("E" pin) a delightful place. A beautiful lake borders the northern edge of the clean and well-kept town, creating a resort atmosphere. While in McCall, we attended a festive classic/antique car show that was well attended by the local area residents.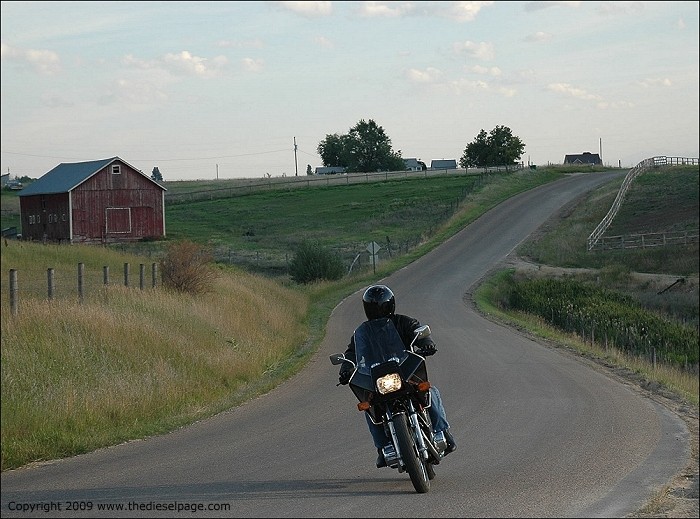 Even a 30+ year old vintage motorcycle can provide a dependable and fun ride on an extended road trip. I was approached at different times during the course of this road trip by people who wanted a closer look at a motorcycle they remembered from their past. One guy even followed me through town and into a gas station in McCall, Idaho for a closer look. He thanked me for keeping the vintage Yamaha on the road. Classic and vintage motorcycles get attention. Those who own and ride them know why. Thanks for reading.
---
Contact Jim at: turbo@TheDieselPage.com
All images and text Copyright © 2010 by The Diesel Page
www.TheDieselPage.com