---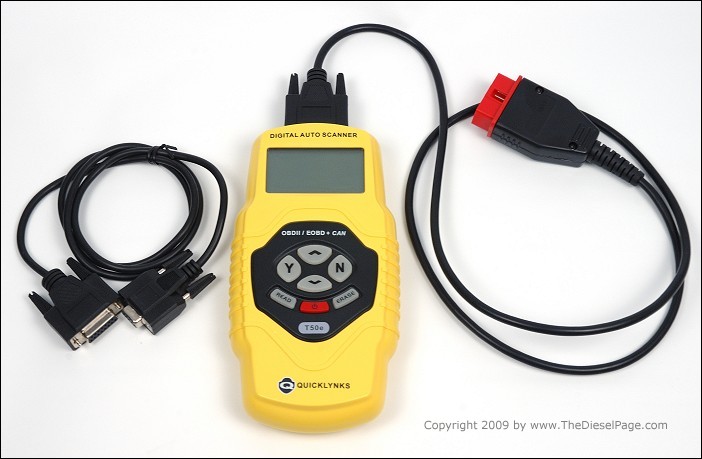 Automotive CAN OBD2 Code Scanner
Model - T50e
---
TDP
---
Being able to read and erase trouble codes is a basic necessity these days - especially for anyone owning a GM diesel truck that is out of warranty. Even if your truck is still covered by the factory powertrain warranty, knowing what that "service engine soon" light means and how serious the problem might be can help you when scheduling service or can help you gain some insight into what the problem might be. Many times, the tedium of scheduling a service visit and taking time out of your busy schedule to deliver the truck to the dealership is met with a service technician who simply erases any existing trouble codes, then sends you on your way. Having access to a code reader means you can read, interpret, record any trouble codes, and then erase them yourself - as a first step in troubleshooting. The T50e can record any trouble codes it finds and store them in its on-board memory for later scrutiny. In addition, any "freeze-frame" data can also be evaluated. The T50e is compatible with all OBD2 compliant vehicle systems produced since 1996, which includes GM and all other domestically available consumer vehicles.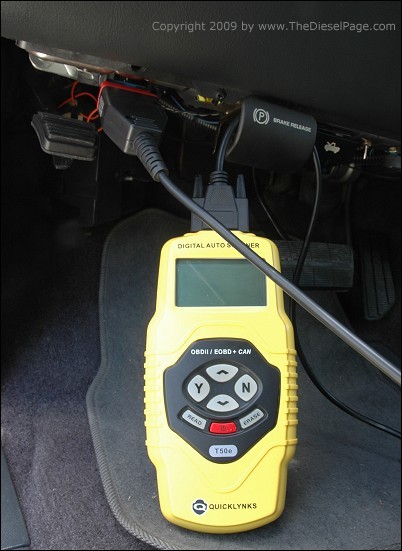 The T50e CAN OBD2 auto scanner supports all OBD2 protocols, including the recent Controller Area Network (CAN) protocol, allowing users to stay current with the latest development in automotive diagnostic scanning.
Key Features & Benefits:
Reads Generic Codes(P0, p2, p3, U0) and Manufacturer Specific Codes (P1, P3, and U1)
Erases trouble codes and Resets Check Engine Lights
Displays I/M Readiness Status and state OBD check
Detects OBD2 Freeze Frame Information
Determines the malfunction indicator lamp(MIL) status
Identifies and Displays Pending Codes
Retrieves VIN(Vehicle Identification No.) on 2002 and newer vehicles that support Mode 9
Wider vehicle coverage with CAN Protocol support
Displays Total # of Codes Retrieved
Code definitions displayed on unit screen
Memory/battery backup for off-vehicle data review and analysis
Unit upgradeable via flash programming
Easy to use with friendly menu interface
Large, 128 x 64 easy-to-read backlit LCD display with adjustable contrast
Hot Keys for quick READ & ERASE
Detachable and replaceable 16-pin OBD2 cable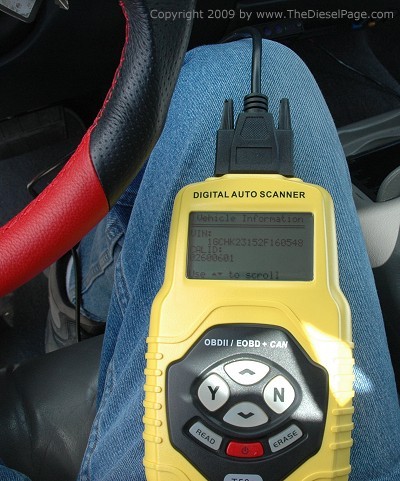 Specifications:
Display: 128 x 64 backlit LCD display
Operating Temperature: 0 to 50°C (-32 to 122 F°)
Storage Temperature: -20 to 70°C (-4 to 158 F°)
External Power: 10.0 to 15.5 Volts provided via vehicle battery
Internal Power: 9V Cell
While not necessary for reading/erasing codes or otherwise interacting with your vehicle's diagnostic port, the T50e has provisions for an internal 9-volt battery, which is useful for analyzing data off the vehicle or when downloading any future updates from the Quicklynks' web site (using the included serial cable).

Aside from the code reader, diagnostic port cable and serial cable, the T50e also arrived with a nice padded case and a mini-CD installation disk that contains a comprehensive DTC code list. The CD we were shipped did not appear to install correctly, but the vendor listed below is rectifying that situation. Overall, the T50e was easy to use and quickly displayed any existing trouble codes.

As luck would have it, the code reader arrived the same day as my daughter's 2005 Chevy Equinox developed a problem with the emissions system. A quick code read, a lookup of the DTC meaning and a code erasure solved the problem. It turned out that the vehicle's fuel cap hadn't been properly re-installed after the most recent fuel stop. This problem was quickly diagnosed and solved with the help of this code reader. And, it saved us a costly trip to the dealership. For less than $100, the T50e is a cost-effective investment. TDP

Source:

Kennedy Diesel
Call: 715-255-9433
www.KennedyDiesel.com

Note - 6/20/09: The QuicklynksT50 will be replaced by the Road-i T51. The new trade name Roadi will be for the US Market and will retail for the same price. The Quicklynks name will be continued for the European market.
---
TheDieselPage.com
What's New: | Feature Articles: | Product Reviews: | Member's Area:
Join Us: | Duramax Diesel Page: | Advertisers: | Classified Ads: | Books:

Send e-mail to: turbo@TheDieselPage.com
Copyright © 2009-2018 by The Diesel Page
www.TheDieselPage.com