---
Using PhotoPost
Uploading and using images in the Bulletin Board Forum
---
As many of you may have noticed, TheDieselPage.com's Bulletin Board now includes an image upload feature that allows you to transfer images from your desktop computer to TDP's web server. Once on the server, you can then display those images in forum posts you create. This feature is a great addition for those who want to use images to help explain a process or just to show your truck/project to other members. Follow along as this page explains the basics of accessing and using the new PhotoPost option. This is not meant to be an exhaustive lesson in using all of the features available within PhotoPost, but rather to get you acquainted with the basics, and allow you to quickly use images in your posted messages as well as view the images posted by others. Once you become familiar with the basics, you can then explore more of the available PhotoPost features whenever you wish.
Before we begin, I would encourage you to size your images appropriately. Many digital cameras produce images that are much too large to be displayed effectively on the web. Images of 100K or less in size will produce quality photos for use in a bulletin board. If you need help properly sizing images, just ask either the administrators, moderators or other members for help. I would encourage you to avoid using large multi-megabyte file size images that create frustratingly long download times and waste server resources.

Let's Begin: You must be registered and logged-in to be able to upload images and post messages. The PhotoPost software is integrated with the Bulletin Board, allowing your existing login code set to function for all forum features.

Once logged in, you'll see a toolbar near the top of the screen. Click the "Photo Album" link in the toolbar.

Assuming you wish to upload one or more images, click the "Upload Photos" link, as indicated on the above image.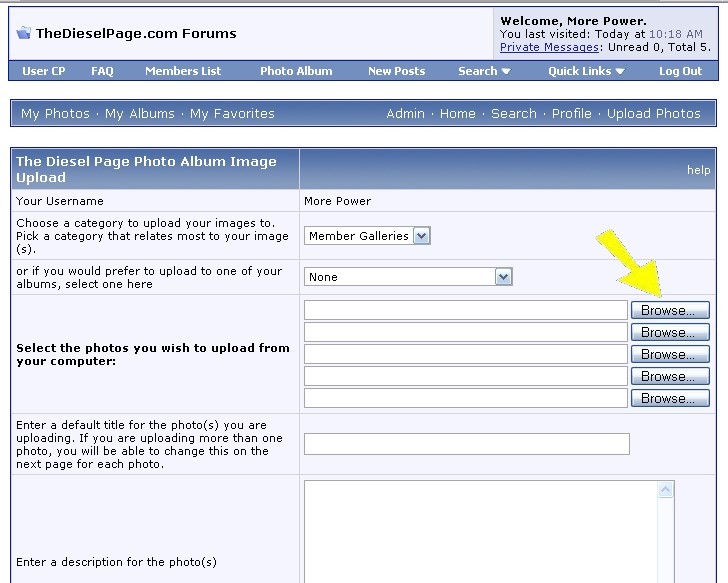 Click the "Browse" buttons to select one or more images located on your PC's hard drive.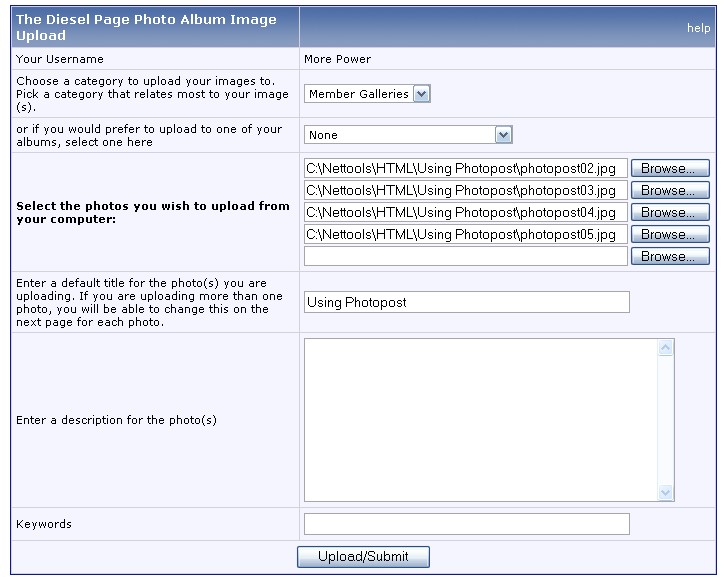 Enter as much description of the photos or photo sets as you wish. Images that show processes or details should have enough text added to help answer the viewer's questions. Click the "Upload/Submit" button once you're finished. You'll be taken to a confirmation page after a few moments as the web server downloads the images from your PC.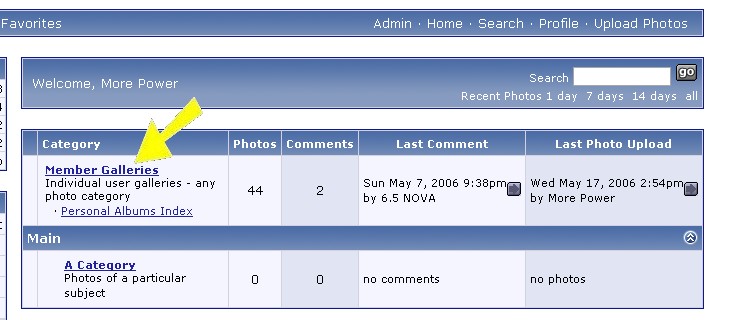 Once the upload process has been completed, click the "Member Galleries" button.

From this screen, you can select a member's photo album (your own or any other) by clicking on the first letter of that member's forum login/user name.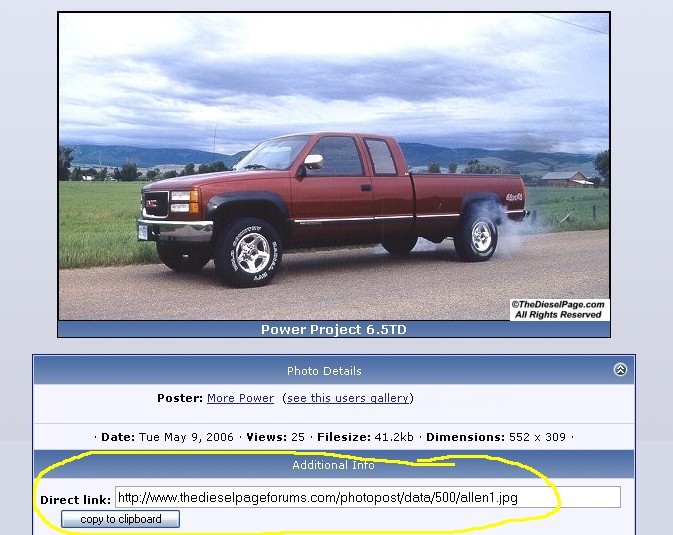 This sample screen shot shows what information is displayed along with the image you just opened. Near the bottom is a line of information that you can use to paste into a forum post you create at a later date/time. Click the "copy to clipboard" button to save the image address.

Assuming you're ready to create a new posted message that includes an image, click "The Diesel Page" graphic at the top of the page to take you back to the bulletin board forum. Enter the forum you're interested in, then create a new topic thread or post a new message in an existing forum thread.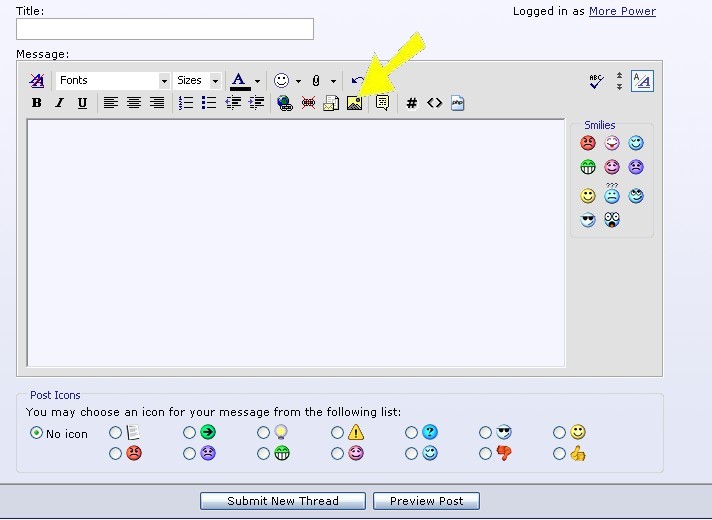 Click the "Add Image" graphic button on the new post screen (see arrow above) to add an image to your message.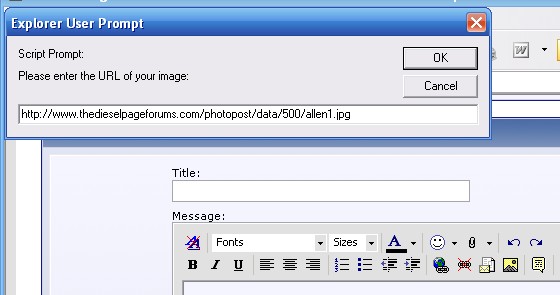 The above window will appear, where you can paste the saved address for your image.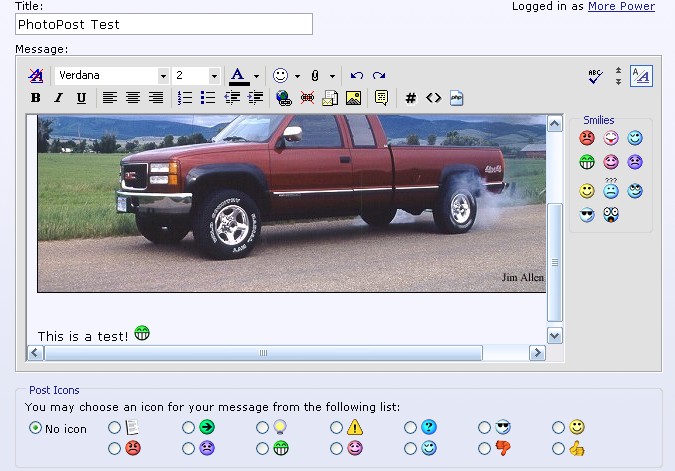 If you're using a recent version of Windows XP and Internet Explorer, the image will now appear in your message. Hit the return ket to add text below the image.
Give it a try! Once you've successfully added a couple of photos, you'll be an old hand in no time... TDP
---
TheDieselPage.com
What's New: | Feature Articles: | Product Reviews: | Member's Area:
Join Us: | Duramax Diesel Page: | Advertisers: | Classified Ads: | Books:

Send e-mail to: turbo@TheDieselPage.com
Copyright © 2006 by The Diesel Page
www.TheDieselPage.com