---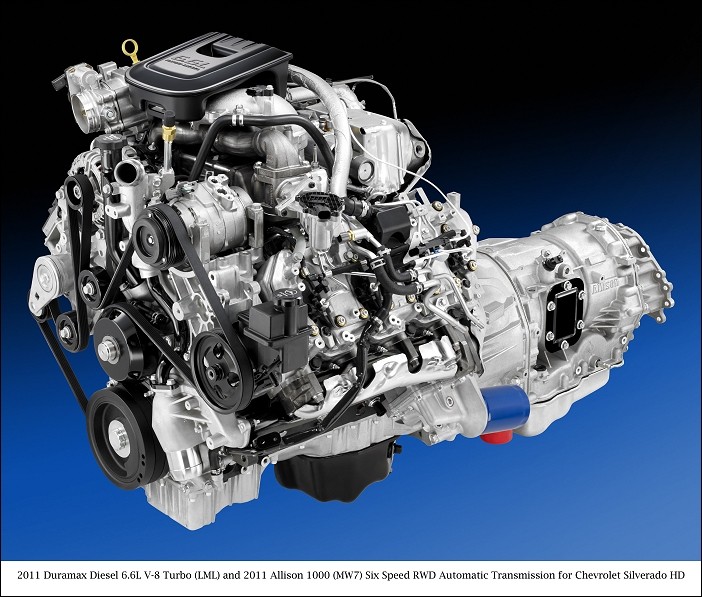 GM Media Image

The Duramax 6600 Diesel Engine
Frequently Asked Questions
---

Updated November 14, 2018
---
Q: Who manufactures the Duramax 6600 diesel engine?
The 6.6L Duramax 6600 was designed by Isuzu to meet the specifications provided by GM Powertrain. The design was conceptualized in early 1998 here in the U.S. before work began on the first prototype in Japan. GM Powertrain lead the electronic design portion of the Duramax launch. Engines are currently being manufactured in Moraine, Ohio. General Motors currently owns majority stake in the company, DMAX.
Q: How many versions of the Duramax have been produced?
The engine's 3-digit RPO (Regular Production Option) code is determined by the 8th digit in the vehicle identification number.
RPO ---- 3-Digit code
1 - LB7
2 - LLY
D - LBZ
6 - LMM
8 - LML
L - LGH
Y - L5P
As of 2018, a total of 7 generations of the Duramax diesel have been produced. The LB7 was first introduced in late 2000 for the 2001 model year, and was replaced by the LLY in mid model year 2004. The LLY was then replaced by the LBZ in mid model year 2006. The LBZ remained in production until mid-2007, when it too was replaced by the incoming LMM. The LMM was replaced by the LML for 2011 model year trucks. The LML was replaced by the L5P for 2017. All the Duramax engines remain at 6.6L in displacement, and with the exception of emissions control equipment share similar design features. The engine has evolved to meet demanding ever-increasing emissions requirements and to remain competitive with Ford and Dodge. There is also an LGH version, which is a special application engine.
Q: What are the GVW ratings for the new 2001-2005 2500HD/3500 pickup trucks?
A: The 2500HD pickup models have a GVWR of 9,200 pounds (4,173-kg), and payloads as high as 3,964 pounds (1,798-kg). The 3500 series pickup models have a GVWR of 11,400 pounds (5,171-kg) GVWR and payloads as high as 5,753-lbs (2,610 kg). The 3500 series pickup chassis cab models have an 11,400-lb (5,171-kg) GVWR for 2WD chassis cabs and 12,000-lb (5,443-kg) GVWR for 4WD chassis cabs. Chassis cab models provide payloads as high as 6,089-lbs (2,762-kg). Simply subtract the weight of your fully equipped truck (std cab, extended cab, crew cab, or chassis cab) from the above figures to find out how much weight (in cargo and people) your truck is factory rated to haul.
Q: What are the trailer weight (towing) ratings for the new 2001-2007 HD trucks?
A: Trailer weight rating for all 2500HD/3500 series pickup trucks is 12,000 lbs with a suitable weight-distributing hitch. The fifth-wheel tow rating can be computed by subtracting the weight of your chosen truck, passengers and cargo from the Gross Combination Vehicle Weight Rating (GCWR) of 22,000 lbs. This means a standard cab 2500HD is rated to tow a 5th-wheel of nearly 16,000 lbs. Extended cab and crew cab trucks are rated proportionally lower due to the increased weight of these trucks. We produced a new article covering The brand new 2007 HD Pickups that contains both the new GVW and tow ratings.
Q: Does the Duramax really offer "class-leading" performance?
A: Numerous loaded hill-climb performance comparison tests performed here in Montana with a 10,000-lb trailer on a 6% grade have proven GM's claim. The new Ford 6.0L Powerstroke initially edged marginally above the Duramax in rated power, but the Duramax will regain that title with the release of the new RPO code LBZ Duramax 6600 in the fall of the 2005 calendar year. Click this link to read more about the new for 2006 360 horsepower LBZ Duramax 6600 diesel engine.
Q: When will GM produce a new diesel Suburban?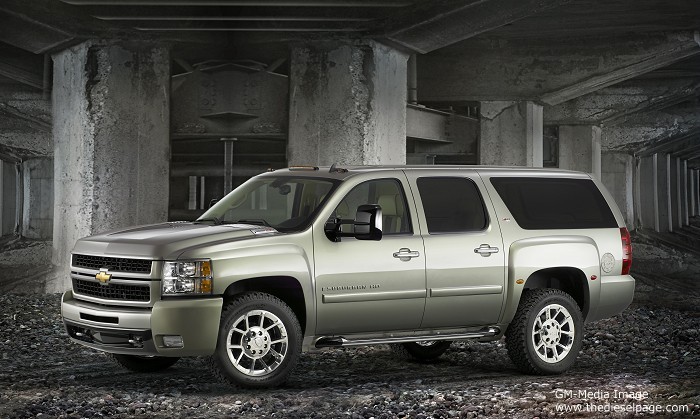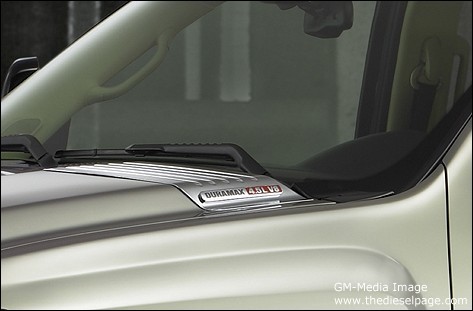 A: GM showed the world a brand new prototype diesel powered Suburban at the 2007 SEMA show. The diesel engine is GM's new 4.5-liter V-8 Turbo-Diesel. Earlier this year, General Motors announced an all-new 4.5-liter V-8 Duramax high-output diesel engine for the Chevrolet Silverado and GMC Sierra light-duty pickup trucks and the HUMMER H2. Click the link to read more about this engine in a GM-Media news release.
Q: What fuel economy can be expected for the Duramax 6600 2500HD/3500 trucks?
A: GM initially claimed the Duramax fuel mileage would be 15-20% better than that of the retiring 6.5L turbo diesel. We have learned that this prediction was a little optimistic, but the 2500HD/3500 Duramax diesel trucks are producing 17-21 mpg when driven empty and 9-13 mpg while towing. Of course, fuel economy is highly dependent on load, speed, terrain and most importantly - individual driving style. Many hundreds of Duramax owners have participated in a fuel economy poll. Click the following link to learn more about Duramax 6600 fuel economy.
Q: Is there any truth to the rumors we're hearing about aluminum cylinder head and head gasket failures?
A: The aluminum cylinder heads are the primary contributing factor in why the Duramax 6600 has become so successful and has developed an excellent reliability record. The Duramax has had far fewer head gasket problems than the Ford 6.0L Powerstroke and is on par with the Dodge Cummins. The LB7 (2001-2004 models) have experienced a few problems with head gaskets or injector cup seal leaks in recent years. Symptoms can include either a slow loss of coolant or allow the cooling system to build excessive pressure. Overall, these sorts of problems are few and far between, but do appear more often in engines that are running performance enhancing products. The latest LLY, LBZ and LMM engines are much less affected.
Q: Any truth to the rumors we're hearing about Allison automatic transmission failures?
A: Like most any currently produced computer controlled automatic transmission, there are lots of individual components that would disable the transmission should one of those parts fail or not function properly. So, yes, there have been a number of Allison problems reported. Most of these were due to minor issues such as fluid leaks, sticky solenoids, loose wiring connectors, and the like. However, no Allison 1000 Series 5-speed automatic has failed because of the load it was asked to pull. This transmission has proven itself to be virtually bulletproof for pulling max GCVW loads (22,000 lbs) in the hottest desert heat. This is simply the best light-truck automatic transmission.
Q: What is that ticking noise I'm hearing when the engine is idling and I'm near the front wheelwell?
A: This "ticking" noise has a lot of people baffled, including GM. The noise is most prevalent on engines with a few thousand miles or less, and soon after changing the oil on some engines with higher mileage (10,000+).
Here is what we think: The 2001-2004 LB7 Duramax 6600 operates with a high oil pressure, running somewhere in the 60 psi range when hot. This high oil pressure produces more oil flow that is used to cool the pistons and better lubricate other parts of the engine, which adds durability. Experts has suggested that this high volume and pressure can cause an occasional air bubble to pass through the crankshaft oil galleries, which then "pops" under compression loads in the rod and main bearings. We're told this condition has no short-term or longterm effect on engine durability. GM reduced the oil pressure on later LLY & LBZ engines. We suspect they did this to reduce the ticking noice.
Q: What performance options are available for the Duramax?
A: An increasing number of aftermarket companies are offering "power modules" and programmers for the Duramax, and which can produce a significant performance gain. The following Product Reviews page contains several reviews for power enhancing products for the Duramax. Please be aware that any performance modification also comes with a risk of losing your powertrain warranty coverage.
---
In closing: The new GM trucks and diesel drivetrains have been under intense scrutiny by the light-truck industry, as well as by owners of Ford, Dodge and GM light-trucks. The fact is, the new GM diesel trucks have exceeded (with the exception of fuel economy) every GM claim and ad hype for power, performance and driveability. Our own 2001 GMC 2500HD Duramax/Allison, after having owned it for 6-1/2 years and 62,000 miles, has never visited the dealer for any service work resulting from any sort of problem. This truck is superior in build quality, driveability and performance to the GM prototypes we tested in October of 1999.
TDP
For a more complete story of the Duramax 6600, please visit the following link for a preview of the Duramax 6600 Volume I and the Duramax 6600 Volume II.
---
TheDieselPage.com
What's New: | Feature Articles: | Product Reviews: | Member's Area:
Join Us: | Duramax Diesel Page: | Advertisers: | Classified Ads: | Books:

Send e-mail to: turbo@TheDieselPage.com
Copyright © 2018 by The Diesel Page
www.TheDieselPage.com