---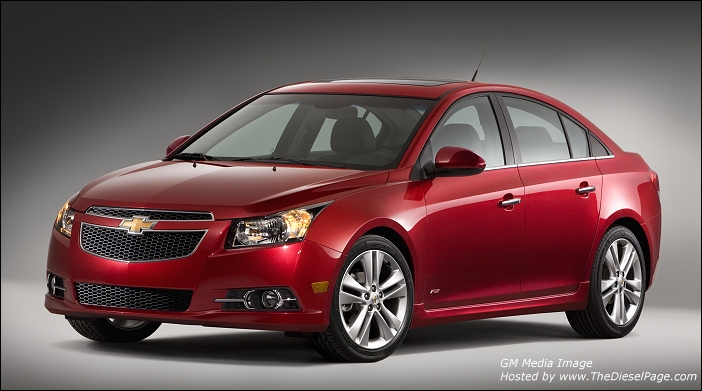 Chevy Cruze
GM Re-enters the Light-Duty Diesel Market
---

---
Why now? We here at The Diesel Page have pushed GM to include a line of light-duty diesels since 2001. We've always known that a light-duty diesel program began at nearly the same time as the highly successful Duramax 6600, introduced in late 2000 as a 2001 model year. Based on the Duramax 6600, the V-6 Duramax program eventually resulted in running and drive-able test vehicles. In 2001, GM, Ford and Dodge all had working designs in the pipeline for a fuel efficient V-6 high-pressure common-rail diesel intended for the light-duty market. One by one, all of these light-duty diesels fell by the wayside. So why, after a dozen years of ignoring the clamor, is GM finally offering the Cruze diesel?
The answer is simpler than you think. They are offering the Cruze diesel because they don't have a choice. GM offering the Cruze diesel isn't because Volkswagon and Mercedes (and others) are already in the market (and have been for many years). It isn't because Ford or Dodge is/will be offering light-duty diesels. The reason why GM, Ford and Dodge are all offering light-duty diesels is because of government CAFE regulations. Corporate Average Fuel Economy numbers are rising in huge steps beginning in the 2016 model year. The CAFE requirement for the 2016 model year jumps to a whopping 35.5-mpg. This means that a corporation's passenger vehicle segment must average 35.5-mpg in just 2 model years from now. Some of GM's larger or more powerful vehicles will get less than 35.5 and some must generate fuel economy numbers well above 35.5-mpg to produce a corporate average of 35.5. What's even scarier is the 54.5-mpg CAFE standard coming for 2025. Eleven years will fly by quicker than you think, and GM needs to have a well established diesel market in place before the axe falls.
In years past, GM forced dealers to sell the Geo Metro gas econo-box in an effort to increase their corporate average mpg, which allowed them to continue selling their more profitable but less fuel efficient SUV and Cadillac lines. Those days are ending. The 35.5-mpg standard could be a bridge too far, to continue selling large vehicles with V-8 gasoline engines, and the Geo Metros of yesteryear won't sell in today's more sophisticated market. To succeed, auto makers need a magic bullet. Forced into it, automakers have finally come to realize that modern clean turbo diesels are the magic bullets. They know that performance will be maintained yet the fuel economy will reach well into the 40s. So, to put a finer point on it, we're getting the Cruze diesel because of the upcoming CAFE standards.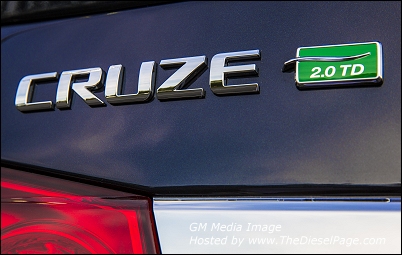 2014 Chevrolet Cruze
Clean Turbo Diesel
Built At: Lordstown, Ohio
EPA Vehicle Class: Compact Car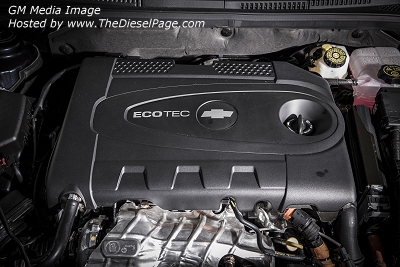 Powertrain:
Italian-built German designed EcoTech 2.0L 4-cylinder DOHC turbocharged clean diesel
Bosch high-pressure common rail fuel injection system
Garrett turbocharger
Six-speed Aisin automatic transmission

Notable Features

Industry-best EPA-estimated 46 mpg on the highway - better than any non-hybrid passenger car in America

Driving range of 421.2 - 717 highway miles on one tank of fuel, based on the EPA highway estimate and fuel tank capacity

Powered by the cleanest diesel car engine produced by General Motors, generating 90 percent less Nitrogen Oxide (NOx) and particulate emissions compared to previous diesels.

Advanced Z-link rear suspension

Fuel-saving electric power steering

MyLink infotainment system, 17-inch alloy wheels, standard leather-appointed seating, a five-year/100,000-mile powertrain limited warranty and a two-year maintenance plan.
Max Cargo Room: 13.3 CU. FT.

Wheelbase: 105.7"

Length: 181"

Width: 70.7"

Front Track: 60.7"

Rear Track: 60.3"

Horsepower: 151 HP @ 4000 RPM

Torque: 264 lb.-ft. @2600 RPM

Final Drive Ratio: 3.20

Independent real-world performance testing has shown the new Chevy Cruze will produce an average of 9.7-second 0-60-mph acceleration runs
Fuel Tank Capacity: 15.6 Gallons

EPA Fuel Economy Rating: 27-mpg City - 46-mpg Hwy, real-world fuel economy numbers are on par with stated EPA rating
MSRP base price $24,885 plus an $810 destination charge. Fully optioned MSRP $29,105.
Safety Features
Ten standard air bags, including head curtain side air bags, front/rear side-impact air bags and front knee air bags

Collapsible pedal assembly protects against lower-extremity injuries

McPherson strut front suspension system with the StabiliTrak electronic stability control system

Front safety belt pre-tensioners with load limiters

Available Enhanced Safety Package includes side blind zone alert, rear cross-traffic alert and rear park assist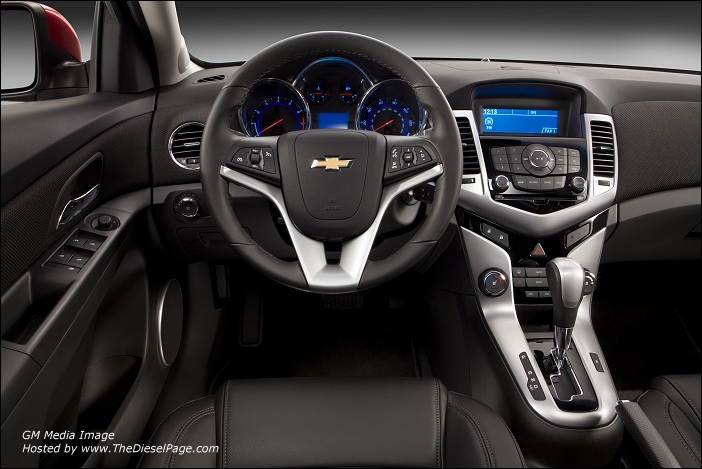 The Chevy Cruze comes standard with Chevrolet MyLink with Bluetooth streaming audio for music and select phones, Pandora and Stitcher smartphone compatibility, standard color-touch radio with seven-inch screen and available color-touch radio with navigation and USB port.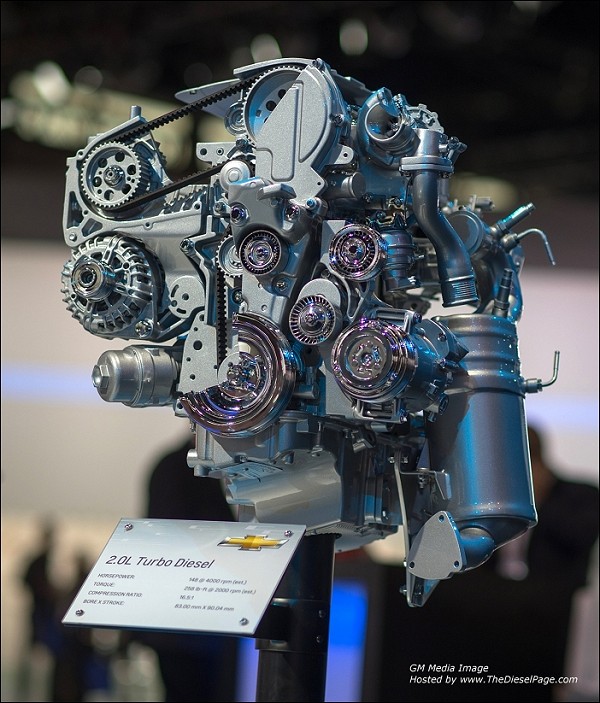 The Italian-built German designed Ecotech 2.0L DOHC clean turbo-diesel comes with a recommended 100,000 mile belt/tensioner replacement interval, similar to that offered by the VW diesel. This is not something to overlook or neglect. A broken belt could result in serious engine damage.
Deviating from standard practice, GM chose to not include a spare tire. Instead, the Cruze includes an inflation pump and tire sealant. On the one hand, a blowout won't be repaired - even temporarily - by a pump and sealant, but on the other hand, a pump and sealant will allow those not mechanically inclined to get the vehicle back on the road after experiencing a typical flat tire. When considering the types of flats I've experienced over the past 30 years, a pump and sealant would have allowed the vehicle to be driven either home or to a tire center. Time will tell if the "no spare" choice was a good one for GM.
Regardless of the political or regulatory environment, we are all the winners here. Once more of America experiences what modern diesels have to offer, the market will demand more of them. Electric or gas/electric hybrids will never offer the same degree of performance or overall use-ability of a modern clean diesel, and they will never equal the unsubsidized price point of a diesel. Electric vehicles cannot be made to provide reliable-comfortable winter transportation in northern climates, and battery replacement and recycling costs make them a lot less affordable. As a motor fuel, Compressed Natural Gas (CNG) will never be as safe as diesel fuel. A modern clean diesel that delivers fuel economy in the 40s is the best answer to just about any question regarding real-life use-ability, performance, safety, economy, affordability and environmental sustainability. It's taken the industry this many years to discover what we as diesel enthusiasts have known all along.
The Diesel Page, 11/2013
---
TheDieselPage.com
What's New: | Feature Articles: | Product Reviews: | Member's Area:
Join Us: | Duramax Diesel Page: | Advertisers: | Classified Ads: | Books:

Send e-mail to: turbo@TheDieselPage.com
Copyright © 2013 by The Diesel Page
www.TheDieselPage.com