---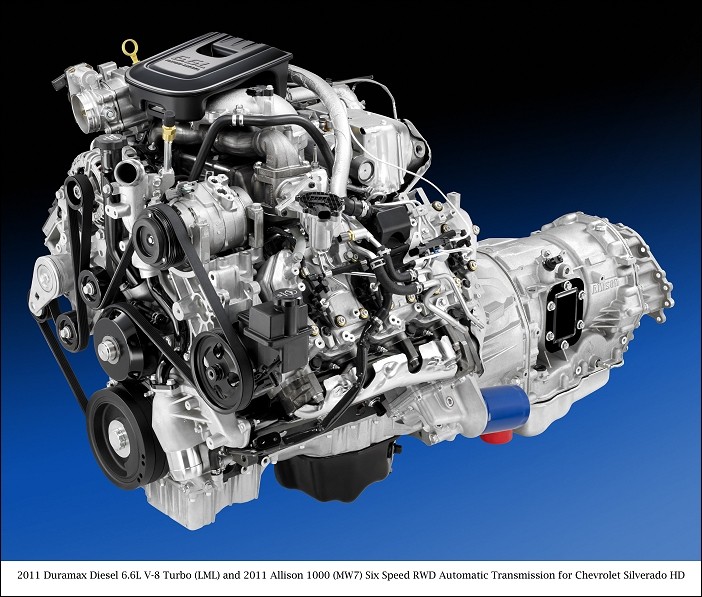 The Duramax 6600 Diesel Engine
Frequently Asked Questions
---

---
Q: What was the genesis for the Duramax 6600 diesel engine, and who builds it?
A: Throughout the 1990s, GM scored a distant third when it came to diesel pickup sales, diesel engine power and reliability. In early 1996, GM Powertrain engineers, GM corporate executives and their counterparts from Isuzu conceptualized the design parameters and performance goals for a brand new and state-of-the-art diesel engine for use in GM's 2500/3500-series pickup truck market. This was a well-kept secret because the GM diesel pickup community didn't begin hearing rumors about the engine till late 1998, well after the first prototypes were undergoing tests in GMT400 (1990's body style) trucks in the Southwest during the summer and in Fairbanks, Alaska during the winter. GM didn't want the engine to overheat while towing heavy in the hot summer months and they wanted the engine to function as expected in frigid sub-zero temperatures. No light-truck diesel engine, before or since, had undergone such a comprehensive real-world battery of tests as the Duramax.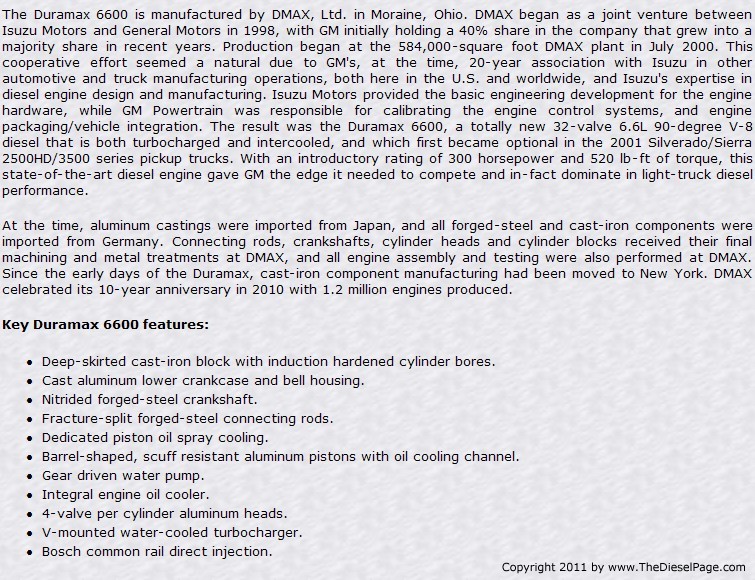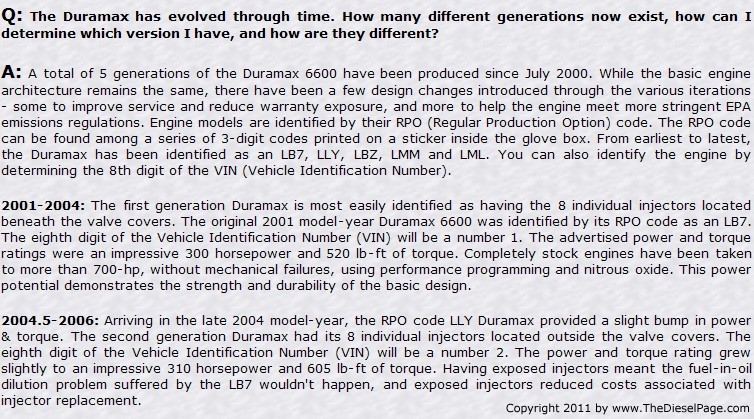 While the LB7 almost never had an overheating problem while towing heavy in the hot summer temperatures, the 2004.5 through early 2006 model-year LLY did. Running at or near the maximum gross combined weight of 22,000-lbs, up a steep grade, and during the peak of summer temperatures could cause the LLY to exceed a safe engine temperature. Otherwise, from a durability and reliability standpoint, the LLY was/is as good as any other generation. For those LLY owners who have experienced an engine temperature problem, there is a fix. As it turns out, you can easily (though it's not necessarily cheap) replace the truck's radiator, fan-shroud, fan, fan-clutch and related components with those items produced for the 2006/7 model-year LBZ Duramax. A larger radiator and fan will solve the problem. The cause of the temperature problem some experience is due to the use of a larger EGR cooler, which is cooled by engine coolant, and the LLY's incorporation of a smaller engine-driven fan than that used on the LB7. Some feel the use of the new-for-the-LLY Garrett Variable Nozzle Turbine (VNT) turbocharger was partly responsible for the heat issue. Where the LB7 used a stone reliable mechanical-wastegated turbocharger, the LLY's computer-controlled VNT is believed to be a little more restrictive to exhaust flow. If so, it's simply a minor point, though the added complication of computer control does add to potential turbo maintenance issues in a well-used truck.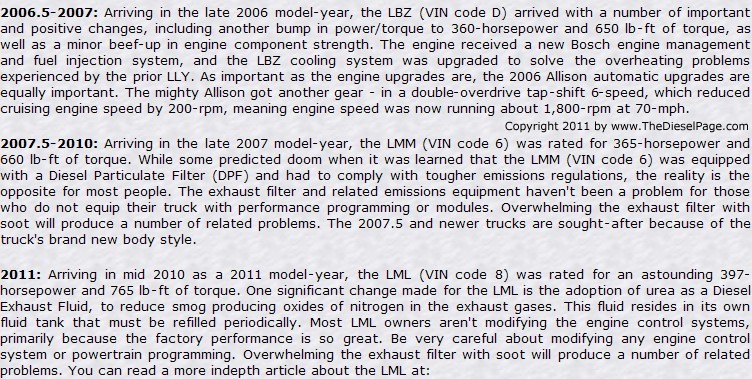 http://www.thedieselpage.com/duramax/LMLDuramaxc.htm.

Q: What are the GVW ratings for the new 2001-2005 2500HD/3500 pickup trucks?

A: The 2500HD pickup models have a GVWR of 9,200 pounds (4,173-kg), and payloads as high as 3,964 pounds (1,798-kg). The 3500 series pickup models have a GVWR of 11,400 pounds (5,171-kg) GVWR and payloads as high as 5,753-lbs (2,610 kg). The 3500 series pickup chassis cab models have an 11,400-lb (5,171-kg) GVWR for 2WD chassis cabs and 12,000-lb (5,443-kg) GVWR for 4WD chassis cabs. Chassis cab models provide payloads as high as 6,089-lbs (2,762-kg). Simply subtract the weight of your fully equipped truck (std cab, extended cab, crew cab, or chassis cab) from the above figures to find out how much weight (in cargo and people) your truck is factory rated to haul.

Q: What are the trailer weight (towing) ratings for the new 2001-2011 HD trucks?

A: Trailer weight rating for the 2001-2006 2500HD/3500 series pickup trucks is 12,000 lbs with a suitable weight-distributing hitch. The fifth-wheel tow rating can be computed by subtracting the weight of your chosen truck, passengers and cargo from the Gross Combination Vehicle Weight Rating (GCWR) of 22,000 lbs. This means a standard cab 2500HD is rated to tow a 5th-wheel of nearly 16,000 lbs. Extended cab and crew cab trucks are rated proportionally lower due to the increased weight of these trucks. We produced a new article covering The 2007 HD Pickups that contains both the new GVW and tow ratings. You can read a more indepth article about the 2011 models at: http://www.thedieselpage.com/duramax/LMLDuramaxc.htm.

Q: Does the Duramax really offer "class-leading" performance?

A: Numerous loaded hill-climb performance comparison tests performed here in Montana with a 10,000-lb trailer on a 6% grade and more recent magazine tests have proven GM's claim. Click this link to read more about the new for 2006 360 horsepower LBZ Duramax 6600 diesel engine.

Q: When will GM produce a new diesel Suburban?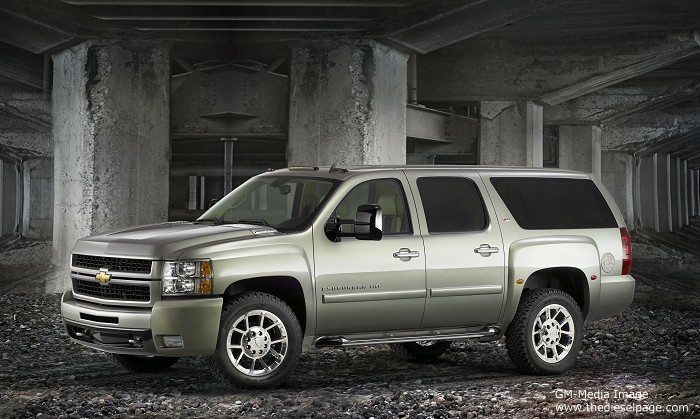 A: GM showed the world a brand new prototype diesel powered Suburban at the 2007 SEMA show. The diesel engine was a brand new 4.5-liter V-8 Turbo-Diesel. General Motors had announced this all-new 4.5-liter V-8 Duramax high-output diesel engine for the Chevrolet Silverado and GMC Sierra light-duty pickup trucks and the HUMMER H2. Click the link to read more about this engine in a GM-Media news release. That said, the 4.5-liter V-8 Duramax program is now officially dead. A number of prototype 4.5L engines turned up on eBay and other auction sites in 2010. This is as good an indication as any that GM has separated itself from further development. Everyone knows this is a wrong-headed move on GM's part. At the time this was written, at least a half dozen small operators around the country are building Duramax 6600 powered Suburban conversions using a range of model year vehicles. If you want one bad enough, they are available. An Internet search will likely turn up a few builders. Contact me via email if you would like a short list for those I know about.
Q: What fuel economy can be expected for the Duramax 6600 2500HD/3500 trucks?
A: GM initially claimed the Duramax fuel mileage would be 15-20% better than that of the retiring 6.5L turbo diesel. We have learned that this prediction was a little optimistic, but the 2500HD/3500 Duramax diesel trucks are producing 17-21 mpg when driven empty and 9-13 mpg while towing. Of course, fuel economy is highly dependent on load, speed, terrain and most importantly - individual driving style. Many hundreds of Duramax owners have participated in a fuel economy poll. Click the following link to learn more about Duramax 6600 fuel economy.
Q: Is there any truth to the rumors we're hearing about aluminum cylinder head and head gasket failures?
A: The aluminum cylinder heads are the primary contributing factor in why the Duramax 6600 has become so successful and has developed an excellent reliability record. Though it took more than a decade, most diesel engine manufacturers are moving to aluminum cylinder heads because of the material's ability to reduce weight, reduce emissions and allow for an increase in performance. Durability has not been a problem.
Q: What performance options are available for the Duramax?
A: An increasing number of aftermarket companies are offering "power modules" and programmers for the Duramax, and which can produce a significant performance gain. The following Product Reviews page contains several reviews for power enhancing products for the Duramax. Please be aware that any performance modification also comes with a risk of losing your powertrain warranty coverage.
---
In closing: The new GM trucks and diesel drivetrains have been under intense scrutiny by the light-truck industry, as well as by owners of Ford, Dodge and GM light-trucks. The fact is, the new GM diesel trucks have exceeded (with the exception of fuel economy) every GM claim and ad hype for power, performance and drive-ability. Our own 2001 GMC 2500HD Duramax/Allison, after having owned it for 10-1/2 years and 88,000 miles, has never visited the dealer for any service work resulting from any sort of problem. This truck is superior in build quality, drive-ability and performance to the GM prototypes we tested in October of 1999.
TDP
For a more complete story of the Duramax 6600, please visit the following link for a preview of the Duramax 6600 Volume I and the Duramax 6600 Volume II.
---
TheDieselPage.com
What's New: | Feature Articles: | Product Reviews: | Member's Area:
Join Us: | Duramax Diesel Page: | Advertisers: | Classified Ads: | Books:

Send e-mail to: turbo@TheDieselPage.com
Copyright © 2011 by The Diesel Page
www.TheDieselPage.com